Quote:
since Renegade is just a trim level, I doubt anyone will care. Trying to SELL it as a Renegade is where I believe the line is crossed.

There are probably more Renegades, Golden Eagles, etc. now than probably ever left the assembly line.
And that is only a problem if you have a bone-stock Jeep that is supposedly restored to factory spec.
If it's modded much at all, who cares if one of them is Renegade stickers?
I used to see the same thing with old Trans Ams. Everyone wanted to put either "SD 455" or "T/A 6.6" on the hood shakers.
Problem was, the SD 455 was only made for 2 years, and they only built about 1200 of them, and the T/A 6.6 was only for the Pontiac 400 engine (and only certain ones, depending on the year), not the Olds 403, which was an option and should say 6.6 Litre on the shaker.
---
I asked a ref if he could give me a technical foul for thinking bad things about him. He said, of course not. I said, well, I think you stink. And he gave me a technical. You can't trust em. -
Jimmy V
Registered User
Join Date: Jul 2004
Location: Sedona
Posts: 857
Regardless of what you decide to do to your CJ, I'm sure nobody will sue you as I'm pretty sure the statute of limitations ran out on our CJ's decades ago....
---
1980 CJ5 Renegade with 304 v8
To view links or images in signatures your post count must be 10 or greater. You currently have 0 posts.
Registered User
Join Date: Jun 2011
Location: Scottdale
Posts: 5,586
Quote:
Just get different stickers with what you want. Be outrageous so people are attracted to it.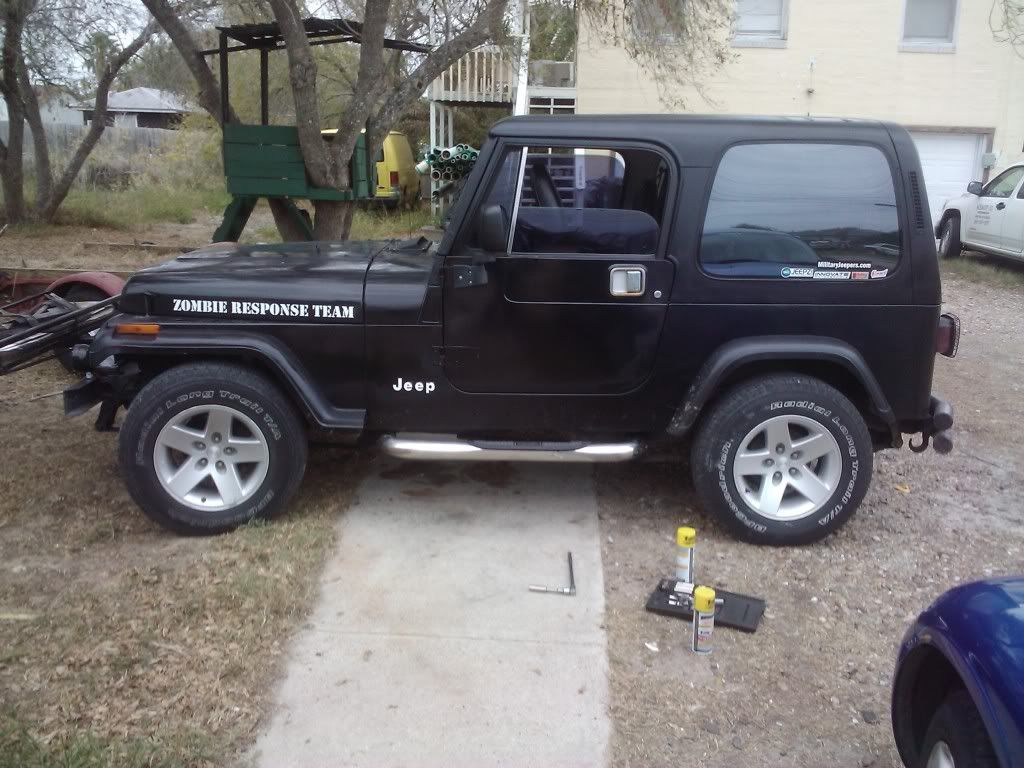 People stop and talk to me all the time. On the highway, people give me thumbs up and take pics. Everyone loves different.
Please do not put zombie stickers on a CJ. That would make me cry.
Registered User
Join Date: Mar 2008
Location: corpus christi
Posts: 7,057
Nothing wrong with zombie stickers if you love zombie movies, like I do.
---
I don't feel like working on anything at this time so i sold my yj.
Registered User
Join Date: Dec 2011
Location: Roanoke
Posts: 173
Nah, no zombies....... But due to a great appreciation for our military, I've decided to do a sorta military tribute theme, just not a wild one. Just ordered the decal set today. Now I just need to get the dang process started.
Registered User
Join Date: Jul 2013
Location: Fairfax
Posts: 105
Quote:
Obviously I can't sell this as a renegade.

there is no way to tell if a jeep was a renegade or not. most time it was just a decal and a lot was added at the dealer, then there was some custom rims and added some additional trim pieces. i got one that totally plain now and it started as a decal renegade.

if you want sell as a renegade, i do not see how anybody could prove you wrong. its just a decal
I'm in the same boat. Can't prove it is or isn't a renegade. I think the point is that you shouldn't sell it as a renegade unless you the seller can prove it is in fact a renegade. Not the other way around that "you can't prove it isn't". That's the honest way to do it but some go the opposite.
I've have one listed on ebay that states base/renegade because its a base or a renegade
Currently Active Users Viewing This Thread: 1

(0 members and 1 guests)
Posting Rules

You may post new threads

You may post replies

You may not post attachments

You may not edit your posts

---

HTML code is Off

---