Registered User
Join Date: Nov 2002
Location: Cincinnati
Posts: 82
Project "From Pap" 82 CJ-7 Build
---
Hello There,
I have been a member now for over ten years. Even though I rarely post, I thought it was only fitting to start a build thread given that I got most of my information off of this site.
Welcome to project "From Pap," my 1983 CJ-7 build. 13 years ago, when I was 17, my Grandfather (a.k.a. Pap) bought me a 1983 CJ-7. The very last thing I will do on this build will be to mount a vanity plate to it that says "From Pap" and take my grandfather (who raised me btw) on a ride. Of course, my CJ was nice when I got it, but in retrospect, giving a 17 y/o a CJ is probably not the best idea. I beat it to death, fixed in all sorts of rigged up ways, and used the cheapest parts I could find. I was in high school and college, and all I cared about was making it go. I really abused it. But somehow, it never let me down. About 6 years ago I got serious about making it a solid vehicle. I put a new 258 in it, Weber carb, clutch, etc. It ran great after that, but still needed a ton of work, the body was rusting off, the wiring was a mess, etc. 4 years ago I got accepted to grad school in NYC and had to leave it behind--though I absolutely refused to sell it! As far as I was concerned it could sit at my grandfathers and rot until I got back to it, because I knew, eventually, that I would get back to it even though all my friends and my wife doubted me (she even tried to convince me to "just buy a Wrangler!" ah, the nerve!).
Well last week the time came. My Jeep is in Ohio, but I am currently living in New Jersey working on a Ph.D. in philosophy. I decided to schedule a 10 day trip home to Ohio to work on it. I planned everything out, and had all the parts I could afford for the moment shipped to my buddy's house. The year prior I had bought a good YJ body off of a friend's dad. He also had a good YJ frame and Dana 44 front, dana 60 axle combo. I decided not to use the frame, for no other reason than sentimental purposes. (I know the YJ frames are stronger, I researched the hell out if, but still could not part with the CJ frame.) I had decided that the 44/60 combo was more than I needed, but, of course, my friends convinced me to use them anyway. I am happy I did. The out boarding was not hard, just time consuming. I am still very nervous about the width of these axles, as they are from a J20 and therefore 10' wider than the WT. I may have them shortened as soon as I get everything else done if I decide I don't like the way they look.
Here is everything I got done in the 10 days. I hope you enjoy the pics. I could not have done this project without the knowledge from JeepForum!
First off, the man himself stopped by to check out my progress. 87 and still kicking.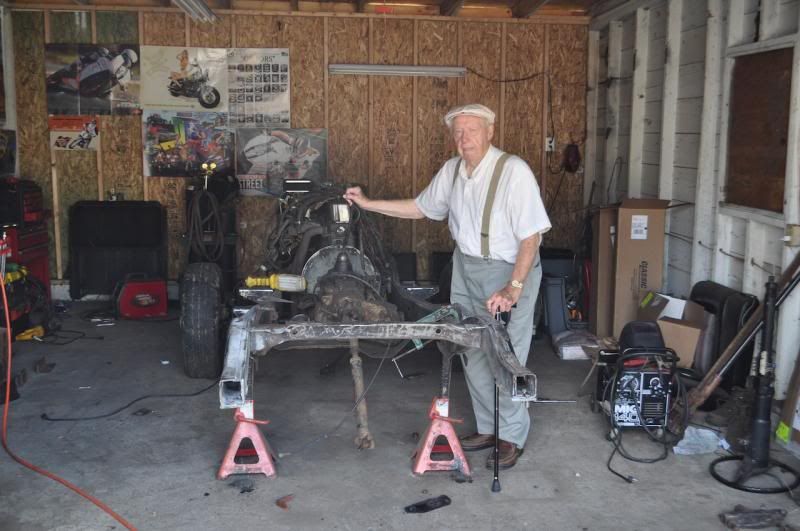 Here is how she looked before I started. It actually ran and drove great.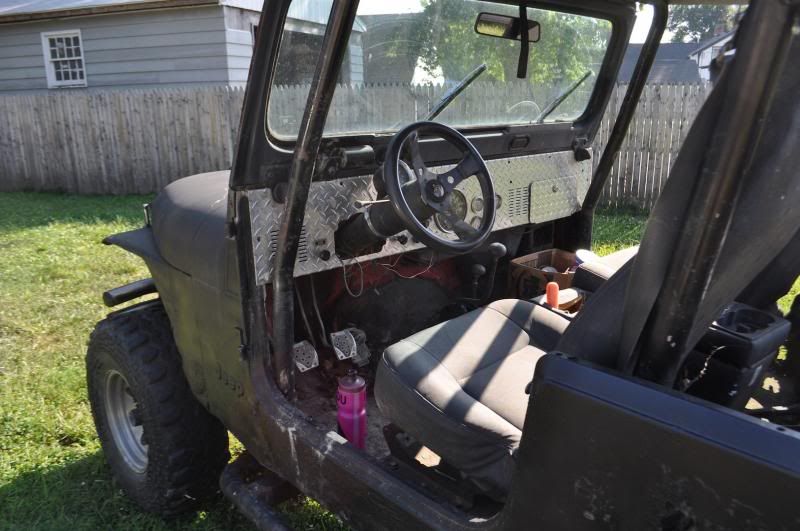 The teardown begins.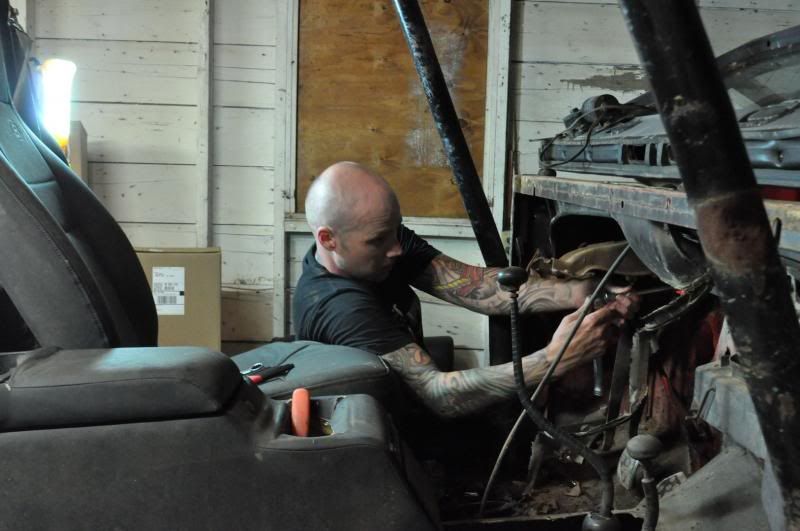 Dash and Column out. What a mess!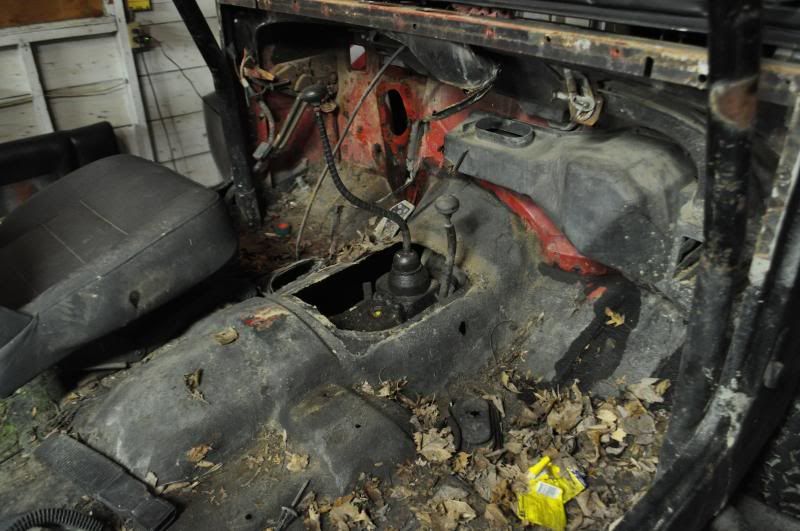 Old body off, look at that articulation.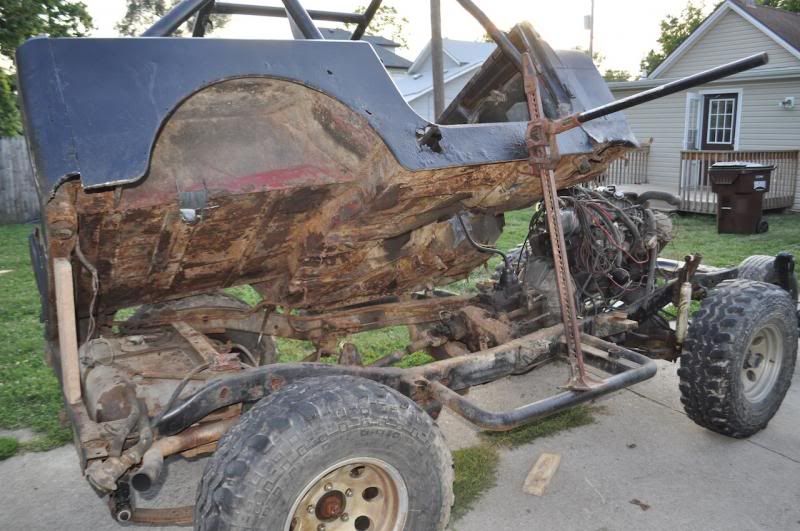 The full cage I made in high school held up pretty well with no weight on it.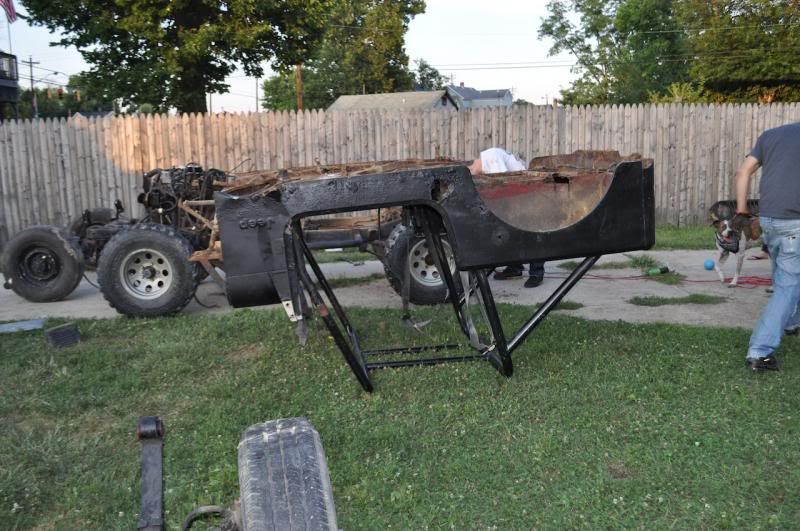 The new body and axles arrive.
Cutting stuff up and getting ready to slide in the Dana 44 and start measuring.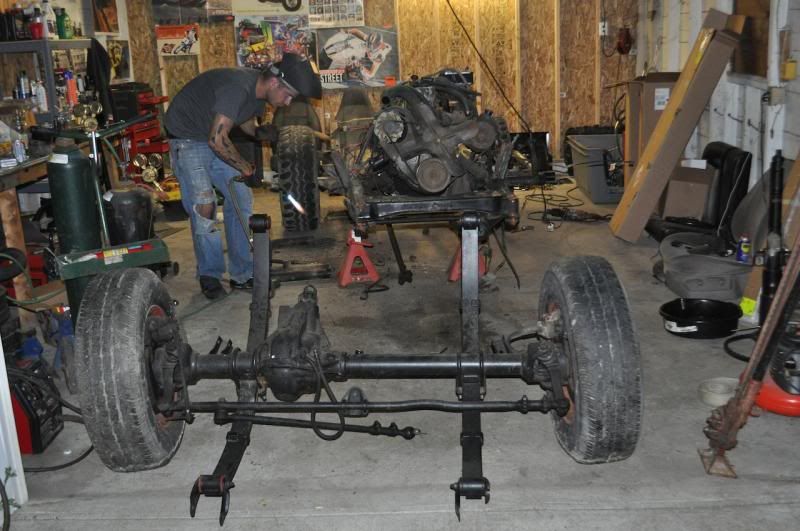 Axle in, frame degreased, pressure washed, sanded, and all the nooks and crannies sand blasted.
Working on the rear cross member on one of my many 16 hour days.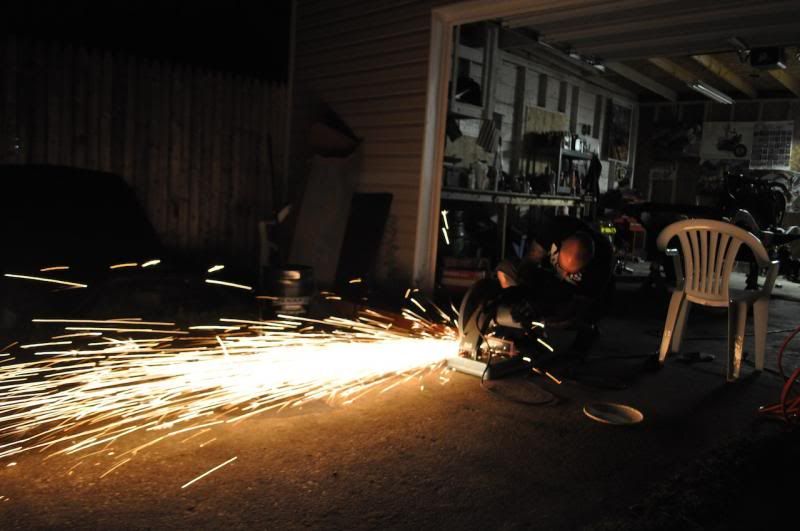 Go Reds!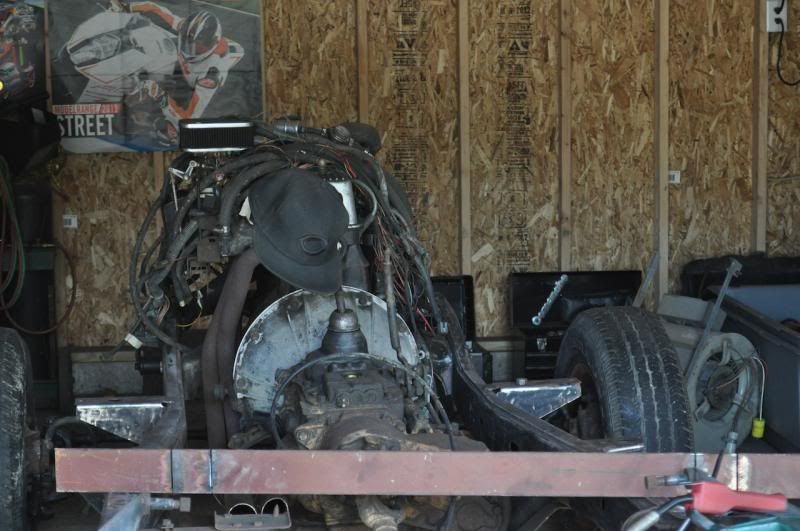 The front outboard before it was capped and those gussets cleaned up.
The rear front, those spring hangers will be replaced and welded, but I needed to get it rolling.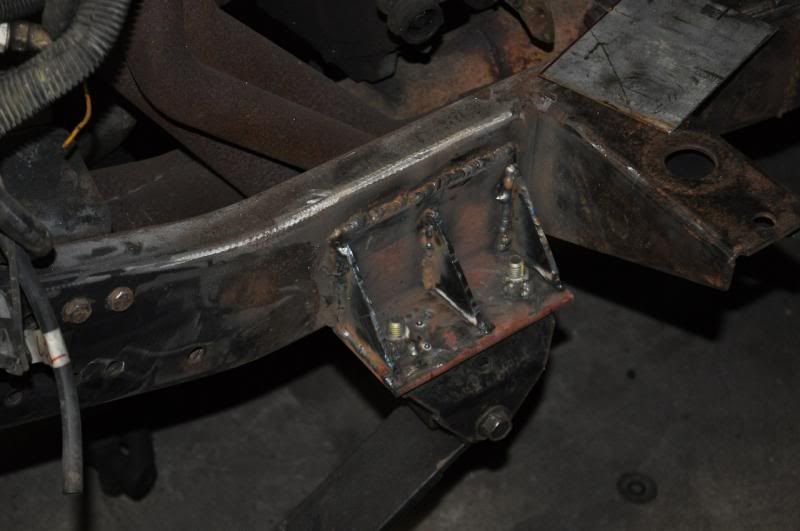 Frame painted with Magnet Chassis Saver. That is, except for the rear cross member and the back 5 inches of the frame, which my buddy is welding in.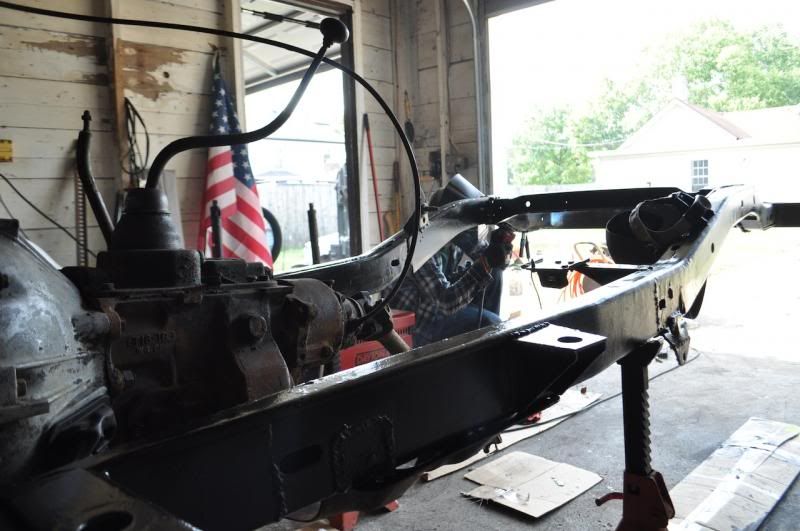 Outboard capped, painted, and attached to 4' YJ springs.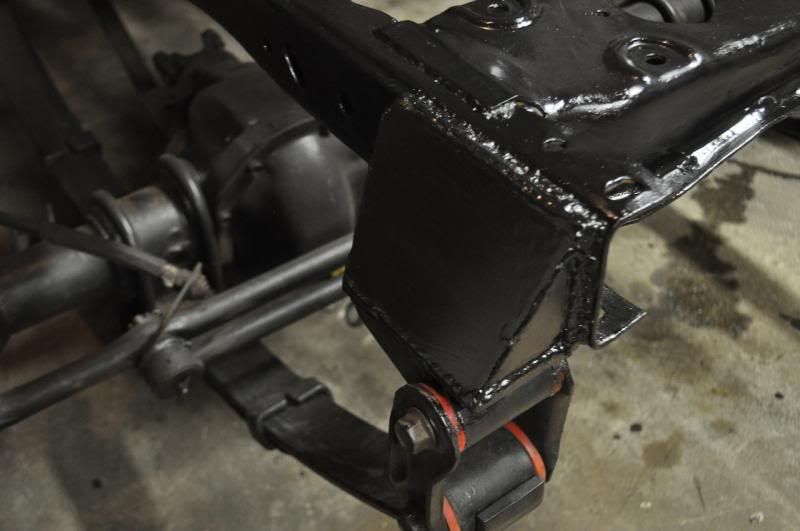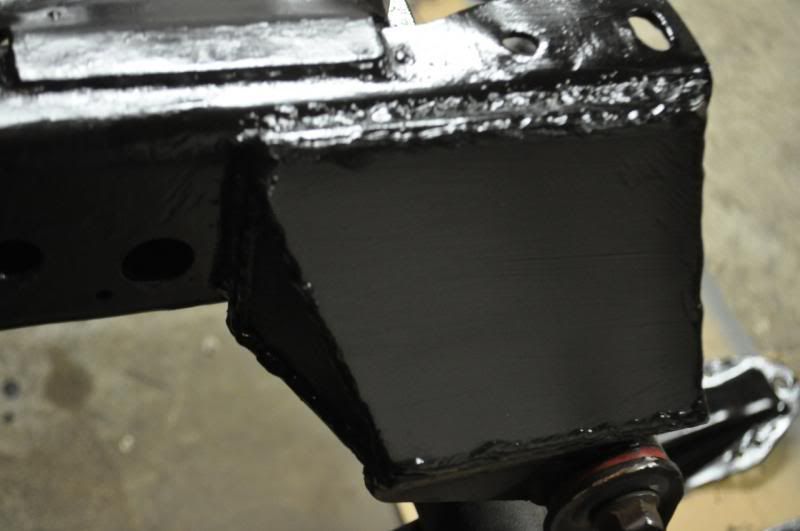 Tabs on the new rear cross member for mounting the gas tank.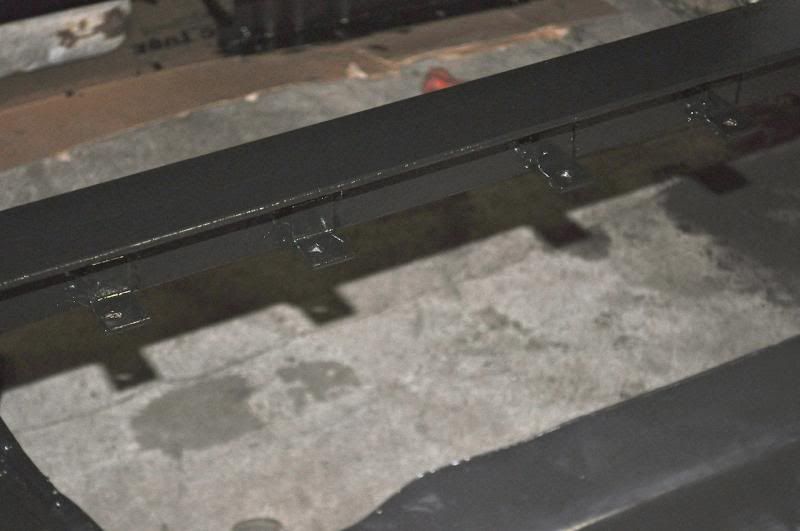 New cross member welded in, gas tank and skid plate painted and mounted (still need to add the strap. Mine broke, will do this next time and hopefully I won't have to drop the tank completely.) New sending unit, SS Gas and break lines ran. Dana 60 mounted. MORE frame plates stitch welded to the inside of the frame, and the second to rear cross member beefed up a bit, with new body mount plates. I had to put the body on, mark for the body mount holes on the new rear skid plate, and then pull it off and drill them.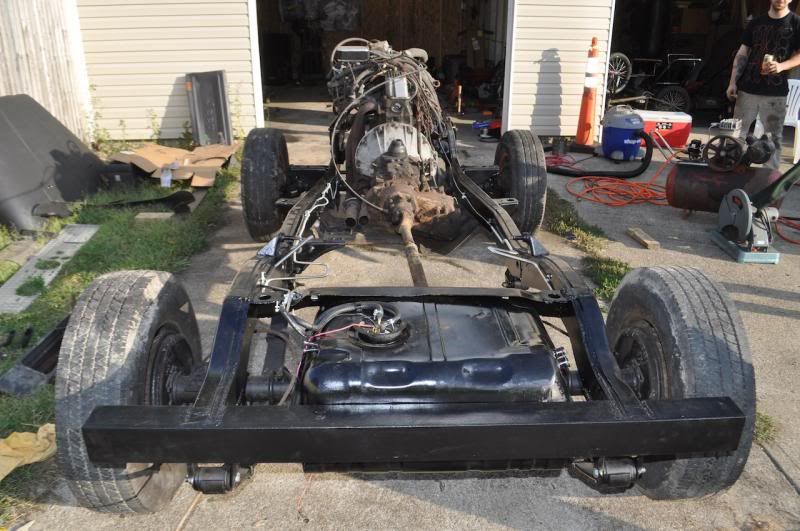 Me and my friends getting ready to lift the body on. Could not have done it without these guys.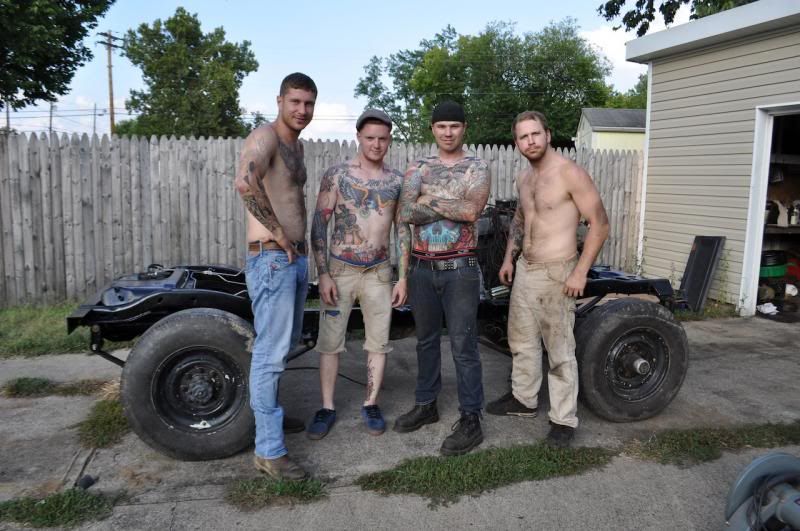 New body on! Forgot to take a pic before we pushed it back in the garage.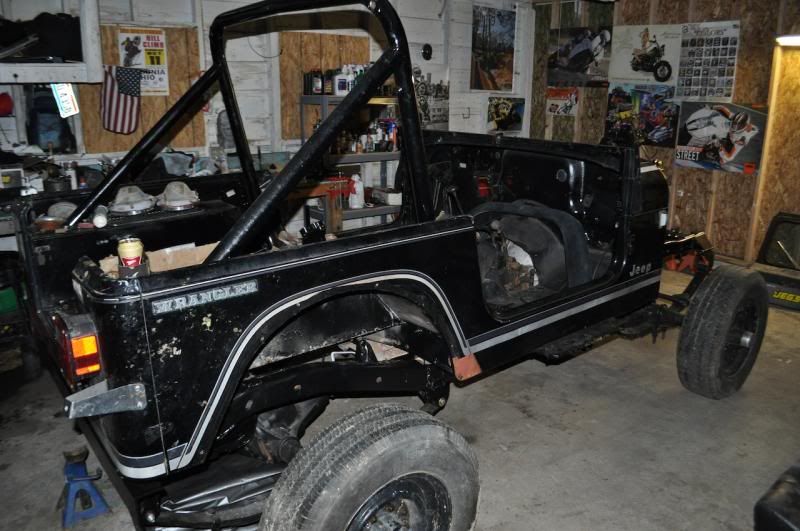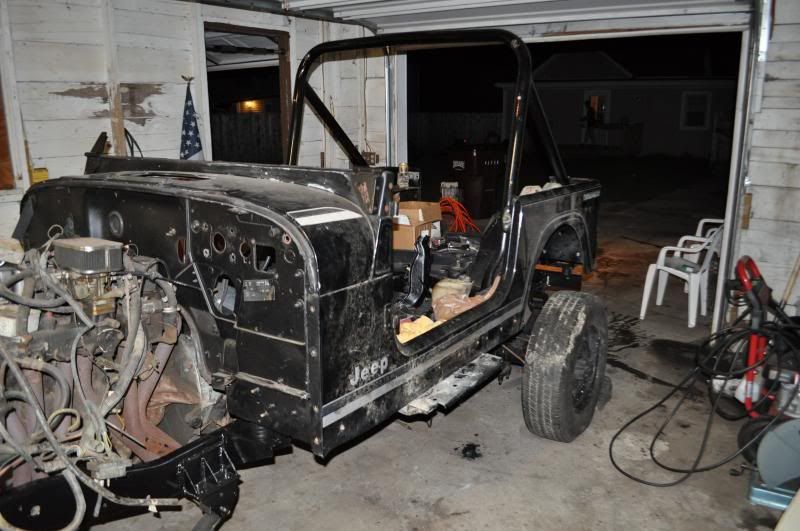 And that is it for now. I will be back in Ohio in two weeks to give it another go, this time for only a few days. For now, my buddy is putting the steering column in and wiring it up for me. I just made a huge parts order, so next time I hope to get the steering all set up with an H1 box, Borgeson shaft, new tie rod ends, etc, and figuring out how I am going to make the new drag link.
Until then...
Registered User
Join Date: Jun 2012
Location: Harwinton
Posts: 5,704
Sweet man fix her up and wheel her!

I <3 rockrash
---
5.2 ZJ Pushing a dana 30 as far as it will go.
Registered User
Join Date: Jun 2011
Location: Scottdale
Posts: 5,582
Looking like a Great build. Love the story behind the jeep also.

Sent from my HTC One SV using JeepForum
Registered User
Join Date: Nov 2002
Location: Cincinnati
Posts: 82
That is the plan!

Thanks a lot. Glad you liked it!
Registered User
Join Date: Jun 2012
Location: Harwinton
Posts: 5,704
I'd look into ruffstuffs steering kits they are amazing quality and good as far as price for the draglink and tie rod!

I <3 rockrash
---
5.2 ZJ Pushing a dana 30 as far as it will go.
Registered User
Join Date: Nov 2002
Location: Cincinnati
Posts: 82
Quote:
I'd look into ruffstuffs steering kits they are amazing quality and good as far as price for the draglink and tie rod!

I <3 rockrash
Thanks for the tip. Those kits look pretty sweet. I may go that route when I get to that point. I might also make something up myself with the help of a machinist friend.
I am not sure yet if I am going to keep those axles. I may go with a set of 44's from a Scout, which I am currently on the hunt for. They need outboarded also, so no labor lost. Adjusting the castor seems easy enough, though I would probably have a shop do it. IMHO they are the perfect length for a CJ. I could also run the 15' alloy wheels that I currently have and am pretty fond of. Another advantage is that by using 15' wheels I save a ton on tire costs. A 16' wheel really bumps up the price of tires. The price for KM2s goes up almost $100 per tire.
If I do keep these axles, they will be narrowed. I am going to call Moser tomorrow morning to talk to them about it. I believe if I narrow the rear 60, I will have to buy their custom chromo shafts. From what I have read, FF 60's have tapered shafts and thus cannot be re-splined. Other than the cost of the axles Moser's shop prices are very reasonable, and since I am only a couple hours away I can drop them off and save on shipping. The rear 60 is way more than I will need, as I will never go above 35' tires. That housing is also huge! Of course, if I stick with the rear 60 and use the Moser axles I will have an almost bombproof axle. Since I plan on keeping this until I die, that is an attractive option. I also like the size of the discs on those 44 fronts. So there are pros and cons either way I go. And no matter what, I will be spending money. In fact, axles may end up being the most expensive part of this entire build.
Figuring out which axles to use has taken up way to much of my brain space. Hopefully I will figure it out soon.
Currently Active Users Viewing This Thread: 1

(0 members and 1 guests)
Posting Rules

You may post new threads

You may post replies

You may not post attachments

You may not edit your posts

---

HTML code is Off

---