Project Black
---
Little background. I originally discovered Jeepforum when I bought my 02 WJ about 3 years back. I have always wanted a "true Jeep", and only recently came across exactly what I was looking for, a 79 CJ7 that needs a little work to get it to true wheeler status.
I met a friend of mine about a year ago when he parked his CJ crawler in our apt parking lot. Turned out he lived in the same building as me. We hit it off, he made jokes about my mallcrawling WJ, and we have been friends since.
He invited me to go on a few runs with him in his CJ, and my first experience in real rockcrawling was the Dakota Territory Challenge!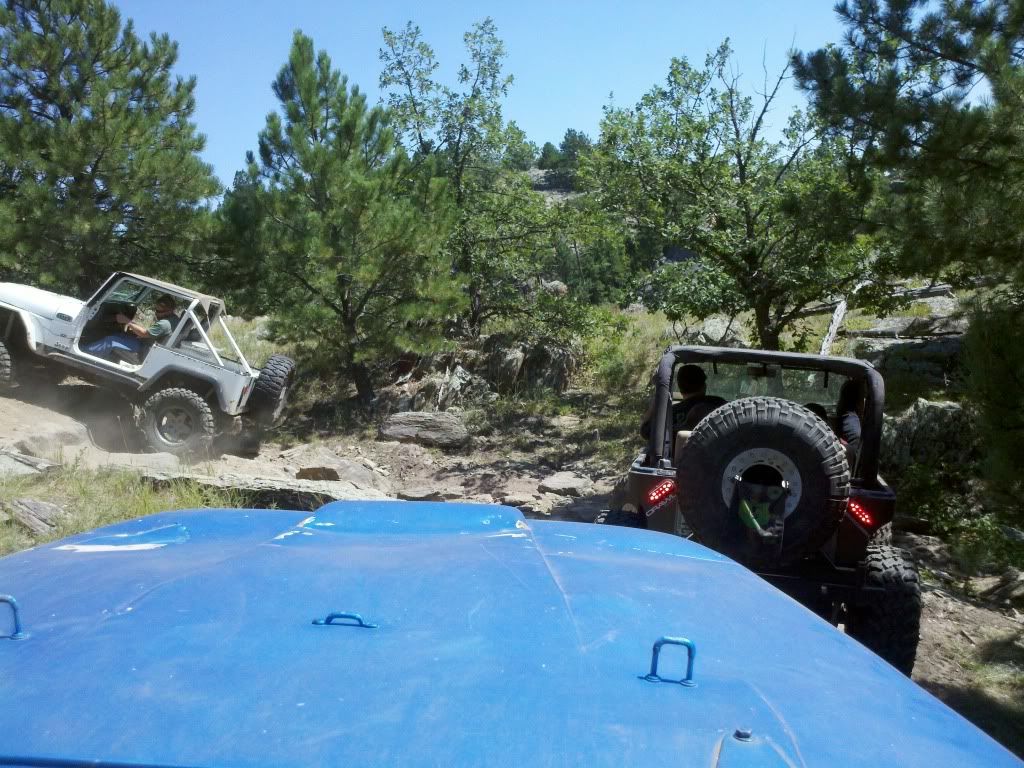 First trail I ever rode on was 5+. Talk about diving right in. I was a little nervous when we got to the first big obstacle, so I got out and filmed. He then hazed me to man up and ride the rest of the way, and long story short, I was hooked. We talked about what kind of rig I wanted, how much I wanted to spend, yadda yadda.
Then about 2 months ago he asked if I wanted to grab some dinner. I hopped in his truck and he told me he wanted me to check something out first. That is when I met my new mistress, Project Black.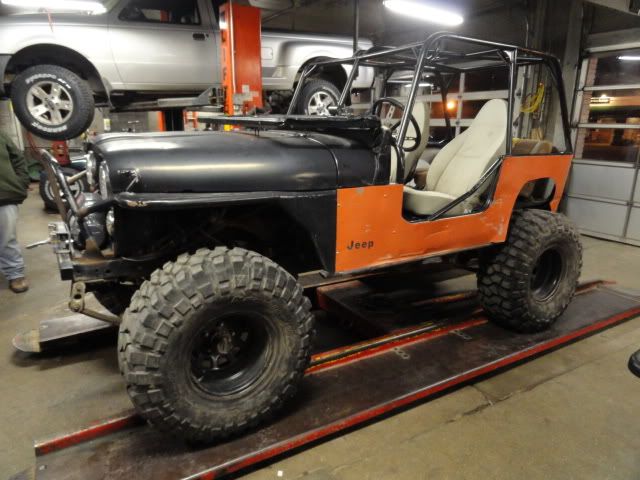 My buddy actually built the cage and sides for it, and it had been sitting for two years, unused. I talked with the PO, and I drove away title in hand with quite the deal on it. Let just say I could sell a couple of the tires and get all my money back!
So here we go! It has been a long time since I have had something to work on, fix, improve, etc. I love this stuff, and it's only better that I can resurrect this CJ.
Specs:
1979 CJ7
AMC 304 (not original engine) I was told it originally had a 6 cyl
T18 manual tranny
Dana 20 T Case with TeraLow kit already!
AMC 20 rear with 1 piece chromoly axles, welded tubes, spooled, drum brakes
Dana 30 front with lunchbox locker, chromoly axles
4" BDS lift SUA
Full custom cage tied into frame
New(ish) floor tub pan
New(ish) 35" BFG Krawlers. Spare 5th is brand new.
15x8 D Window wheels
Brand spankin' new Warn 9.5ti winch, only unspooled once.
I guess you could list these things as the "good".
The "Bad"
Rear diff cover had a hole in it.
Front output on t-case is leaking
Had major oil leak with engine running at oil pressure sender
No choke
Need a new battery tray
Seats are trashed
Orange skins are hideous
Spring bushings took a vacation
Shocks are bent, beat, hammered, shot
Gas tank skid has seen better days
Frame needs a good refinishing
So here we are. A very smart and wise CJ god on here aka JeepHammer told me to start a thread on it as it will be easier to help/diagnose/etc. So I am doing just that. I just got into my new shop last night, got it all situated, and started tearing into it.
Here is what I posted in my club forum:
"Got a bit done last night. Got the shop set up for now. Just need the correct fittings for air lines. On to the show!
How awesome is this?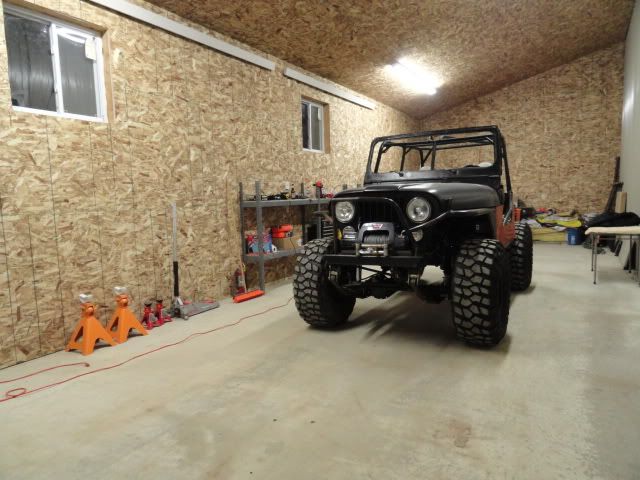 These will be my "before" pictures.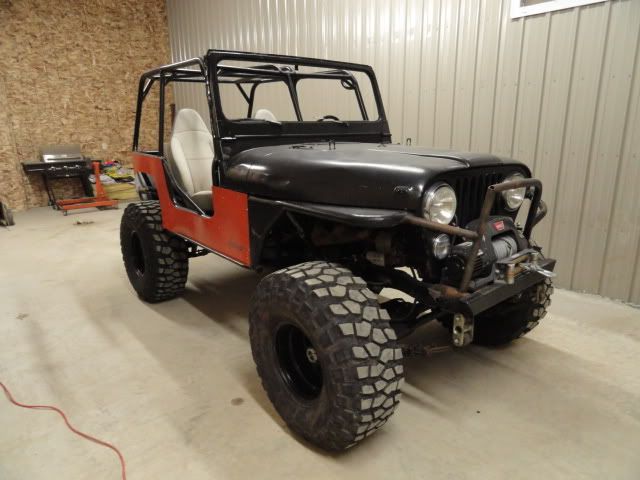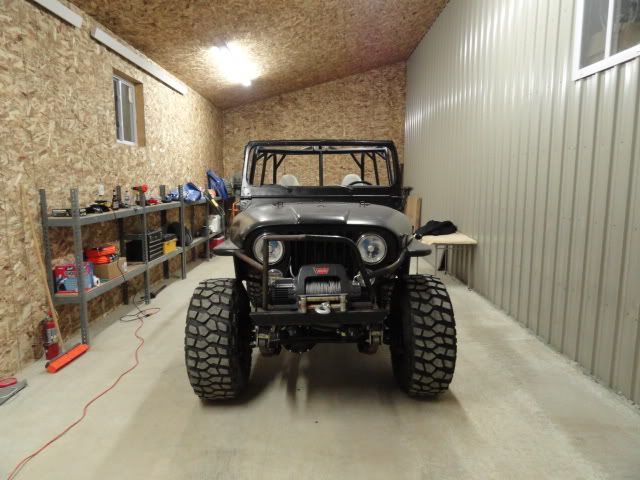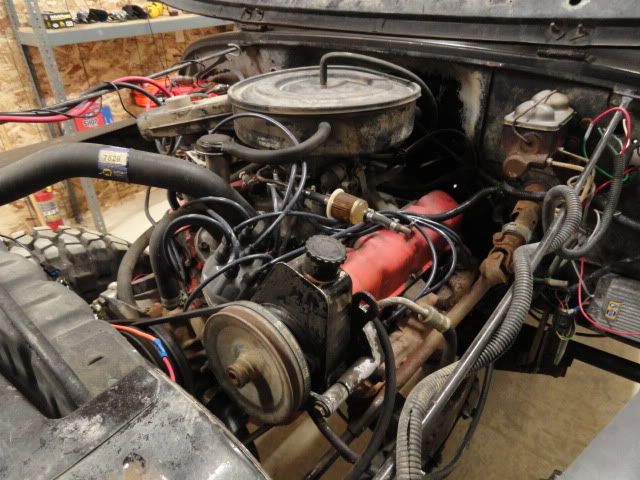 Then I got to work...now you see them...
Now you don't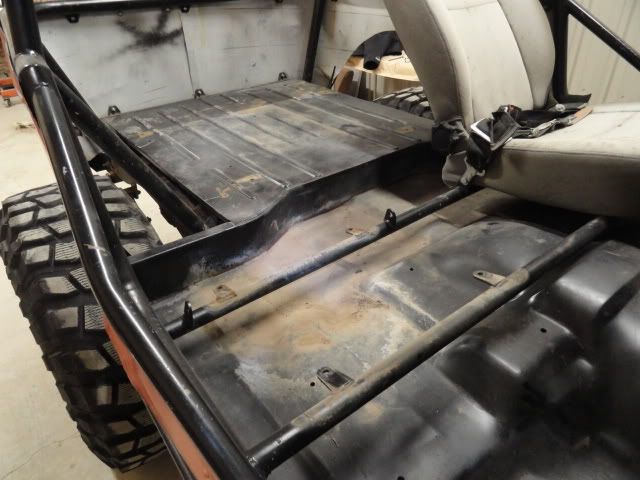 It was great how easy these came off. I am thinking about replacing the hardware with allen bolts though.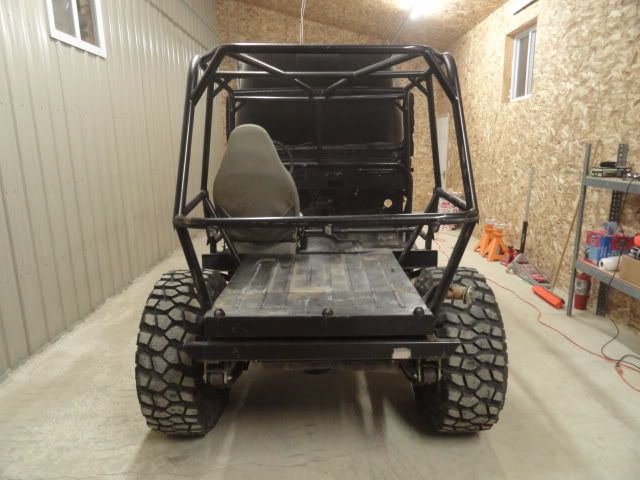 Clean slate
It's a good start. Found out the rear of the pan wasn't held on by anything. I also found 2 body mount positions that line up but are not connected to the frame. I will have to do something about that for the kids safety.
I played with the angle grinder for a minute. That thing is awesome. Makes very short work of getting the paint of the frame! So tonight, back wheels are coming off, and let the grinding begin! Note to self......respirator."
---
02' WJ, 4" Hybrid Lift, Custom Rub