Registered User
Join Date: May 2014
Location: North of Mason Dixie
Posts: 377
Painting aluminum intake?
---
I often thought about painting my Clifford aluminum intake, then sanding the raised lettering.
Curious is anyone here may be able to shed some light on what to use? The intake is a porous cast aluminum, likely subjected to heat and gas (Random dribble).
I have some aluminum outdoor furniture, and know the paint has chipped and flaked easily.. but think Rustoleum may have something is there tool box in this day and age to cover almost all applications.. Just not sure, and hate to go back for a rework..
A black wrinkle finish would be the cats...arse!
Thanks
Registered User
Join Date: Oct 2013
Location: asheville
Posts: 190
You could Powdercoat it in high temp. And it's very durable. But, once chipped no touch up.

I used a Harley Davidson high temp wrinkle paint on a Bmw valve cover once and it turned out great. It's in a rattle can, you have to put it in your gas grill with a temp gauge at about 200 for an hr. And voila it "done". You could put in your inside oven if your wife's likes all the off gassing. But, save the alimony and use the outdoor grill. Your local pro painting shop sells ultra thin masking tape to cover the letters up, I block sanded my raised letters with 400 to 1000 when done.

I'm pretty anal on this stuff.

Chucker2
---
81 CJ7 Renegade, Mocha Brown Metallic and Tan, 4.0L w/ T-5, RE 2.5 Lift, 31 BFG's on Wagon Wheels
Registered User
Join Date: Feb 2011
Location: Muskegon
Posts: 2,047
I've had good luck using high temp engine paint on aluminum intakes and valve covers....

Dave in Muskegon using JeepForum
Registered User
Join Date: May 2010
Location: Nampa
Posts: 3,314
You can also use Vaseline on the lettering you don't want painted. Paint the manifold, let it dry and cure, then wipe off the Vaseline and you're good to go.
---
Fred
Retired Army Guy

High Plains Drifter
1976 CJ-5
Lime Green
Black Wellington Vinyl Bench Seats
258 I-6 1bbl
T-150 3-Speed
3.54:1 Open Gears


To view links or images in signatures your post count must be 10 or greater. You currently have 0 posts.

Registered User
Join Date: Feb 2011
Location: Muskegon
Posts: 2,047
Ohhhh yeah! Did that...works great too.

Dave in Muskegon using JeepForum
Registered User
Join Date: Sep 2012
Location: albuquerque
Posts: 248
You could get engine or header paint. You could paint the letters first, then mask them and paint the rest. Or mask the letters and paint the rest.
Registered User
Join Date: May 2014
Location: Ventura
Posts: 1,915
I used rattle can crinkle paint on my hood hinges on a hotrod.......held up well, not sure how gas or heat resistive it is.
---
Jeep...the first vehicle on the moon.....next trip we are bringing the tub!

It is gunna cost more and take longer than you thought...plan ahead!
Jeep. There's Only One
Join Date: Jan 2007
Location: Doylestown, PA
Posts: 7,095
I've painted many a thing that was made of aluminum. The key is to "pickle" the aluminum before painting. I think I used straight white vinegar back in the day before painting but mostly do powder coating now on aluminum.
Paint right over your raised letters and when the paint dries, use a wide flat bastard file to remove the paint and allow the letters to shine through. I did that on my powder coated valve cover on my Jeep this way and many other projects in the past using that method.
Here's a few pics of my son doing a high school project of restoring our old 1980 Yamaha dirt bike and using the file method on the raised letters. This was about 10 years ago.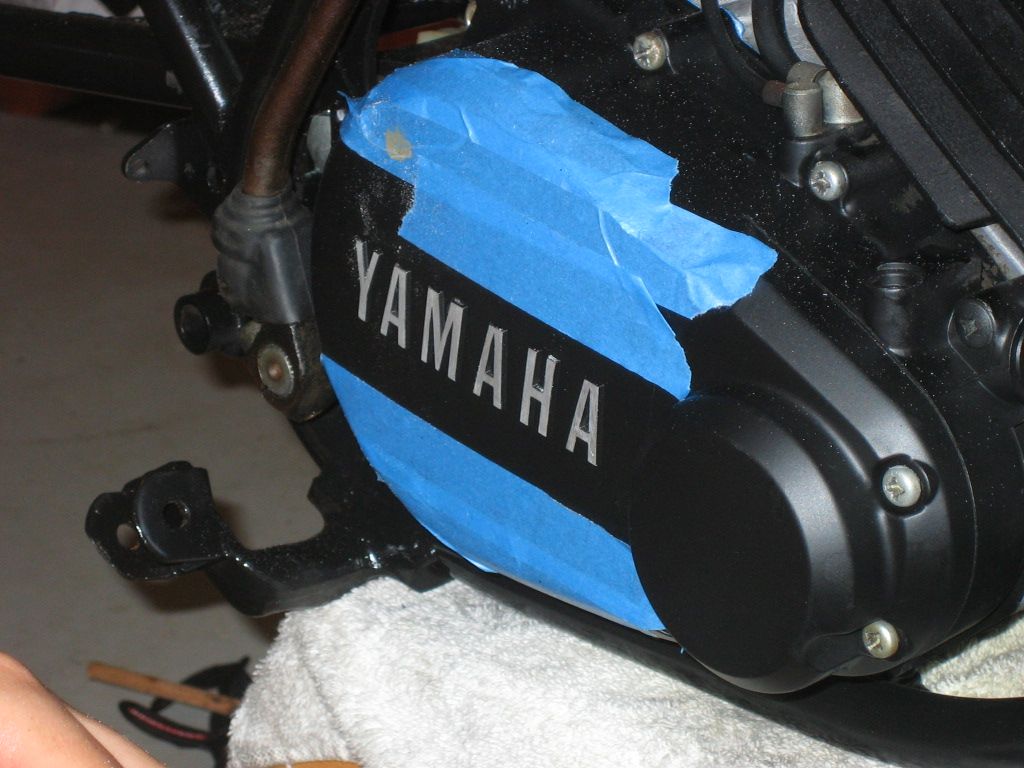 ---
.
1984 CJ-7 Renegade
__________________
Currently Active Users Viewing This Thread: 1

(0 members and 1 guests)
Posting Rules

You may post new threads

You may post replies

You may not post attachments

You may not edit your posts

---

HTML code is Off

---