OBD1 4.0 head swap with MPFI on '85 CJ7, question regarding fuel pump relay wiring
---
I am wrapping up the install of a 4.0 head along with the MPFI from a '95 Cherokee on my '85 CJ7. The last major component I have to finish is the wiring. After reading numerous threads I have decided to go with a cleaner underhood install of the wiring and eliminate the PDC (power distribution center). From what I have gathered, with the 4.0 head and MPFI, all that is required from the PDC is the ASD (automatic shutdown) relay and the fuel pump relay; along with two fuses. My goal is to just mount these two fuses on the firewall and install inline fuses where needed.
One thing I have noticed that hasn't been addressed is the second fuel pump relay(at least that is what I think this relay is for) that mounts externally of the PDC, on the PDC mount itself. Here is the plug that goes to this relay: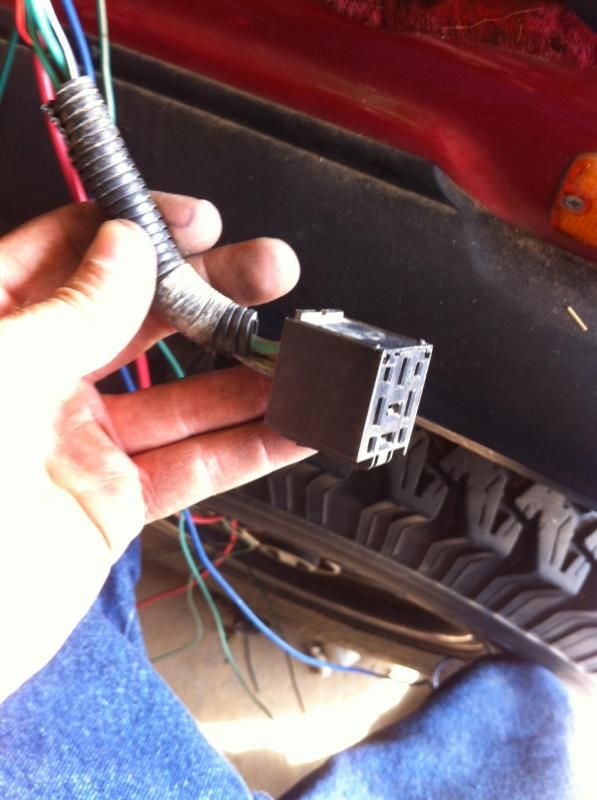 Below my thumb you can see the two green w/ black tracer wires coming from the same point on the fuel pump relay mounted in the PDC. One of these wires goes to the other relay.
Wires running to relay plug:
My question is, with my 4.0 head swap and MPFI, is this third relay required or can I eliminate it?
Also, I am doing a OBD1 complete 4.0/AW4 swap into one of my '84 AK postal Scramblers. Would this third relay be required for the complete 4.0 swap or can it be eliminated from there as well? Everything I have read says to just run the green wire to the positive terminal on the fuel pump but I haven't read anything regarding this other relay.
If anyone who has done this swap has any insight that could help me out I would appreciate it!
__________________
1985 CJ8, '85 CJ8, '85 CJ7, '84 CJ7, '84 CJ8, 2-'84 CJ8 AK Postal Scramblers, '82 CJ8, '82 CJ8, '82 CJ8, '53 CJ3A
'02 Dodge Ram 2500 4x4 Cummins HO 6 spd
'05 Wrangler Unlimited Rubicon Sahara Edition (0002 of 1000), 6 spd, hard top, stock, 38K miles
'06 Grand Cherokee "Overland"