Found an article on the internet that describes the differences in pressure plates that
mcmud
is referring too.
Pressure Plates
The pressure plate's job is to apply the clamp load to squeeze the clutch plate firmly between the pressure plate and the flywheel. In the performance world, there are basically three types of pressure plates: the Long style, the Borg & Beck, and the diaphragm. Of these three, the diaphragm is the best plate for street use, but all three offer certain advantages.
The Long pressure plate is easily identified by the three thin fingers that engage the release bearing. Under the pressure plate cover is a series of nine coil springs. In order to release the clutch, you must compress these springs. The lever arrangement allows the clutch tuner to add small weights to increase centrifugal loading on the pressure plate as engine speed increases. The Long style is mainly used for drag race applications where the static load (established by the stand height) can be adjusted separately from centrifugal load.
The Borg & Beck style is similar to the Long style and is basically a street version of the Long style pressure plate. It can be identified by the somewhat wider three fingers that release plate pressure by compressing the coil springs found under the pressure plate "hat." Certain applications of the Borg & Beck also offer centrifugal assist for high-rpm, high-horsepower applications. The Borg & Beck uses rollers inside the cover that are forced to the outside under centrifugal force to increase the plate load with rpm.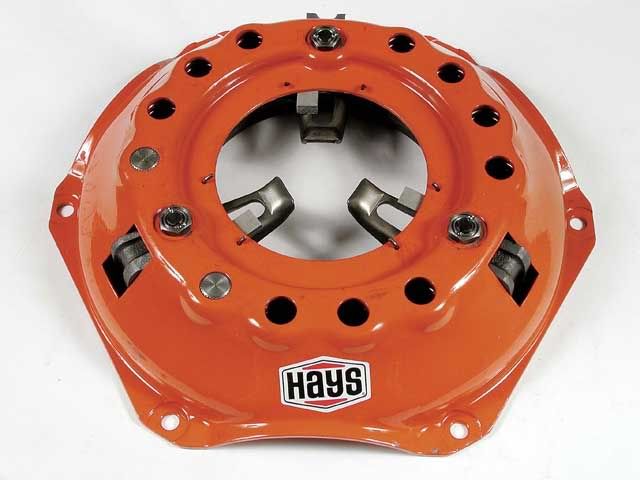 The diaphragm pressure plate uses a single, large Bellville-style spring to load the pressure plate. There are several advantages to this style of spring. First, it loads the pressure plate evenly since the pressure is equally applied to the entire plate assembly. Second, and more importantly, as the Bellville spring is compressed (clutch released), it reaches a point where the pedal effort decreases when the spring over-centers. This makes holding the clutch pedal in at a stoplight much easier than a coil spring type pressure plate.
Recently, companies like Centerforce have attached weights to the fingers of the Bellville spring to add centrifugal load to the spring like the Long and Borg & Beck pressure plates. This does work, although the load increase is not tremendous, it does tend to help the clutch hold the power.