Registered User
Join Date: Aug 2010
Location: socal
Posts: 52
new CJ7 SBC 350 build transmission choices
---
Hello,
Long time listener; first time caller. Iíve been searching this site forever and have learned a great deal. I've owned two '73 CJ5s, a '79 CJ7, and an '85 CJ7. Now itís finally time to ask a question.
The 1985 CJ7 is completely stock and Iím about to start building it up. Itís not going to be a daily driver, but it will see more on-road than off-road use. I need it to commute 2.5 hours each way every weekend in the winter across freeways and up the San Bernardino Mountain roads to Big Bear, CA Ė which are often times covered in snow.
The 258 is dead. I have a Chevy 350 ready to go in. The 350 is currently attached to an SM465 and NP205 in the donor Jeep. Random thoughts: I plan on the Rubicon Express 4.5in lift, maybe a small shackle lift and/or maybe a 1 inch body lift, and 35 inch tires. Iím still researching SOA as an alternative. I donít care for the look of the TJ flares; Iím thinking about some CJ8 rear flares as a compromise between opening the wheel well wider and keeping the CJ feel. I plan to upgrade to Dana 44ís with disc brakes somewhere down the road. Gearing would be decided along with the transmission (see below). I have the Chevyís power steering and will want to add power brakes. I think Iím going to use Flowmaster Super 44ís, maybe Super 40s or original 40ís Ė dual because itís cool.
I know the NP205 is strong, but itís also really large, hangs down low, and the adapter between the transfer case and transmission is very long. Iím thinking about keeping the Dana 300 already in the CJ7. I hear itís an easy rebuild.
With the engine and transfer case determined, Iím not sure about the transmission. So the real question:
I know the SM465 is very strong. Iíve only driven the one I have, so I donít know if mine is functioning completely normal or if it needs to be rebuilt. The previous owner rebuilt it but there is a lot of play in the shifter. Itís not what youíd call a fast shift. It almost takes too long to shift as by the time I get it out of one gear and into the next, I feel like Iíve lost a lot of momentum and RPMS. Downshifting isnít practical at all. The deep 1st/low gear is awesome, but it doesnít seem like it would be a pleasure to drive on-road.
Iíve thought about the NV4500 which of course everyone loves, but is expensive, very large, and probably overkill. The deep 1st and overdrive would be nice for my freeway driving. Novakís website says I may not even need the overdrive though. I hear the shifting is very nice, which is probably the main reason Iím considering it. Iíve never driven one. Novak speaks of the disadvantageous gear span, but Iím not exactly sure what that means.
Iíve thought about the NV3550. As Iím not doing any hardcore off-roading I probably wonít miss the deeper gears or I could put in the Dana 300 4:1 to compensate. I would still have the overdrive Ė if itís even needed. I havenít driven this transmission either.
The stock T176 currently sitting in the Jeep is another option. It would need to be rebuilt. I donít know much about this transmission and Iíve never driven one.
What do you think about my build? This Jeep isnít going to do any hardcore off-roading but will see some. It will be on-road a lot. What transmission do you think would be best for me considering the vehicleís duties, freeway driving, mountain driving, and around-town shifting comforts? Any other thoughts?
Thank you.
Registered User
Join Date: Jun 2011
Location: Gig Harbor
Posts: 223
It's sounds like you have dug up a lot o info already which is good.

I would consider sticking with tranny already on the motor but adapt it to a dana 300. The shorter your gear boxes are the better. The trip you are talking about doesn't sound like there will be a lot of overdrive. With power of a 350, you can use 3.73 gears with 35s and it will give you a good balance for both with a 4 speed plus the granny gear helps off road.

If you are doing an axel swap I would strongly recommend a spring over for running 35s. The ride is much better than on 4" lift springs and it flexes better off road. I have stock fender flares and no cutting and my 35" BFG tuck nicely. You can use a yj flare and it will give you a little more room but is not as drastic as the tj.

I am about 70% through my chevy swap and would glad to answer any questions.
Thank you SleeperCJ.

The only reason I'm still not 100% sold on keeping the already mated SM465 is in maybe finding something a little more pleasurable to shift.

Just to clarify, the freeway (possible overdrive portion) of my drive is 1.5 hours each way.
Here's Novak's reply:
I'm kind of leaning towards just keeping the T-176 for now. It's in the Jeep and already mated to the D300. Does anyone think that would be a big mistake?
Registered User
Join Date: Jan 2007
Location: Houston, TX
Posts: 2,041
T176 is a good tranny and should hold up fine behind a SBC when driven right.

Its not hard at all to adapt it to a SBC either. I would agree on going this route for now. If you have stock gears (I'm assuming 3.31 or 2.73 with an 85 model) then you dont need OD for the highway). After you swap axles and re-gear...then maybe look at an OD tranny.
---
1985 CJ7 Project
Phase One :
5.3L Vortec/4L60E, Moser axles for AMC20, Twin Stick'd Dana300 -
Completed
Phase Two:
Bedliner, Rollcage, Seats, BESRK Rear Bumper w/ tire swing, Soft Top, and a few other goodies -
Mostly Complete
Phase Three:
Waggy 44 front, Scout D44 Rear, 4.56's, ARB's (F/R) SOA with YJ Springs, 35x12.50x15 BFG MT -
Not Even Close to beginning
Also a mostly rust-free 1970 Scout 800A That I'll get to start working on someday...
Quote:
Chrome won't get you home...BUT Rattle Can Black may just get you back"
Registered User
Join Date: Apr 2008
Location: cape cod
Posts: 560
I have a 350 in mine with a T-176 and it works great. It's no sports car transmission but remember your in a Jeep. I can't compare it with the 465 because I don't remember the last time was I drove a truck with one in it. I have 3.31 gears in my Dana 44 rear and I have taken it on the highway with no problems at all and it is not revving very high either. Those gears aren't the best for offroading but I havent wheeled this Jeep since it frame off restoration. That would be the easiest combo though. I used a Iron Duke bellhousing and a GM 10.5" clutch. You will need to use a iron duke starter too. Try this out then go with a different transmission when you have the money for it and the needed adapters but I think you will be plenty happy with it.
---
Firefighters Jeep Club


SBC350,T-176,D-300,D44
Registered User
Join Date: Nov 2010
Location: Clarksville
Posts: 596
I have a V8 T176 CJ5 and the shifting is much better in that then the SM465. The SM465 is a truck transmission and will never shift like a car. Being that it is a truck transmission, it has the low 1st gear and is super strong. The T176 has an weak spot and it is the shifter clamp ring that holds the shifter into the transmission. It is a piece of stamped steel and the ears break off. It has happened so many times to me I carry an extra in the glove box. The T176 does NOT have a low 1st gear, so the SM 465 will be much better for off-road until you re-gear. You reliablity go with the SM465.

The NP205 is a beast. Can it be clocked up out of the way, anyone?

Dana 44s, since there is no real bolt on replacement for the CJ it seems you may need to shorten your axles. If you are going to shorten them then shorten Dana 60s with SOA and be done the first time.
---
1985 CJ7 - total customization underway, Sublime green and Plum crazy purple, Ford 9", 258 w/ Holley 475
1985,93 CJ7,YJ - L98 TPI Vette motor, Atlas twin stick, Dana 60s front and rear, Arbs, 39.5 Swampers
Thanks
---
Thanks guys for help.
I did end up staying with the T-176. Doesn't that Novak Adapter look pretty.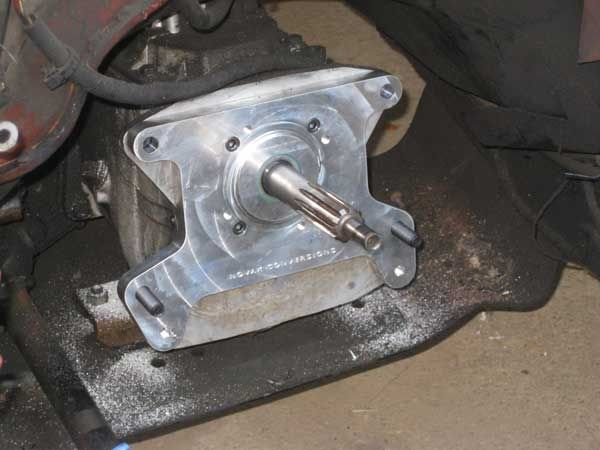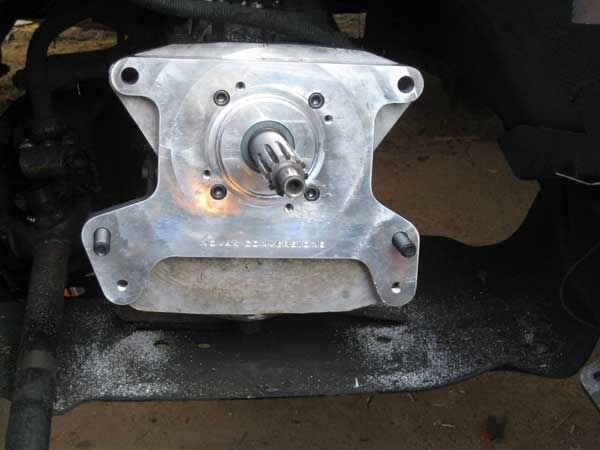 Registered User
Join Date: May 2009
Location: Maine
Posts: 349
I have a 283 SBC with the T-176/D300. I love it. Yes 1st gear isn't the lowest for rock crawling, but for daily driving and off-roading it's fine and I still take off in 2nd most of the time. My favorite though is the 3rd gear dirt road rooster tails..

I also like how 4th gear gets me from about 20 mph up to 60 mph, and I have no doubt I could do 100mph if I dared go that fast. It's really nice for daily driving duties.

I'm keeping my eyes open for a deal on a 350 TBI since I can pretty much bolt it right up. Nothing wrong with my 283, I just want a 350 though.
Currently Active Users Viewing This Thread: 1

(0 members and 1 guests)
Posting Rules

You may post new threads

You may post replies

You may not post attachments

You may not edit your posts

---

HTML code is Off

---