Registered User
Join Date: Sep 2010
Location: Pittsburgh
Posts: 396
My New Stage Build Plan. What Ya Think?
---
Ok, so money is short, one of my rear tires fell apart, spare is in just as bad condition, and I'm getting eager to pull the tiger on something. Original plan was to do RE 4.5 kit, then RE 1.5" SOA, was even considering going OME with 33s, now I'm thinking stages for the suspension.
Stage 1
RE 1.5" Springs in SUA
Bushings
Crabtree hangers
U-bolts
Degree shims
Spring plates
Steering box brace
HD tie rod & drag link
4 35x12.5R15 MT/R Kevlar
Money is short and this pretty much drains my account. Turning this into SOA will probably take up another $1500 and I don't have that kind of money right now.
As money comes in between I want to buy a full size spare, MT II wheels, and upgrade my brakes. That doesn't even touch all the other unrelated things I want that'll nickle and dime me to death.
So Stage 2
SOA
Perches
U-bolts
Sway bar disconnects
Axle perches for shocks and sway bar link
4 Shocks (I'll decide brand later)
Ladder bar
Extended brake lines
High steer
Tom Woods CV shaft
Please mind I'm only concerning the suspension costs in those lists. I have my own plan for drive train and gear ratios, so please don't bother me with questions about those.
I have 6 month old shocks on right now. Ford towers up front. I'm pretty darn sure I'll be good with keeping those shocks with this lift. Bump stops will be extended to keep tires from tearing up my flares and body, so I should be ok on travel. If I ain't, well... I'll address that later. I can extend stock sway bar link myself. I'll go quick disconnect when I do soa. As for wheels, I picked up some mag wheels last year for cheap. They're 15x10. I don't care much for the design, but they'll work. I just need those special lugs for them.
I know, I know 35" tires on that little lift?? Well I did some work. My jeep right now seems a good bit higher than other stock suspension cjs that I've seen. I think the mounts for the fiberglass tub may have some lift integrated. I also have 1" lift shackles. I'll probably cut down to .5" when I go soa, but for now I should not have problems with those. Bout 95% sure springs are stock. They are pretty darn flat. I measured from ground to rocker around under the mirror and came up at 21.25". From what I've researched, stock should be about 19.5". So I assuming these springs will net about 2", I should have nearly 4" of lift over bone stock. I've seen people run 35s with that without trimming. So If my CAD sketch holds true(I'm want to go out and measure a few things to make absolutely sure), I should have about 4.5" from bottom of flare to top of tire in the front and 6.5" in the back. If clearance becomes a real pressing issue, I'm not totally against ditching stock flares for those rugged ridge pocket styles.
Edit (10/09): My CAD prowess is still there. Measures out within .5" tire to fender flares. I was a little too generous with pavement to rocker height, but the tires ain't gonna hit those now are they?
I know I'd be better off buying 33" tires and waiting till I flip the axles to go 35", but I really don't want to have to buy tires twice. I'm about 80% sure I'll be soa by March 2012, so I'd be selling my 33" MT/Rs with most likely less than 7k miles on them.
So I took a picture of the jeep and traced it in AutoCAD 2010. So in line, there is my jeep as it sits now, sua with 1.5" springs and 35", and then soa same springs on 35".
So I think I'll be alright with those tires. Sure my travel is going to be a bit limited, but most of my driving is on the road. Hell I may not even be offroad before I go soa.
I figure, it'll work. It won't be ideal, but it'll work.
Here is a picture of how the jeep sits right now. 235 tires.
Scratching my head over that picture. Definitely looks taller in person.
EDIT (10/08): I didn't want to post this yet. lol oh well. Hit the wrong button. I might be making some changes to this.
Registered User
Join Date: Aug 2011
Location: Quincy
Posts: 2,655
Registered User
Join Date: Apr 2011
Location: Lewistown
Posts: 5,074
Nice looking Jeep mopar. Is that slate blue (c2)? I'm kinda partial to that color. Is that a Hobrect bumper by chance?
---
The end of a defining era.... JEEP R.I.P. 1941-1986
My frame off Re-Build: (the 4 year saga....)

To view links or images in signatures your post count must be 10 or greater. You currently have 0 posts.

Registered User
Join Date: Sep 2010
Location: Pittsburgh
Posts: 396
So It's been a few weeks since. Figure I might as well update this since I started it.
I ended up following though with everything I stated except for running 35s now and degree shims. I could run them (I remeasured and checked my cad drawings and I was dead on the top of tire to fender flare measurement
), but my neighbor gave me a killer deal on 2 new 235s. So I decided I'd just replace my over worn, no tread tires on the rear with those. I do think that those tires are a little small for the size lift I have, but I don't think it looks too ridiculous. I can deal with it till Spring.
Pulled both axles. Why? Because I thought it would be easier to get them painted off the jeep than on. I'm pretty darn sure I was wrong considering I brushed on the paint. Just wanted to pretty things up.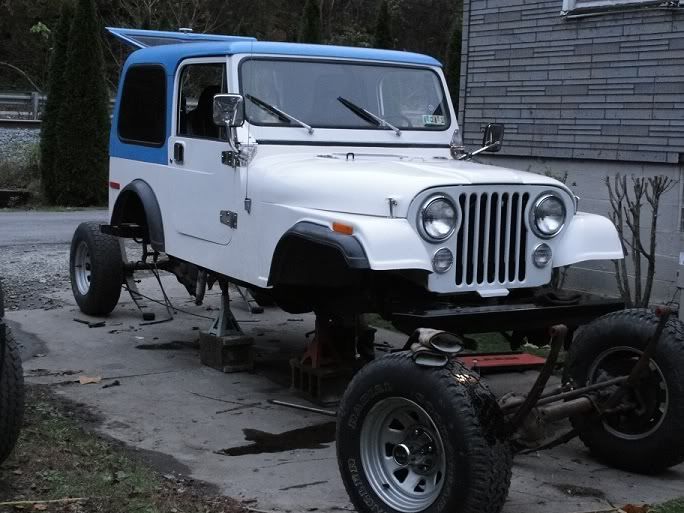 Didn't go too crazy on prep work. Pressure washed 3000psi, hit the loose stuff with a wire wheel, and degreased it. Coating system is one coat of rustoleum rusty metal primer and a thick layer of hammered black. I did three stitch welds tube to housing with the arc welder.
Thumbs up to Jim on the shackle hangers! Only downside is I now can't tie my bumper into the bottom side of the frame. (yes I know I didn't get the inside too well with the rattle can.)
Can't really see the real goodies there. Steering box brace and HD tie rod and drag link installed. Plus you get a good idea of the new stance.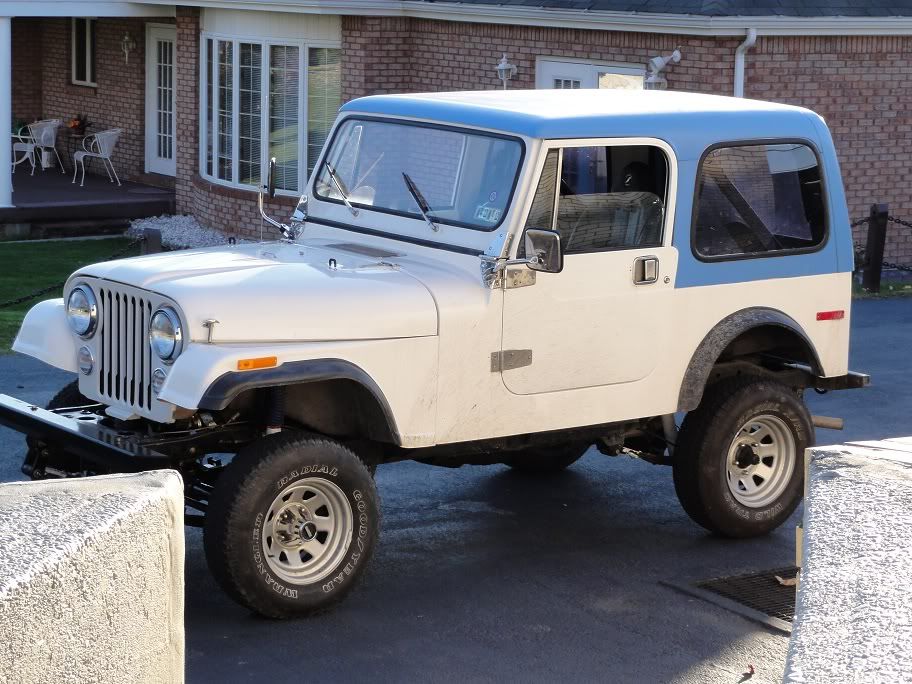 Web Wheeler
Join Date: Jul 2009
Posts: 7,322
Looks like things went well for you so far. You're gonna have plenty of room for bigger tires from the looks of it. Good job and getting it back on the road.

You know Woody you could weld a tab on the inside of your bumper and use the new hanger bolt to attach the bottom of the bumper. It would just be on the opposite side of the frame and bumper as it was before. Let me know if you want some tabs made up and I'll make a couple for you and send them your way.
---

To view links or images in signatures your post count must be 10 or greater. You currently have 0 posts.
(Crabtree Shackle Hangers)

My build thread

To view links or images in signatures your post count must be 10 or greater. You currently have 0 posts.

Registered User
Join Date: Sep 2010
Location: Pittsburgh
Posts: 396
I might do something like that. I was thinking tie it in with a tab to the hole on the side of the frame. It's not urgent though. I reckon that it's still pretty strong with the bottom squeezed between the frame and the hanger.
Currently Active Users Viewing This Thread: 1

(0 members and 1 guests)
Posting Rules

You may post new threads

You may post replies

You may not post attachments

You may not edit your posts

---

HTML code is Off

---