Quote:
Originally Posted by
choppachris
I was looking on CL and found this neat little Miller "Thunderbolt" AC stick welder. It was priced cheap and only 20 minutes away so I picked it up this morning...came with 20 something foot leads. Old man was the only owner, bought it brand new in 1981 here in Harlingen, TX where I live. He even gave me the original owners manual for it in great shape! The little knob on the crank is broken off...(on top of welding machine to adjust amperage) but it still works fine. Stoked!!!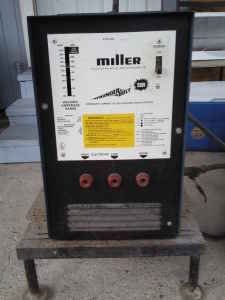 Is it 220 or 440 volt?
Some of them were 440 volt, but if an old guy had it, it's probably 220...
The goverment (armed forces) dumped a BUNCH of 440 machines on the surplus market in the late 70's/early 80's, and I was unlucky enough to get one...
All the early Miller Thunderbolts had full copper windings inside,
The duty cycle (how long you can weld before they heat up internally) will be VERY good,
AND,
It will be a VERY clean weld, no dropout, sputter as voltage/amperage drops when you strike the arc, ect.
I used one for many years, and I can tell you, it will make some SMOOTH WELDS!
No damn aluminum wound transformers! They REALLY make me want to bite nails!