I have been working on getting the most out of my 258. So far the ignition upgrades have been the best changes I have made to the Jeep. I really think the CDI box will be the icing on the cake. I would like to have a full understanding of the wiring for the CDI box. I will run through what I think I know. I borrowed the pictures from other Jeepforum threads.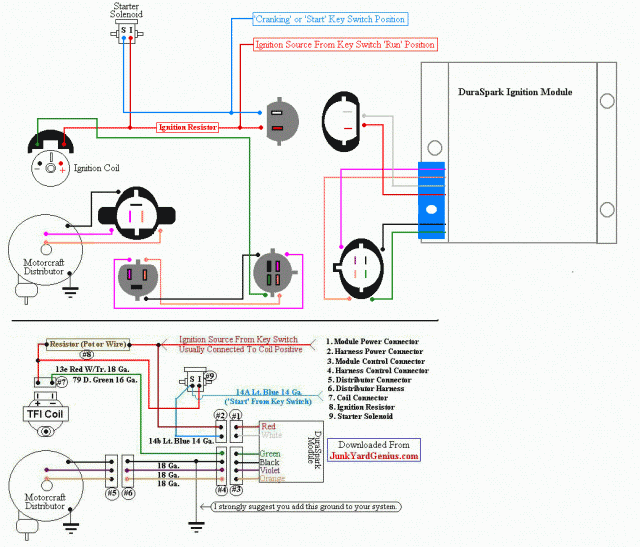 Where the Duraspark uses orange and violet wires(top pic), the MSD uses the green & purple wires (bottom pic) connected to the MSD-8869 adapter (below).
Green Duraspark wire "replaced" by MSD Black wire.
Red Duraspark wire replaced by MSD Orange wire.
I am confused where the Duraspark gray wire is being replaced on the MSD wiring.
The black wire is "unused" due to the MSD being grounded to the battery??
Where exactly do I need to connect the small red wire on the MSD? I found another drawing showing it connected to the positive side of the horseshoe connector, but orange wire goes there. Do these get spliced?
Bypass the ballast resistor altogether with the MSD?
What difference will it make routing the heavy red MSD wire directly to the battery vs to starter relay?
Msd makes an extension cable for the distributor plug, a shielded version #8862, and a non shielded #8860. Is the shielded really needed?
I hope someone can make sense of what I am trying to get right in my brain. I have read several threads about people smoking their box by not wiring correctly. I do not want to tell that story.