Continued work under dash today. I had installed a full YJ pedal assembly for the hydraulic clutch pedal geometry. When I installed the manual brake master cylinder, I wasn't happy with the alignment with the push rod. So out with the YJ assembly and in with a CJ assembly. Brake master rod throw now normal.
Decided, just replace the CJ clutch pedal with the YJ pedal. All bolted up, brake master in place and works perfect. Clutch master installed (81 version) and it hooks up fine except the hole in the push rod is much larger than the YJ pedal pin. No problem! I took a 3/8x16 nutsert, drilled out the threads inside and cut it off to make a "bushing". All GOOD!
Now I think, I am done with the foot controls, so lets install the pretty new pedal pads. E-Brake pad on, check. Brake pedal pad on, check. Clutch pedal pad on...no good. the YJ pedals are smaller than CJ pedals so the pads don't fit!
ARRGH! Some of these simple mods make you want to scream. Anyway, took the CJ clutch pedal and cut off the pad mounting plate. Then cut off the YJ pad mounting plate. Monday, I will take it to get the CJ plate welded to the YJ pedal arm.
I also, mounted and connected the defrost duct: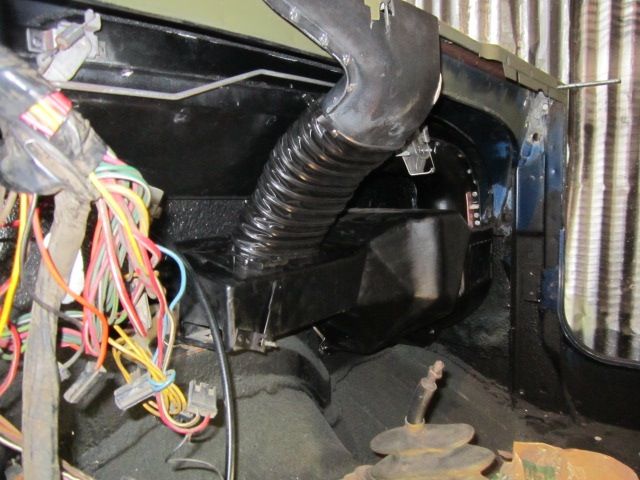 Another biggie is I installed Nut-Serts for the windshield hold downs in the proper location for a CJ Windshield/Dash that I got from McMaster.com