I got sidetracked on YJ tub mods that i put in another thread:
http://www.jeepforum.com/forum/f8/yj...stall-1413567/
I have much to do this week in prep for putting the tub on the frame this weekend. My daughter and future son-in-law are coming this weekend to help instead of next weekend. They will be here more to call 911 if something goes wrong than muscle. I learned many years ago the value of having a witness available. When I was 12, I was helping my step-grandfather work on a tractor. He was under the tractor with an open end wrench, the wrench slipped and one of the points hit his right eye direct. Split his eye! It was up to me to run to the house to get help. He lost his eye. Wear those safety glasses! As an aside, he took great delight in popping his glass eye out for years to scare the younger grandchildren.
Anyway, when I installed the transmission and transfer case I made a wooden "gantry" to support a chain lift: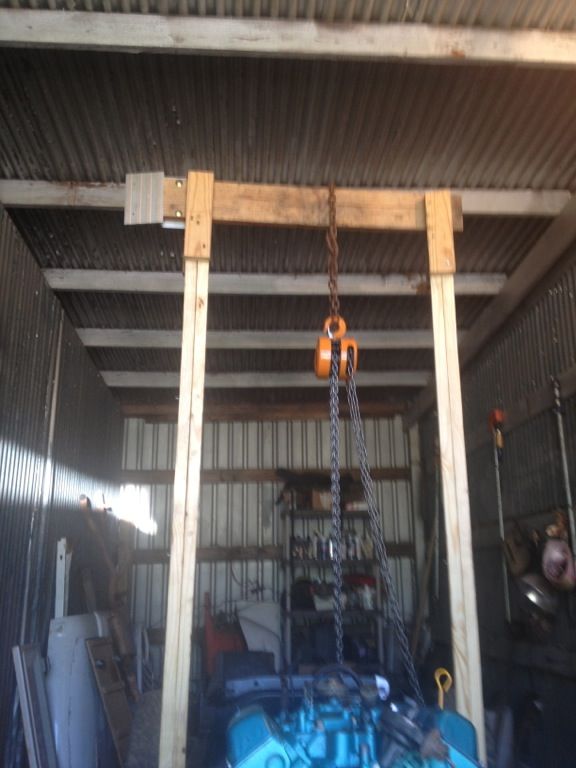 It was cheap and worked out great. Two doubled 2x4 uprights with three legs on the bottom sorta like |--. The legs parallel to the body are one-piece. the third leg is hinged for easy storage but when setup at 90 degrees to the other legs gives me three point stability. A pair of 2x6s nailed together makes the beam that supports the chain fall. attach to tub, hoist, remove trailer and roll the frame into place. Sounds simple...
So I have to finish my pre-install this week:
Trim body mount tubes and install mounts
backup light wiring and 4x4 light wiring
GL-4 in trans and xfer case; GL-5 in rear diff.
mockup heat shields for muffler/cat
chase tub mount nuts with 7/16" and 1/2" taps
Wish me luck!
Also thinking of getting some cheap 7/16" and 1/2" bolts, cutting the heads off and using as alignment pins front and rear. I did this when installing my transmission and it worked great. Thoughts?