Registered User
Join Date: May 2009
Location: Warwick, RI
Posts: 423
MC2100 Swap Issues - Will fire, but wont stay running
---
Swapped out from my Carter BBD today. After all is hooked up properly, turned the key, and it eventually fired. RPM's raced up high, then spuddered out. Fires right back up, but does the same. Stayed running if I kept RPM's up, but then noticed I had fuel spouting .
Pulled the cover and checked needle. Looked OK. Float level at .5in dry, so I brought it down another .1 in. Put it back together and fired. Still wont idle, fires, RPM's jump, then dies.
Jets are labeled 51f. Carb is 1.08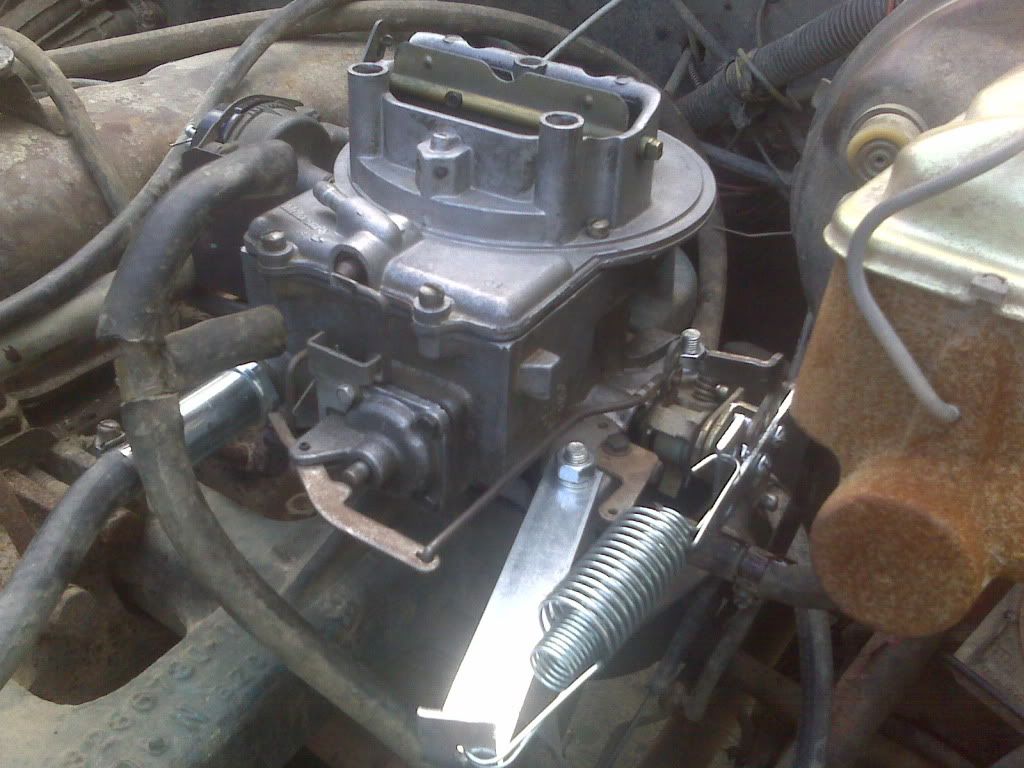 ---
Mike
1980 CJ7
---
Last edited by NelsonATC; 11-01-2009 at

04:51 PM

.
Registered User
Join Date: Mar 2009
Location: McCalla, AL
Posts: 150
Did you rebuild it yourself? I'm no carb xpert but I have done a few of these and (as you know) they are a very simple carb. I'd go at in this order; check for fuel spray when you depress the linkage, you should get two nice streams of gas down each side. If not, check the accel pump. It can easily be put into the wrong hole. Check the spring in the accep pump housing. The narrow end should face out, toward the front of jeep. Then check for big vacuum leaks. I had trouble getting mine sealed around the base (sounds to me like this is your issue). I purchased a new gasket (the big, thick one) and it solved much of my leak problem. You may have to go back and clean out all your passages well, especially from the jets to the venturi cluster. It's pretty easy to take the cluster out and double check the flow through it. Your jets are large...but not too large. I run 50's in mine but I've got some mods that demand more. Seems like most guys run 47's or so in the 1.08.
---
81CJ7, 258, MC2100, TeamRush'd, 3"lift, 34x10.50TSL's, 3:31gears, Scrambler cab
Registered User
Join Date: Nov 2007
Location: usa
Posts: 342
Ditto me for the 47's on my mains. It took a little fiddling around to get mine working properly as well. Olrev pretty much summed it all up. The only thing I will add is to make sure your needle and seat are working properly. Well worth the effort when this is all done!
Registered User
Join Date: May 2009
Location: Warwick, RI
Posts: 423
Vacuum leak was the major issue. When I took the carb off, you could see where it was not sealed properly. The Summit adaptor needed to be ground down to accommodate the screws from the power valve cover.

There was also a gasket issue. For anyone doing this swap, don't use the summit gasket between the carb and the plate (It leaves 2 small gaps at the back of the carb that you can't see once installed). Cut a custom one yourself.
---
Mike
1980 CJ7
Registered User
Join Date: Mar 2009
Location: McCalla, AL
Posts: 150
Glad to hear you found it. Funny, some people run into the power valve issue but I haven't. The MC2100 had a few base configurations. It seemed like the earlier models were easier to seal since the base was smaller. A late 70's and up ended up with a big, square base and it was hard to find the right gasket to seal it. Although I'm happy with mine, I'm looking for dinosaur 2100's with the simple design...great carb.
Now you can take "Carter 2bbl" out of your profile and join the rest of us MC-er's.
---
81CJ7, 258, MC2100, TeamRush'd, 3"lift, 34x10.50TSL's, 3:31gears, Scrambler cab
Currently Active Users Viewing This Thread: 1

(0 members and 1 guests)
Posting Rules

You may post new threads

You may post replies

You may not post attachments

You may not edit your posts

---

HTML code is Off

---