Registered User
Join Date: Jun 2008
Location: Canada
Posts: 6
MC2100 Carb Manual Choke Hook-up ?
---
I just installed a new MotorCraft 2100 carb on my CJ. I was told to use a manual choke and not the electric because our winters here get pretty cold. Im not to sure how to hook up the manual choke. Any info or pics would be great.
Registered User
Join Date: Apr 2007
Location: New York
Posts: 328
I have a manual choke on mine. I used a kit from the part store. It was in the HELP section. It didnt cost much at all and is very easy to hook up. If you were able to put your own carb on this will be no problem at all for you.
If someone hasn't posted photos by the time I get home from work later today, I will. I get the feeling not a lot of people on here are representing with the manual chokes, but I love mine. Takes some getting used to, and as the seasons change, so do your choking patterns.

Like gjg mentioned, you can get them in the HELP section of the parts store, and likely it will need to be trimmed - both the housing and the wire pull. (get a sharp pair of wire cutters to make this easier) I have a small hole drilled in my dash just above the windshield washer switch where the pull is mounted. It's going to take some trial and error to get the pull right - so that you've got it pulling closed and wide open when it's pushed in, but again, as gjg mentioned, if you can install the MC, you can do the choke.

Do you have some sort of linkage to hook the cable up to on your carb? I had to make one from a 3 x 1" piece of aluminum with two holes drilled in it to secure the cable to the choke mechanism.
-N
Registered User
Join Date: Sep 2007
Location: northwest arizona
Posts: 403
Post some pics guys I'm going to be going manual on mine too want to see what others have done. Thanks.
OK, here you go:
From the side, notice the choke pull housing coming in from the left, and notice the aluminum bar I had to cut to hold the housing so the whole shebang wouldn't move when you're operating the choke. (If anyone has better or more practical ideas, I'm open)
From the front. You can barely make out the choke pull going through the firewall in the background, under and past all the vacuum hosing. (if anyone has any practical ideas for that, I'm open - my vacuum lines need better organization and distance from the engine/manifold) Sorry it's rotated so you'll have to coque (the filter won't let me spell it the regular way) your head:
From the dash. Nothing special, just a couple inches above the wiper knob. The hole only needs to be big enough to allow the housing through, hopefully your pull has a bezel that covers the hole so it doesn't look ghetto. The ones from HELP have pretty small bezels, this one came with the CJ and the bezel is a little larger.
Let me know if you need more pics or advice.
-N
Registered User
Join Date: Jun 2006
Location: Yakima, WA
Posts: 1,200
Just going to throw this out there cause I didn't see it mentioned...Did you seal off the hole for the choke that is on the bottom of the carb? If not it will be a vacuum leak that will drive you crazy.
---
1982 CJ-5 Laredo
258, T-176, D-300
1972 240z
in pieces...
Quote:
Originally Posted by BESRK
...that's why you push in that little nipple (hehe.. I said nipple on the internet :D )
Registered User
Join Date: Sep 2007
Location: northwest arizona
Posts: 403
For anyone new to this or concerned with knowing the circled areas show the vacuum hole in the castings. The carb on the left is an M/C 2150 and the hole is OPEN it has not been plugged yet.
The carb on the right is an M/C 2100 and it has a plug in the vacuum hole.
This will cause you problems if you don't have it plugged.
Plugging the hole can be accomplished by either mixing up some JB weld or using some soft aluminum or copper and forming it to fit the hole and hammering it in as a plug CAREFULLY don't hammer so hard you crack the carb casting.
Registered User
Join Date: Jun 2008
Location: Canada
Posts: 6
Thanks for the pics. I still have the electric choke on mine. Looks like I have to take off the black casing off and work from there. Also, How do I post pics on here?
Registered User
Join Date: May 2009
Location: Warwick, RI
Posts: 423
There are kits that you can get in the local parts store for $10 that include the adaptor for the black casing. Here is pic of my carb, in which you can barely see the choke steup on the far side using the black casing (it has a name, but it escapes me). Its an older pic snapped right after I installed it.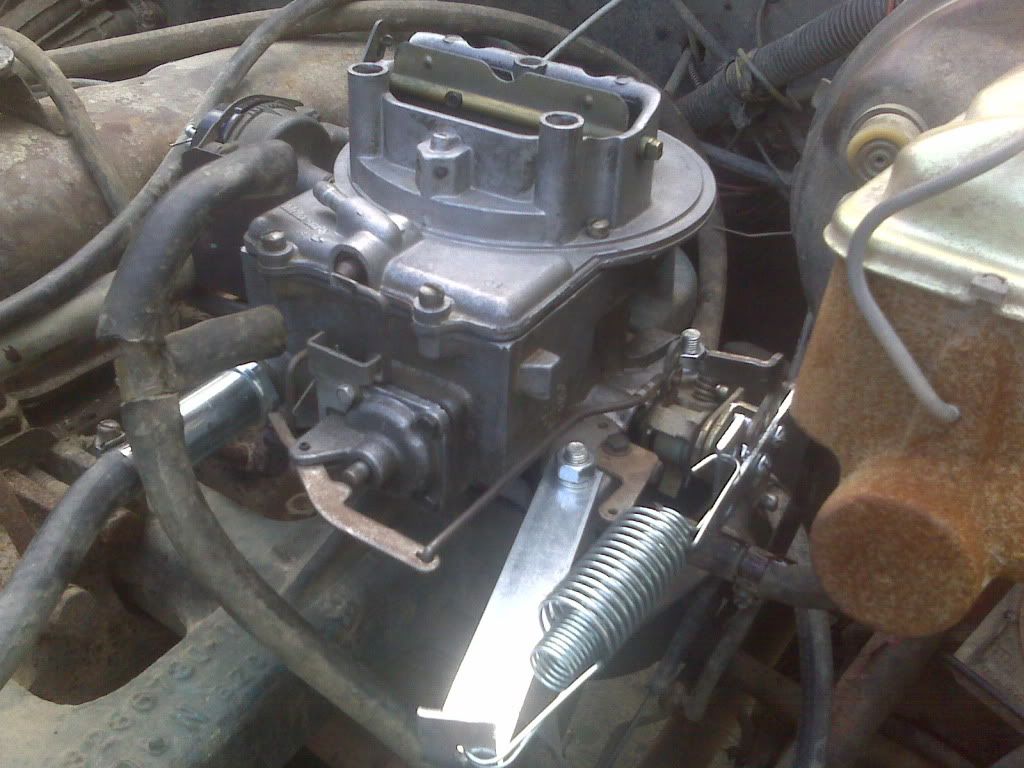 ---
Mike
1980 CJ7
On my MC2100, if you look in the picture just above this post, you will see a tube exiting from the bowl up at an angle. Right in front/center of the pic, with a screw on each side (motorcraft embossed just below the outlet elbow). #1, what hooks to that, #2, where does it go, & #3, why is mine spewing fuel out of it. I tried to plug it and fuel started pumping out of the two brass rods that go on either side of the throat. What have I got wrong???
That is the bowl vent tube. You can run a length of fuel-grade tubing from there to your canister. Your canister should have a port labeled "bowl vent" or "carb vent" or something like that.

Yours is spewing fuel out of it because...well, it's not supposed to be spewing fuel. How much fuel are we talking about? During operation, i.e. when you are running, that port should be closed; it opens a bit after you've shut down. If you look closely, you'll notice a mechanical linkage in that photo that closes a valve during drive time. Once shut down, it mainly carries vapors which are stored in the canister. If fuel is coming out of it, you've got something going on in your carb - either your floats are too high, or you've got some sort of back pressure/high fore pressure issue, i.e. you don't have a fuel return line from your filter (you should have two coming off your filter, one that goes to the carb, one that goes to the fuel return line back to your tank), or you are kicking out a ton of pressure from your pump. Probably more likely is that the mechanical linkage (I believe there may be a non-mech version out there, too) is not working right. That's about all I've got.

I suggest you either a) run a line from there to your canister or b) cap it until you figure out why raw fuel is coming out.
Lots of fuel. Not vapor, not a dribble, full pouring out. Tried plugging and all it did was push fuel put the two brass tubes either side of the venturi.

How would I determine if it is making too much pressure? And/or remedy?
You might start a new thread and ask. I believe you'll need a fuel pressure gauge in line from the fuel filter to the carb. I don't know what the correct pressure is and I've not had to do that before so hopefully someone more knowledgeable will chime in.

If it is a pressure issue - you'll have to start at the pump. Do you know if you've got a mechanical pump or an electric pump? A mechanical pump is about halfway down the engine on the front passenger side. It has a little lever on it sorta like an oil rig arm. You should be able to trace the fuel line backwards from the filter near the carb. Usually bronze in color, with the fuel line running back from the tank.

You should also check to make sure your fuel return line is not obstructed. As I mentioned, you should have a dual port filter, with one port running to the carb set at about 6 o'clock, and another, at 12 o'clock, running back to the tank. If your carb bowl vent is not hooked up to the canister, I'm going to guess you had a PO who pulled everything and you may have to dig around to find the fuel return line. If you need help finding it, ask and I'll post pictures of my engine bay.

Sounds like it might be time for a rebuild, as well. Kits are about $20 these days, and the MC is one of the easiest carbs to rebuild. But not until you figure out the pressure situation.

Good luck!
So I decided that I would do a full rebuild. Funny thing is that the jeep started and idled perfectly with the MC2100, except for that pesky puking fuel problem. Dug a little deeper, checking the usual suspects, and it looked like the jets were clogged. So I decided to perform a full rebuild. Now, rebuilt and it is making me want to put my carter back on for improvement. Nothing else besides the rebuild changed. It will start, but you have to rev it to keep it running, spits, sputters, tries to die. Even has been popping and backfiring.

So how could it run like a top with clogged up jets and like crap on a fresh rebuild. I'm fresh out. Guys, help me out!
Currently Active Users Viewing This Thread: 1

(0 members and 1 guests)
Posting Rules

You may post new threads

You may post replies

You may not post attachments

You may not edit your posts

---

HTML code is Off

---