Registered User
Join Date: Jun 2009
Location: NY
Posts: 91
Late model CJ 5 Frame measurements
---
I bought a 1980 CJ 5. Turns out, the frame is bent. Looks like someone bought a wreck and installed a fiberglass body without straightening the frame. I think at the very least that I'm dealing with a 1 inch diamond on the drives side. Right now, I've stripped it to the bare chassis and strung a datum line down the middle. I can't detect any bananna bends and there are no kinks. The problem is that the rear springs splay outward so far that they won't connect with the frame rail now that I've installed new shackles. The old shackles were bent badly. My frame shop buddies tell me that they want spec's. from a KLM manual before they start trying to bend the frame back into shape. So far we can't find those spec's. There are other spec's around for the CJ frames, but they aren't detailed enough. Can anyone help with the KLM spec's? I'm burning daylight and want to get this thing back in one piece.
Any help much appreciated.
Thanks
Registered User
Join Date: Aug 2008
Posts: 192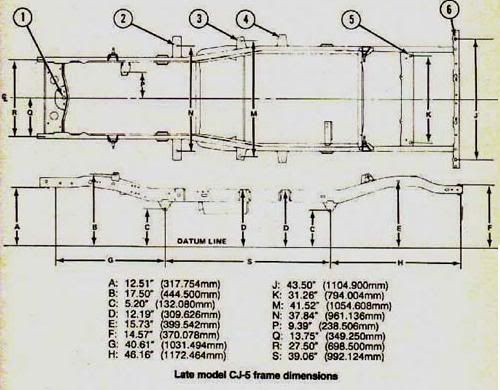 Might want to print this out. It's on somebody's Photobucket account, so it may disappear without notice.
Thanks,

This is exactly the one I have. I'm told that the KLM spec's include more measurements. Any frame guys out there?
O.K. What I need is measurement K on the spec sheet in post two. Maybe someone with a bare frame available would double check it for me. If you can, please measure inside to inside on the rails, and then at the body mount holes go from the outside to outside of the hole. I think mine has been squished in that area.

Thanks
Registered User
Join Date: Sep 2008
Location: White Springs
Posts: 10,101
This is an old thread... can anybody say what the outcome was?

What I'm reading online is that if my frame is bent up to an inch that it may still be in an acceptable CJ5 spec, and not worth trying to have straightened.

Does anybody have any experience with this? Any driving, steering issues?

Thanks
---
Kerrdog
Go Fish! <*////><

But the right word at the right time... "Hey, give me a little hug!" That's the difference between lightning and a harmless lightning bug!
Registered User
Join Date: Aug 2002
Location: Colorado
Posts: 16,137
Not sure how you came to the conclusion that an inch off is acceptable. It may be, but maybe not. Depends highly on where that 1" is off. An inch can be detrimental to tire wear and handling if it's in the right spot.
I never did get the measurement but I'm now within 1/4 inch of square using the tram guage. Aside from the frame being diamond, my biggest issue turned out to be the rear spring mounts. They were so twisted that the springs wouldn't line up in back. I replaced them, pushed the the diamond out, and everything lined up as it should. My Jeep now handles way better that it did. It's actually fun to drive now.

FYI,

I couldn't get a frame shop to touch it. No one wanted to work on a 30 year old frame. Too much liability they all said.
Currently Active Users Viewing This Thread: 1

(0 members and 1 guests)
Posting Rules

You may post new threads

You may post replies

You may not post attachments

You may not edit your posts

---

HTML code is Off

---