Registered User
Join Date: Feb 2013
Location: Florence
Posts: 85
Just bought my first CJ!...and the clutch went out
---
Hey guys Ive been a JKU owner for about a year and about 2 hours ago i purchased my first CJ a 1974 CJ5 with a T18 4 speed manual transmission i bought it for $2100 and immediately fell in love after driving it. So i bought it drove it about 12 miles home with no problems, got in it again and drove it 500 feet and the clutch starting feeling weird and then it just went straight to the floor. I seem to have found what the problem is, Im not being smart when i say this because i seriously have no idea what these parts are called but this little tube with a ball on the end of it slipped out of place where it seems to connect to the transmission. There doesnt seem to be anything broken or snapped it just seems out of place and theres a bunch of loose bolts, i know you guys are probably thinking it seems obvious how to fix it i just want a step by step guide so i know im doing it right, do i tighten the bolt connected to the little bent bar in the third picture as well? Thanks in advance, Donovan
LINK TO PICTURES:
https://flic.kr/s/aHsk5K4wGY
Registered User
Join Date: Jan 2012
Posts: 174
This is your clutch linkage. Somebody has fooled with because your missing and the flywheel/ clutch inspection cover. I would buy all new linkage becuase it looks pretty raunchy, but you can replace the missing bolt that holds the bracket on the bellhousing, then the rod with the ball end goes in the indent on the clutch fork. Thr rod is adjustable also which could make thing fit tighter but the missing bolt at the bellhousing probably caused things to come apart.
Registered User
Join Date: May 2014
Location: Ventura
Posts: 1,915
While I am sure many here can guide you thru...a FSM is invaluable to have....best money I spent so far on the jeep.
---
Jeep...the first vehicle on the moon.....next trip we are bringing the tub!

It is gunna cost more and take longer than you thought...plan ahead!
Jeep. There's Only One
Join Date: Jan 2007
Location: Doylestown, PA
Posts: 7,041
First, make sure both brackets that are bolted to the body firewall and transmission bell housing are secure and rigid. I can already see in the 3rd picture you have a link to, that the PO has done some poor mounting and baler wire type fixes. And yes, your inspection plate cover is missing.
I would replace all items with new and do the adjustments required to get the proper clutch "free play".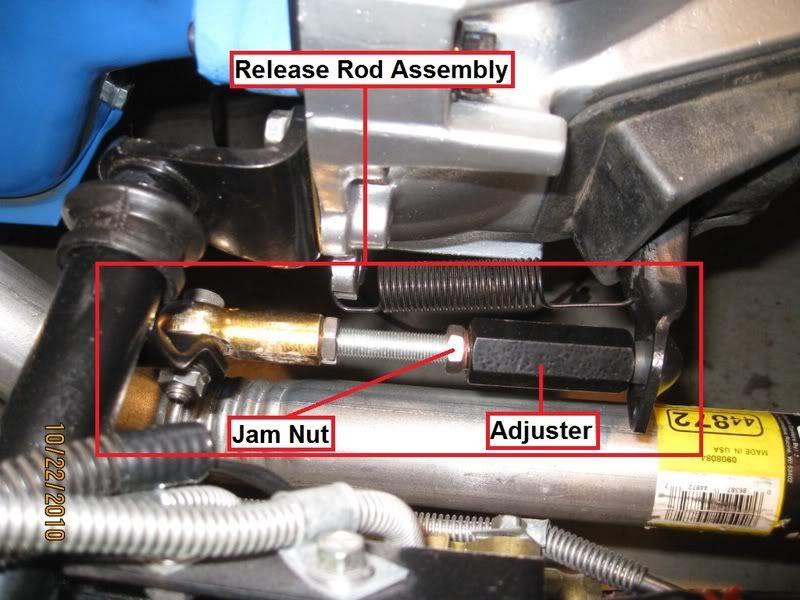 ---
.
1984 CJ-7 Renegade
__________________
Registered User
Join Date: Nov 2007
Location: Off the Grid in Chester Grant
Posts: 18,083
All new parts are available. That said, you need to bolt that bracket back on tight to hold the bell crank solid. Then you look at the second photo of the arm coming out of the transmission and note the little hole in the end of it. There should be a spring there that goes parallel with the adjuster that fell out to stop it from falling out.
Last, the tube that goes from the tub to the edge of the tranny which is called the bell crank, has a grease nipple in the center that needs grease. The ends normally have rubber boots over them to hold the grease in.
Here is a link to what should be there.
http://www.jeep4x4center.com/jeep-cl...cj8-scrambler/
---
Mike
86/00 CJ7 Laredo, 33x9.5 BFG AT's, 'glass nose to tail in '00, 'New' frame,wires and plumbing in '09. Carter BBD Carbed 4.0 HO in '10.
89 YJ Renegade. BBD Carbed 4.0 HO. Locked front and rear with 33x9.5 BFG AT's
Some Canadian Bush Jeep Runs and Build Photos:
To view links or images in signatures your post count must be 10 or greater. You currently have 0 posts.
(10 new albums added Sept 16/10)
Registered User
Join Date: Feb 2007
Location: michigan
Posts: 186
My old CJ5 had the same issue with the rod assembly popping out of the clutch fork, I adjusted it a few times and the third time I said screw it and bought all new components. What a world of difference that made, nice firm pedal every time and never had an issue again.
I even went ahead and replaced the brackets and pivots on the frame and trans, everything new and didn't have to worry about any thing being worn. Plus I knew how everything went together and how it worked so I had more confidence in the set-up.
---
I found out about Jeeps late in life, so now I have to play catch up and get as many as I can. Man, life is great
Currently Active Users Viewing This Thread: 1

(0 members and 1 guests)
Posting Rules

You may post new threads

You may post replies

You may not post attachments

You may not edit your posts

---

HTML code is Off

---