First off, I wouldn't buy my parts at NAPA.
They use Cardone re-manufactured distributors, just like Advance Auto or Auto Zone or any of the other discount stores.
Advance Auto/Auto Zone has the Jeep/Motorcraft distributor for $50,
You will pay more at NAPA for exactly the same thing from Cardone.
As for your link in the first question...
Wouldn't use the cheap HEI distributors.
You could very well wind up with something that will hammer your engine to death with wrong timing,
Or a hardened distributor gear which will tear the camshaft gear out of your engine.
------------------------------------------------
Quote:
did not know that AMC used HEI's, will the gear be hard and ruin mine? I'm thinking maybe from 75-79 they hardened the AMC gear for the HEI? Should I use my gear? Are they hard to remove?
They DO NOT make a factory HEI for an AMC.
Since AMC pretty much swiped the GM 'Stove Bolt' straight 6 engine,
A GM HEI can be modified to fit an AMC I-6 engine.
There is no factory HEI that will fit an AMC V-8.
Several places have 'Cloned' the HEI with a stem that will fit AMC V-8 engines, but they have all the problems of an HEI and some extras, like cheap hardened gears and other problems.
Most places did a really poor job of adapting an HEI type head to an AMC shaft.
-------------------------------------------------
Quote:
2. Not sure what you mean by a distributer cap adapter?. If I just get the cap and rotor from the F-150, I guess it won't fit? Do I need to find an adapter from that model to the distributer I'm getting?
Ford uses a two piece distirbutor cap on all it's electronic ignition distributors.
Cap Adapter, or base, and a distributor cap on top.
Have a look at this kit from MSD, you can clearly see the adapter and cap being separate,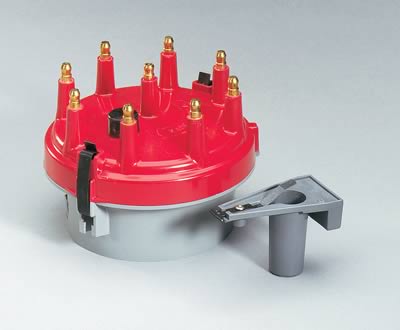 -----------------------------------------------
Quote:
3. I currently have a good set of Mallory 8mm wires, almost new. Will they work?
Don't know.
What terminals do you have on your Mallory wires?
If they have the older Jeep style 'Socket' terminals, they will NOT work.
Part of the 'TeamRush' upgrade is you get to switch over to "Spark Plug" type terminals on the distributor cap which stay in place better, don't corrode as much and carry more current.
------------------------------------------------------
Accel 35361 is a 4 pin hei module, and will work with the Jeep/Motorcraft distributor.... If that is what you are asking...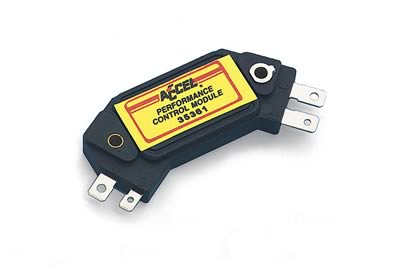 It's also one of the early 4 pin modules that most of the 'Clone' HEI makers use, very simple operation.
--------------------------------------------------
Quote:
5. This is an HEI, but in your post you said "the jeep/motorcraft distributer is reliable and does not have the HEI issues. I'm confused.
Normal.
All electronic (No Breaker Points) Distributors need an ignition module.
They use what is called a 'Vairable Reluctor' trigger inside,
And that takes a MODULE of some kind to make the coil fire the ignition.
With an HEI, they have a very WEAK trigger internally, that triggers a module that is inside the distributor cap.
The module works much better when you get it out of the distributor cap where it isn't being 'Zapped' all the time by high voltage,
But the trigger HEI uses isn't worth taking out to skip it across a lake!
What we do is use the best STOCK distributor with the correct timing curve (Jeep/Motorcraft),
And the best STOCK module for the price (GM HEI module) and combine the two.
To upgrade the cap, rotor, plug wires on an HEI... It can't be done.
They leak, cross fire, ground fire, ect.
With a Jeep/Motorcraft distributor, you simply slap on the updated electronic ignition cap, rotor, plug wires and you are off to the races.
As far as coils go, the Ford style E-core coil puts out MUCH MORE USABLE SPARK ENERGY than the factory canister coils or the HEI E-core coil in the cap, so we use it since it performs so much better with no defects/defaults like some of the other coils have.
We are 'Cherry Picking' the best parts of the factory ignitions to make our old Jeeps finally run reliably...
And the best part is, so far, we've only used FACTORY STOCK PARTS you can find in any discount auto parts store...
No high dollar, hard to find, wait to replace parts...
Every discount store in the country carries them or something similar that will get you home in the case of a failure.
----------------------------------------------
Quote:
6. Looking at the second picture, Custom lookes easier, but still a bit daunting for me. I was hoping I could use the existing wires, at least for the most part.
Depends on what 'Wires' you are talking about...
If it's the wires to the module, the power, coil 'Green', and outputs to distributor are already there.
You CAN reuse the stock coil, but for $5 at a junk yard for the Ford E-core coil, there is no reason not to...
The wiring is already there, all you do is wire in your new coil.
The distributor change can be daunting, but it's pretty easy to walk you through that when you need help.
Not much to it if you follow directions.
I usually run a new set of 'Orange' & 'Violet' wires to the distributor from the HEI module since the Coax wire Prestolite used is pretty useless...
---------------------------------------
Quote:
Sorry to sound stupid, but the module is inside the HEI, right?
Correct.
Distributor will be Jeep/Motorcraft, used in all AMC engines from '78 to '90.
Module you have a choice on, HEI style, CDI style (CDI Capacitive Discharge Ignition),
Coil you have a choice on, Factory 'Canister' or later style E-core with spark plug terminal on top.
------------------------------------
To keep the ignition noise out of your radio.
--------------------------------------
Quote:
The dizzy I buy should have a module, I must swap them out?
Depends on the distributor you pick, what style, GM or Ford...
GM put the module in the distributor, a bad thing for the module.
It picks up a lot of 'Noise' in the cap, often 'False Fires'.
Ford put the module outside the distributor where it was safer.
----------------------------------
Quote:
And then I buy a MSD Adapter p/n 8869 and MSD extension 8862 to get it to hook up to the new dizzy?
I mean, are all those wires just shown for help, or am I changing them?
You do NOT have to change anything, you can cut the plug off the distributor and 'Hard Wire' it to the module.
The quick disconnects are used so you can switch parts at the drop of a hat, or for diagnostics when things go wrong and you want to access the wires without puncturing the insulation on them.
--------------------------------------------
Quote:
This appears to come with the coil, so I should be ok keeping it?
Factory 'Canister' coils work just fine, but they have three major drawbacks when used on a V-8 Jeep...
1. Socket type terminal for the high voltage.
These leak high voltage, don't keep good connection with the coil wire, collect moisture and crud, and generally aren't the 'Best' way to do things.
Since every salvage yard in the country is filled with 'Fuel Injected' Fords,
You simply raise the hood, find the distributor, follow the coil wire back to the coil...
2. They MUST be mounted UPRIGHT to work properly.
Canister coils are oil filled to keep them cool during operation,
And if you turn them on their side, an air bubble will form next to the coils inside, and you will short out the coil.
E-core coils are epoxy filled, they have no such limitations.
3. Canister coils can only be magnetically 'Saturated' to about 2,000 RPM on a V-8 engine of any type.
They take a LONG time to saturate.
If you operate much above 2,000 RPM, then using an E-core coil that saturates in about 1/3 the time of a canister coil would be a good choice since you will get a full strength spark output much higher up in the RPM range.
4. Every junk yard in the country has 'Fuel Injection' Ford/Lincoln/Mercury vehicles stacked to the rafters.
Just look for the distributor, find the coil wire, follow that coil wire back to the coil...
And take the coil, bracket, and electrical connector for about $5 to solve these problems.
----------------------------------
Quote:
I can use the voltage regulator I have now?
No issues with the voltage regulator, just leave the 'Excite' wire hooked up to the same wire that feeds coil and module and you will be fine.
-------------------------------------
Quote:
I'm at work now, but I will go home and try to look at the wiring. Sorry many questions.
I really thought I just had to hook up a power wire, that everything elsw was internal.
Too bad
If there was a pre-made kit that would save all this wiring, I could stretch the budget some....
That only works with an HEI distributor...
The issue with that is you have a 14 Gauge feed wire to your existing ignition,
And to work properly a GM HEI need about a 10 Ga. wire to feed it correctly.
You *CAN* hook it up to the 14 Ga. factory wire and it will run,
But the ignition is no where putting out the 'Maximum' it should.
---------------------------------
Quote:
As far as timing, If I make sure the number 1 is firing, I should be able to line up the new one the same and just drop it in and then time it?

thanx again!
Nope.
You won't have a clue where #1 is once you remove the distributor you have now.
You should start with some basic diagnostics first...
Like finding COMPRESSION STROKE on #1 cylinder so you KNOW you are on compression.
Then find TDC of Compression stroke,
Then VERIFY the balancer is correct by checking it against the timing scale on the front of the engine...
Once that is done, you are ready to put the distributor cap on the new distributor, and mark the #1 plug wire location on the distributor body.
The reason you do this is to know where #1 is supposed to be pointing when the distributor cap is off the distributor for install...
Then you set the housing in the hole with the vacuum advance pointing the direction it's supposed to.
With a V-8 engine, this is critical since the vacuum advance will often interfere with the power steering pulley/belt.
Once you have the housing lined up where it's supposed to be,
Then you turn your attention to the rotor which should be installed on the distributor shaft...
The rotor will need to be backed up about one terminal space (Counter-Clockwise) before you engages the distributor gear into the camshaft gear.
Since there is a spiral cut in the distributor gear, it will move 'Forward' or 'Clockwise' as it engages the distributor gear.
You sould wind up with the rotor pointing at the mark you made on the housing for #1 plug termial location...
That usually doesn't happen since you won't often have the oil pump drive shaft at the bottom of the distributor lined up correctly...
And you will have to turn the engine over to get the distributor to drop fully into it's seated position.
Generally, that means you have to turn the engine over by hand TWO TIMES and bring it back to TDC to check the rotor location with #1 terminal mark...
TWO TURNS ALWAYS!
The first half turn will be 'Power' stroke as the piston goes down,
The next half turn will be 'Exhaust' stroke as piston comes back up,
Then the next half turn will be 'Intake' stroke as the piston goes back down,
Then the next half turn will be 'Compression' again...
That's TWO full turns,
One turn will get you TDC of Exhaust stroke, and your distributor will be 180 Degrees out of time if you go by the balancer mark for TDC at one turn...
Not as simple as everyone imagines!
--------------------------------------------


One thing I'd like to clear up,
There is a difference between 'Stupid' and 'Ignorant'.
Stupid is the INABILITY TO LEARN OR LISTEN.
Ignorant simply means you don't know the system yet,
But in your case, you are learning, so you aren't 'Stupid'...
'Stupid' would be preaching 'HEI SOLVES ALL PROBLEMS'...
It doesn't.
HEI comes with a lot of problems, from advance curves (Which we haven't covered here) that will knock the valves & Pistons out of your engine,
Or hardened distributor gears will eat up your camshaft gear causing MAJOR repairs...
HEI might be a 'One Wire' connection, but most of the rabbid 'HEI ONLY' guys screw that up too!
------------
Jeep/Motorcraft distributor is tuned to work WITH your AMC engine, stops all those problems.
The upgraded cap, rotor, plug wires will stop a bunch of the 'Leaks' and get the spark energy to the plugs without the problems HEI caps/rotors/coil has.
The system is modular, so you can upgrade later when money isn't an issue as much.
It DOES take a little more wiring, but in your case, most of the wiring is already there and just needs to be hooked up to the new distributor, module, and if you choose, coil.
You can trouble shoot most of the Jeep/Motorcraft system with a $6 test light from the local discount parts store very easily.
You can't do that with a HEI distributor.
It's all in what you want to do, how much you are willing to learn about the ignition system, and how much you want to ring out of the system for the bucks spent...