Registered User
Join Date: Apr 2012
Location: augusta
Posts: 89
ignition switch diagram?
---
Ive done a search for a diagram and this is all I could come up with. Does anyone know of a better one?
My wire are:
orange---to ignition switch ign
pink---to ignition switch (coil ign)
purple---ignition switch start
brown or grey---to ignition switch acc.
red---to ignition switch (power B+)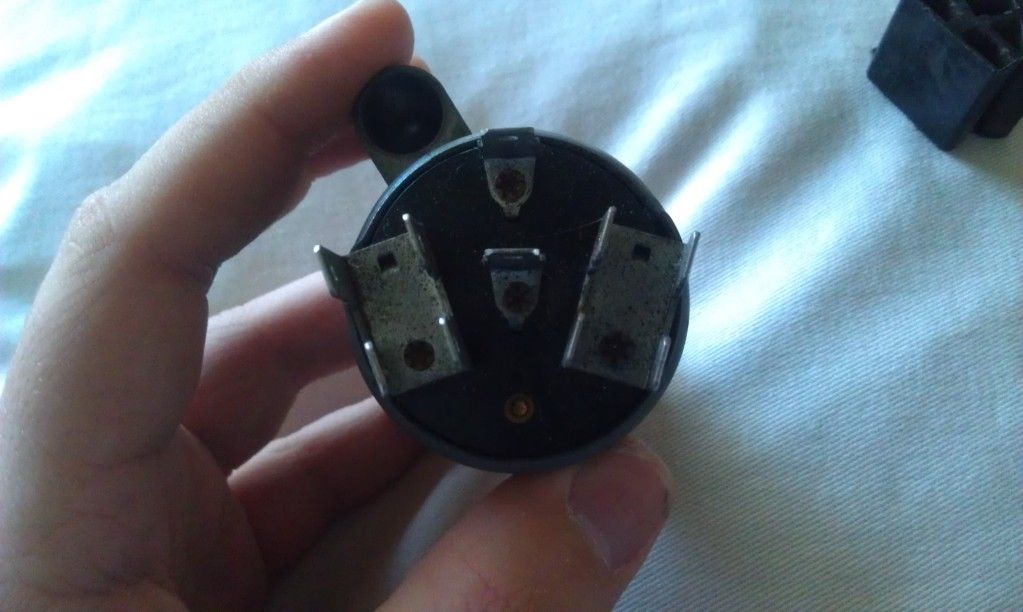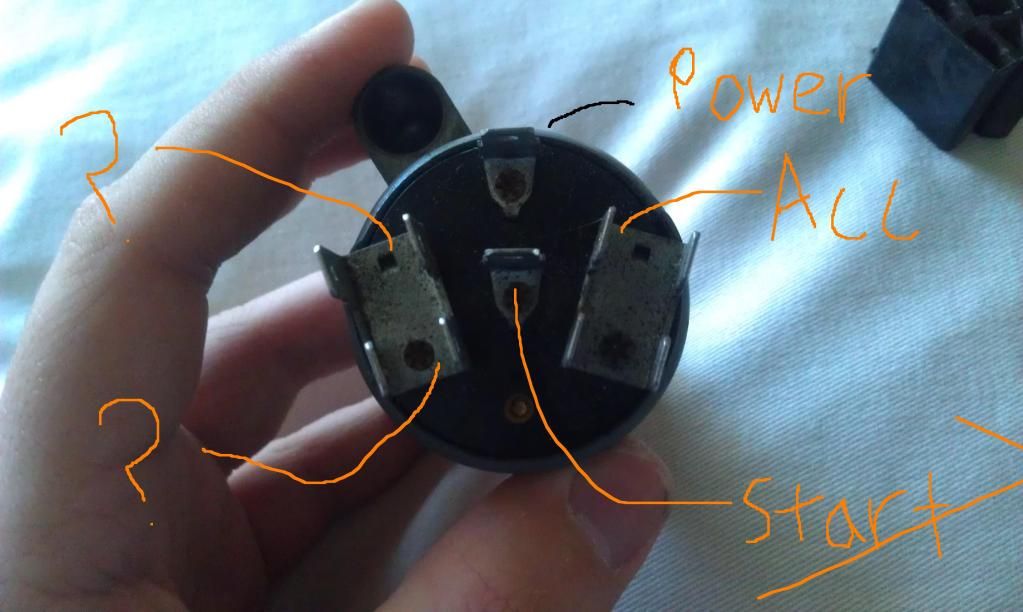 This is where im at. I know that the other two ign wires go on the left, but which is where? I got it to crank, but it cranks when the is in the ON area and not the START area. i tried flipping the ign wires, no fix, then flipping the acc wire, still no fix.
Can anyone lead me in the right direction?
no I wish I had a good wiring diagram. The haynes manual says top right is ign to tach and bottom right says ign to splice "B". middle is ign to starter solenoid. top is ign to splice "A." and top left says ign to fuse panel and ign to voltmeter (+) terminal
Check out website oljeep.com under small jeeps or electrical.
no luck. It seems like he specializes in full size jeeps. all he had for a 74 was a parts manual
I don't really know what year you have since your profile is not filled out. If you Google your year of jeep for a wiring diagram, plenty of links will come up.
I played around with it. Im pretty sure that I have my switch wired right, but now the the 2 wires that plug into the alternator (alternator exciter and a jumper to the main alternator post) smoke when the key is in the on switch. Any reason why it would do this?
Actually it would be easier for you to go to offroaders.com under the tech section. I forgot that's where I found mine.
Registered User
Join Date: Jul 2014
Location: Winnsboro
Posts: 5
I, too, recently had the issue of wiring up a new ignition with a new painless wiring harness and tested each set of terminals to see what they do. I have since wired it up and got it to work.

On your picture, the following terminals would be wired to the following wires

TOP: Ignition switch power
-This terminal receives hot power from your battery
#734: Ignition Switch B+

LEFT CLUSTER: On-position accessories
-These terminals will provide power when the key is turned clockwise one click and will receive power after initial ignition.
#733: Ignition Switch Ignition
#731: Ign. Switch (Coil Ign.)

RIGHT CLUSTER: Off position accessories
-These will receive power when the key is turned one click clockwise AND counterclockwise. This is for radios and side lights and other things you want to be able to turn on without the Jeep being on.
#732: Ignition Switch Accessory

MIDDLE TERMINAL Solenoid starter
-This terminal only provides power when the key is fully turned clockwise. It is a temporary switch that will stop when the key is released.
#719: Ignition Switch Start

Hopefully this helps people who are starting from scratch with a Painless Wiring Harness
Registered User
Join Date: Nov 2005
Location: Rochester, NY
Posts: 226
Nice diagram and explanation
Currently Active Users Viewing This Thread: 1

(0 members and 1 guests)
Posting Rules

You may post new threads

You may post replies

You may not post attachments

You may not edit your posts

---

HTML code is Off

---