Registered User
Join Date: Nov 2012
Location: nashville
Posts: 115
How to tell a scout from a waggy axle
---
I know i have hit on this already on a previous post, but i need help distringuishing between the two. Im planning on making a trip today to hopefully pick up a waggy front dana 44. Im worried though that it may be a scout. The owner thinks it is a waggy ( thats what PO told him). Unfortunately he isnt in a position where he can readily. look at it. What are the sure signs to be able to tell if it is a waggy?
Info he has told me
WMS to WMS roughly 58"
Disk brakes
passenger drop
open nuckle
He thinks it is 5 lug
Doesnt think its been shortened
SOOO....i have a bad feeling this may be a Scout...but i have hope that hes wrong about the 5 lug, or the hub was swapped out. What can i look for that i can tell these two apart ? If i see that it is 6 lug with internal lockouts then its a waggy, anything else?
Thanks
Registered User
Join Date: Jan 2007
Location: Houston, TX
Posts: 2,041
Scouts will have an 8bolt spindle instead of 6 for a GM/Jeep. You should be able to look on the inside of the outer knuckle and see if it has 6 or 8 studs on it. Have him turn the knuckle all the way to one side and count the studs on the knuckle.

Scout knuckles have extremely long steering arms sticking out off of them as well. if he sent you a picture of the knuckle you could probably tell pretty quickly.

There are probably other ways to tell but these are the ones that seem least invasive to me other than finding the BOM and cross-referencing it.
---
1985 CJ7 Project
Phase One :
5.3L Vortec/4L60E, Moser axles for AMC20, Twin Stick'd Dana300 -
Completed
Phase Two:
Bedliner, Rollcage, Seats, BESRK Rear Bumper w/ tire swing, Soft Top, and a few other goodies -
Mostly Complete
Phase Three:
Waggy 44 front, Scout D44 Rear, 4.56's, ARB's (F/R) SOA with YJ Springs, 35x12.50x15 BFG MT -
Not Even Close to beginning
Also a mostly rust-free 1970 Scout 800A That I'll get to start working on someday...
Quote:
Chrome won't get you home...BUT Rattle Can Black may just get you back"
Registered User
Join Date: Jan 2008
Location: kansas city,
Posts: 18
scout axel vs waggie
---
One other way to check, that it is a Scout axle, besides the 8 bolts for the spindle, on the passenger side the spring perch and the inside U-bolt groove looks to be made into the pumpkin housing. So the spring perch and part of the diff housing will need to be ground off or cut out to use the setup to move the spring perch, your spring prech isn't off by itself on the axle assy, like the drivers side. So on a scout axle if you don't out board the springs, you need to cut the long side (drivers side) of the tube/axel shaft about 3 1/2-3 7/8 inches off, to make it shorter, to use the scout spring perch/pumpkin housing set up, with out alot of grinding/cutting to the housing.
PM me, I have a cell phone picture of what mine scout axle looks like on the passenger side with the 8 bolts for spindle and the spring perch/u-bolt. I cut my axle, so that I could use the scout u-blot grooves on the housing and just cut off the spring perch to add a 2" one onto the axle. On the scout, you will have to (should) re-clock the (C) ends (spindle/ball joint assy, tie rod, fastens to) of the axles, the scouts have (0-degree caster), so the steering wheel may not return back to the center position after turning or going into/out of turns, especially with larger tires, lift kit etc, you will have the jeep wanders (road crazy steering) with the steering. Their are alot debates on caster setting, it may depend on your axle and tire setups. I went with 7 degrees positive, when I cut my axle, if needed I could add the spring shims.

Hope this helps.
Registered User
Join Date: Aug 2002
Location: Colorado
Posts: 16,126
A dead giveaway is the length of the steering arms. The picture shows a Scout knuckle. Notice how long the steering arm is. A Waggie arm will only be about the length to the hole circled in the picture and doesn't have a bend in it like the below Scout does.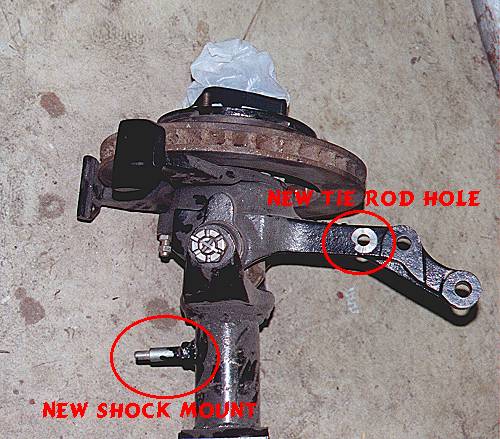 You can use Google images to see photos of each type too. Click on pictures and they will take you to pages which document swaps possibly, which can lead to more clues.
This is a Waggie knuckle (just the other side)
Registered User
Join Date: Nov 2012
Location: nashville
Posts: 115
Currently Active Users Viewing This Thread: 1

(0 members and 1 guests)
Posting Rules

You may post new threads

You may post replies

You may not post attachments

You may not edit your posts

---

HTML code is Off

---