Since I am not a member, and since you do not have an official post on how to set driveline pinion angles, I thought I would post here. Driveline pinion angles come up often and I get tired of going through the same thing repeatedly, so I thought a post was in order so we would all have access to this information. It is also easier for me to just give a link to our own website. So here it is.
It is not all that hard. You just need to do what professionals do. I have done this many times. First, you need to purchase an angle finder, or if you have an Android, download an angle finder app. The angle finders are cheap and look like this: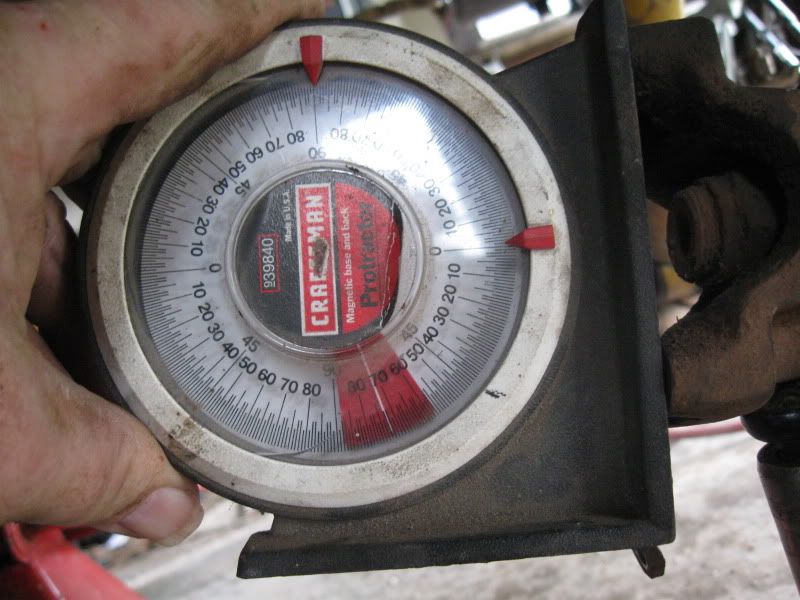 The pic above shows you how to measure off the pinion. Then place the angle finder on the the fill plug or any other vertical machined surface on your transfer case and measure that. Next, what you do depends on whether or not you have a SYE or standard set up.
If you have a standard setup with a stock tcase, your driveline geometry needs to like like this:
If this is the case, you will subtract one value from the other and that is the number of degrees you need to change the pinion. It needs to match as close as possible the angle on the tcase. This can be done with shims, or if you have not welded your spring purchases you can rotate the axel housing till you get the right angle and then tack weld them in place.
If you have an SYE (slip yoke eliminator) and a double cardan U joint on the tcase end of the driveline, then the geometry you need is this:

To get this, loosen the ubolts and place a jack under the pinion and raise the pinion until the driveline angle is the same as the pinion angle, or an easy way to put it is just raise it until the pinion U joint has no angle to it. It needs to look like this.
Measure the new pinion angle and then subtract the first value from the second and then that is the amount of shim you need, or if you have not welded the spring pads then tack weld them in that position.
As long as you have not exceeded the angle the U joints will accommodate without the yokes hitting, you will have vibration free driving.