OK, back from a needed vacation and made some needed improvements on the Jeep thanks to you guys. I really needed to see some progress as I was getting pretty bummed out by the whole thing. So here's what I did, and where I am at:
1) Replaced the Cap/ Rotor/ Plugs (oem)/ Wires
Here are photos of the plugs I took out (in order, front is to the left):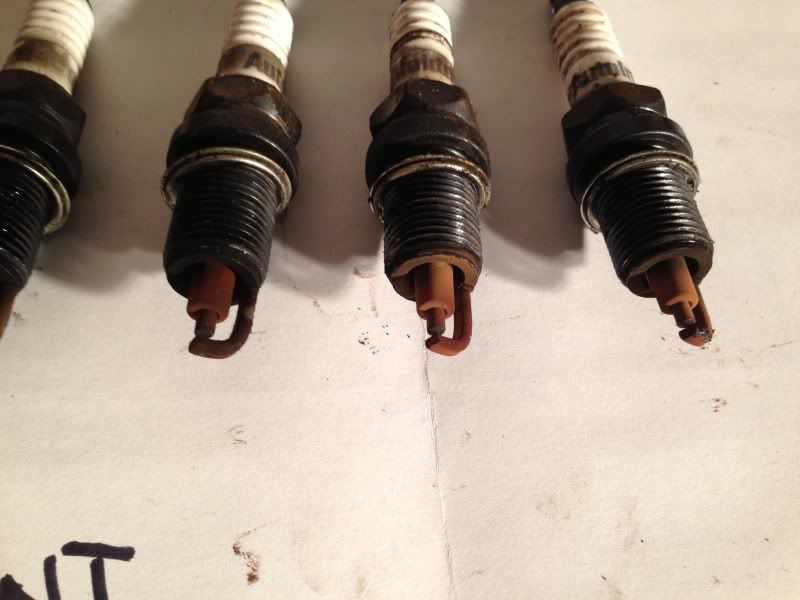 I don't know if you can tell in those photos, but they all look like this:
Found this glop under my Cap. I'm assuming it is some sort of dielectric grease or silicone(?). It's a light blue color. Anyone know what it could be?
2) Then, I removed the ported vac advance on the dizzy and connected it to manifold vac - Tee'd into the port on the intake manifold, behind the carb.
3) Took it for a test drive and MAN, WHAT A DIFFERENCE!!
There may have been a slight pinging, but if there was I couldn't hear it over the exhaust. I drove it pretty hard - well, as hard as I dare with no brake lights.... AGAIN! lol.
Definitely more power and running closer to what I am used to from this thing.
Two things I didn't do:
Check for vac leaks (totally forgot because I was excited to try the vac change.....lol)
Swap out the T-stat for the 180* unit.
didn't do this yet because the silicone would have had to set up before I test drove it. And the engine was obviously hot after I drove it.
No work on it tonight. Dinner with the GF's parents.
Still waiting for my Summit delivery.
Thanks again and keep the info coming!!
2X