Registered User
Join Date: Aug 2007
Location: DFW Texas
Posts: 22
Hella Air Horn
---
OK! Let me start by saying I am no electrician. I have tryed several times to install my new horn. I have tryed to hook it up through my column and hook up to my grant sterring wheel. Well, turning left and right winds the wires and snaps them. So then I go for the toggle switch, now I'm blowing fuses everytime I put one in.. Some one gove me some options (other than S**t canning) the whole hella horn. A step by step would be helpful. The instructions come in four languages, and they all seem foriegn to me including english, and the diagrams?? Any help would be greatly appreciated seeing that I need to get the thing inspected soon..... Thanks
---
The Deadliest weapon in the world is a Marine and his rifle! ......
I've returned to the fold
Join Date: Mar 2007
Location: North Vancouver, BC
Posts: 240
I'm not sure about how Grant steering wheels are constructed, but when I installed a Momo wheel in to my 16v the horn wires did not go all the way up to the horn button.

At the base of the steering wheel (where it meets the column) is what's called a "contact ring". The contact ring actually consisted of 2 concentric, conductive rings set into a plastic holder.

On the column side two spring loaded contacts would mate to and ride in the rings on the steering wheel. This is what gives you the ability to turn the wheel over several times and maintain electrical continuity without twisting wires.
---
'99 XJ Sport 4-dr
4.0 HO - AW4 - NP231 - D30, 4.10, Open - ChrysCo 8.25 29-Spline, 4.10, OEM Trac-Loc

Stock with a crapload of bolted on bits
Registered User
Join Date: Apr 2007
Location: Cleveland, TN
Posts: 523
When I put in Kimmy's horn, I blew several fuses...then I noticed where the fuse block (under hood) has the horn relay, it had a 10 amp fuse. The install sheet said use a 20 amp fused line. It still blew the 10 amp in the box under the hood. Then, DUH!, I put in a 20 amp fuse in the fuse block where the relay was. It was clearly labelled HORN and the 20 fit in place of the 10 easily. We have had NO problem now.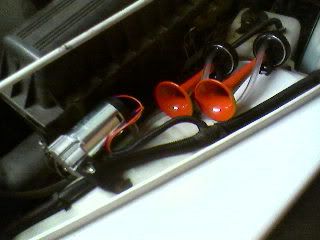 SEMPER FI
Web Wheeler
Join Date: Aug 2004
Posts: 4,701
Really quite simple. Undo all of the electrical surgery that you've done so far...you're making it harder than it is. Install the horns with a standard 'Bosch' type relay like what you would use for auxiliary lights, and use the existing wire off the back of the factory horn to trigger the relay.
---
'86 CJ-7 Laredo: 4.2,T-999,D300,D30/D44,'94 YJ tub, full cage, Shrockworks rockers, OYR corners, AC,cruise,restored seats,3 tops,2.5" Superlift,F-T shackle reversal, RS9000x's,35" Dunlop Mud Rovers.
'83 Scrambler: time & money pit under construction with parts from CJ's,YJ's,TJ's,FSJ's,GM,Ford,IH,Honda,Toyota and a whole lotta aftermarket & custom stuff.

To view links or images in signatures your post count must be 10 or greater. You currently have 0 posts.

Registered User
Join Date: Dec 2006
Location: Massachusetts
Posts: 41
just wondering how loud are those things?
Registered User
Join Date: Apr 2007
Location: Cleveland, TN
Posts: 523
Quote:
Originally Posted by Bobz007
just wondering how loud are those things?
Ours sound like a freakin snack truck...
Currently Active Users Viewing This Thread: 1

(0 members and 1 guests)
Posting Rules

You may post new threads

You may post replies

You may not post attachments

You may not edit your posts

---

HTML code is Off

---