Started my CJ5 tonight for the first time in 3 years. It lives! First start on the newly rebuilt engine, so I broke in the new cam at 2,000rpm for 20 minutes and then took it down to a 680rpm idle and checked the timing. Everything checks out great, good oil pressure, temp held right at 190 degrees, alternator was charging at 14.7 volts, everything looked dandy. Letting it cool down now letting the fumes air out of the garage. There's a crappy cell phone vid at the end of this post of it running during cam break-in.
To summarize, this was a full frame-off restoration of a 1974 CJ5 that I've owned now for 23 years. I bought it when I was 16. Everything is new or rebuilt except the transmission and transfer case, which were in excellent shape. The restoration has taken just over 3 years, done by me in my garage part time. I didn't keep track of the total cost and really don't want to know.
The specs:
1978 model AMC 258, bored .030, crank ground .010 under, all Fel-Pro and Sealed Power bearings, rings and gaskets. Factory replacement Sealed Power cam and lifters. Engine machining work done by Evan at M&D in Purcellville, Virginia. 4.0L head swap using a rebuilt 7120 casting number head purchased on Ebay from J&C Enterprises in West Virginia. 4.0L factory header. Cast iron 2bbl AMC 258 intake manifold with a Motorcraft 2100 carb. Ebay HEI distributor, Taylor wires. New Powermaster Delco 12si 140amp alternator. Completely rewired using an EZ Wiring harness. New Champion aluminum radiator. New dual diaphragm brake booster and Corvette 1" bore master cylinder (Ebay). Jegs adjustable proportioning valve.
T-176 4-speed and Dana 300 from a 1980 model year CJ5.
Stock Dana 30 front, 3.73 gears, upgraded to 1978 model disk brakes.
Rebuilt Dana 44 rear, 3.73 gears, new Trac-Lok limited slip. Axle rebuilt by Steve Johnson at Xtreme in Fredericksburg, Virginia.
3" Black Diamond springs, 4WD Hardware heavy duty shackles.
Frame stripped and coated with POR15 and POR Chassis Cote, boxed section sprayed internally with Eastwood internal frame coating. Original frame was completely rust free and in great shape.
Every spot of rust cut out and new 16ga metal replacement panels welded into the body. Body stripped to bare metal and coated with Kirker Epoxy primer. Body undercoated with U-Pol Gravitex. Tub inside lined with U-Pol Raptor tinted body color. Body sprayed (by me) with Urethane Base/Clear from Kirker in Forest Moss Green Metallic. All body and frame work done by me in my garage.
Tires are 235x85-16 Treadwright Crawler M/T retreads. Wheels are Cragar 69 Series Delux solid steel wheels. The wheels are backordered until mid April, so here's a pic of what they look like, mine will be painted white: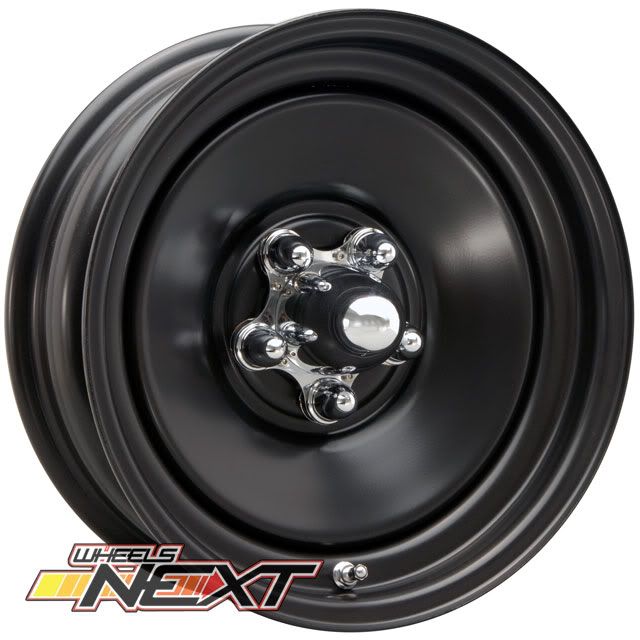 I didn't do a build thread anywhere because I'm terrible about taking progress pictures. In fact I don't even have any recent pics of the completed Jeep, but now that it's running I will get it out of the garage and get some decent shots. Here are some from last Fall when I just finished the paint. Those tires are just rollers, they are not staying on it.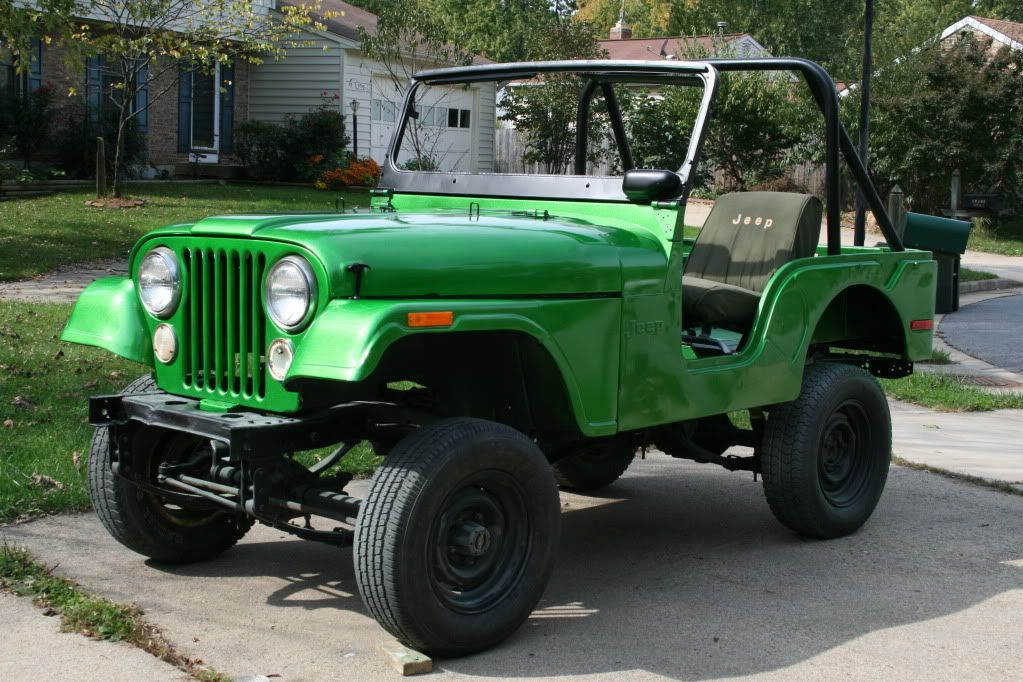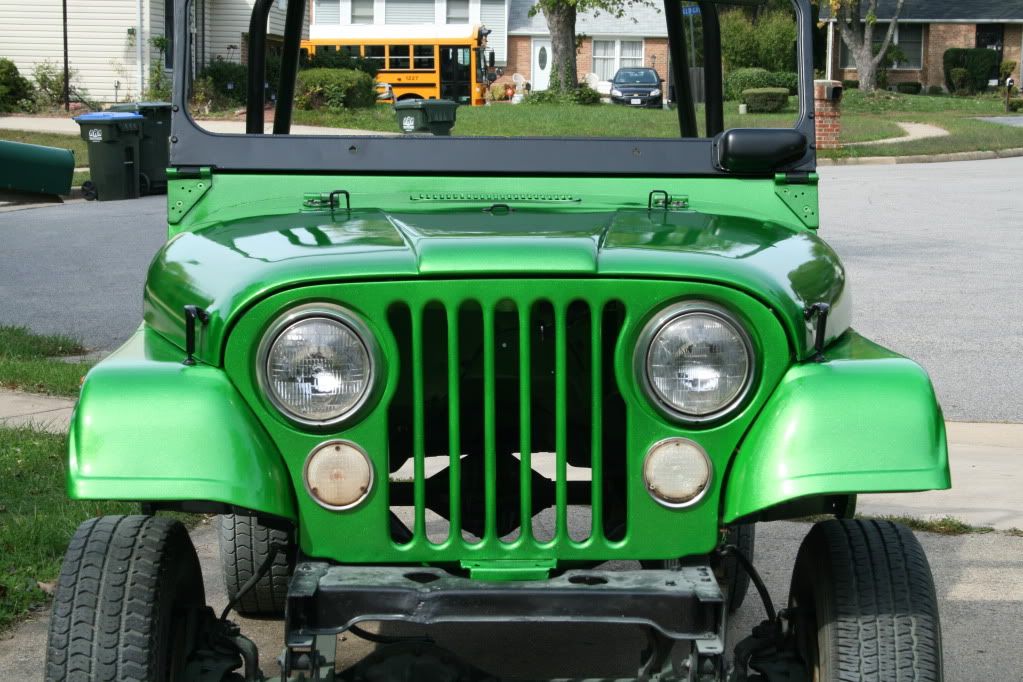 Up close of the paint
The Raptor lined interior:
The engine before it went back in
The completed engine bay:
Here's a pretty lousy video of the cam break-in. Too dark to see much and there's some electrical interference, but you get the idea. Exhaust is just a temporary jury rigged setup to muffle it and keep the neighbors happy.