So slight timeline update:
As I stated earlier, I moved. This meant getting the Jeep ready enough to drive 2 hours to the new house. Bandaided the trans about 2 years ago now, and although it needs synchros, otherwise we are still running strong. Just have to find that sweet spot to get it into 3rd and 4th without scraping. Last May, I trailered the Jeep down to Jeepbeach in Daytona, ran the course several times and the Jeep did amazing, as usual. Decided to show off a little and....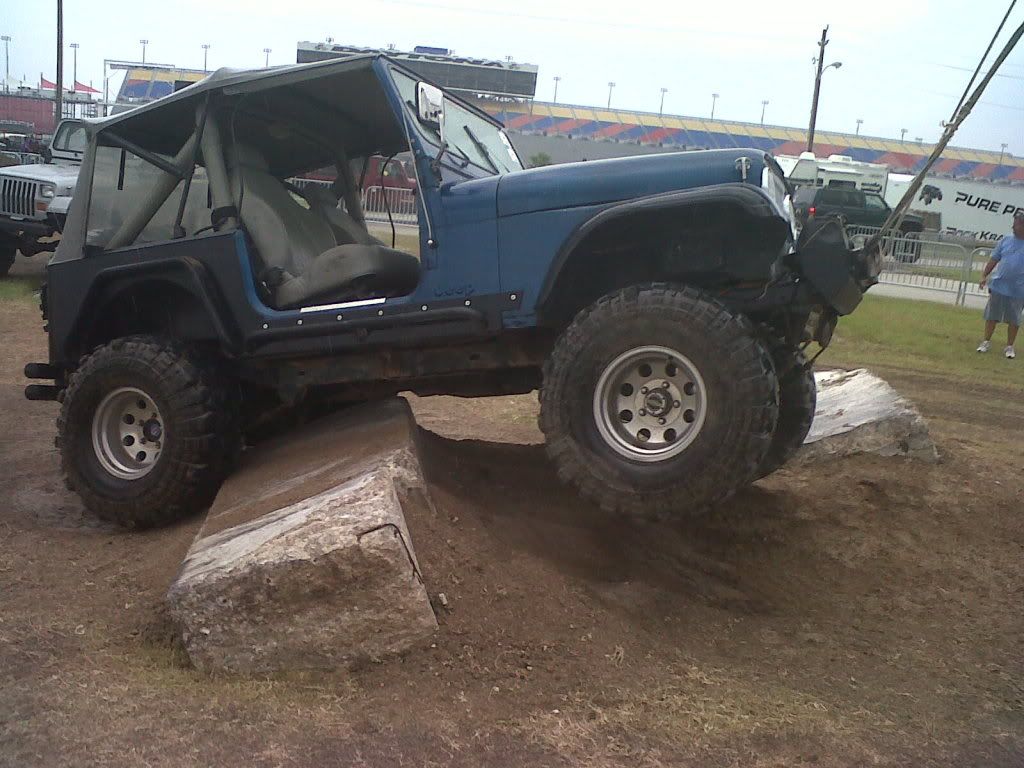 Needed a bit more ground clearance. Pretzeled my skid plate, pushed the motor through the radiator, bent the grill fenders and tub floor all up, and ended up being very glad I brought a trailer, cause there was no way the Jeep was moving off the course under it's own power after this.
New radiator and skid plate and a BFH later, all is back together and running and driving. Sold my other CJ, sold my Bronco, and am now using my Blue CJ for DD duties and putting around town. My work provides me a vehicle, so I don't have to put a ton of miles on the Jeep, but it gets used when I need to run to the store or just clear my head.
Spent the past few months working on this, working on that, and not showing the CJ very much love, but I did at least get the hardtop on for "winter weather" (yeah, it's 72 today). Drove 6hrs last week round trip to find a new hardtop liftgate, as I wasn't satisfied with how the repairs I made to mine were holding up. Found one in Charleston, SC for $100. Done and done. When I got there, ended up findint that the seller was a member of this forum (Sail), and found all kinds of other goodies he was wanting to part ways with. $50 later, I had my trunk loaded up with a new hardtop hatch, a TDK skidplate, and a Scuba oxygen tank (which will later be used for OBA). Got home, started installing, found the liftgate to be tweaked, but no biggie, I am still happy with the purchase. Yesterday, I half way slapped the skid plate on, but couldn't get one of the bolts back into the tranny mount, so I just left it off. Today, I decided that I couldn't do that, so off the skid plate came, and I worked and worked and worked with the bolt and the damaged threads in the hole, but ultimately, I had to "create" a new thread pattern. I would have loved to have gone to get my thread chaser, but it is buried under two more projects that I have going on in the garage, and that just wasn't happening. The bolt got cross threaded in nice and tight, bolted everything back on nice and tight, and am EXTREMELY happy with how the skid plate mounts up. Now, on to my list of what needs done:
Still need to replace the front ball joints and wheel bearings and tie rod ends for general maint's. sake
Get a front end alignment
Change fluids all the way around
R/R valve cover gasket leak
Fix minor exhaust leak
Re-tune carb or begin junk yard EFI swap
adjust rear driveshaft angle - good vib's. at 45 or so and the angles are WAY off. Couldn't find my angle finder, but visually, the T-case is pointing nearly straight out, and the rear axle is pointing directly at the t-case if not a little above it. Great for a CV setup, but I don't have that.
Already swapped out my tires, so that one gets a check
Jeep still needs paint
Gas gauge isn't working......again, so gotta fix that.
Eventually find a new set of seats. My bestop trail max's have seen better days.
Would like to install 3-point belts for the front, maybe a 4-point for the rear passengers (my kids).
That's about it. I know it sounds like a big list, but really isn't that bad in retrospect. I will try to get some more pics soon of how she sits now.