I thought I'd share this since I don't think you guys have many of these CJ10 trucks over there. Not the way they were sent overseas anyways. We got a few here in Oz and I have seen a few from time to time on various car sales web sites.
I have always wanted and FSJ J10 truck and actually passed up a J20 dually a year ago which was cheap and only a half hour from my home.
:
An alternative was a CJ10 which as I said there are a few of around here like this
or even this work truck
So last week I was looking for building materials of all things and came across this Jeep (hmmm somehow :shrug: ) It was a few hours' drive out into the wheat belt from where I am in Fremantle and for $1000 I just couldn't resist.
Grabbed a trailer and got gettin'.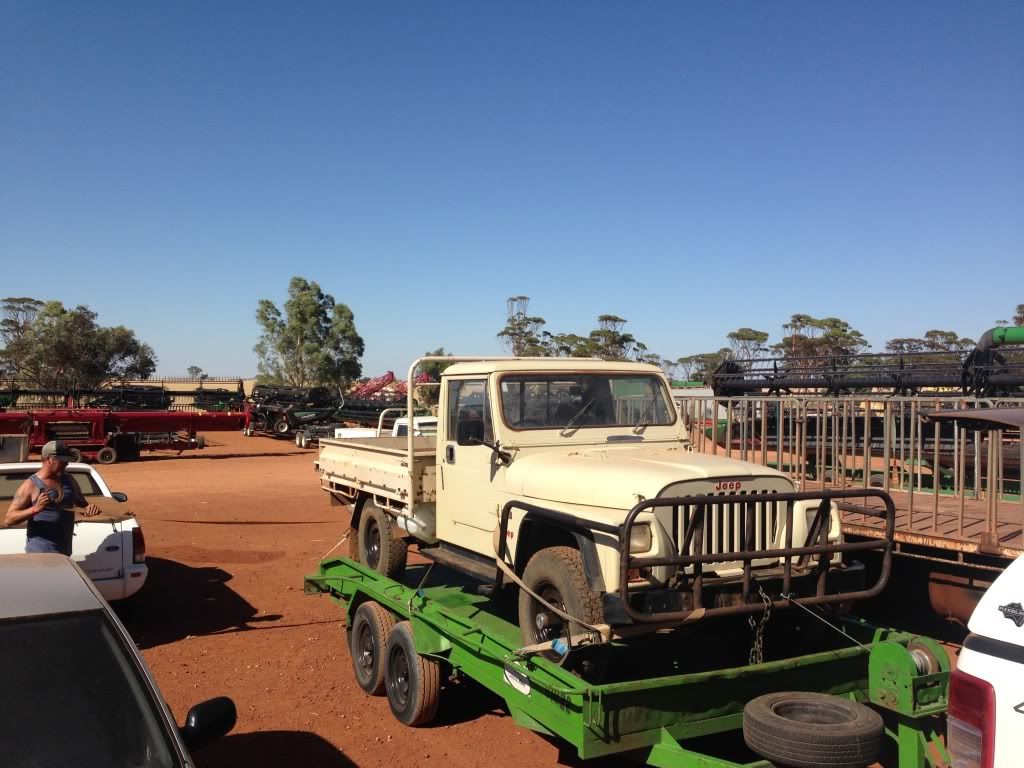 Back story on the truck is pretty much one owner who bought it in '85 and drove it all over Australia with his wife, it has 294,000 kilometers on the clock, 10k per year nearly which I guess is pretty average. More recently it's been used by relatives for shooting 'roos and general paddock bashing hence the mud everywhere underneath including the spare
The specs are:
Diesel Nissan 3.3L I6.
T4 (I'm told, have to check that out, reverse is to the right and down same as my T5's in my other CJs, not that means much I guess)
Dana60 rear and 44 front I'm pretty sure (again I have to do my homework)
and this transfer case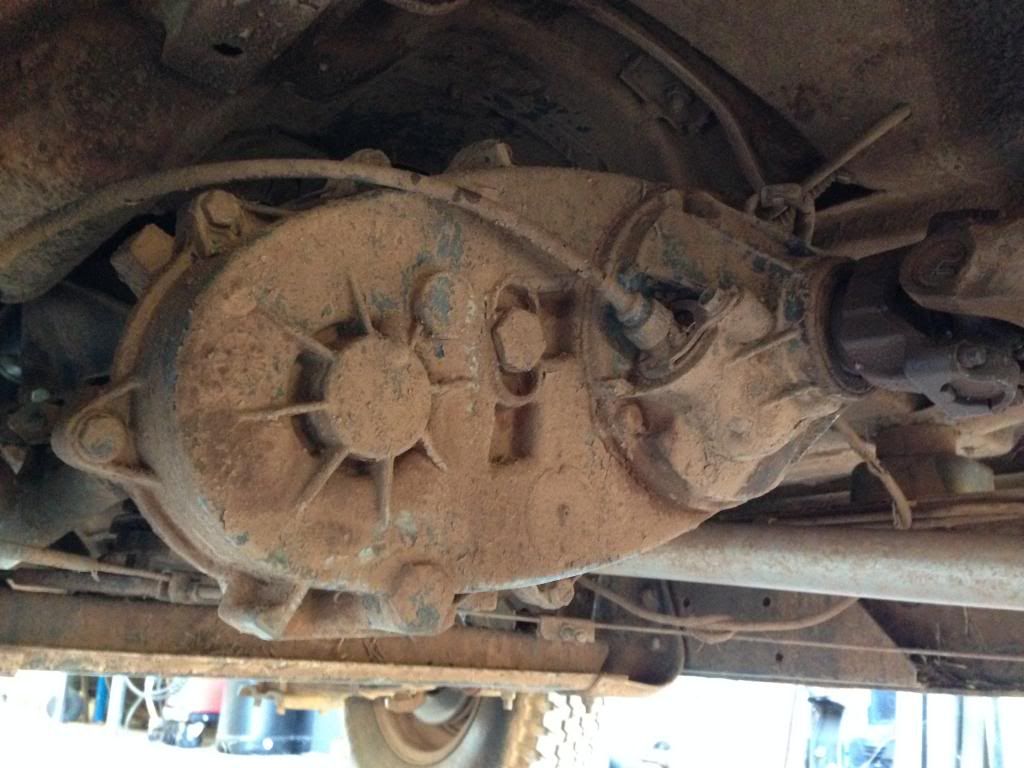 Inside everything works (again so I'm told), there's vinyl on the floor which is good, tan interior with a couple of typical wear rips on the seats at the entry sides which is a shame and an ash tray.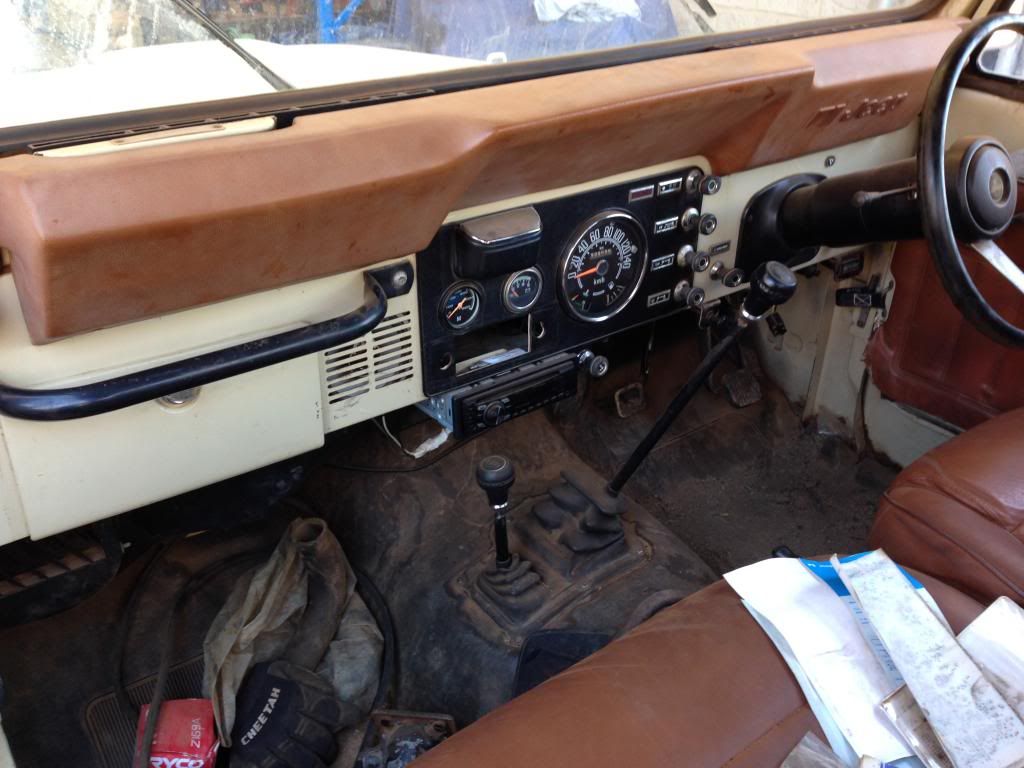 Steering wheel is on the correct side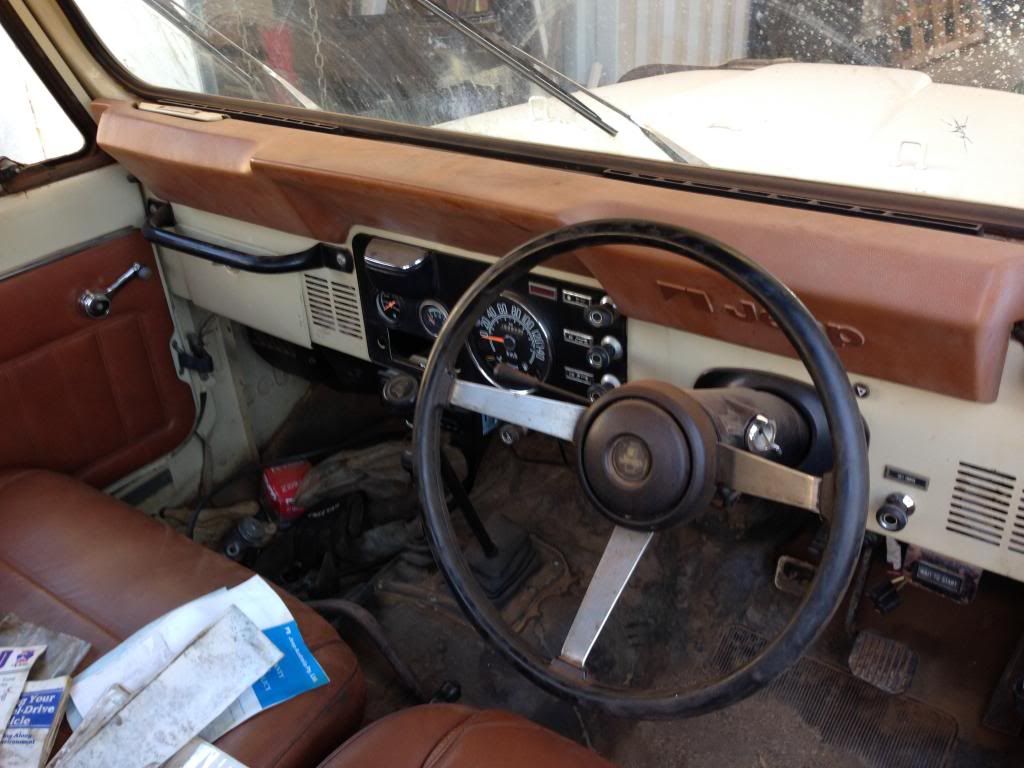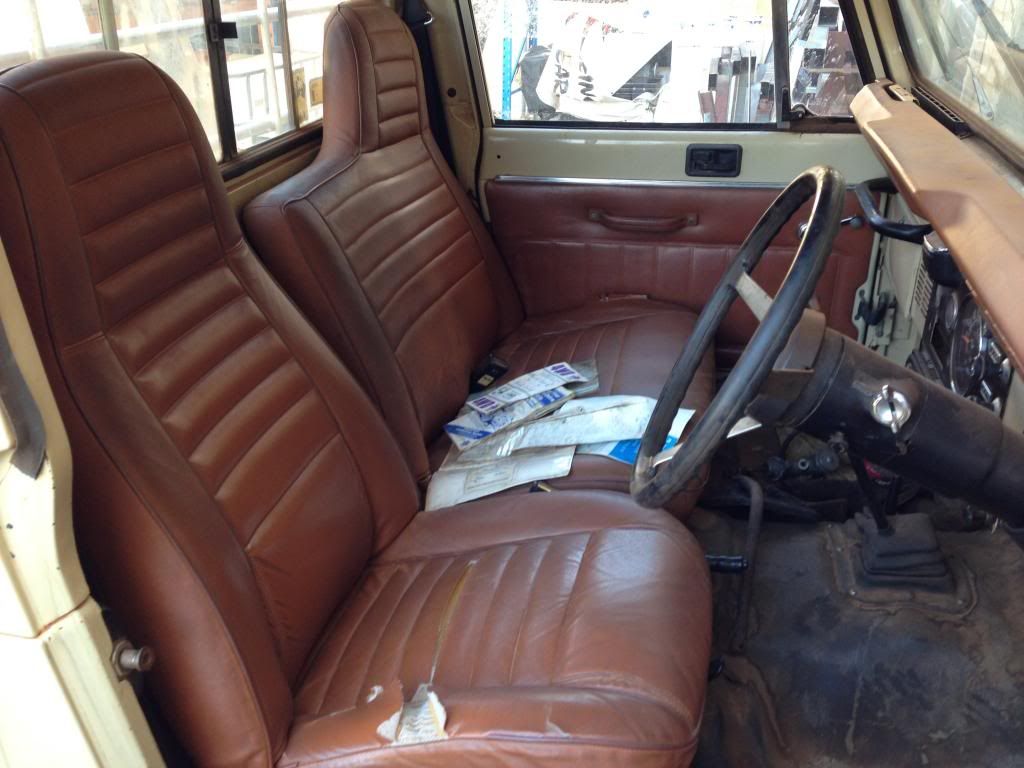 Outside the body is excellent for a near thirty truck with the only rust being down on the right side at THAT place. The triangles however are spotless as is the underside of the cowl.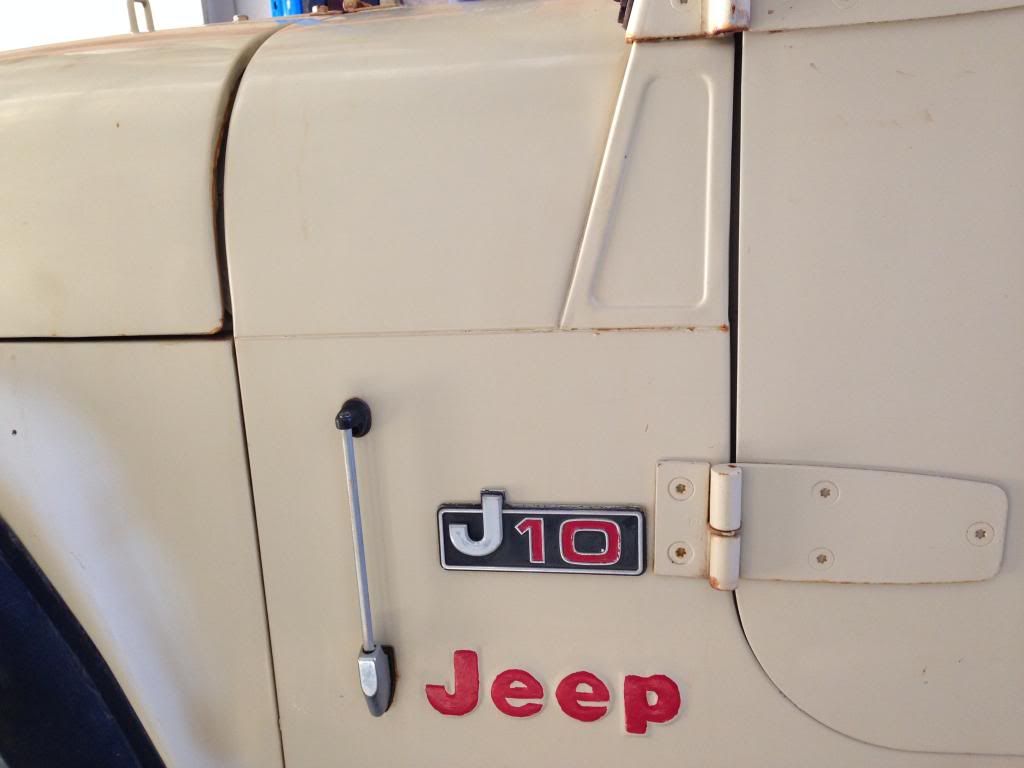 Also it seems they ran out of CJ10 badges and decided to pilfer some J10 ones from somewhere on the factory floor. Proper CJ10 badges do exist and would make me feel better than having these J10 ones "on loan". It's also a Jeep not a Joop.
It must have got crashed through a gate at some point which got stuck on the front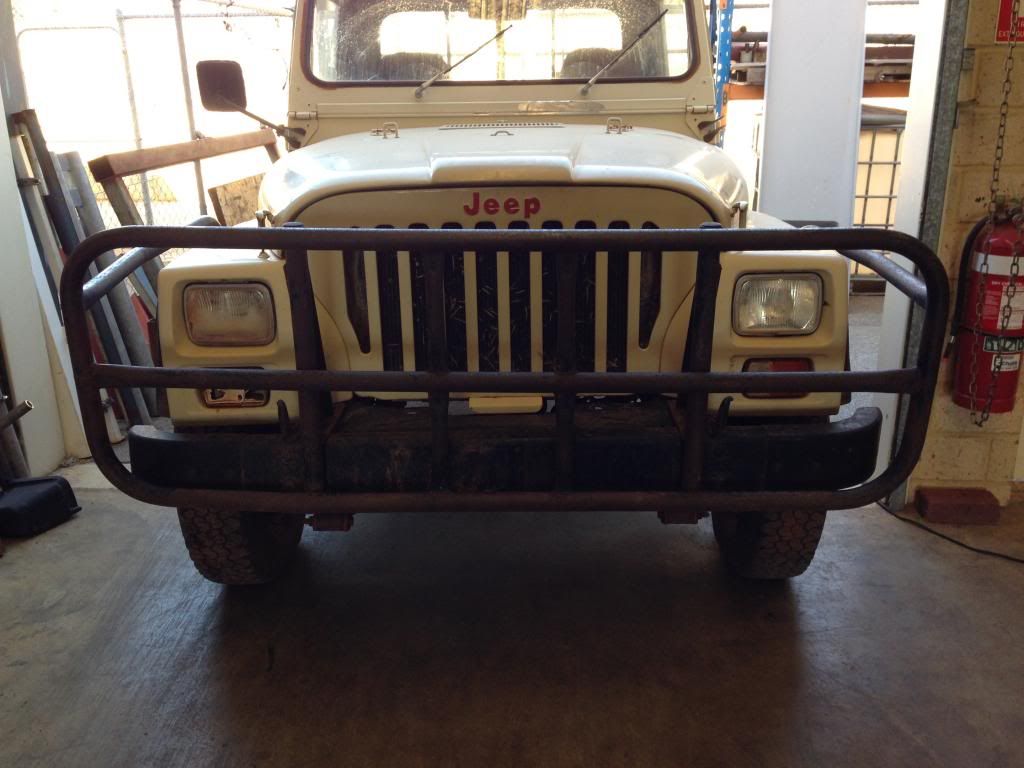 so it was the first thing to go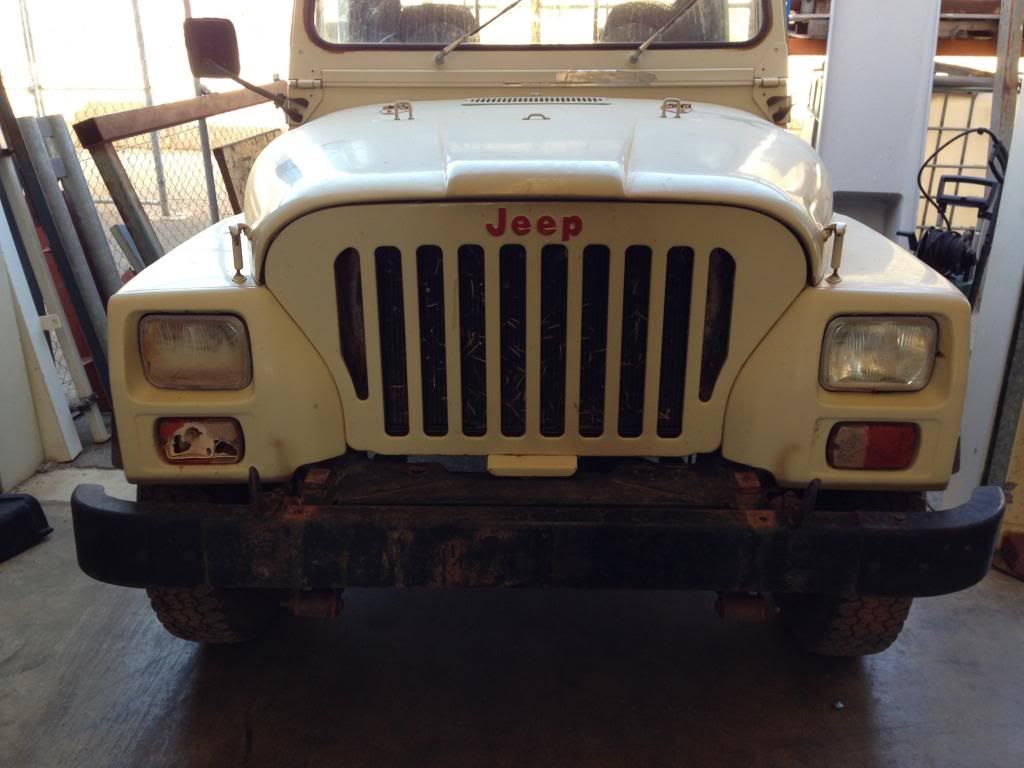 hmmm still a face only a mother could love but I'm getting used to it pretty fast.
The tray on the back is all steel and is huge, should clean up real nice with a blast and paint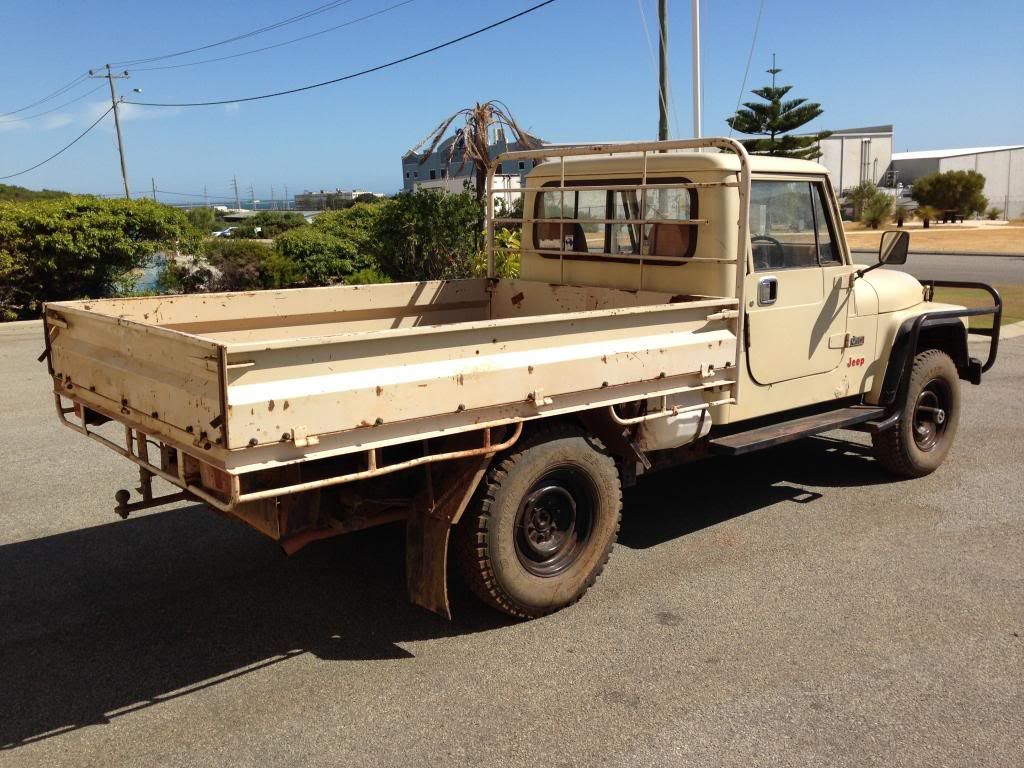 Unfortunately the fuel tank was removed for cleaning and was thrown out by some workshop numpty into the scrap steel bin
and is gone. I'm in the process of finding a Cherokee tank which hopefully will fit. If I can't find one I'll get one made, nice and big and maybe ally.
VIN syas it's number 105 off the line, not bad. Gotta check out the rest of the code
So I'm not sure how far I'll go with this truck, it sure deserves the full treatment, but at the moment all I want to do is go load it up with stuff and drive it around. Money is tight for Jeep loving right now too.
For the short term it will be:
Tray bed and sides, remove/blast/paint
Tank, source and install
Frame, clean up, strip paint etc (no tub off at this point)
Engine, fix some bits and pieces
Electrics, check/fix all
Tyres, get fatter ones but keep the solid old school rims
Renew all the bloods (seals replaced where necessary first)
Seats and flooring out, strip/clean/prep and monstaliner or similar
Inspect and repair brakes as required (discs are fat and unscored so I think brakes may all be good).
Over the pits for registration and I'll call it good to go.
So wish me luck and if there are any experts on this oil burner SD33 I'm open to advice if you have time.
Edit: box is a T176 and the transfer case is NP208 this is from the vin decoder . I know the box is strong but I know nothing of the transfer case
Edit edit: 4.10 diffs too