"Gaucho" CJ stepside pickup build
---
Back in the 70's, a Jeep dealership in Southern California made a limited number of custom Jeep stepside pickups. These were based on a CJ-7, rebuilt on a longer CJ-6 frame, and using a fiberglass stepside bed and fenders made by a company called California Stepside. The half-cab hardtop was modified from a CJ-7 hardtop.
Having recently finished my Retro Wrangler pickup build (photos at the bottom of this post), I've been looking for another project to do, and I've decided to build an updated reproduction of the original Gaucho.
I've collected most of the parts I need for the project (tub, bed, hardtop, a fender and more), and I'm just beginning the fabrication now. If there's interest in following this build I'll document it here.
I should also say that I'm building this one for sale - I've already got two Jeeps and don't really have a need for a third (I know, hard to believe
). My initial plan is to fabricate the tub, bed, fenders, tailgate and (possibly) half-cab hardtop, and then sell this "kit" of parts to someone who wants to drop the parts on their Scrambler frame. It will be a great replacement for someone who's got a rustbucket Scrambler they want to rebuild. What I'm building will be a direct replacement for a Scrambler tub (and a Scrambler half-cab will be the right size for the tub I build), or a CJ-7 or Scrambler frame could be lengthened for a longer wheelbase if that's what the eventual owner would like to do.
Here are some photos from the 70's showing the original Gaucho pickups: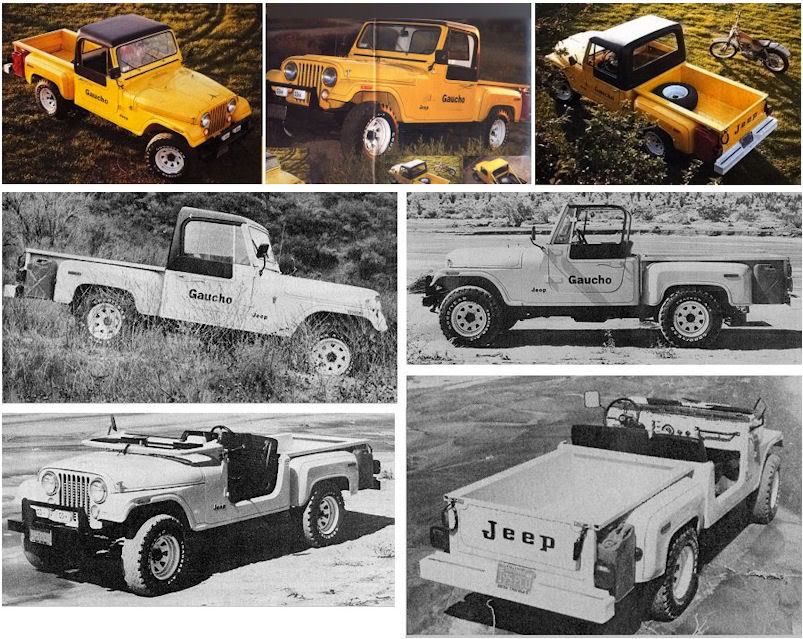 Below is the project I just finished. It is based on a 2006 Wrangler Unlimited; the frame was lengthened 22.5 inches; the bed is the same size as the classic Willys pickups; the fenders are custom; the tailgate is custom and incorporates a CJ7/CJ8 tailgate logo; and the hardtop is custom, made from bits and pieces of Jeep military and export parts. It's also got a soft top with Sunrider, modified from the original LJ soft top.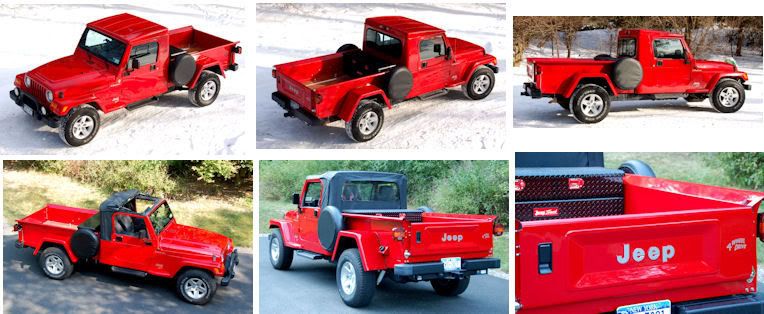 ---
"Whether you think you can do something or you think you can't, you are right" - Henry Ford