Registered User
Join Date: Apr 2011
Location: Fort Polk
Posts: 120
back to the filter issue, i just have a single inline filter right before the carb. Just took this pic to give a better idea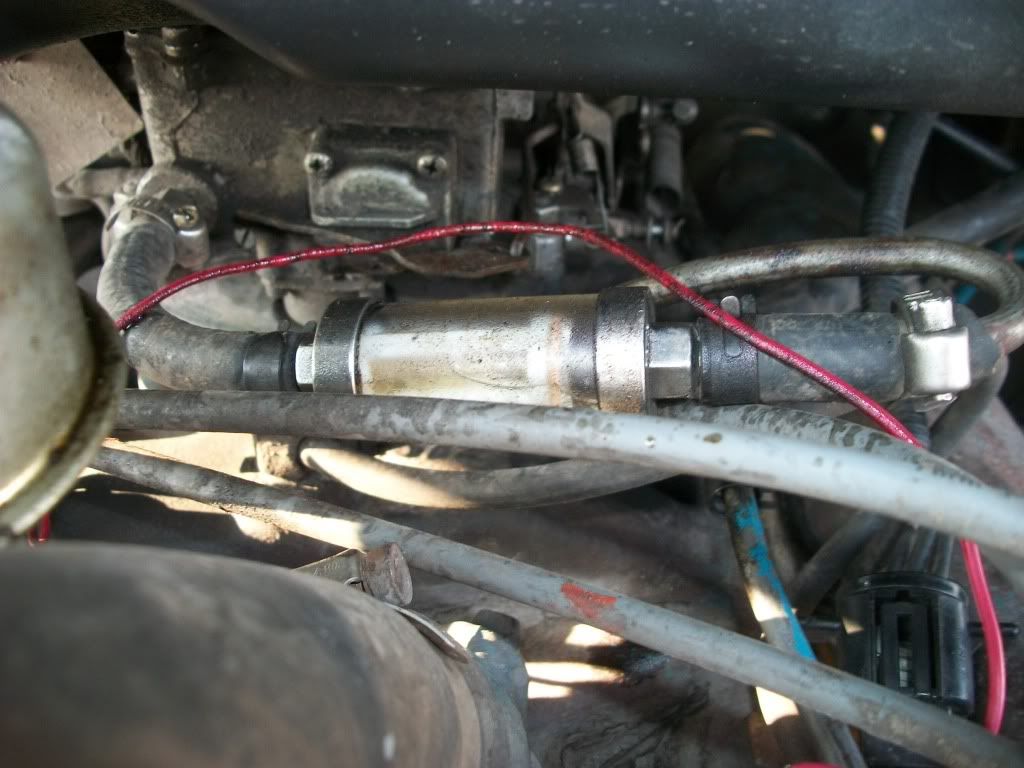 Registered User
Join Date: May 2011
Location: Enid
Posts: 468
Registered User
Join Date: Apr 2011
Location: Fort Polk
Posts: 120
I'm thinking my fuel tank is fuel of crud. before I got the jeep the PO let it sit for about 5 years. once I get a chance to drop the tank and verify what is the best way to flush the tank out?
Registered User
Join Date: Apr 2009
Location: durango co
Posts: 200
older cjs and engines dont like additives, esp ethanol, take off top fuel line crank engine, see if fuel comes out, ck if coming out past fuel filter , now big thing if carb has filter in line check it too, cjs need to have all carbs tuned, and clean, others parts to this problem could be the air lines i had to change out charcoal canister and most all air lines ck for cracks even the smallest crack can screw with carb i also put regulator in line i think fuel line runs 5-7 psi with carter carb its not so critical other carbs seem to need it hope this helped i also have to clean carb about every 2500 miles just cus of fuel we have here colorado, a good carb cleaner seems to work good change filter too aleast 2 times a year
Registered User
Join Date: Oct 2008
Location: MI
Posts: 47
check your fuel lines where they change from rubber to steel ( that connection is above the fuel tank ). I had the same symptons that you explained and found that i was sucking in air at that connection. Quick fix was putting 2 small hose clamps on it. 2 years and the problem has not came back.
Registered User
Join Date: Apr 2011
Location: Fort Polk
Posts: 120
finally found time to drop the tank. the outlet line was dry rotted. the inside of the tank was spotless.
Currently Active Users Viewing This Thread: 1

(0 members and 1 guests)
Posting Rules

You may post new threads

You may post replies

You may not post attachments

You may not edit your posts

---

HTML code is Off

---