Registered User
Join Date: Mar 2010
Location: Lovettsville
Posts: 731
Frame-Off Resto - The Teardown
---
Made some progress on my restoration this weekend - thought I'd post a few pictures from the day.
Also, and more importantly, now that I've removed the tub and the rest of the body, where do I go from here ... what's should be next on the hit list and then what after that? I.e., what the best order of events in the disassemly?
Registered User
Join Date: Aug 2008
Location: Long Island,NY
Posts: 207
Swapping out the tub with a YJ? I'm at the end stages of my restoration of my '83 CJ7. The tub when I first started was a total basket case and it would have been much easier that way to just put on a wrangler body. But I wound up keeping it all original. Even the rusted out doors are staying, only thing was I modified them to half doors. Good Luck
Jeep. There's Only One
Join Date: Jan 2007
Location: Doylestown, PA
Posts: 7,105
If your actually restoring and not just rattle can spray painting everything to make it look somewhat decent, then you need to start removing all that is mounted to the frame. Since the body is off, disconnect and remove the entire drive train but before you do, photograph everything at several angles. Take pictures of all items 3-4 times from different view points. Example: brake lines & fuel lines, start at the front and work your way back and snap a picture every few feet of the entire system. You should do this on all sections when you are removing something off the Jeep. It should become second nature to have the camera on hand when working on a Jeep that is going to be completely torn down for a full restoration.
Buy bags of zip lock bags in various sizes and tags with wire for marking all items and hardware as you remove them. Label the bags and tags with location and what item they came from as this is an important step in keeping order and location simplified. Don't go crazy by removing bolts and other hardware until your garage floor is covered because you won't remember where it came from from one minute to the next. Take a few off then mark them and bag them. If you have space, once pieces are removed put them in storage and out of the working area and bring them back in for repair and or restoration when the time comes.
You need to get down to the bare frame and start from there to do a proper restoration and give yourself at least 3 years to do so. Removing all things from the frame is the easy and cheap part, putting it back together is the real challenge and satisfying reward. You can check how I have done my 1984 restoration project as well as others by clicking on the "progress" link at the bottom to give you and idea of the work at hand. But, just keep going until you get to bare frame as they usually need work too and you need a good foundation to start any project or restoration.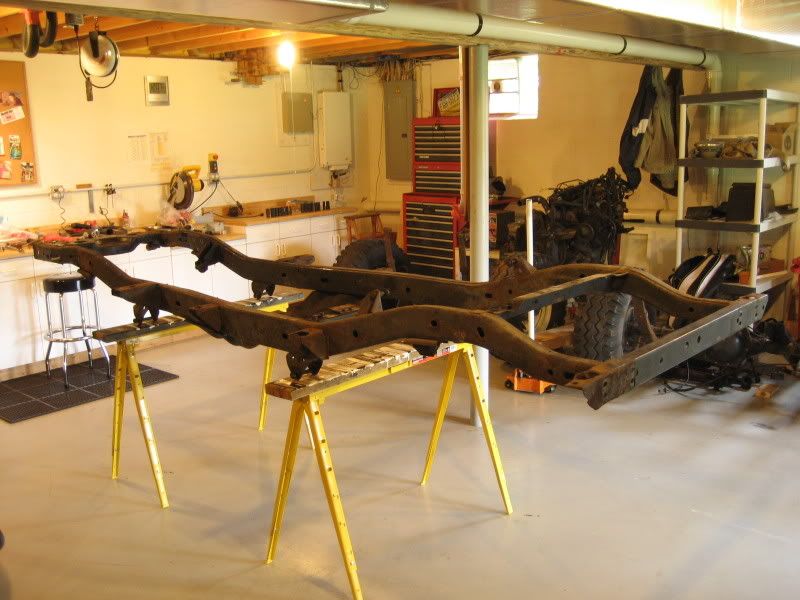 ---
.
1984 CJ-7 Renegade
__________________
First off - Thanks for the detailed response! I'm actually replacing the frame; figured that would be better and less expensive than trying to repair mine ... I bought a repaired/restored frame that I found on Craig's List for $300. So, I will be removing everything; I was just asking about the order of disassembly because I thought there might be a way of taking everything apart that would make things easier, e.g. first remove the transmission, next the clutch, etc. I will also tell you that this is also a YJ swap; my tub was just in terrible shape and I am probably going to try to sell it for scrap metal. I was actually thinking that I might be able to sell my frame; mine looks like it is in better shape than I though ... except in the rear.
As far as how I've done taking pictures ... well I've taken a fair amount up to this point; probably not nearly enough, though! I was planning on relying on the Factory Service Manual, which I found here online, and the official parts manual that I also found here. I'll start taking more pictures as you suggest. I was also thinking I would go with new "pre-formed" brake/fuel lines; I think they are available in stainless steel ... I'm hoping that will simplify things somewhat.
As far as bagging everything ... well I've done some of that
. I was pretty consistent for awhile, then I started getting excited ... so, I do have something of mess in the garage. I have tried to keep much of the harware (nuts/bolts) with their parts as I removed them, but I have to admit that I have not been entirely consistent there either. I am planning on buying the stainless bolt kit and was hoping that would come with everything sufficiently labeled such that it would help ... and in this area I am also hoping that the factory service and parts manuals will come in handy. Is there a detailed nut/bolt list out there any where? I've seen postings asking for such a list, but I don't remember seeing any positive responses.
Cheers!
---
Last edited by Sherms-CJ7; 05-09-2010 at

07:49 AM

.
Jeep. There's Only One
Join Date: Jan 2007
Location: Doylestown, PA
Posts: 7,105
Don't rely on factory service manual or parts manual to list all hardware as they do not. At best the parts manual will say nut, bolt, washer and sometimes the quantity will just be marked AR (As Required). Neither one will give you sizes or thread pitch of such hardware either and that is why it is important to bag and tag and label all items coming off the Jeep. Making a habit of putting hardware back in there holes after removal is your best bet of keeping nuts and bolts organized as it prevents loss of said hardware and you also know where it belongs because it is still attached to that object.

Removal of drive train is kinda like reversal of installation as it came from the factory. Start with drive shafts, then TC, transmission then engine. Move onto fuel tank removal, axles then springs and steering parts, etc.
---
.
1984 CJ-7 Renegade
__________________
Hey Keith,
Thank you much! That little list you provided is exactly what I was looking for ... it's basically how I figured I'd attack things, but I wasn't sure. I checked out your build thread and, suffice it to say, I know I'm getting advice from the right guy! I wish I had the time and resources ($ and/or skill set) to pay as much attention to detail as you have, but I'm hoping to have our CJ back on the road in a "shorter" time frame ... hope I haven't just jinksed myself with that comment
Cheers!
Registered User
Join Date: Jun 2009
Location: Republic of Texas
Posts: 70
You definately have your work cut out for you. I too am in the middle of a minor restoraion and full fledged rebuild, on a YJ though. It is fun and exhausting! Good work!
Registered User
Join Date: Sep 2002
Posts: 3,562
Take hundreds of pictures of everything as you go, when you start putting parts back together that one picture might save you hours worth of work. Sure, you can search Jeepforum, Google and all the rest but a picture will answer the question quicker in most cases.
---
Dave's 78 Build
To view links or images in signatures your post count must be 10 or greater. You currently have 0 posts.

I started taking little movies, MPEGs, with a digital camera. Realized that then I could talk through the video leaving myself verbal notes about my observations, e.g. "the brake lines sort of twist and the rear master cylinder line ends up going to the front brakes". I guess we'll see how that works out, but it should help. I only wish I'd thought of it sooner. Things are definitely going to get confusing when it comes to reassembling the front end, with all the supports for the front fenders and the various vacuum line hoses, etc. Still wish there was something of a complete parts list that provided descriptions of nut and bolt sizes; one had to exist at one time. I guess I'm thinking that I if mention it enough times, it will suddenly appear and someone will post a link saying, "Oh sure, here you go!" Well, it doesn't hurt to hope/dream.
Really though, I think I'm on to something by taking MPEGs. I'm sure there a many others that have already thought of the same thing, but I'm thinking it would be a really cool enhancement if the site were to add a "Technical Videos" section. I should state that I find the JeepForum to be an incredible resource as it is now, but if such a feature were added, it would most likely help those of us (mostly
s) who set out on complete rebuilds. I realize that there is a Video section, but it looks like most just post pictures of rock crawling adventures, etc. ... unless there's another section that I missed. What do you think?
Cheers -
---
Last edited by Sherms-CJ7; 05-10-2010 at

05:08 AM

.
A friend at work pointed out something that should have been very obvious to me ... keep the old frame around and move everything over to the new frame one component at a time. That just seemed to be a great idea, but it does lead to problems if you want to have things done in parallel, such as have the axles rebuilt. Perhaps it makes sense to remove the mechanical components of the drive train, but to keep the old frame around to refer back to for the plumbing, brake/fuel lines, which are to be replaced with new anyway. That will be expensive real estate wise, but should be worth it in the long run. Thoughts?
Currently Active Users Viewing This Thread: 1

(0 members and 1 guests)
Posting Rules

You may post new threads

You may post replies

You may not post attachments

You may not edit your posts

---

HTML code is Off

---