Registered User
Join Date: Oct 2009
Location: NC
Posts: 44
Frame nuts 4 questions
---
Sorry for the silly question. (actually 4)
I am getting the fram ready for blasting and powder coating and am down to nothing and am noticing a possible issue on the nuts. I searched the forum but could not find the answers to the following questions.
1.
What type of nut should i get to weld into the frame now that i knocked one out. Not really looking for thread count etc... I will get a bolt to match. A picture would be nice as the one one that came out was so rusted it was not recognizable but is definatly not your standard nut from lowes.
2.
Where can I get these type of nuts?
3.
How much rust is too much on the other nuts still in the frame?
4.
What is the best way to clean the threads of rust in the old nuts that are salvageable but a little rusty.
Thank you in advance for all your help!
Registered User
Join Date: Aug 2002
Location: Colorado
Posts: 16,116
Any type of nut will work. You most likely won't find the same threaded inserts that the factory used.

Run a tap through the other nuts to remove rust. Go a little bit, back it out, go a bit more.

Use anti-seize upon re-assembly.
Registered User
Join Date: Jun 2001
Location: Mobile
Posts: 5,446
Use an opposide side or matching nut still in the frame for a comparison. If the others are that rusted inside the threads, go ahead anf punch them out and weld in new nuts there too since you already have the welder and grinder out....Here's an older thread pics of when I did one of my frames for a quick trail Jeep...
Take a large hammer and an old bolt to knock out the broken bolt/nut combo into the frame. From here, you have several options once you have the clean open hole. I don't use any loose nut method as its too much trouble now and later when the part needs to be removed. One way is to weld a nut on a rectangle plate and drill two smaller holes on either side of the frame hole. Center plate and weld the two small holes shut to secure. I find the inside of the frame uneven from the old weld and frame channel overlap, so the method I use more times than not is to grind the corners off of a flanged nut of the proper size and use weed eater line to pull it up through the hole and spot weld it. Insert a bolt and straighten it up for a full weld. Even it the weld fails, the flanged part of the nut will stop it from pulling through. Here are some simple pics of the above.
Frame repair at the belly pan bolts. Yes, I had frame upside down, which really made it easier..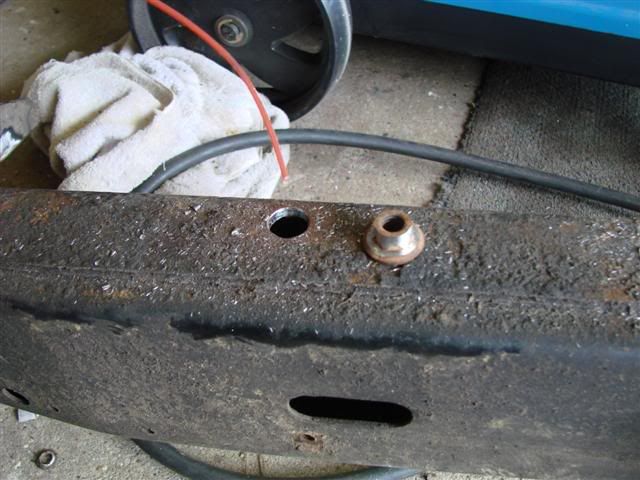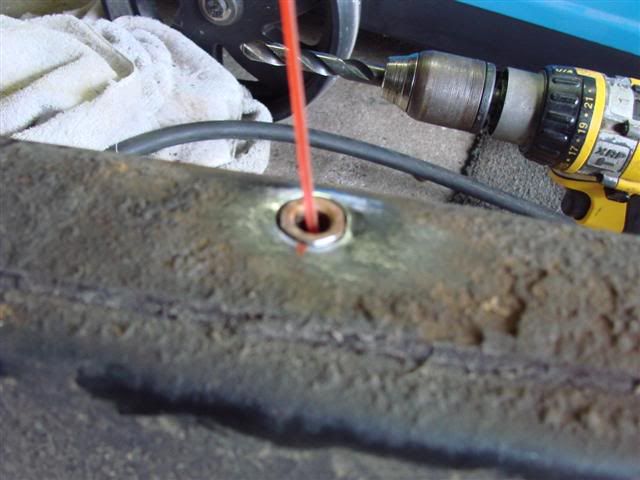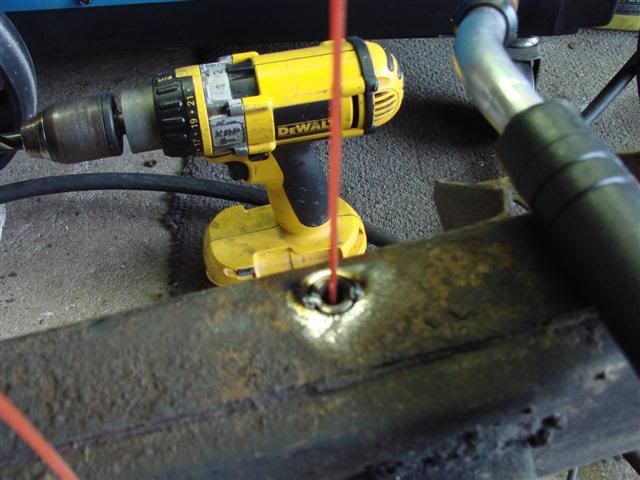 ---
Ed
1975 CJ-6 1983 CJ-8
1986 CJ-7 Laredo 1986 TJ-7 Trail Jeep
2003 Inca Gold TJ Rubicon
Member
Join Date: Nov 2009
Location: Devore Ca.
Posts: 483
I wish I would have thought of doing it that way. I spent hours making nuts on the lathe. Great idea!
---
Wrongway
My fleet:
86 CJ7 5.7 vortec. 4L60,D44's,OBA,Air tank bumpers w/D rings detroits,4.88,35" bfg, mt's 9500ti warn
86 CJ7 2.5 detroits, OBA 4.56, air tank bumpers, w/D rings,9500I warn 31x10.5x15, Trxus
86 CJ7 bone stock, w/factory 44 never seen the dirt soon to be for sale
87 Wrangler also never seen the dirt.
Registered User
Join Date: Oct 2009
Location: NC
Posts: 44
Thanks Guys I will let you know how everythign goes this weekend! Your help is greatly appreciated!
---
"Any fool can make a rule, and any fool can mind it" - Thoreau
Currently Active Users Viewing This Thread: 1

(0 members and 1 guests)
Posting Rules

You may post new threads

You may post replies

You may not post attachments

You may not edit your posts

---

HTML code is Off

---