Registered User
Join Date: Dec 2011
Posts: 25
Engine Size
---
Is there a relatively easy way to find what size my engine is?
Registered User
Join Date: Jul 2009
Location: Bali
Posts: 5,793
You believe you have an AMC304 V8. I take it you have no reason to believe it is not a V8
so is the question about checking the capacity it was made with or the capacity it is now?
I believe, and someone can correct me if wrong, that it is on the side of the block near the engine mount, says 304 or 360 or whatever. From 304 to 401 they all were made from the same block casting, there is no small or big block in an AMC (too tight fisted maybe).
The engine number is on the front top right near the end of the valve cover. I beleive this is a sequenetial number.
If you can find the engine identification it should be something like 212H05 The 2 would be 1982, the 12 would be December and H a 304ci. the 05 would be the 5th day of the month.
If you want to check the VIN it should start something like IJCHM>>>>>>. The H is for the 304.
If you check all this and you are finding that H in the engine serial number than you had a 304 originally.
If you REALLY want to know then you will have to take the head off and measure.
---
BagusJeep lives in Bali.

1981 CJ7 258ci - Bagusjeep
1984 CJ7 258ci - Puthijeep
1981 J20 258ci - Gladys
1951 Willys CJ3A/MB/M38 - Little Willy
1995 Cherokee 4.0 - CHEROKEE
Registered User
Join Date: Jan 2011
Location: new braunfels
Posts: 1,364
look between the two front freeze plugs on all V-8's.......[IMG]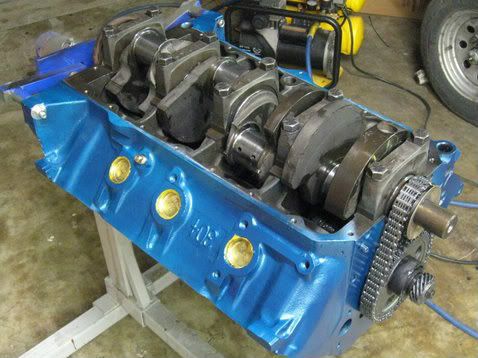 [/IMG]
---
If it's good TO you, it's gotta be good FOR you....
Alright I'll look at it, thanks. And the only thing I'm worried about is because right on the top of the grill it says it's a 258 but the guy I bought it off of said it was a 304.
Registered User
Join Date: Sep 2009
Location: Maine
Posts: 1,237
Its a pretty easy swap, so its not uncommon. I've had many Jeeps over the years, and NONE came with its original engine.
Registered User
Join Date: Jun 2004
Location: Utah!
Posts: 710
Ummmm.. 258 is an inline 6, 304 is a v8 you should probably be able to tell the difference.
---
1980 CJ-7 with a AMC 401, RE 4.5" Lift, 4-1 Dana 300, Holley TBI Projection, 35" Goodyear MTR's
2010 Rubicon Unlimited
1997 TJ with various enhancements
Registered User
Join Date: Aug 2011
Location: Quincy
Posts: 2,655
Quote:
look between the two front freeze plugs on all V-8's.......[IMG]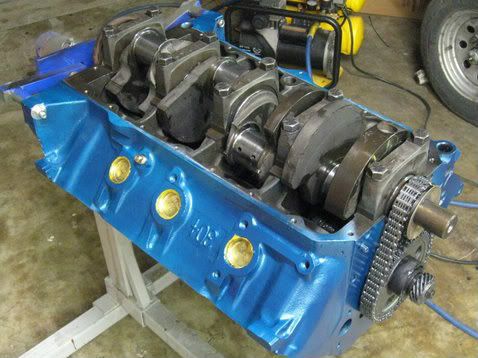 [/IMG]
JUst to clarify my brother's statement all AMC V8s. Mopars small blocks are in the rear (shown here), the rest to my knowledge do not have the displacement cast into the block.
---
Careful your character's showing
Recovering Bronco Rider
Join Date: Feb 2007
Location: Clarks Summit
Posts: 3,259
Split the difference...it's a 281!
---
I've also learned that sometimes... when people don't agree with you .... its best to hold them down and kidney punch them till they agree with you
Yeah well I'm only 16 and just got my jeep 2 months ago so I'm new to this and my dad is out of town so that's why I'm asking here.
Registered User
Join Date: Dec 2007
Location: Denver Colorado
Posts: 1,879
Check out the spark plugs wires. Do you have 6 on one side? or 4 on one side and 4 on the other side? I think 1981 was the last year for a 304 in a CJ but anything could be swaped in.
Registered User
Join Date: Aug 2002
Location: Colorado
Posts: 16,116
AMC V8
AMC Inline six cylinder (258)
Haha thanks a lot man, the photos really helped. There's a huge difference between the two! Im just glad it's a 304 lol.
Registered User
Join Date: Aug 2011
Location: Quincy
Posts: 2,655
Yup it defiantly is! Haha
Currently Active Users Viewing This Thread: 1

(0 members and 1 guests)
Posting Rules

You may post new threads

You may post replies

You may not post attachments

You may not edit your posts

---

HTML code is Off

---