Registered User
Join Date: Apr 2011
Location: Holyoke
Posts: 806
Driving around with just the soft top frame?
---
So I have a new bestop soft top. It is really nice and I like it, but this is a jeep and I didn't buy it to drive around with a top on. So, here is the question. The insides of the tubes of the new frame work is rusting. I think I might just cap the ends with glue or something, but have any of you guys have this happened? I just talked to someone at quadratec and he said that the frame work was never designed to be driven around in the down position like I have been doing. I mean, its a JEEP. I would think that it should be ok to drive around with the frame in the down position all the time and be just fine.
Sorry about the crap pictures. The jeep is in the garage and it was dark. You can see that the inside of the tube is rusting and then leaking rusty fluid on to the tub floor, and the roll bar. I just noticed it. Same thing on both sides. Is there a good way of stopping this?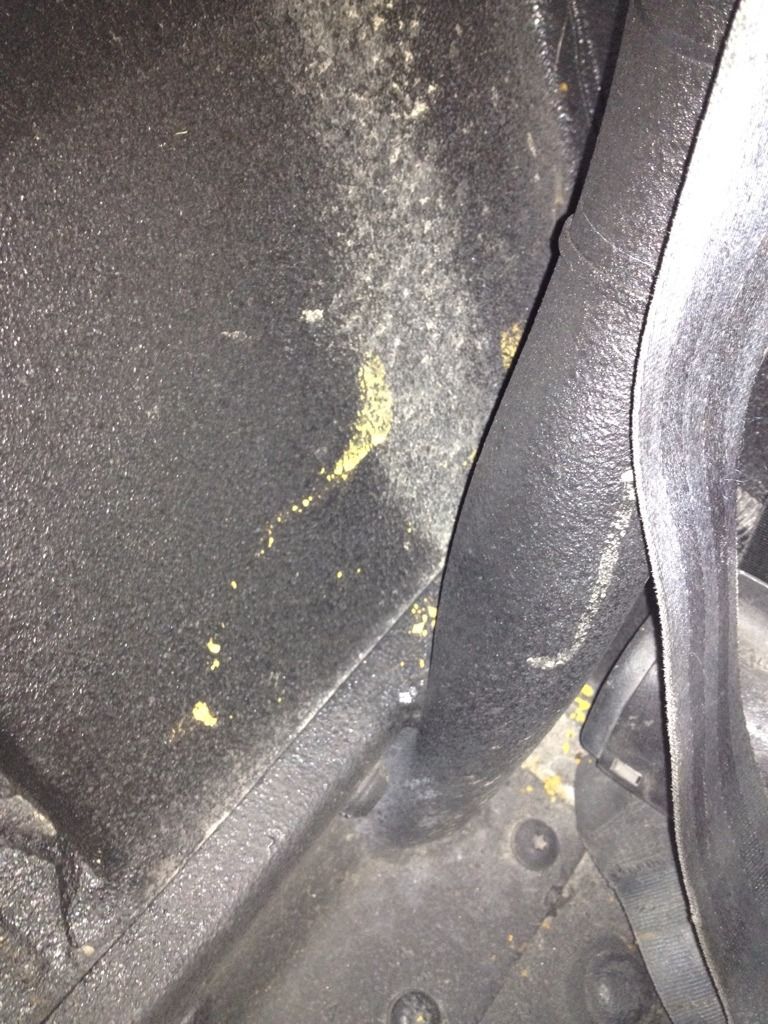 Registered User
Join Date: May 2009
Location: Mohave Valley,AZ
Posts: 885
I think a soft top should be designed to be in the up or down position. If you left it up all the time you should just have gotten a hard top. Obviously they didn't paint the inside of the tubes so when water gets inside it is going to rust, especially since you live in Mass. Maybe you can blow some compressed air in there to remove any water and loose material then spray in some rust inhibiter and cap it.
All I can think of since we don't have such issues out here in AZ.
---
I would rather have a tool I don't need, than need a tool I don't have.
Registered User
Join Date: May 2011
Location: norfolk
Posts: 2,640
If I remember correctly there are straps that hold the bars together in the down position. Maybe get a 1 pint can of paint and just pour some down in there, or improvise something to get some paint in there or maybe spray a lot of white lithium grease in there and let it run down the tube. There is this stuff called FLUID FILM, that comes in an aerosol can, that stays on a while.
---
1984 jeep cj7, 258 I6, rebuilt T176,rebuilt Dana 300, amc 20 , dana 30, 4.10's Trac-lok in rear , 4.10's detroit soft locker in dana 30, 2.5 inch bds suspension lift, 1 inch polyurethan body mount lift. Line ex. weber carburetor. factory tach. factory clock ,oem replacement speedomter cluster, and oil pressure gauge, factory volt gauge.
Registered User
Join Date: Mar 2011
Posts: 4,042
That Quadratec guy is full of prunes... (you pick the stage of digestion.) As already pointed out there are tie down straps with clips on them that attach to the rail. In addition there are stowaway clips for the rods as well.

I run with the top down as often as I can.
---
I'd rather be lost on the trails than found at home!

Phoenix Rising- A Flame Off Restoration?
To view links or images in signatures your post count must be 10 or greater. You currently have 0 posts.

Registered User
Join Date: Apr 2011
Location: Holyoke
Posts: 806
Thanks for the replies. I always have the frame secured the way it was designed, with the bars clipped in place along with the strap securing the rear of the frame.
I just think it is weird that the quadratec guy would say that the frame was not designed to just be in the down position all the time. Pretty stupid IMO. I am going to take it down to the place that painted my jeep and see what they think. Spending 900 bucks on a top and having the frame start rusting all over the place in under a few months is pretty ****ty.
Registered User
Join Date: Jul 2010
Location: Central
Posts: 631
I would just pour some paint into the tubes and make sure the inside is coated too.
POR-15 is good stuff.
Registered User
Join Date: Jan 2009
Location: Mid-west
Posts: 211
on my second best top can't say I have or had problems with rust por15 would be the answer to the problem if I did.
---
Democracy is two wolves and a lamb voting on what to have for lunch. Liberty is a well-armed lamb contesting the vote. - Benjamin Franklin
-commit2013-
Currently Active Users Viewing This Thread: 1

(0 members and 1 guests)
Posting Rules

You may post new threads

You may post replies

You may not post attachments

You may not edit your posts

---

HTML code is Off

---