Registered User
Join Date: Nov 2009
Location: Southern MD
Posts: 115
Update:
I ordered the rear crossmember today and was about to spend some coin on eastwood when i closed the browser by accident and have since then lost motivation to add all the stuff back to the cart.
I am also fairly certain I am going to put a yj tub on this thing. I found one and just need to call the guy in a little bit to see if I can lock it in. Figured why waste my time searching for a good cj tub. I can have this thing back together by xmass if I get all the tub mods done this weekend. I know I am a dreaming a little but its nice to have goals.
--mad--
Registered User
Join Date: May 2006
Location: New Paltz,NY
Posts: 2,121
Looking good so far. Keep up the great work.
---
Seems like everyday is a Monday.

77' CJ-7 83' Chevy K10
So I ordered the dystar red 1" body lift for a yj today and should be picking up the yj tub this weekend if all goes well.
Something funny I thought I should share. (Yes I am a noob)
When I finally disconected the brake lines from the cylindar I thought the fluid would just leek out with the top off. I figured with air coming in it would come out at a steady pace. Well that is not the case. So with a little thought.......just a little I decided to push the brake pedal like I would when bleading the brakes.
This just goes to show how much I am in over my head on this.
So what happened.....well the brake fluid shot clear across my garage. The first two times I pushed the brake I never saw it happen because it was so fast. I heard my Brother in law dying of laughter so I stoped. He then showed me the area of the wall and chest freezer that was covered in fluid.
I got him back for the laughing. While he was showing me where the fluid was spraying I pumped the brake real fast twice
I barley got any on his hand but it was my turn for the laugh at least.
Anyhow, I got it all out by using my vacuum bleeder.
--mad--
Small update.

Got my BL kit in the mail a little while back. Never opened it until two days ago. After reading the instructions it looks like I need the sleaves that go between the body and the puck. This sucks because the ones I had were all shot. I looked on qaudratec and they have ones for a cj7 for 5 dollars each so I may go that route but not sure if thats what I need since I ordered the yj BL.

I picked up a yj tub finally yesterday. It was an 87 and I would say its 90%. Has some minor surface rust on the drivers floor and a little more serious rust on the passenger floor. The only spot that has a hole is by the drivers side roll bar. This looks to be the only major issue with it as the rest of it is virtually rust free. Poor storage by the PO is the cause for this I am sure.

I will post some pics of it asap. So now I am going to do some more grinding on the fram in my next 4 days off and if I am lucky paint it.

My major concern is getting those body mount sleaves on order so I can reasemble sooner then later. I just need to figure out what I need to order.
Wow I am just looking through this and seeing my old personal timeline. MAN was I dreaming. Just barley finished up on the frame welding now and almost got the roll bar off the tub. I plan on a full day of work on Sunday so I should have all the broken bolts fixed on the frame.
I have not updated this in a while and unfortunately the tool I seem to use the least is my camera. But here goes some stuff. I will do better in the future. Seams my internet friends are the only one who appreciates this project anyhow
This was some time back. It was taken on the first day of sandblasting fun. I ran out of sand and the hose to the sandblaster kept breaking at the fitting. So much fun that day.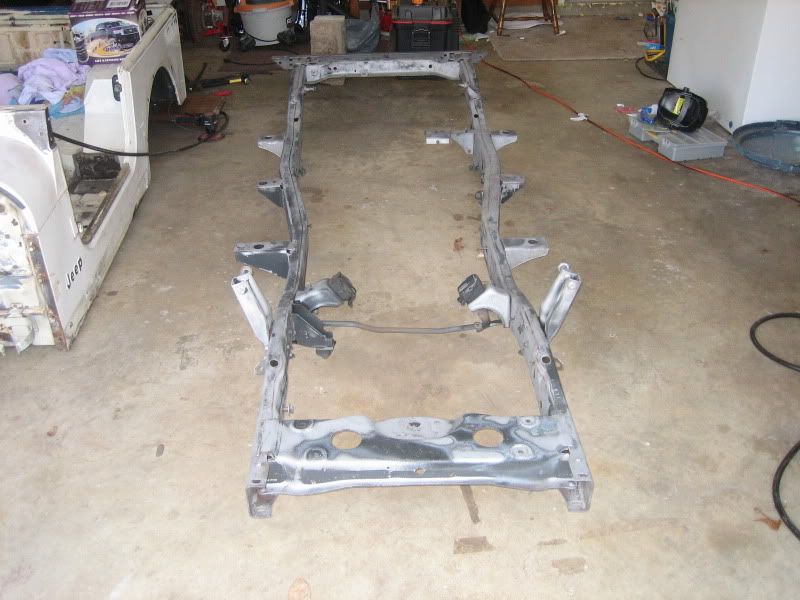 Now the thing is all welded up, moved the mounting locations for the YJ tub and all that goodness. Have it treated with rust encapsulator right now. I hope to paint soon.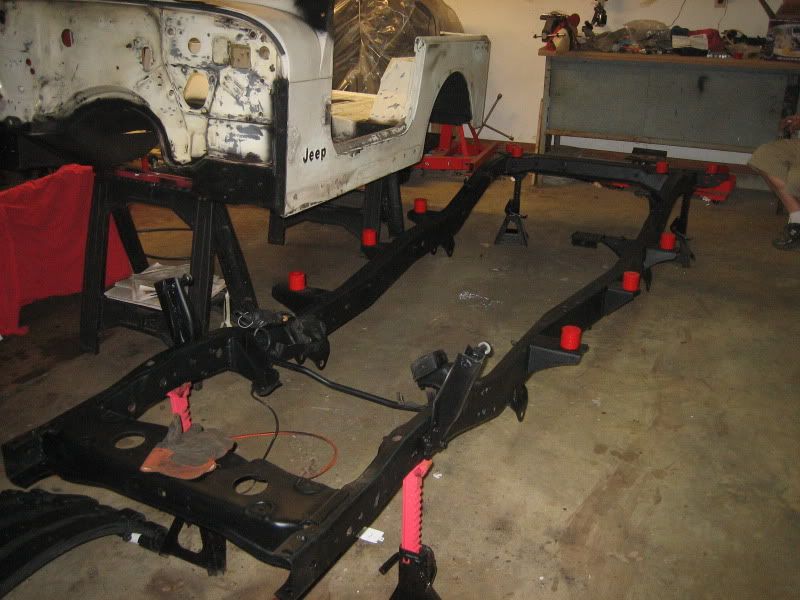 This is me testing the body on the frame finally. My parents are in from out of town so I figured I would get my dad to help.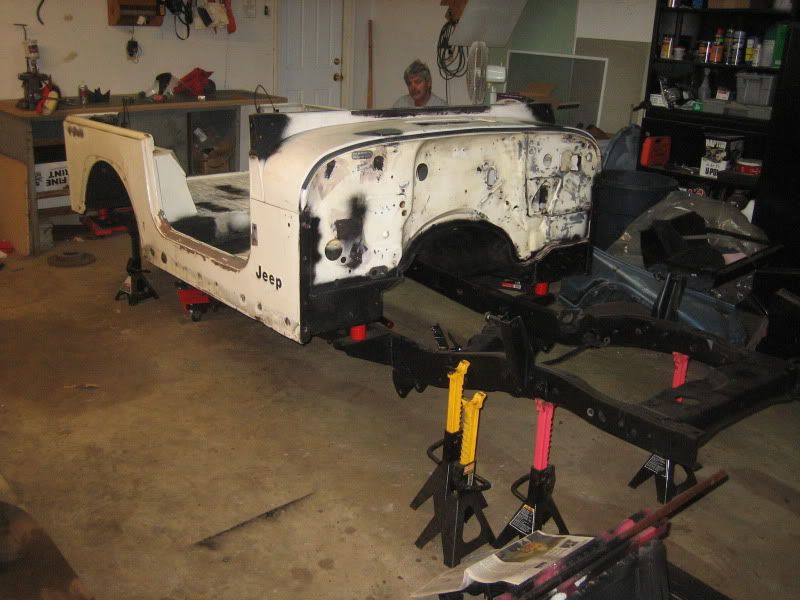 This is me cleaning up the axles. I wish I took more photos of this process. It was a pain and deserves a whole thread just for the two axles.
I ended up with 4.10s, Detroit lockers, one peace axle in the rear and everything else is new on them that I could possible change. To much money in these things, but I do not have the time to learn how to do major changes and axle swaps.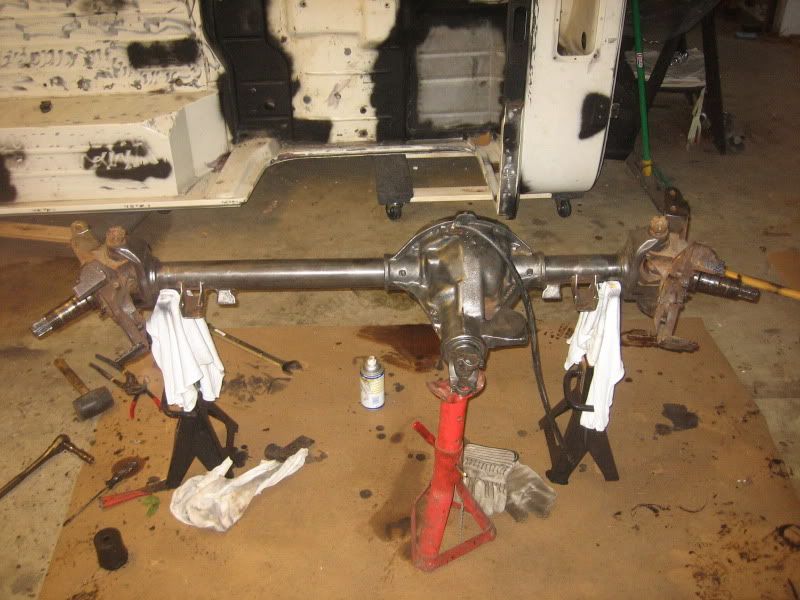 I am sad to say this is the only other photo or the axle rebuild process I have. I can't believe I did not take more photos. The things looked like junk before I started and now they are so new looking. A special thanks to JEEPHAMMER for his threads and many replies to other peoples threads. I would have never been able to do it with out his knowledge.
Anyhow, I have a little sandblast cabinet from harbor freight and cleaned everything up. I just have this one photo of the axle shafts.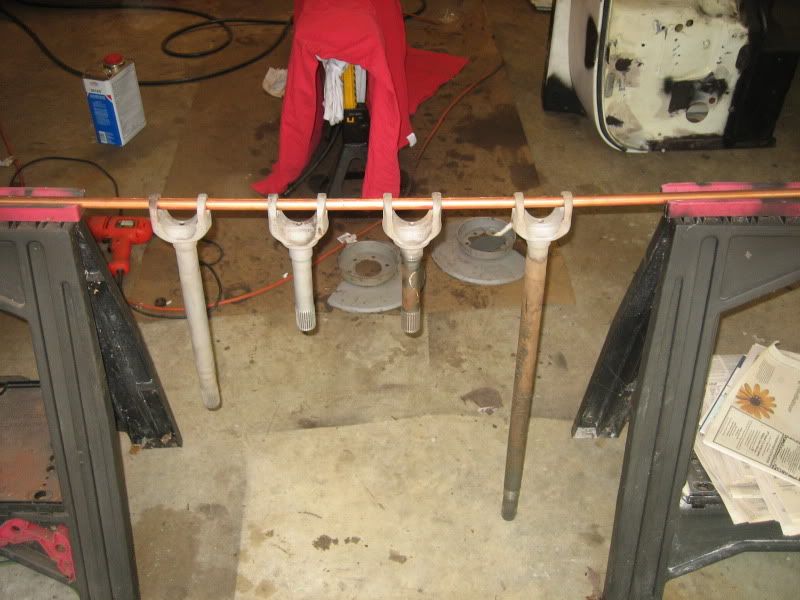 I will get some complete photos asap. I just need to walk out to the garage and take them as soon as the wife gets home with the camera.
Registered User
Join Date: Apr 2010
Location: Arizona
Posts: 129
Looking good keep it going!
---
"Some people spend an entire lifetime wondering if they made a difference in the world. But, the Marines don't have that problem."
— Ronald Reagan
Registered User
Join Date: Sep 2008
Location: White Springs
Posts: 10,099
There is an old saying... "If you want to hear God laugh, tell Him your plans". I think it pertains to Jeeps too!
I have been, and I still am, in your shoes. Nothig seems to move as fast as you expect. Check out the build that 243 is doing. Then check out Coiz, then check out Exposed. These guys all have one thing in common... detail. The point is that no matter what you have in front of you, there will be an end. Be patient, stay focused, and you will finish. You are already ahead of me and I've had my 5 for going on two years! Isn't it cool how much you learn by reading this forum? You're doing a great job.
---
Kerrdog
Go Fish! <*////><

But the right word at the right time... "Hey, give me a little hug!" That's the difference between lightning and a harmless lightning bug!
Registered User
Join Date: Mar 2010
Location: moses lake WA
Posts: 130
looks like a good start. looking forward to see your progress
Currently Active Users Viewing This Thread: 1

(0 members and 1 guests)
Posting Rules

You may post new threads

You may post replies

You may not post attachments

You may not edit your posts

---

HTML code is Off

---