I used a ratchet strap to pull the wheel wells into square and bolted them through the original holes for the rear roll bar tie-in. I held the tailgate in place to make sure I was at least close on the bodylines for the sides of the tailgate. The driverís side rear corner mounted right up and fit quite nicely. Itís held together on the lips with vice grips. This is just the trial fitting before welding everything together.
Not bad at all, I should be able to work with that.
Now when I got to the passengers side, I wasnít so lucky. I had always known the passengerís side rear corner looked a little warped and low but didnít know just how bad it really was.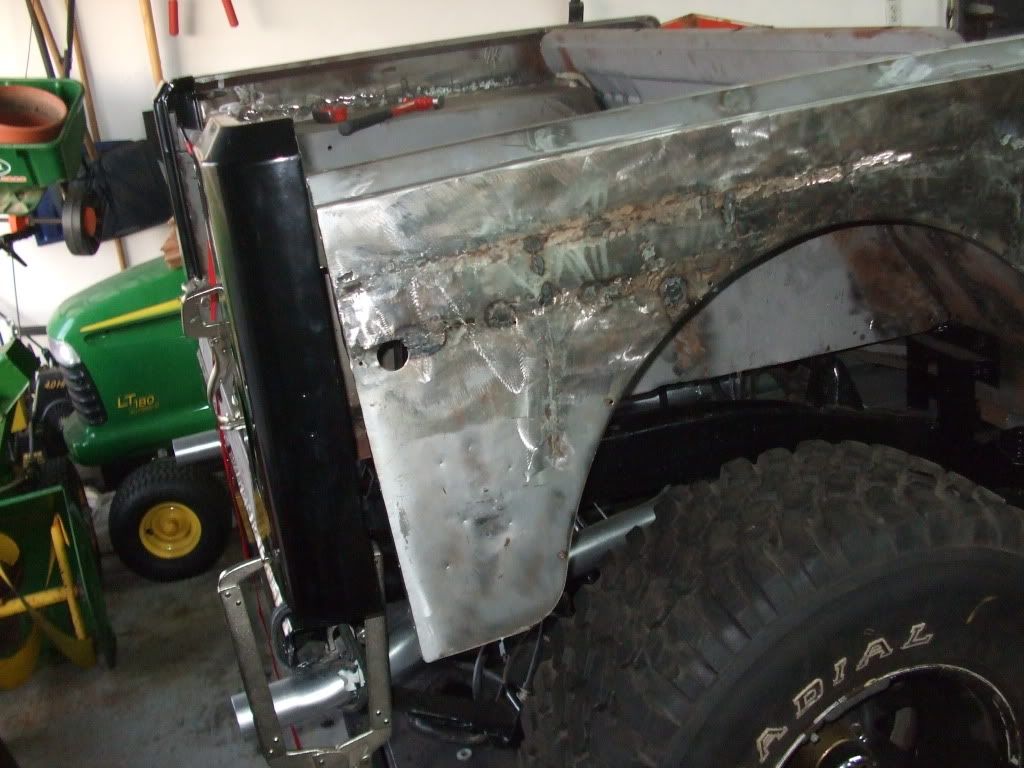 As you can see it was way off. I contribute this to not leaving enough of a gap between the tub and patch panels, especially right at the wheel arch lip. I was probably also going a little to fast and not letting it cool enough between welds. This was the first long flat section of tub I attempted to repair. It was giving me oil canning issues and all kinds of problems. I thought I was finally done with it and I had already put so much work into it I couldnít give up now. So I made several relief cuts in the entire rear quarter and pulled it up and clamped it to the corner.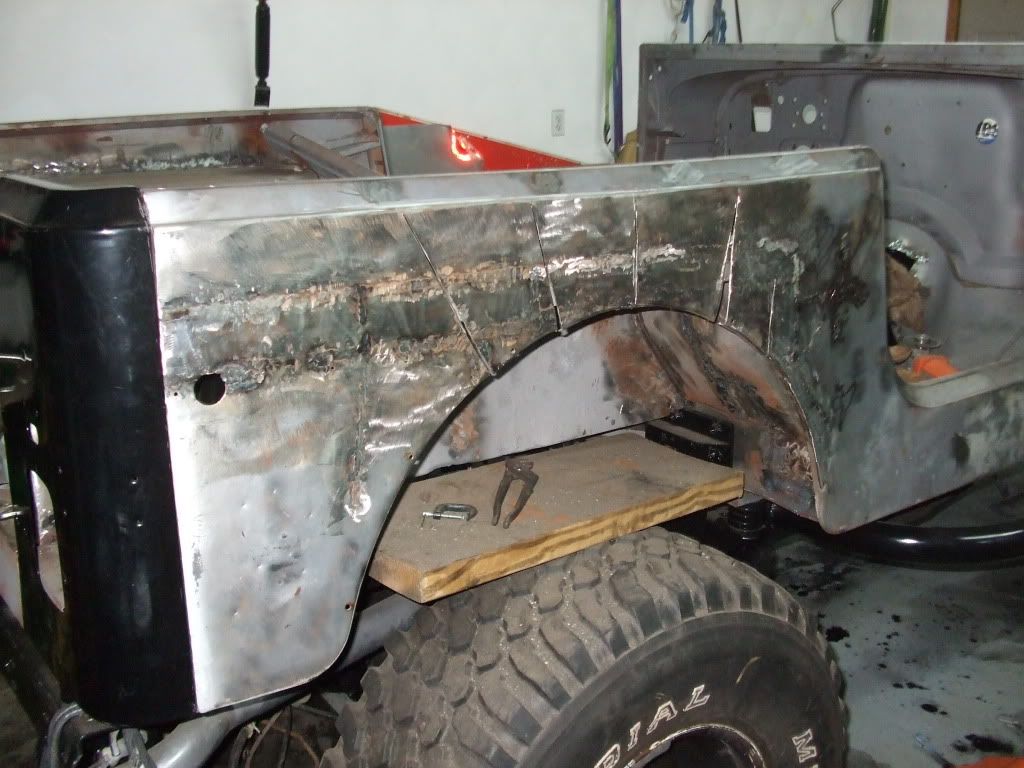 I took my old rear bumper, which is made from 3/8Ē angle, and clamped it across the top of the quarter panel. I used clamps to pull it all tight to make sure it was nice and straight then slowly welded up the seams.
This is after I had already filled in the holes in the rear corners for the stock tire carrier and bump stop. Here I have the corners all tacked into place with the tail gate mounted up to make sure everything is square and my lines will be even.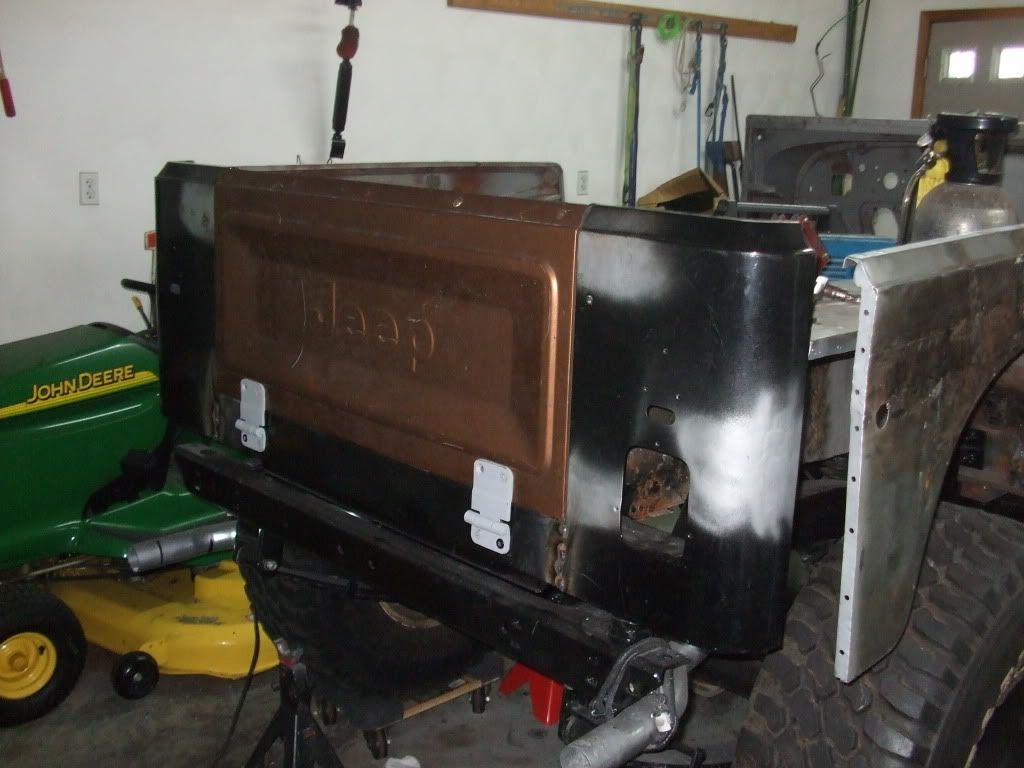 The driverís side lined up great.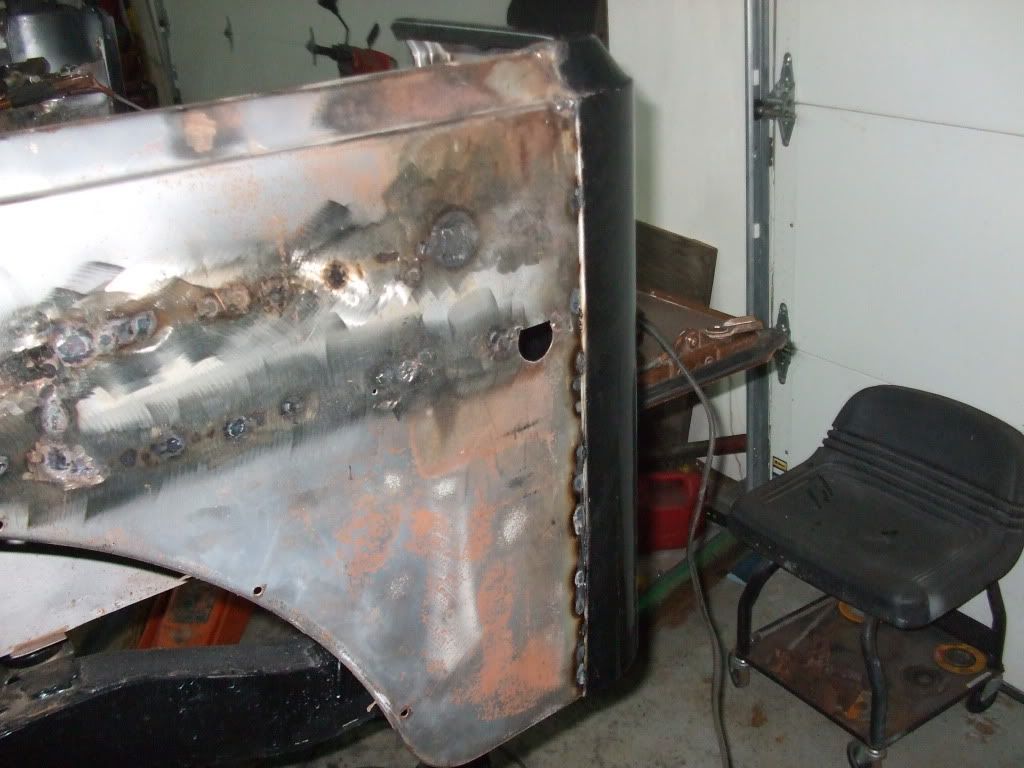 Right on cue the passengerís side is giving me troubles again.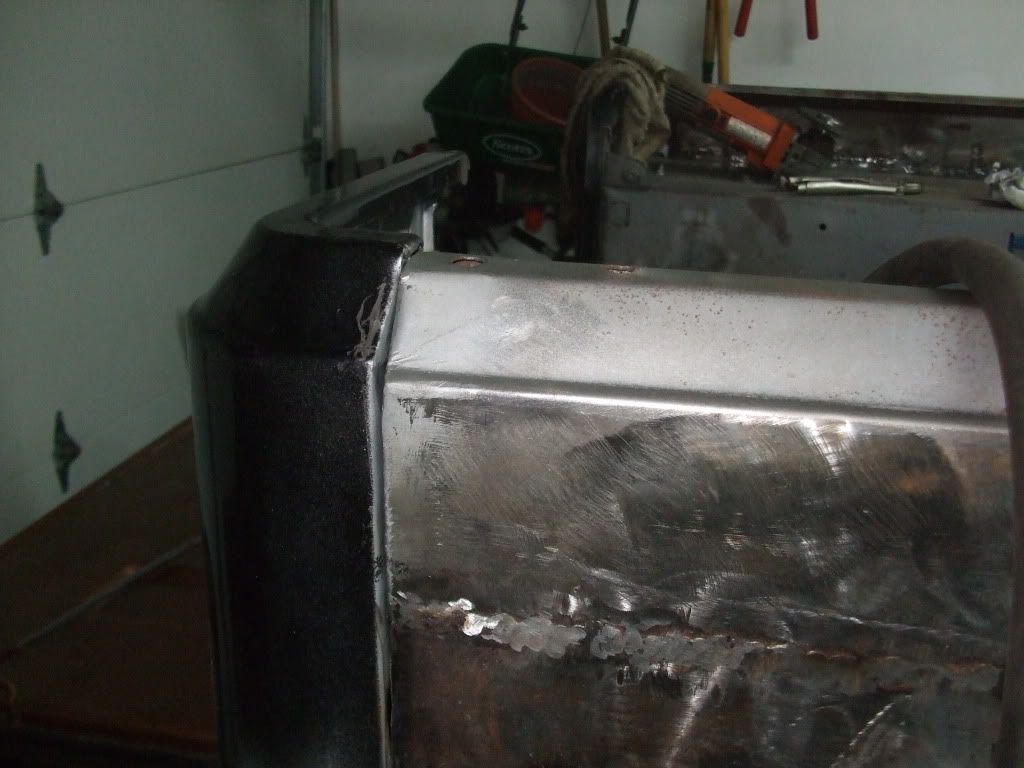 So I made it line up the easiest way I knew how. I cut a relief and tacked it where I wanted it.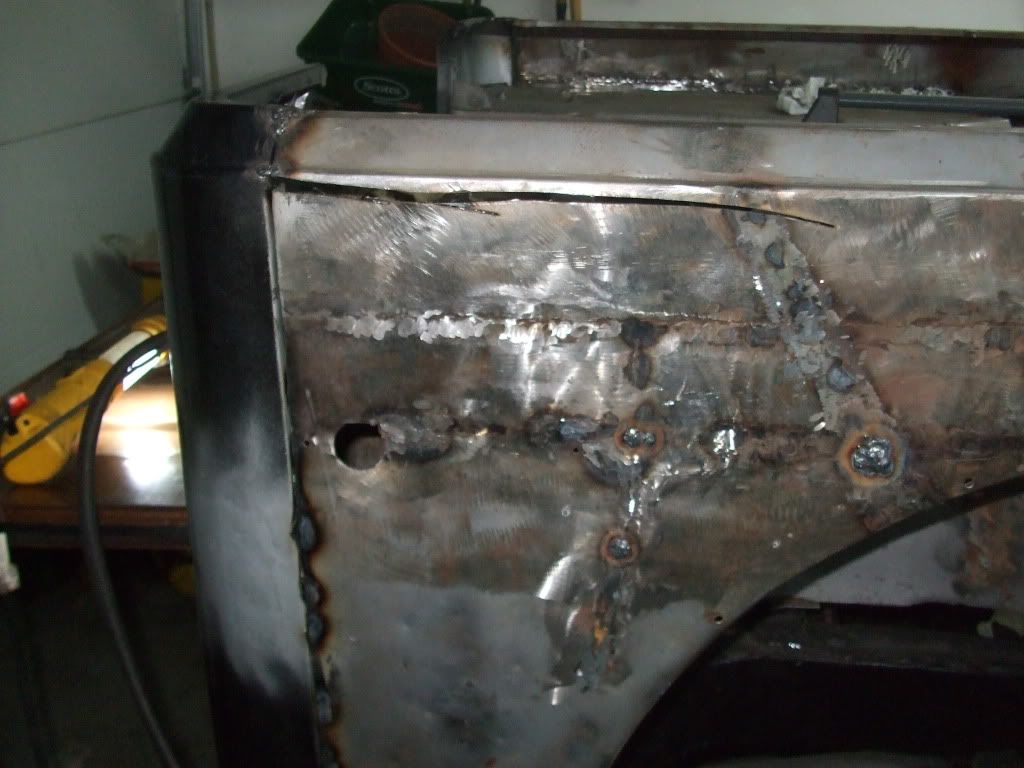 You have no idea how many hours I have spent welding and grinding on that one piece of metal. It looks worse in the picture than it really is and I have made some major improvements in its straightness with my hammer and dolly. I have faith it wonít take too much body filler to make it flat by the time I am done. I had pieces with filler over ľĒ thick that I had cut off from the PO repairs so I am already way ahead of where it was.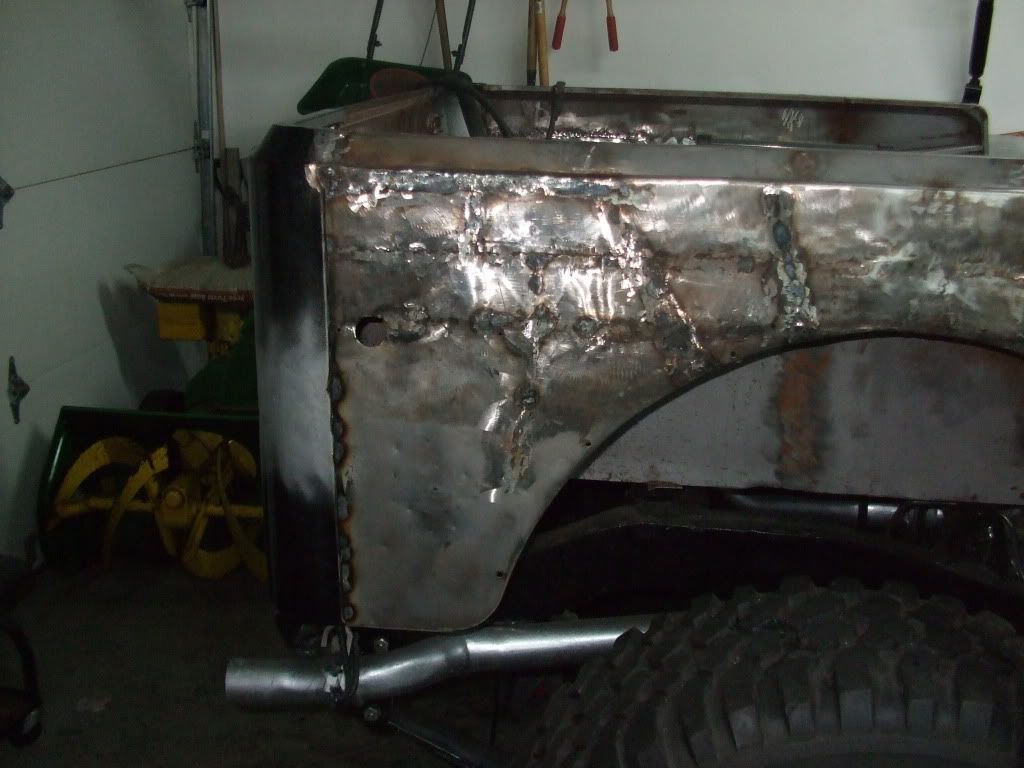 Next I went around and welded the wheel wells to the quarter panels and the corners.
I also welded together most of the patch panels. I couldnít get a conventional clamp or vice grip to hold them together so I ended up drilling a hole through the two pieces and used a sheet metal screw to suck them together. Once tacked up I removed the screws and filled the holes with weld.
Here is the driverís side corner with pretty much everything welded up. All of the bodylines have come out straight and even at the correct heights.
Here is one last picture showing how square the tailgate lines and height came out.
The tub is almost done. I have gone around and completed touch up welds and final grinding about three times now so I am really running out of pinholes to seal up. I'll be doing it again once the tub comes back off the frame and I can get to the underside easier. I have to repair a rusted belt on the front cowl area and I think I am also going to replace another section of the driverís floorboard. I was working on the cowl today and should have it done by tomorrow afternoon. The driverís floor will be a simple flat piece so it shouldnít take much time to repair. I hope to have the tub PORíed and Raptoríed before the cold weather sets in. Then I can complete my filler work and prep the windshield frame, hood, grill, tailgate and fenders over the winter. Iíll paint in the spring and put it back together over next summer. I really wanted to get it painted before winter set in but it's just too much work by myself. There is no way I can get the POR and Raptor down and have enough time to complete all the filler work to paint in the next three weeks. I might have access to a paint booth so there is a small chance of it getting painted in the winter sometime but I am not going to hold my breath. I was really hoping to have all winter for assembly but I simply ran out of time.