Wow, if I knew my audio setup was going to cause such a stir I would have started another thread.
I've been listening to my MP3's in high end vehicles for the past several years and think they sound fine. You can barely notice a difference between them and the Satellite Radio. They make the most sense, for me, to use for my music storage. We're talking about a vehicle that will be used on a limited basis, prone to weather and wear with no top most of the time and also prone to theft. This is one thing I felt I didn't need to spend an excessive amount of money on. As long as I can hear it at 60 mph with the top off, I'll be happy.
My original system from back in the college days around 1996 was an Alpine deck, Alpine 4ch 100W amp powering Alpine 5.25" mid components in the dash and Alpine 3-way 6x9's in boxes under the front seats pointing towards the back of your legs. I then had a 2ch 60W Hi-Comp amp running the two 10" kickers behind the seats. That amp got water damaged so I threw it out. I got most of that stuff on the cheap from my brother and friend. This setup was plenty loud enough for the CJ and I didn't even have to max out the gain on the amps. You could hear it no problem on the highway with no top on and it sounded pretty good too. I am reusing the Alpine 4ch amp and everything else has been replaced with a comparable or better product.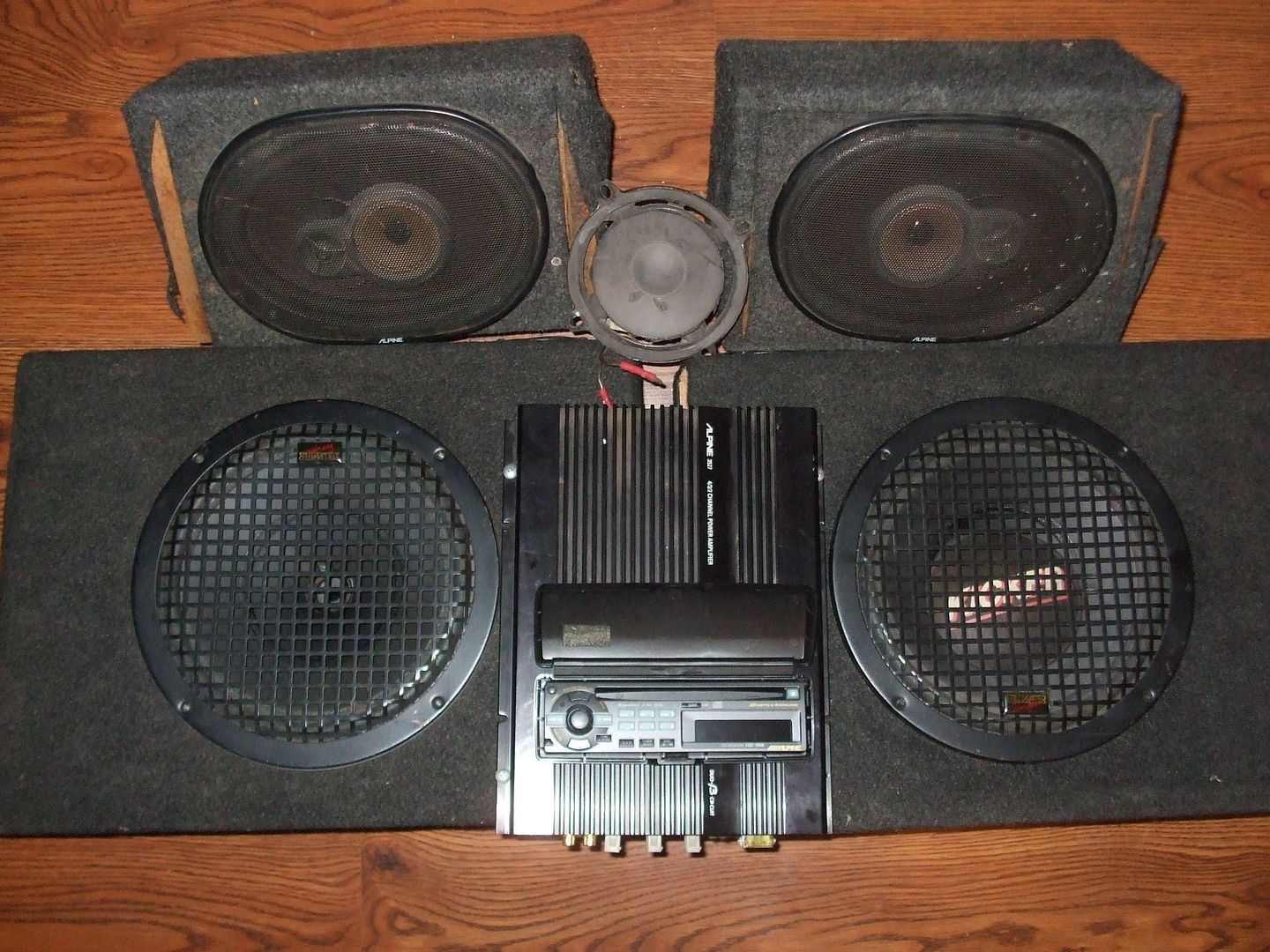 You've already seen my old head unit compared to the new one.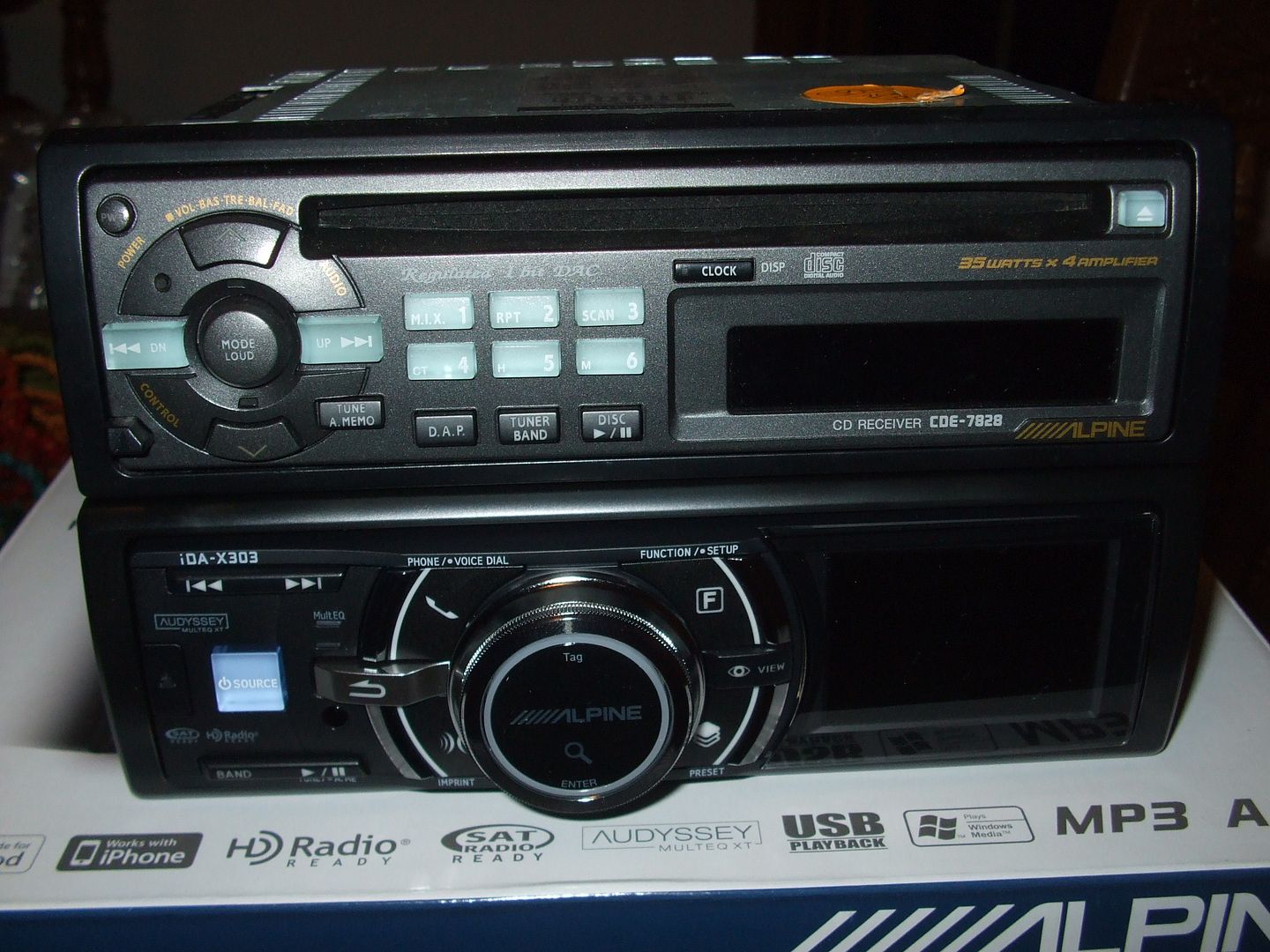 Here is a comparison of the Alpine speakers I pulled out and the new Rockford Fosgate 5.25" front speakers. Here is the back side.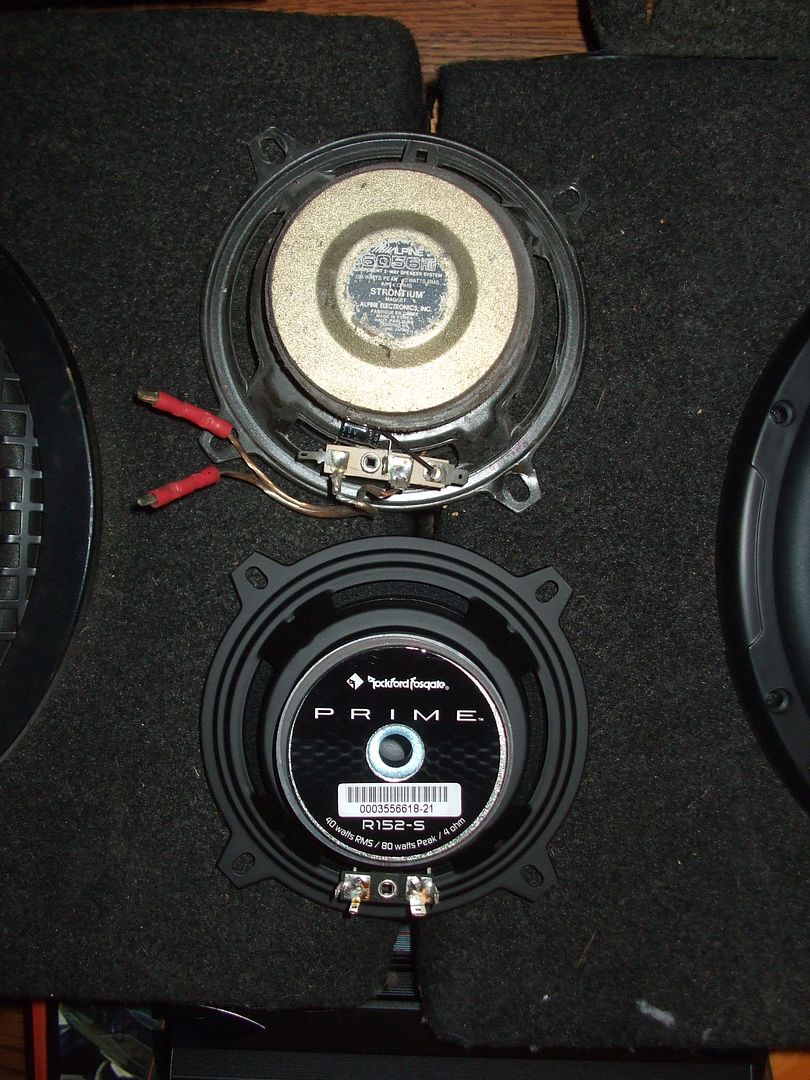 Here is a picture of the fronts. I also have the 1" tweeter for these which I never had with the Alpine's. These should be decent and cost me under $100.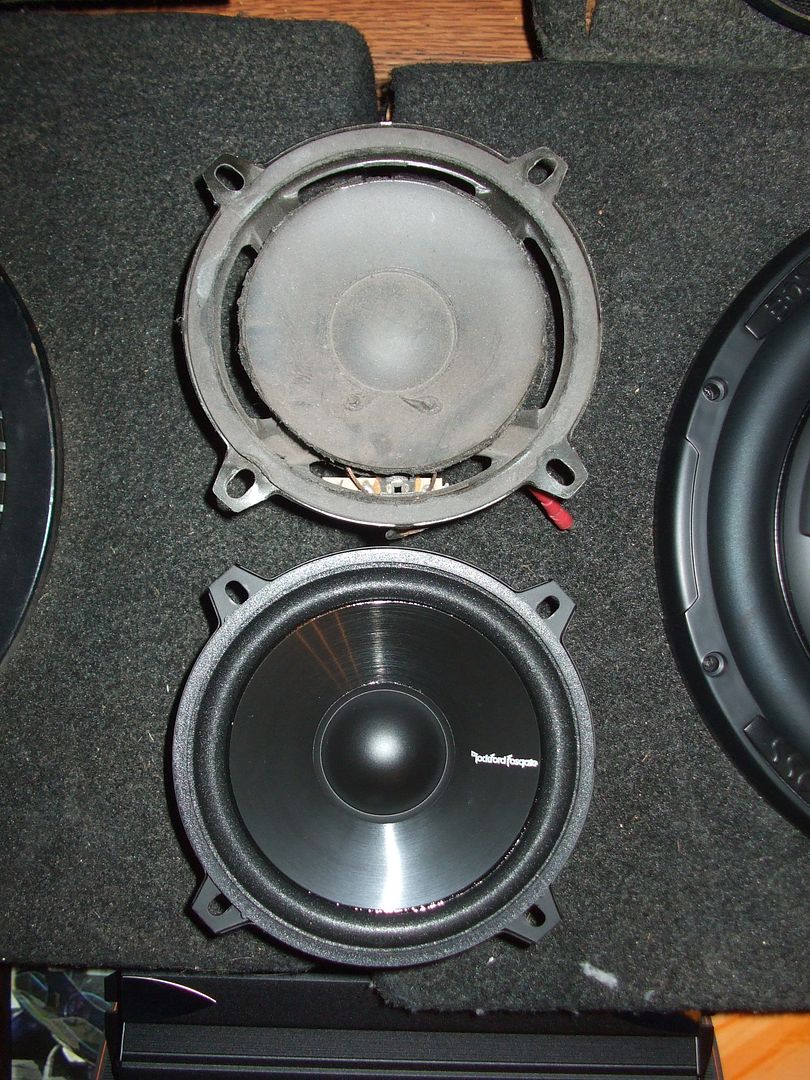 For the rear speakers I am either going with 6.5" components or 6x9's but I need to get my roll bar in before I decide what I'm buying and where I am going to mount them. The Kickers worked good but they were nothing special. The Boss subs have larger magnets and seemed to bump pretty good when I tested them in my living room, they sounded better than the fifteen year old Kickers.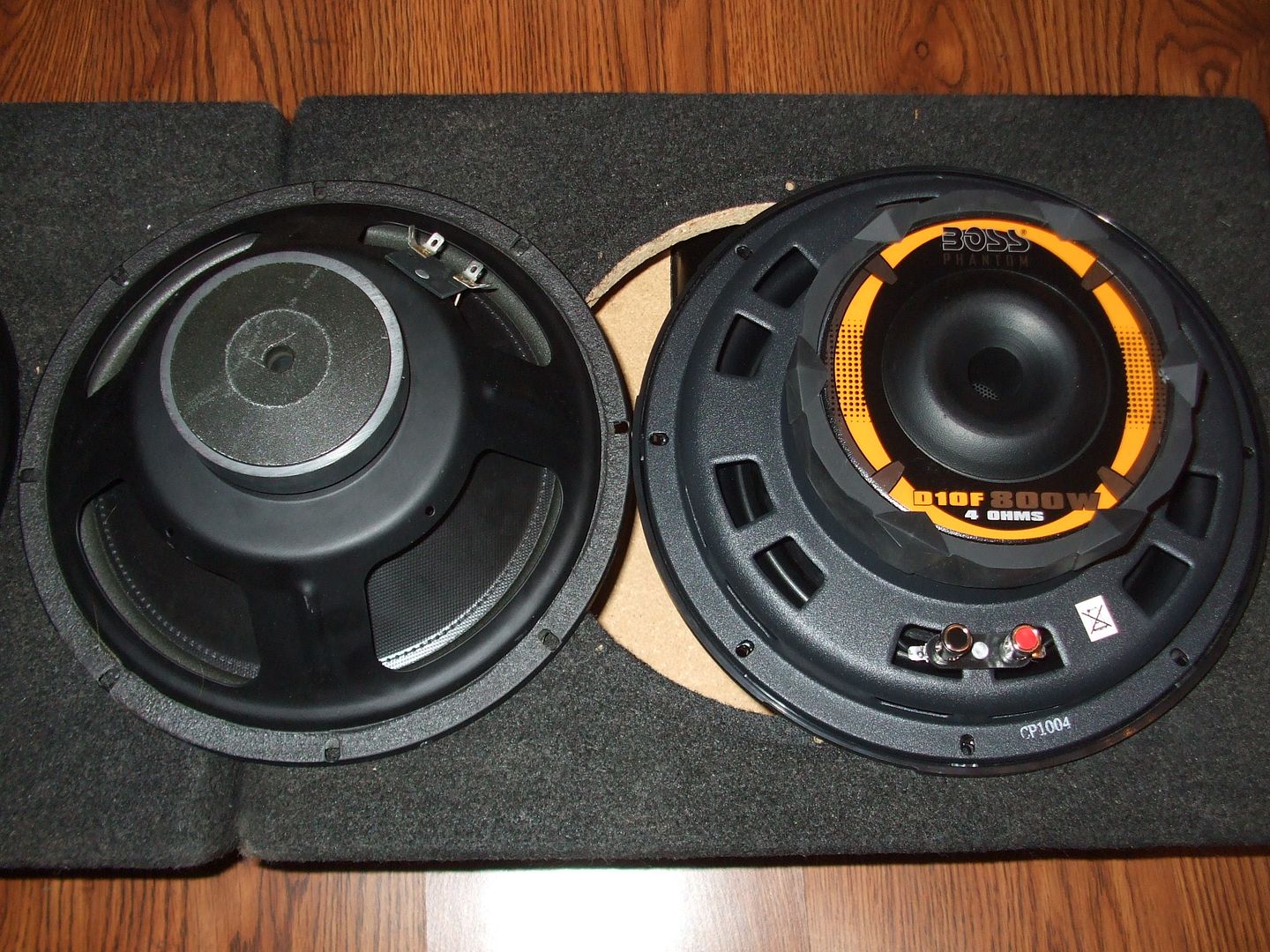 Those of you who cringed at my cheap subs are going to punch your computer when you see what amp I bought for them.
Like I said, I had a Hi-Comp 2ch 60W amp for the subs so I bumped that up to 1400W.
I don't know how they get away with that advertising when it states 700Wx2 on the box but the sticker on the back of the amp says 80Wx2 RMS.
Either way, I knew that when I bought it and should be an upgrade from the 30W per channel I had going to the subs before. I mainly got it due to it's small size and small price.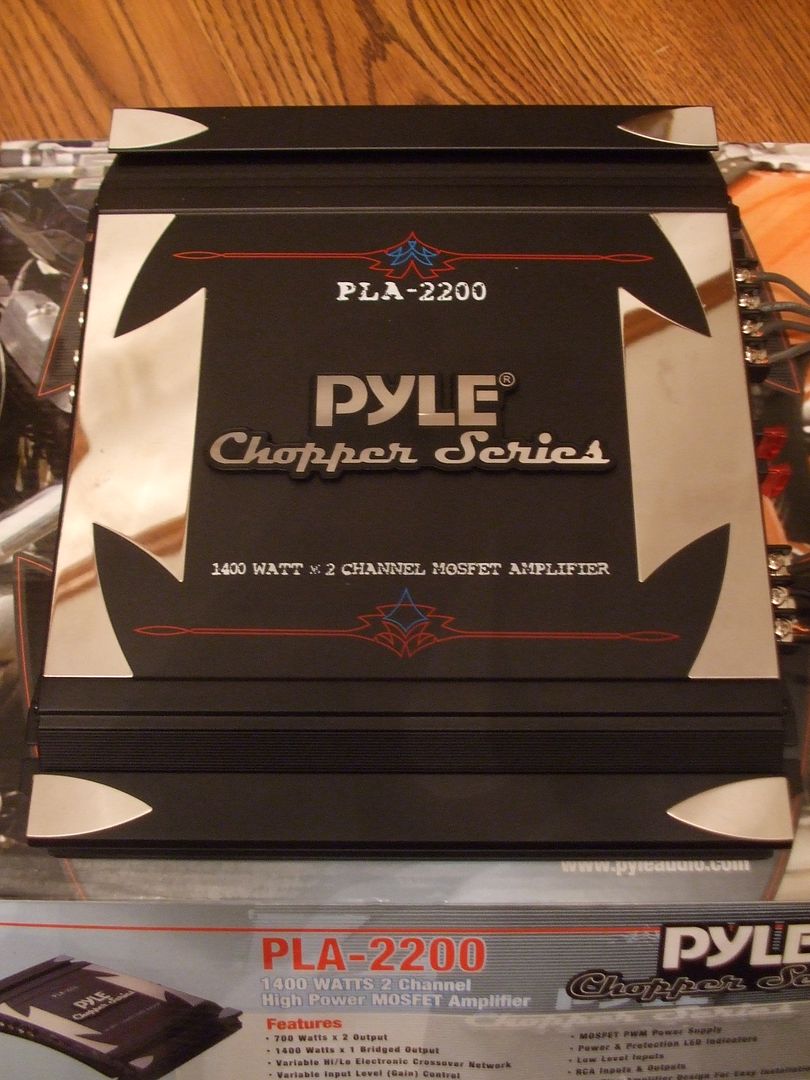 So my stereo cost:
Head unit: $153
Alpine amp- reused
Pyle Chopper Amp: $60
Rockford Fosgate fronts: $99
6.5" or 6x9 rear speakers: ~$99
Dual Boss 10" subs: $38 x 2 = $76
RCA cables, antenna: $25
-----------------------------
Grand total: $512
I could have easily spent $2000 on stereo equipment but didn't see that as the wisest investment for the CJ. Like I said, it was plenty loud before and sounded fine. I am not worried about this setup in the CJ, it fits my purpose exactly.