Come on guys, you make me feel like a prom date trying to get up my skirt before you buy me dinner. I can't just give it all away at once or you'll lose interest.
Although someone did buy me a membership so maybe I should just put up and shut up.
What's it take to get some thread rating votes around here?
Jim,
Rollbar asked me the same question at one point so to be completely fair I will have to refer you back to
the first sentence in post 39
.
I'm glad you guys think I make it look easy but not everything has been peaches and cream. I'll detail that later but for now lets unwrap some parts.
This definitely felt like Christmas in June for me. I guess I'll start with the tailgate again. So here it is painted in black.
Fine line tape is off.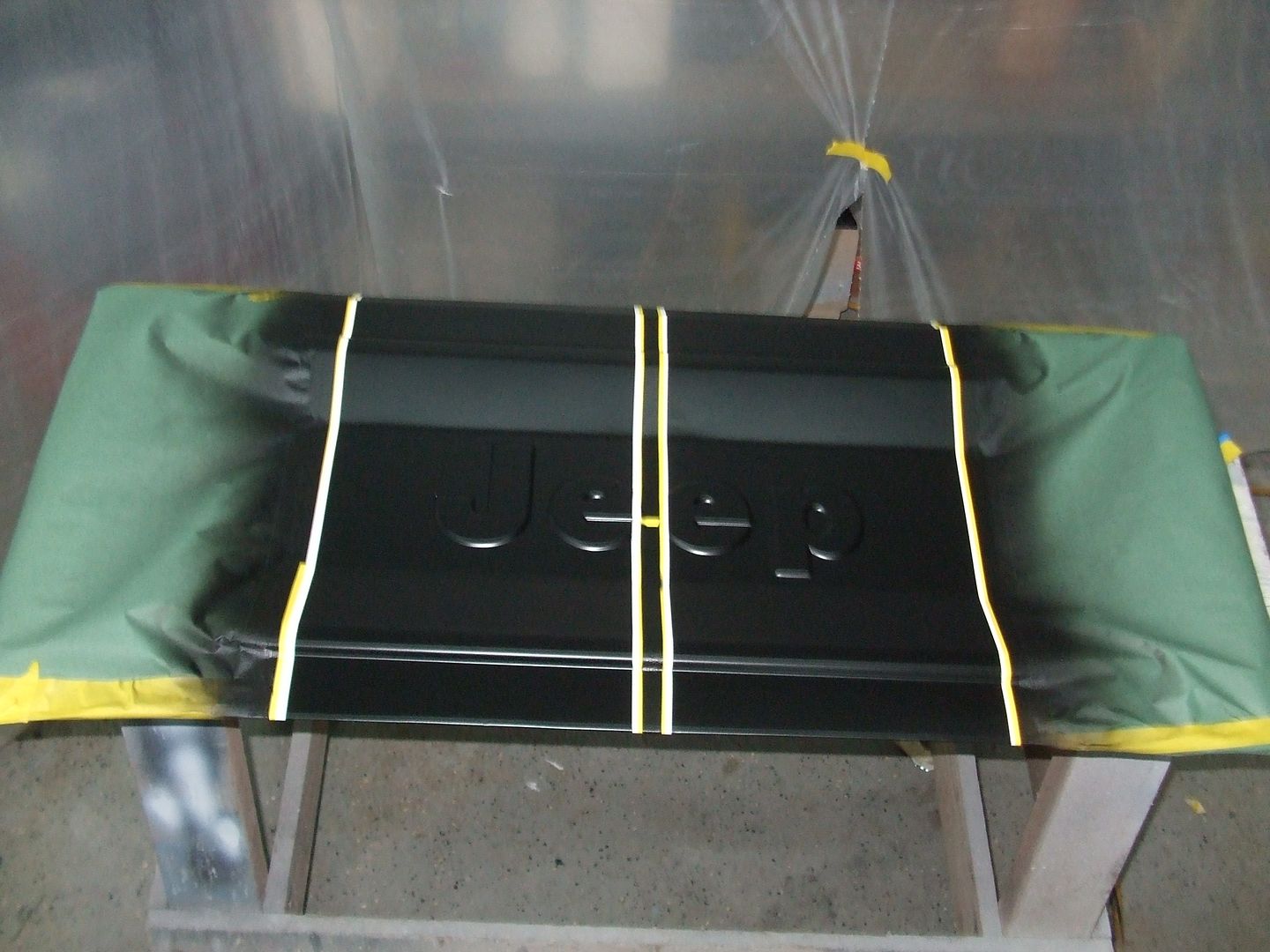 Here it is all ready for clear.
For some reason I didn't get pictures of the grill in process so here it is after painting and all the tape removed. I noticed I didn't get the insides of the grill covered very well with black but I don't think it will be very noticeable once all the lights and radiator are installed. The engine compartment side is pretty solid black so looking at it from under the hood should look fine.
Here comes a nice sequence of the hood. Here it is after three coats of black.
The center edge fine line tape removed.
The passenger's side is revealed.
Getting closer to fully unwrapped.
This is the closest thing to Jeep porn that I've ever seen.
Here is the underside of the hood. It would have been much easier to make this white but thought it was worth the extra time to make it black. It could have probably used one extra coat of black but it is only the bottom of the hood after all.
Here are the cowl and windshield frame covered in black.
Here is the cowl after all of the tape was removed.
Here is one last picture of the windshield frame.
Pretty much everything was now ready for clear coat. I did have a few small areas to touch up with an airbrush but nothing major. I am pretty happy with the way the lines came out on all of the parts. Not perfect but pretty darn good considering it was my first time. Everything seemed to be going pretty well but the clear coat threw a couple wrenches and a tire iron at me.
I'll detail that in the next post and hopefully help others to not repeat my mistakes. It will all be worked out in the end but the extra time to complete the painting was extended by several weekends due to prior commitments and the added time to fix my mistakes.