Thanks for the comments everyone.
Quote:
Originally Posted by
Exposed
That ought to look like glass after you shoot...... Lots of hard work getting closer to showing up.....
Looking great......
Thanks Calvin. What grit did you sand your flares before priming? My rears came out great but on the front flares the primer cracked and flaked when flexed. I think the rears were scuffed with a heavier grit.
Quote:
Originally Posted by
peep6543
.... I especially like how you are integrating new parts as well as styles into a rig that retains a very classic look but will be able to go virtually anywhere....
That is a very insightful response. Thank you.
Quote:
Originally Posted by
Jim1611
I know you realize if you paid a body man to do what you've been doing you'd have thousands of dollars invested. I also know you've heard many times what GREAT job you're doing Mike, but it can't be said enough. And all of the time you've spent documenting your build so we all could see. You're a great help to us all. Very much looking forward to seeing this painted!!!!!
Thank you Jim. You're right on every level. Due to the labor involved the value of my CJ to me will always be way higher than someone trying to buy it from me adding up the sum of the parts at 60% of their actual value. I honestly have no intentions of ever selling this Jeep. Documenting the process on this forum is fun because of the responses I get from my peers and my family but it is time consuming like you said. The Word document I type this into before I post in this thread is going on 74 pages long. As most of you know, my posts are usually a week or two behind from where I actually am in the build. That's because when I am working on it, I spend all of my time working on it so the posting has to come later.
It just seems that ever since I started to paint color, it has been one disaster after another. I should be done by now but a series of mishaps have cost me one weekend after another. I've been working hard at getting it done but am not quite there. It will be three more weekends before I get the chance to finish it which really puts me into late July for the start of assembly.
So please follow along in my Hell Ride known as painting color.
Since I had already bought a gallon of Oxford White, I know I wrote Performance on the can but it turns out Oxford was the color code that was mixed, I decided to use that as the base and finish it off with the half gallon of High Performance White I bought. I started off spraying two coats of Oxford on all the pieces. Here is the grill which was actually the last piece I painted.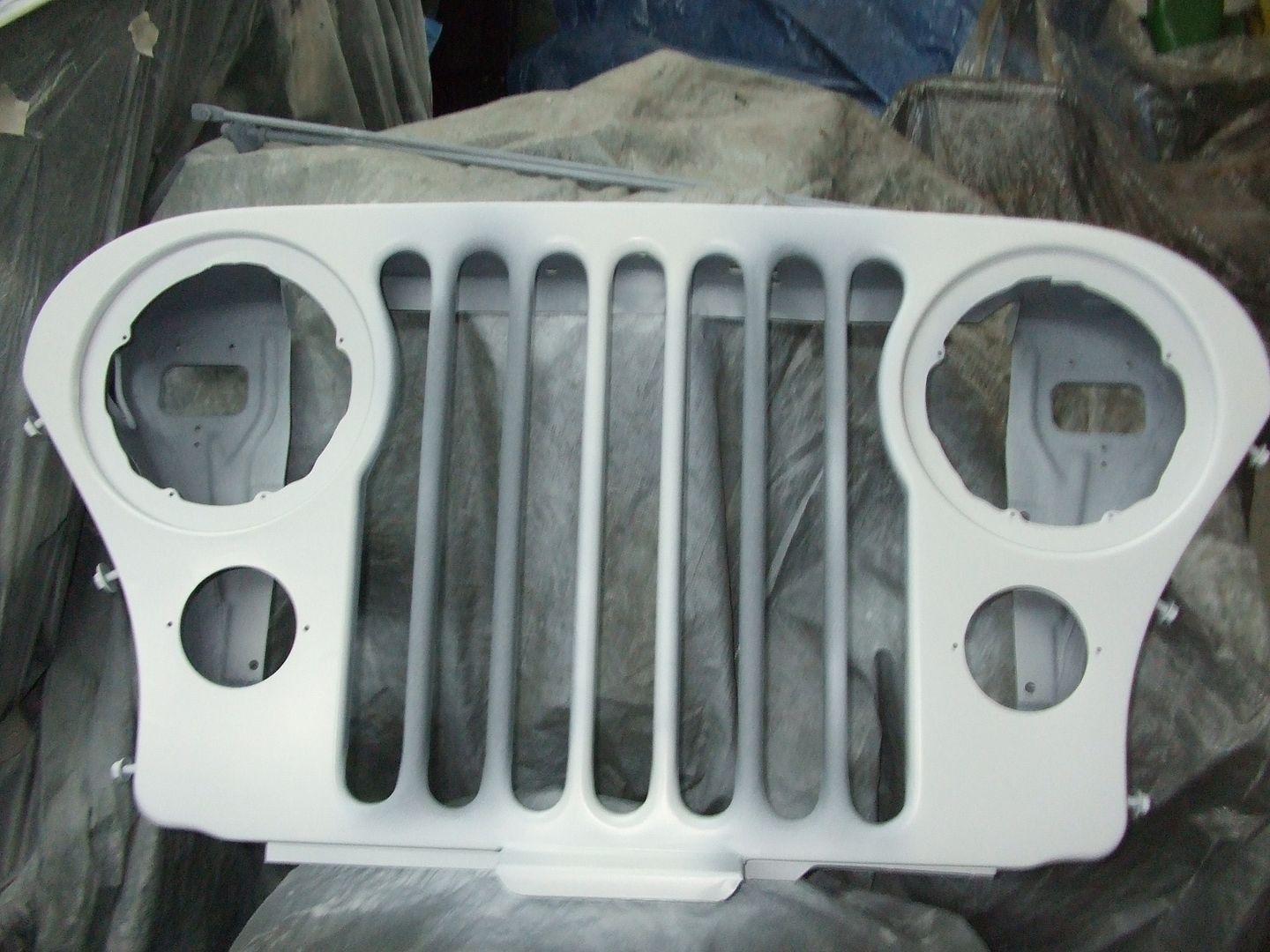 The tailgate was looking good.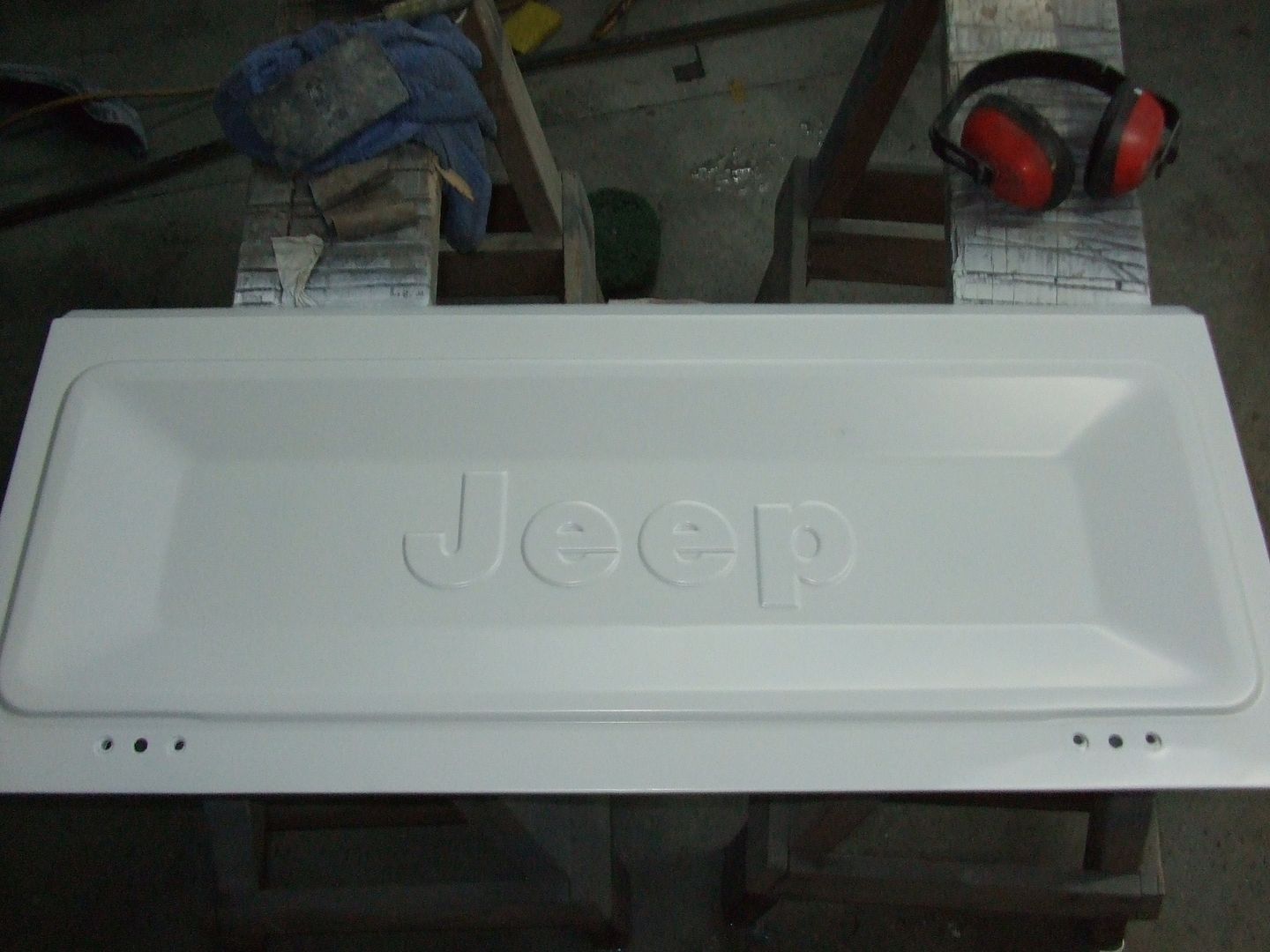 The hood was going pretty good but my air hose got caught up and gave me a couple runs. Not a big deal since I could easily sand them down before the main coats of the second paint but just more things to do that I shouldn't have to.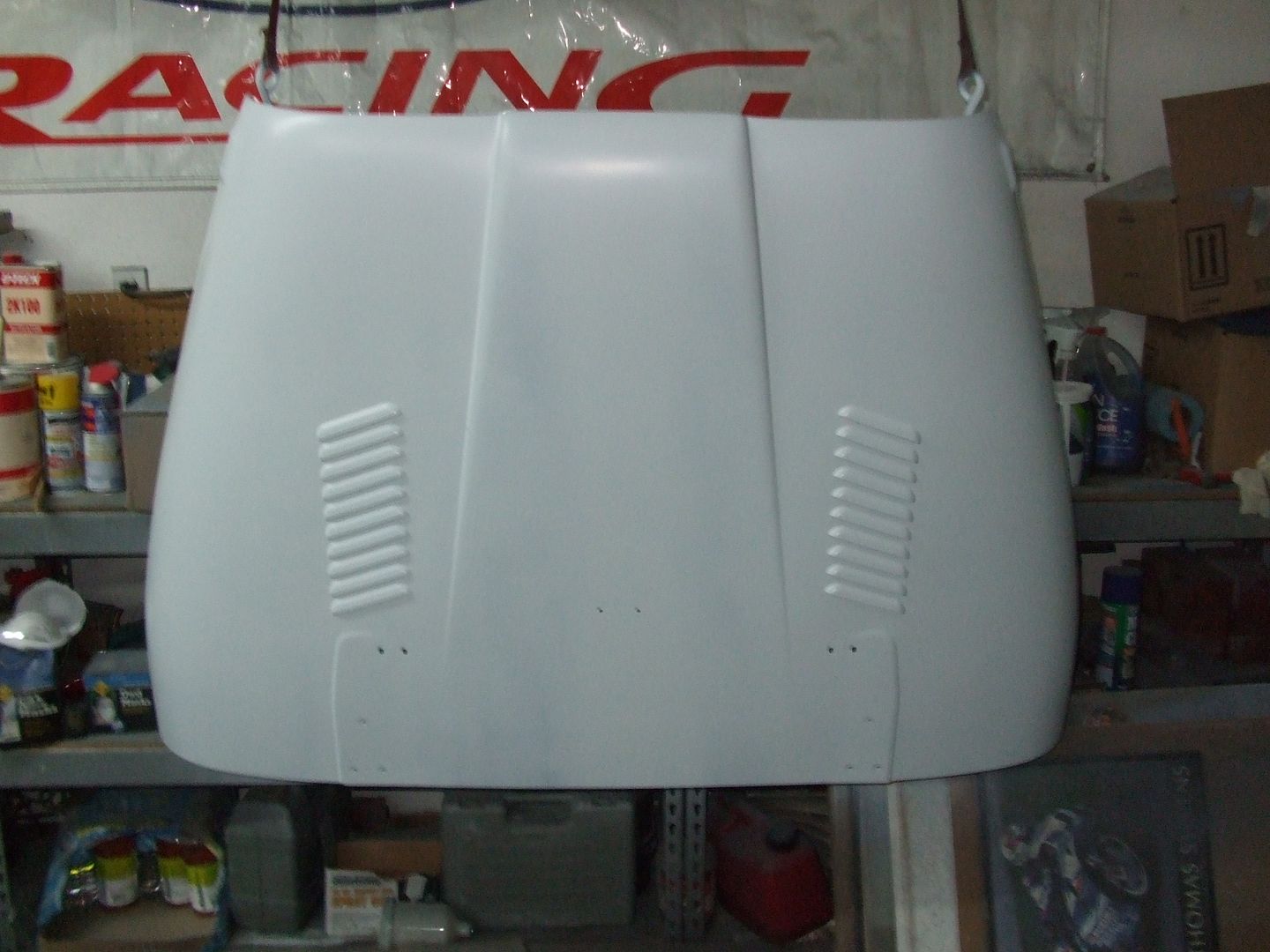 Here is the passengers side after the second coat.
Right after I finished spraying the second coat, I was standing there with the gun in my hand and a fairly large bug lands on the driver's side cowl and starts squirming around. So I pick him out of the paint and try to spray a little more to cover it up. So now that the paint is nice and thick in that area, two more bugs fall within 8" of each other at almost the exact same time. I looked up and realized they where falling off my 8 foot fluorescent lights.
So here are two more spots that I'll have to wait to cure and sand out.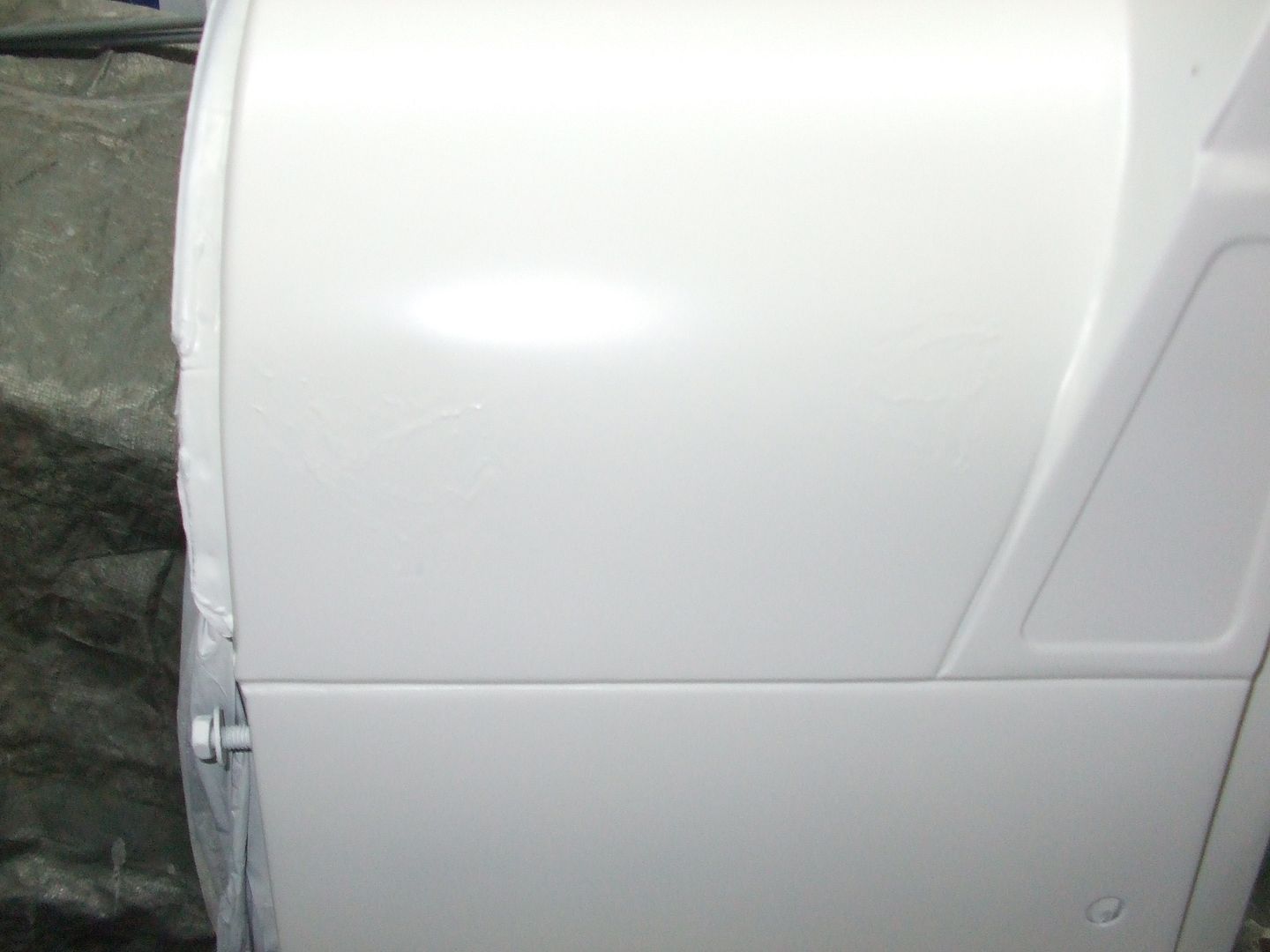 In the picture above it doesn't look that bad but here is a close up of the one on the left so you can see just how bad it is. Everything is repairable, it just takes more time.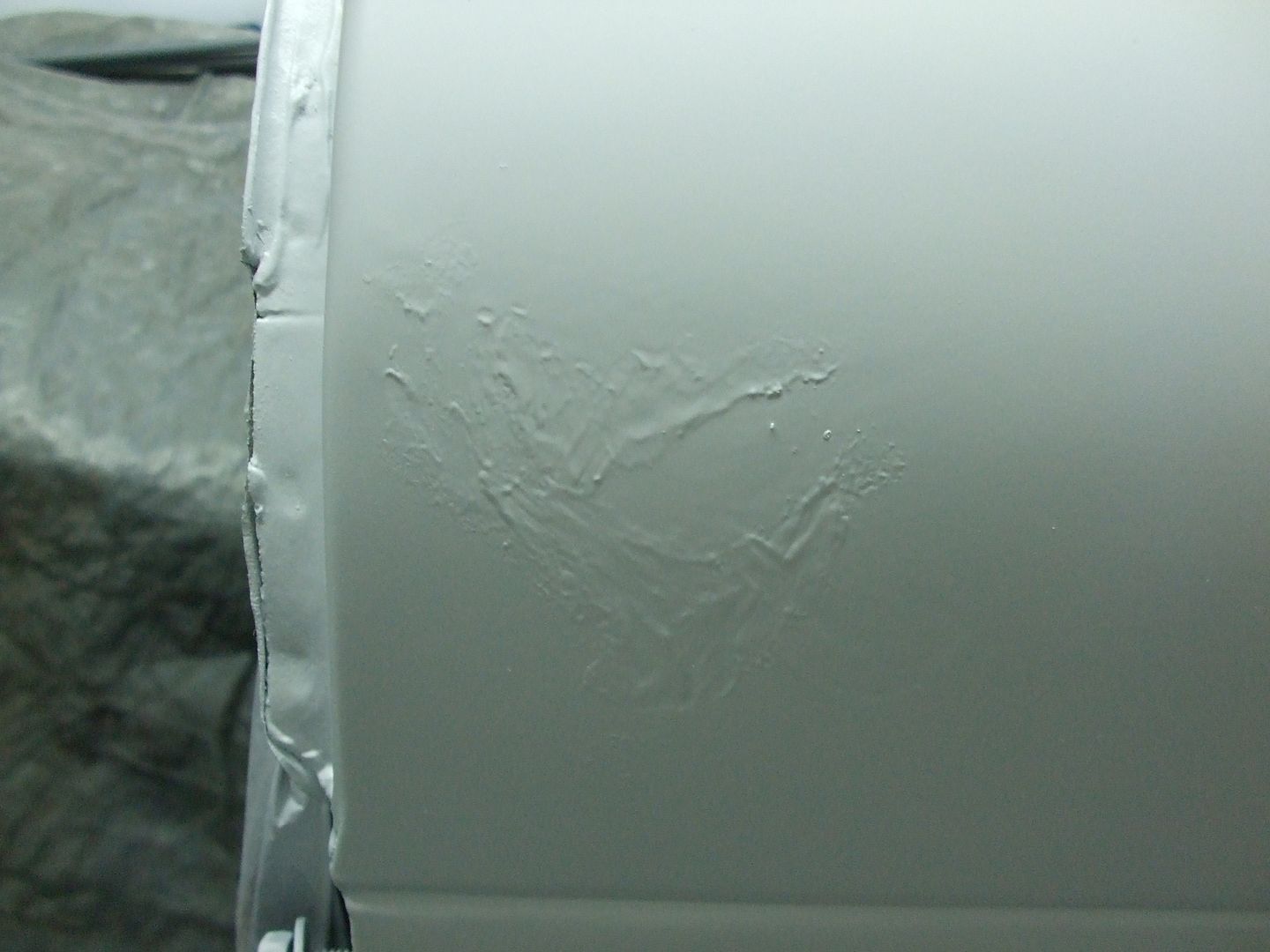 I sanded down the spots with the runs and bugs and decided to finally hang up my "paint booth" materials since I was about to get serious. So here is the hood sanded down.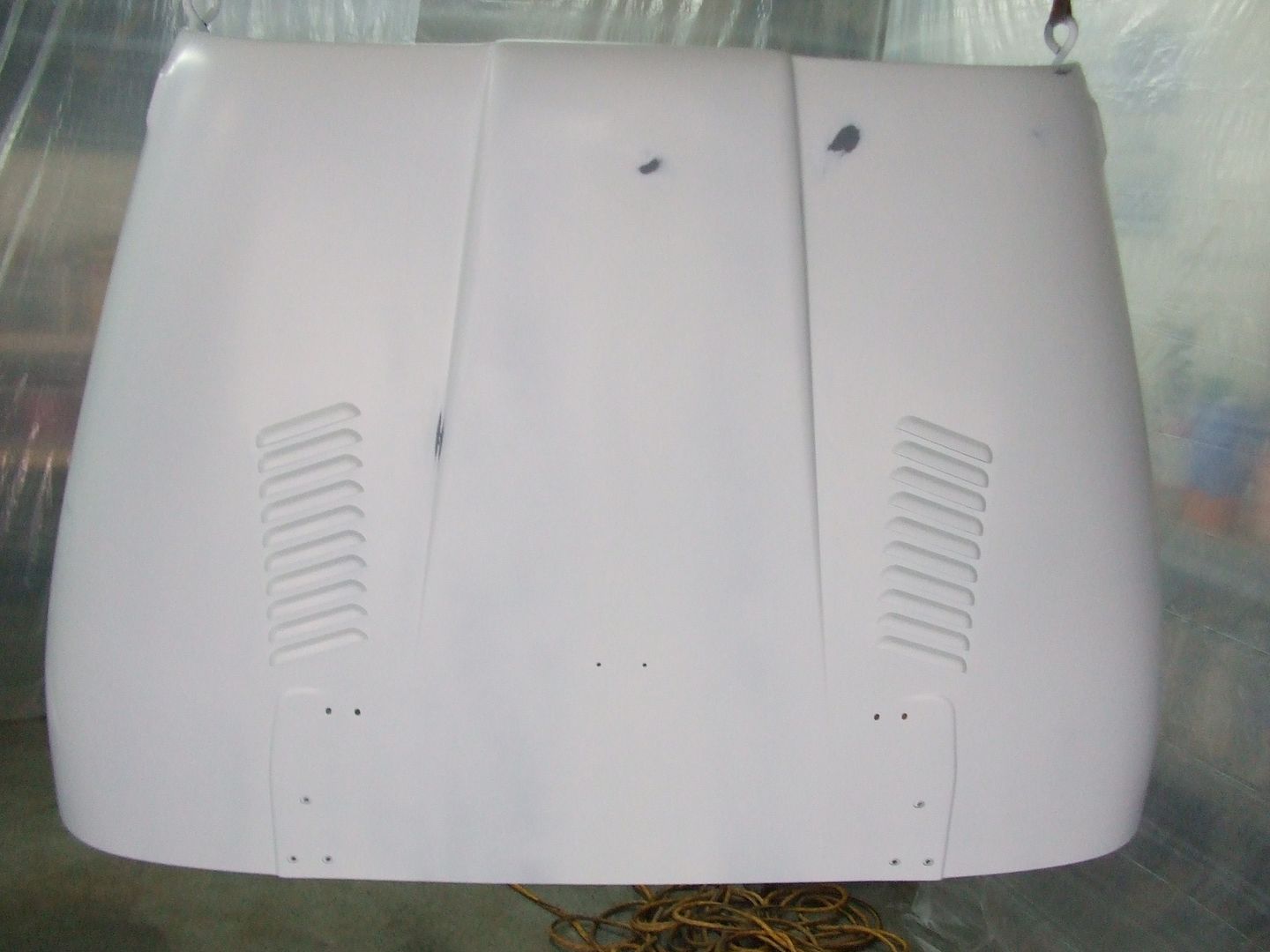 Here are most of the parts ready to be shot with the final color.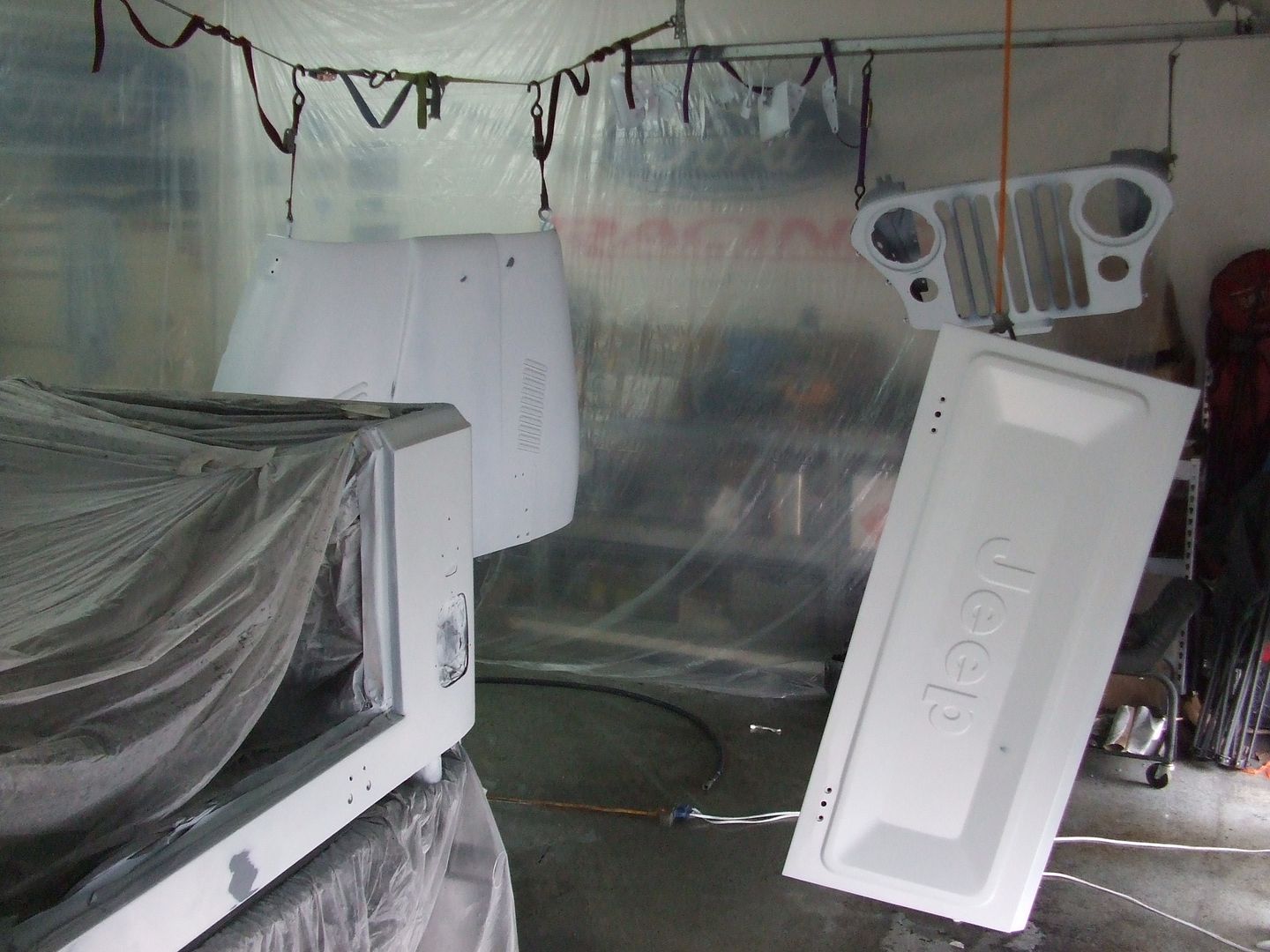 My paint booth cost me $6.73 for a 10' x 100' roll of .4 mil plastic and $.99 for a box of hooks. I screwed the hooks into the ceiling every 4-6 feet and folded a piece of masking tape around the plastic where they would be punched through the hook. As a door, to minimize the dust transfer, I overlap two of the pieces by about 4 feet. Having the thin clear mil gives me extra ambient lighting than the typical tarp set up. I already had three box fans I use to move air. Once I am done painting and the fumes are not visible, I shut off the fans to minimize dust movement.
At this point I hit another major road block. I started mixing up the High performance White and noticed a few small chunks floating in the paint. I had never seen that before but thought maybe it was some dried paint from the lid or something that would be caught in the filter funnel. I mixed up the batch and started spraying. This was the first time I was using the Sata-Jet gun that was loaned to me rather than my HF gun. It looked like the paint was coming out a little different but thought it might dry flat so I covered the hood, tailgate and grill with a single coat before I stopped to see what the first panel really looked like. It looked as if there was sand in the paint, maybe 10 specs every square inch. They were small specs but noticeable. My HF gun has an extra screen right below the hopper that his gun did not have so I poured the paint from his gun back into mine through two filter funnels. I sprayed about a 10" section on the back of the tub and quit because it looked the same. You can really see the difference in the whites after only one light coat in the lower right corner by the tailgate hinge.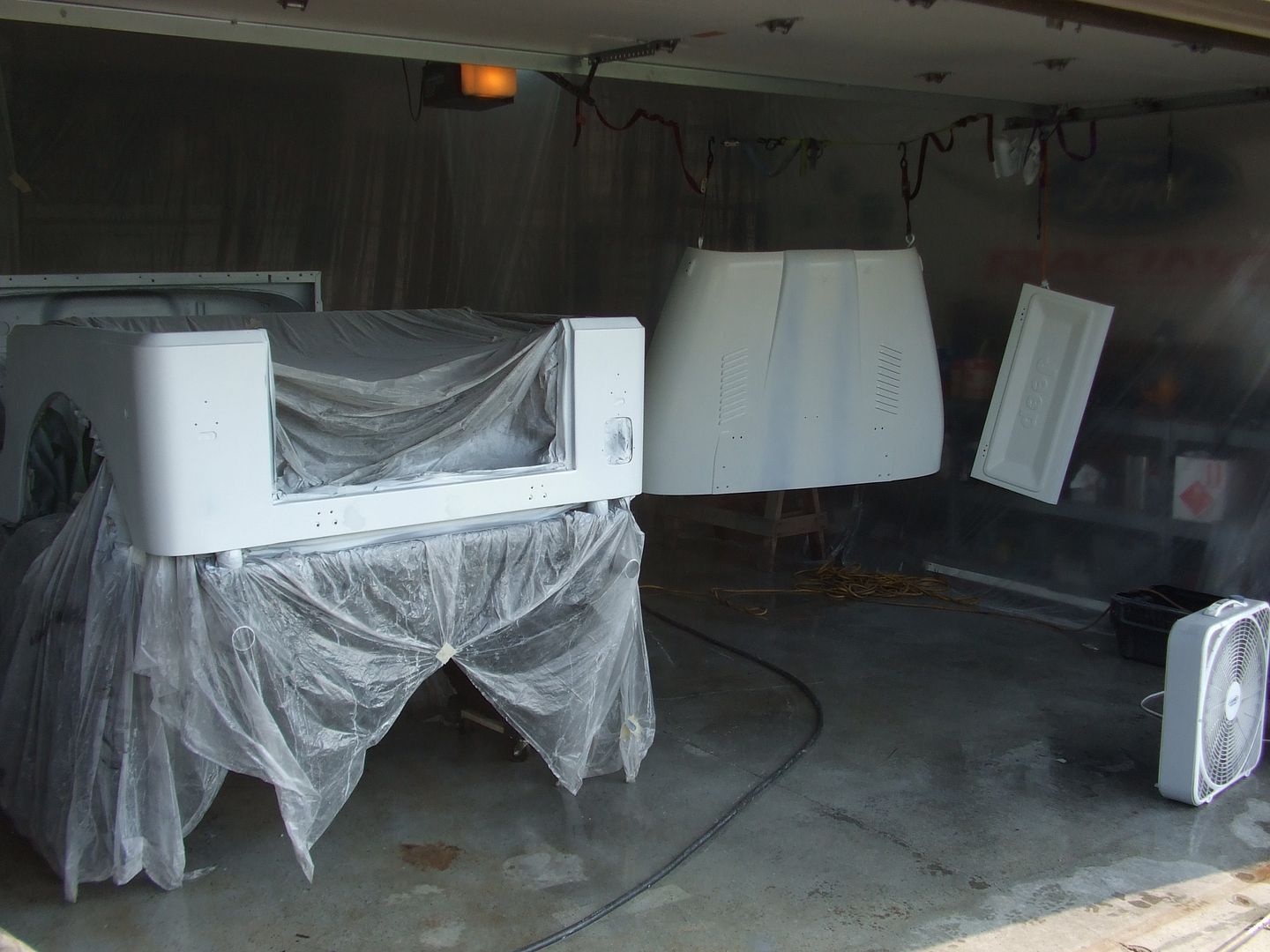 I called the paint guy the next day and told me to bring it back. They started pulling all the cans off the shelf that they used to make my batch and found a problem with the can of binder. It was hard and chunky on the automatic mixer arm. So they mixed me up another batch and I got to wait until the next weekend to get the chance to shoot it.
I did get to see them mix my second batch of the HP White. It is white base(obviously) and contains bright yellow, bright orange and black for pigments. This last picture is of my tailgate with a single coat of the faulty HP White. It looks fine in the picture but in person you can definitely see the specs of binder. This was during sundown so the lighting is faint.
So that means I got to sand down the grill, tailgate and hood again with 800 grit until it felt smooth before I could paint them again with color. More work more time, I hate doing things twice.
The other problem is you have to apply the clear coat within 72 hours of the color for proper adhesion. If you spray color and wait more than 72 hours, you have to scuff the paint and apply one more coat of color before you can clear coat. Needless to say the start of my main painting process did not start out that great.