Registered User
Join Date: Feb 2010
Posts: 41
cj5 overhaul
---
I have a 1976 cj with a 4.2 i6. I am planning to do a massive overhaul on this thing. what I'm looking at doing in putting a 4.0 with EFI probably from a 95 or newer so i can get the high out put 4.0 with the better fuel injection system.
Next is the part I'm looking for input on I would like to put in the new NSG370 six speed transmission into the cj but being that the cj is a good 10 inches shorter then the newer 2005 -2010 wranglers I'm not sure if it would fit as far as length of transmission goes I'm guessing sever modification to mount the transmission and i can get an adapter couple it up to a dana 300 from novak.
I would prefer to have the NSG370 but if its going to cause sever problems with drive lines and what not i may just go with ford T18/ T19 transmissions for their low 1st gear.
Other mods are going to be a six inch lift, power brakes, disc brakes, and power steering with 35 inch tires. and of course the bumper with recovery hooks and winch and rear bumper with tire swing and hitch.
Any input on the transmission would be greatly appreciated and if the transmission has any common malfunctions i would like to know about those before i get neck deep in the project.
Thank you,
Rich
Registered User
Join Date: Nov 2007
Location: Canton
Posts: 4,050
Welcome. I feel your pain, I also own a 76 CJ5: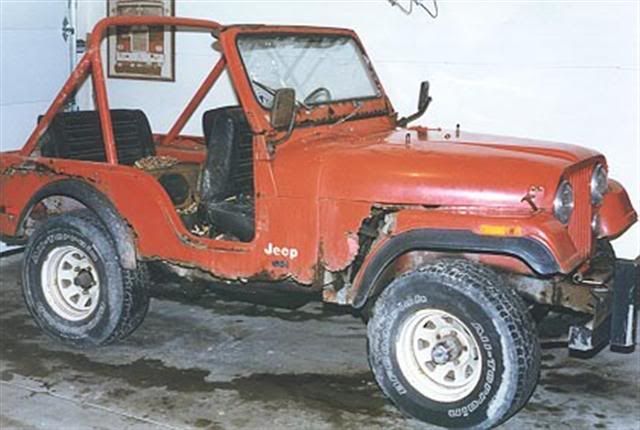 That's I've sunk an embarrassing amount of money into: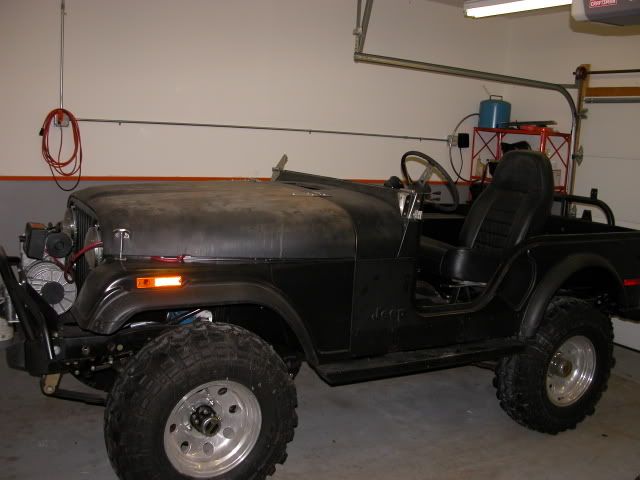 As you've noted, one of the many issues with a CJ5 is the extremely short rear driveshaft. Adding a longer transmission is going to amplify those problems. Adding a 6" lift will also amplify those problems. Not to mention the inherent problems of lifting an 84" WB vehicle with narrow track axles. Stability starts to become a real concern. One of the 'charms' of the CJ5 is it's nimbleness, and once you start 'modifying', it will lose some of that.
Honestly to run 35's you can get by with a 4" SUA lift and a mild body lift. All 35" tires don't measure a full 35" once mounted.
Your engine choice is good, and will be an easy swap, there is a plethora of information out on this swap.
The T18 is a good, heavy duty, transmission in a CJ:
And was an OEM option in the 76 model (the T150 3spd was standard in the CJ5), although the Jeep version has a few differences from the Ford version in the above picture. My 76 had the T18, but with the 4.03 first gear, that according to my 76 brochure was how it was offered: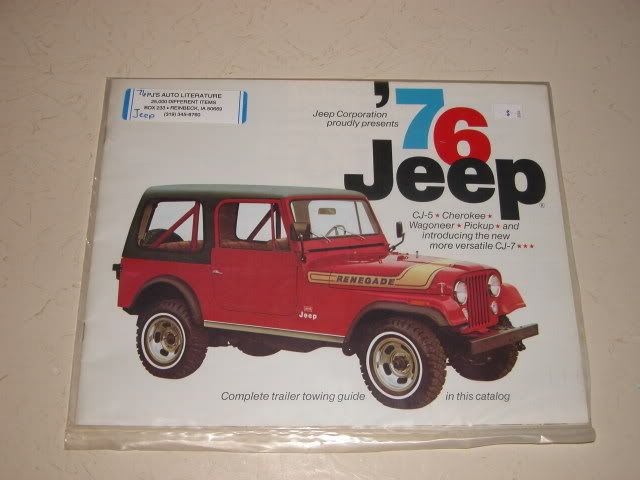 IMO, if you can't locate a Jeep T18/Dana20 combo, and you want the low 'granny gear': Look for either a Ford T18, or a Ford NP435. You might also consider using a SM465 (I don't recommend the SM420 as the newest one is 42 years old). Since all will need to be adapted, I would sell the Dana 20 and adapt to a Dana 300 instead. But it's your budget.
---
"In the end...It's all Hack."
Registered User
Join Date: Jan 2002
Location: Eagle Point
Posts: 7,475
Things to think about
35's are going to need gears. While your in there, you might think about traction diff's.
6" of lift will require driveline mods and a t case drop. An extended driveline with intensify the problem.
1 piece axles at a minimum.
The 30 probably isn't going to last long under the strain of the tires.
Having spent some time in AK, I would suggest an auto to deal with the bottomless muskeg. It will keep the tires turning. Just a thought there.
Registered User
Join Date: Feb 2010
Posts: 41
Alright thanks for the input. I guess its down to the t18 transmission I'm still going to go for a dana 300. the 6 inch lift is a SOA kit from rocky road outfitters
Spring over axle lift for Jeep CJ 5, CJ 6, CJ 7, CJ 8, Scrambler
I've heard good things about the soa lifts and was wanting to try it out and maybe go as far as to include the wrangler spring conversion for the better flex. I was already planing on the drive line mods and t case drop so it wont break the budget. for lockers im going to go with ox lockers and get the hardened front axle kit. I already have superior one piece axles for the rear amc 20 so that one less thing for me to do.
the plan is to have the jeep set up and ready to go in a year and half for a trip down to the states and one of the trails we'll be hitting is the Rubicon. if there are any mods or mods i should shy from for the rock crawling and crazy terrain let me know.
Currently Active Users Viewing This Thread: 1

(0 members and 1 guests)
Posting Rules

You may post new threads

You may post replies

You may not post attachments

You may not edit your posts

---

HTML code is Off

---