Registered User
Join Date: Jan 2013
Location: Burlington
Posts: 47
I just picked up the brake hoses for the front and grabbed my bead sealer. Now I just have to get up early, Saturday and drive the Jeep to my friends shop. Hopefully it wont take too much to get it to start. I think my gas has gone bad. There isn't too much in the tank so I should be able to dilute it enough to start it. Then get it to the gas station and fill it up.
---
"What could go wrong?"
I registered the CJ, this AM. First thing, tomorrow, tires and brakes. Then it is testing time! We have quite the crew lined up for Sunday Wheeling. There are probably going to be 20 plus rigs, mostly Jeeps. I will be sure to post some pictures of our large caravan, cruising the back woods of Vermont.
---
"What could go wrong?"
The Jeep wasn't ready for wheeling, Memorial day weekend. I rode along with others. Still very fun.
This past weekend, I got new shocks in her and did a tune up. Then I pull off the hard top and put on the ol' Bestop. Tires still not on yet. I drove about 8 miles and determined that I need a new steering box. I was drifting all over the road.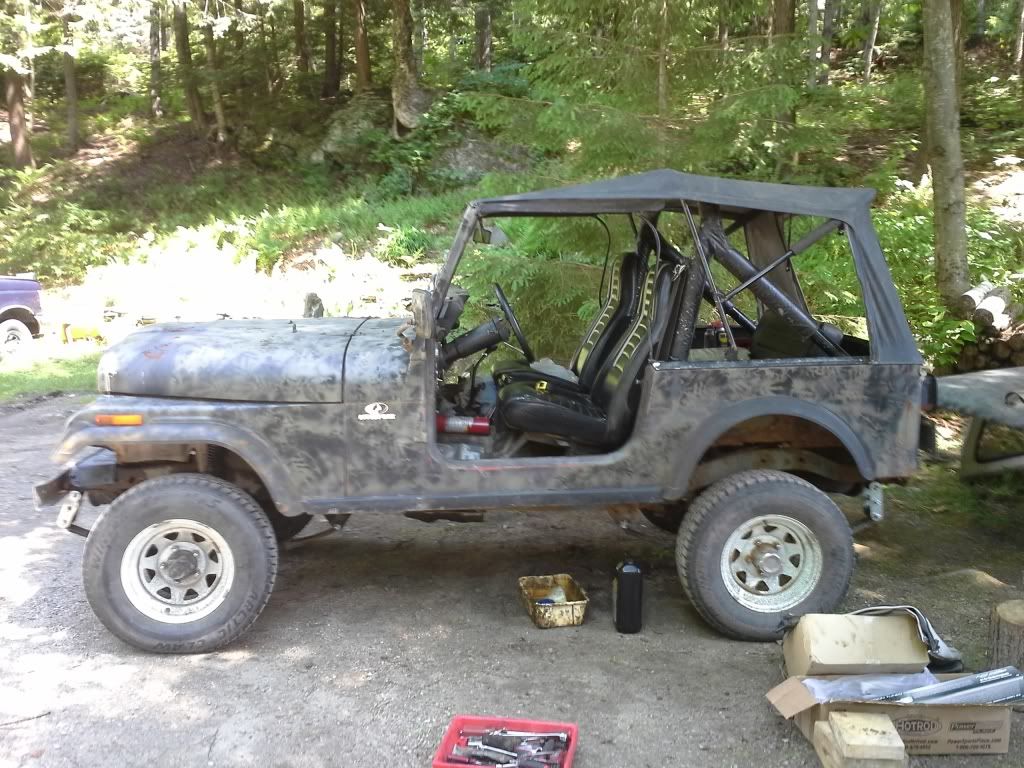 ---
"What could go wrong?"
Registered User
Join Date: Oct 2011
Location: brantford
Posts: 1,311
nice jeep
---
its a rusty one

http://www.jeepforum.com/forum/f22/90-yj-frame-swap-build-up-1434246/
Thanks, I enjoy it ;-)
I have taken it out on trails a few times now. I now have a bent main leaf that needs attention. Week point found. Now considering a shackle reversal to prevent this from happening again.
I need to get some action shots up!
---
"What could go wrong?"
I've been busy, but I've finally gotten back to the Jeep for the first time in months. I just put shims in the front to correct for self centering of the steering. I read a quote today that said you don't notice castor until it is not right. So true! No more s-turns down the road, now! I have also been noticing a lack of left turn. I made the adjustment to shorten the steering drag link and that seems to be good now, as well.

Tomorrow should be a fun day of wheeling.
---
"What could go wrong?"
Our day of wheeling went pretty well. My carburetor, as always, caused issues on any sort of a pitch. I just road the clutch to keep from stalling out. I didn't get any good action shots, but here are a couple from the day: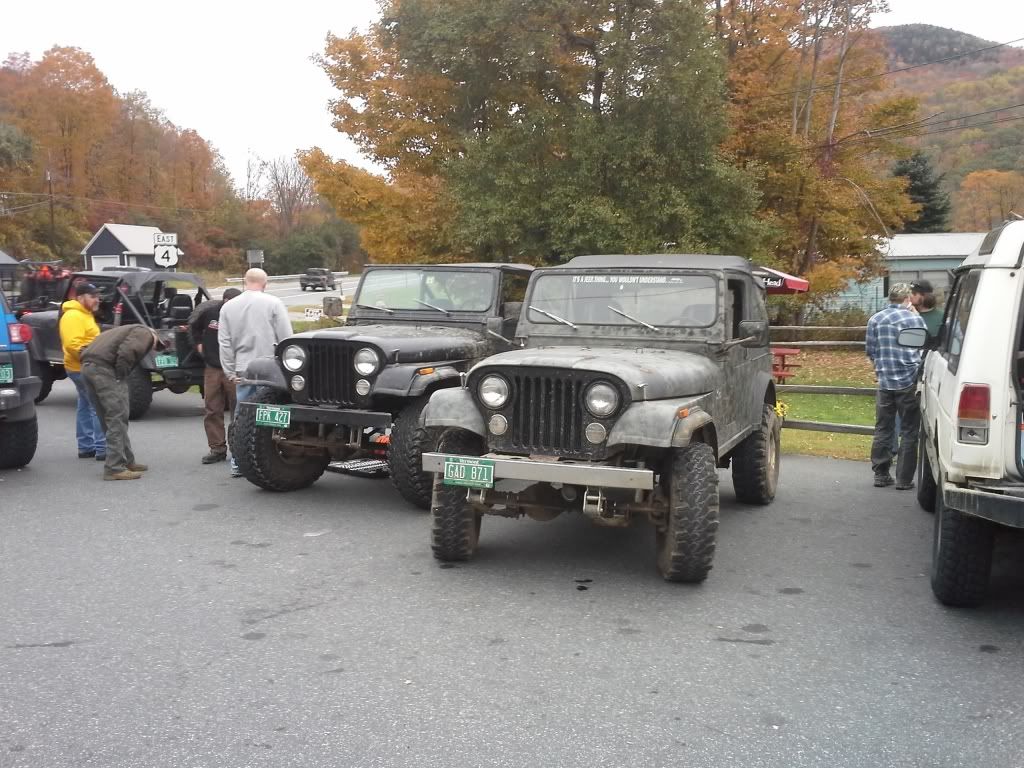 Parking lot of the gas station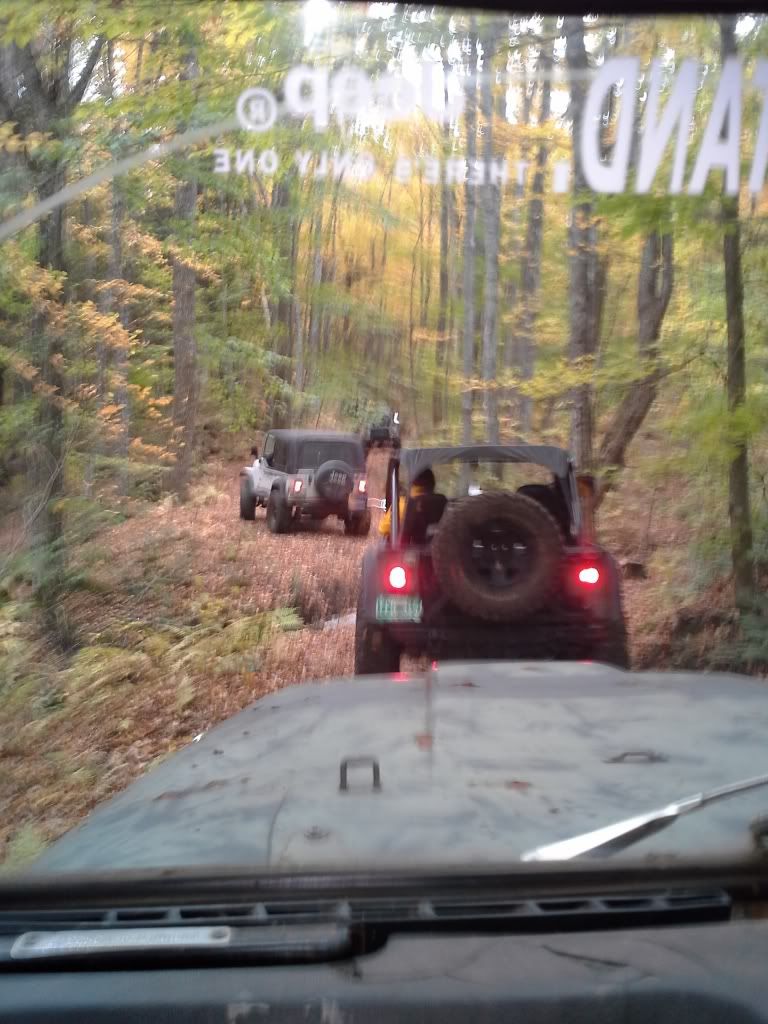 On some of the easier stuff
Evidence of mud found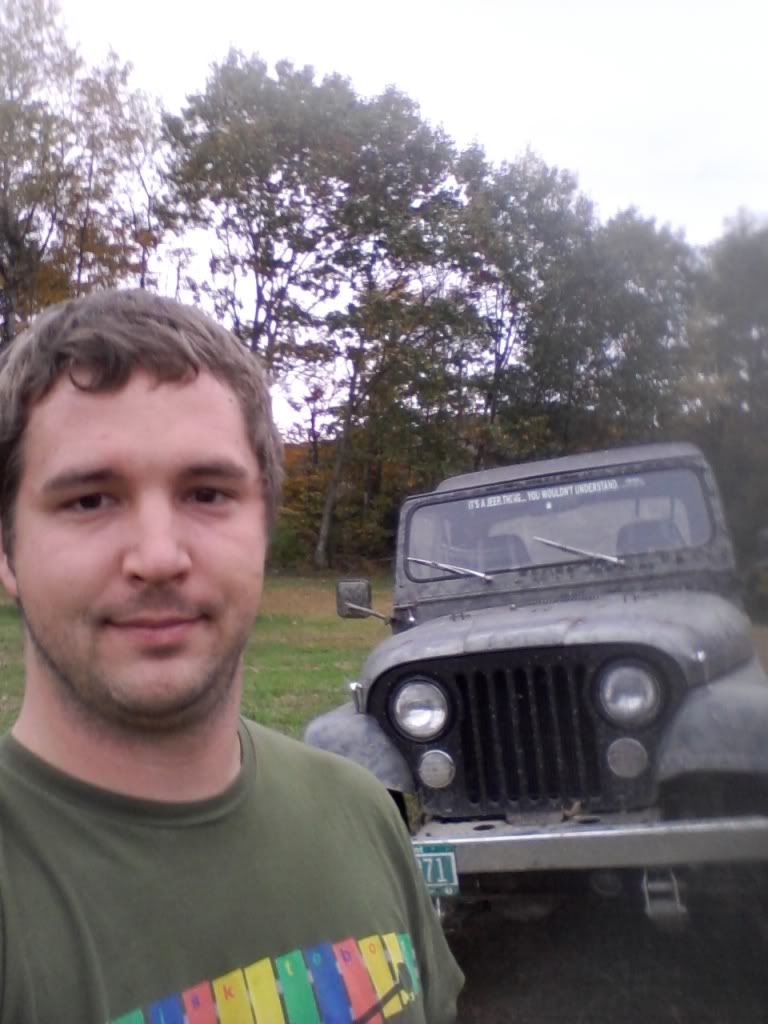 Me with my Jeep
---
"What could go wrong?"
Sunday, I began swapping the 2.5L carbureted motor for the TBI 2.5L pulled from an '89 YJ. The old motor is pretty much out. Here are a couple photos of that progress. The panorama gives a good view of my friend's shop.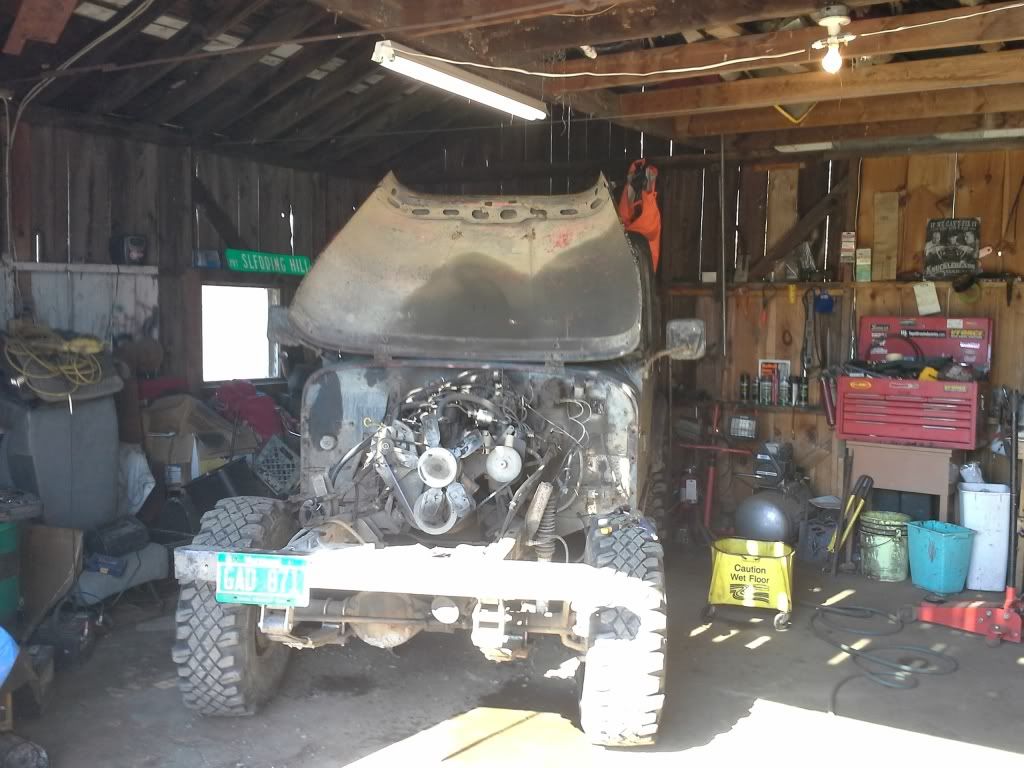 ---
"What could go wrong?"
Got back to the shop, last night. Its an hour and 15 from home, but worth the trip for the current upgrade. Motor is out. Found that I need new motor mounts. (That Explains Why My Motor Was Bouncing Around!!! haha) New motor mounts will be ready for pickup, tomorrow. Ill grab them, Sunday AM and continue the swap.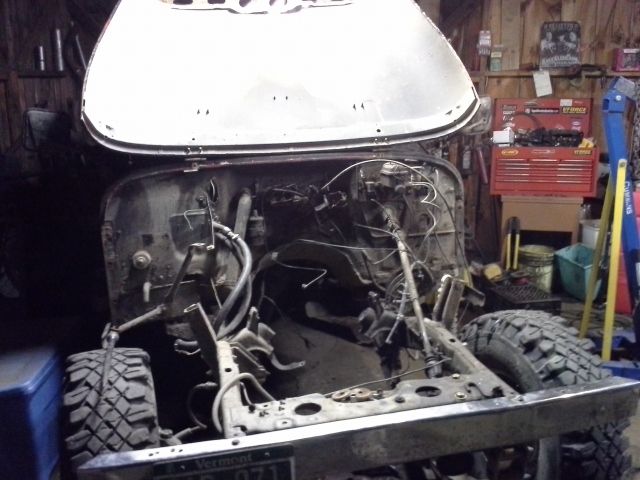 Motor and transmission out!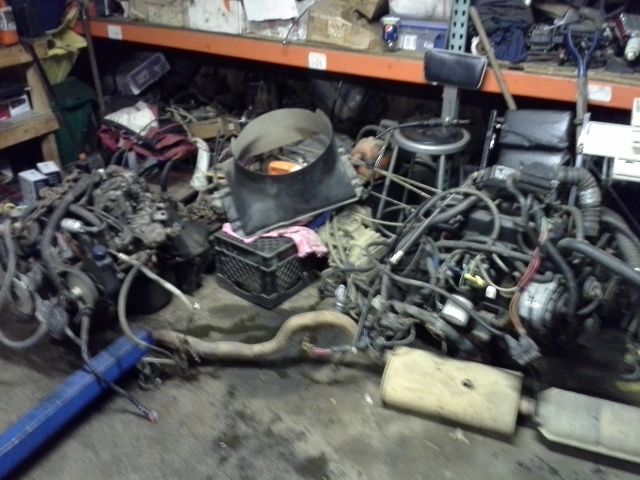 Old motor and transmission on the left, new motor,and transmission on the right.
Out comes the 2.5L 1BL and T4 and in goes the 2.5L TBI and AX5. I am keeping the Dana 300, but need to use a new input shaft to the Dana 300 to mate with the AX5. I expected it today... didn't come in...
---
"What could go wrong?"
DELAYED UPDATE: So, thanks to some friends of mine lending me many hands, we wrapped this up sometime in November. The motor is in and running. It made a world of a difference on the trails. No longer does it want to stall out on the steeps. When putting everything back together, I determined that I need a new mount for the transmission in the cross member. I ran it without replacing it on the day of test driving. The shifter was all over the place! haha. I will take care of that sometime this winter/spring.
---
"What could go wrong?"
I am also planning on pulling my tub and doing a little frame patching, this spring. I may or may not swap the tub at the same time. My friend wants to swap a tub and the old one is still better than mine. I will probably redo the fun camo paint. I am thinking sort of a reversed snow camo. Like a light grey, dark grey and black.
---
"What could go wrong?"
Registered User
Join Date: Jul 2010
Location: Burlington
Posts: 935
Springs coming! Time for more updates!

Also kept the T4 mated to the dana 300 and just modified the existing bell housing to take the cps from the 89 harness. This way he didnt have to buy the input shaft and we didnt have to do new driveshafts or anything like that. It all bolted back in.
---
Wheel - Wreck - Wrench - Repeat!

The VIN says its a 79 CJ
Currently Active Users Viewing This Thread: 1

(0 members and 1 guests)
Posting Rules

You may post new threads

You may post replies

You may not post attachments

You may not edit your posts

---

HTML code is Off

---