As some of you may have known, Jim and I have been planning a Colorado elk hunt for the last six months. This will have been the first time for me to big game hunt with two of my older brothers in 21 years. As soon as my brother heard we were coming, he went on a spending spree and picked up just about every hunting item you could think of.
This is my stuff ready to be loaded into the Edge before the trip. Got to get a shot of my CJ in there somehow.
We set up a 16x20 and a 14x18 canvas tents. The GPS sitting on my cot was 10,001 feet for our campsite.
Gratuitous picture of my brothers 1979 CJ7 with a 401/NP435/D300/D44 w/ARBs. Matkins X2 frame with 5" Rubicon lift on 35's.
The first morning was just a lot of hiking and following some sign. That afternoon we decided to drive to the far side of the mountain just to look around. About 7 miles from camp we spotted a lot of sign on a hilltop across the ridge. Looking at the tracks soon turned into looking at animals. We drove another half mile to get closer to them and parked the truck. At that point we hiked about 300 yards hugging the tree line until we spotted the herd.
I was able to tag this 5x6.
Here is Jim posing with the bull, his cow is right next to him.
As soon as someone mentioned constructing a meat pole, Jim jumped right in. Here the pole is already built and Jim knocked out the bull all by himself standing on top of that rickety ladder. He's a stocky SOB.
Jim wore himself out lifting up the bull so the four wheeler came in handy for the cows, I was supervising. We ended up with 1 bull and 3 cows that first afternoon.
My brother shot one more cow on Friday morning which filled out our tags so we packed up Saturday. Here is our final harvest.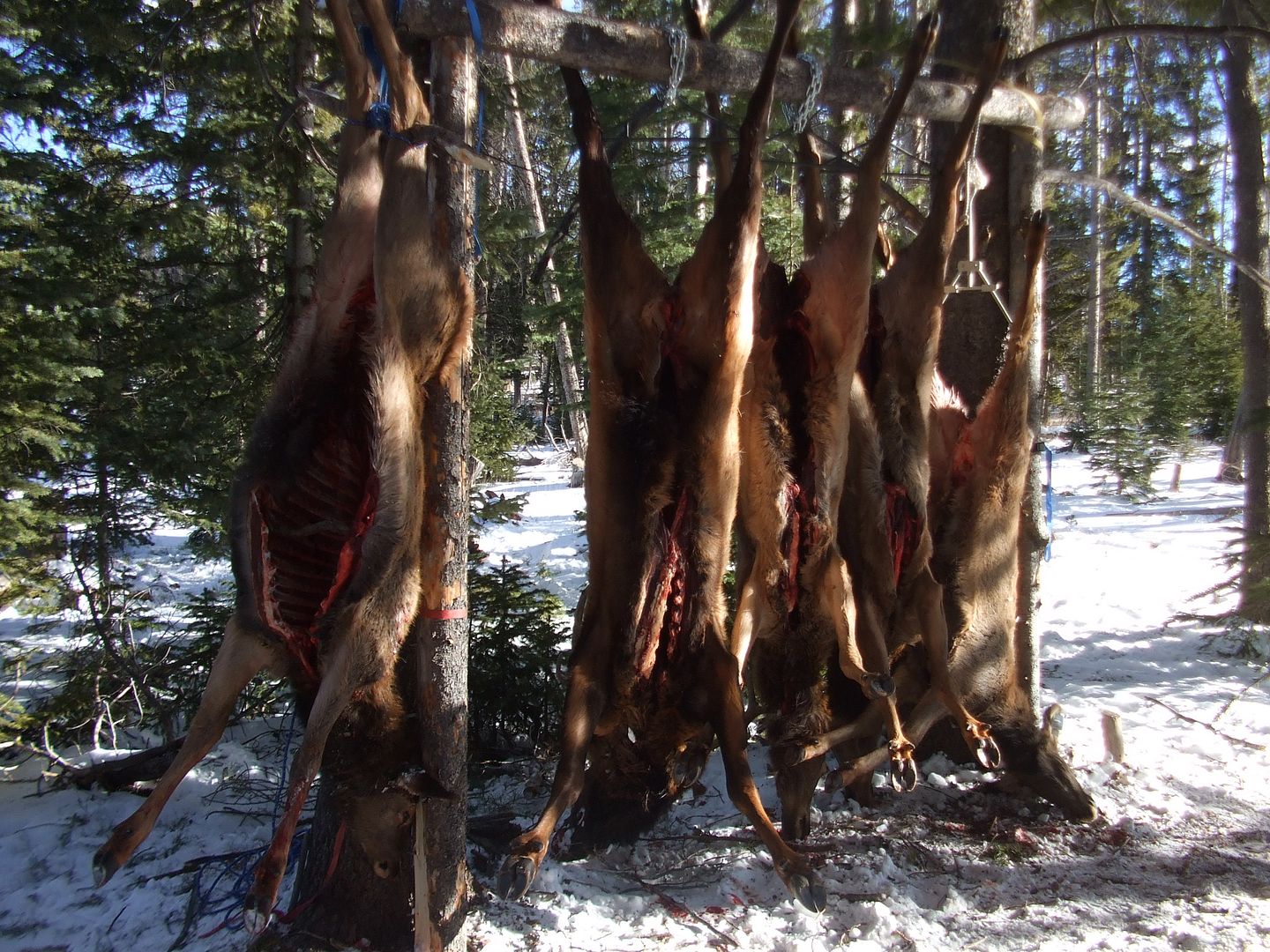 I've also got pictures of them skinned and hung but I'm not sure if people want to see those so I will make them click-able so you have a choice.
Jim and my brother finishing off the last bull leg,
skinned and hung
.
The bull came in at 272 pounds hung and the cow at 196.
Me with skinned bull
. Mine ended up at a processor in Denver and I'll pick it up at Christmas.
Jim starting to de-bone his
so he could take it home.
I was planning to put in for a muzzle loader draw next year but might switch that to a preference point depending on how much meat I have left in the freezer come next summer. We'll also have to see if Jim wants to go back that soon. For a hunting vacation, it sure was a lot of work but I had a great time getting to know Jim better and being able to spend the time in the mountains with him and my family.
Here is a shot of our hunting group. My brother is behind the camera, the two wearing black are my brother's friends, Jim, my other brother and two nephews.