Registered User
Join Date: Sep 2008
Location: White Springs
Posts: 10,098
Quote:
Skeer, I was looking at it from the perspective of cargo access to the rear area. Getting my dog into the rear area or loading a cooler or something else into the back thru one of the doors. I'm looking for something that is either a split bench, (Nice find Alby, I've been 'watching' it for the last couple days) for loading purposes or a bench with a back that isn't too tall and can fold over near level.

Now, I can access thru the rear soft top window but here's the potential problem. I'm running 33"s and 2.5" of lift. Even though I'm 5'11", it makes it kinda hard to grab something from the rear of the jeep over the fixed tailgate. Especially if it slid foward towards the front seats.

I'm looking at it this way, the more access I have to the rear area the more likly I am to use it, and the less likely to complain about it. That said, 8 months out of the year it won't be a problem because the top will be off....
Got ya...
I wonder if something out of a Bronco II?? S10 Blazer?
---
Kerrdog
Go Fish! <*////><

But the right word at the right time... "Hey, give me a little hug!" That's the difference between lightning and a harmless lightning bug!
Registered User
Join Date: Jan 2011
Location: Silverdale
Posts: 11
cj front bench seat
---
I have an original bench seat in my 77 CJ7. I've heard they are rare.
Registered User
Join Date: Mar 2010
Location: Md
Posts: 4
Bump an old thread, I have one of these bench seats from a '79 cj5
Pm me if interested
Registered User
Join Date: Dec 2008
Location: Las Vegas
Posts: 1,046
Quote: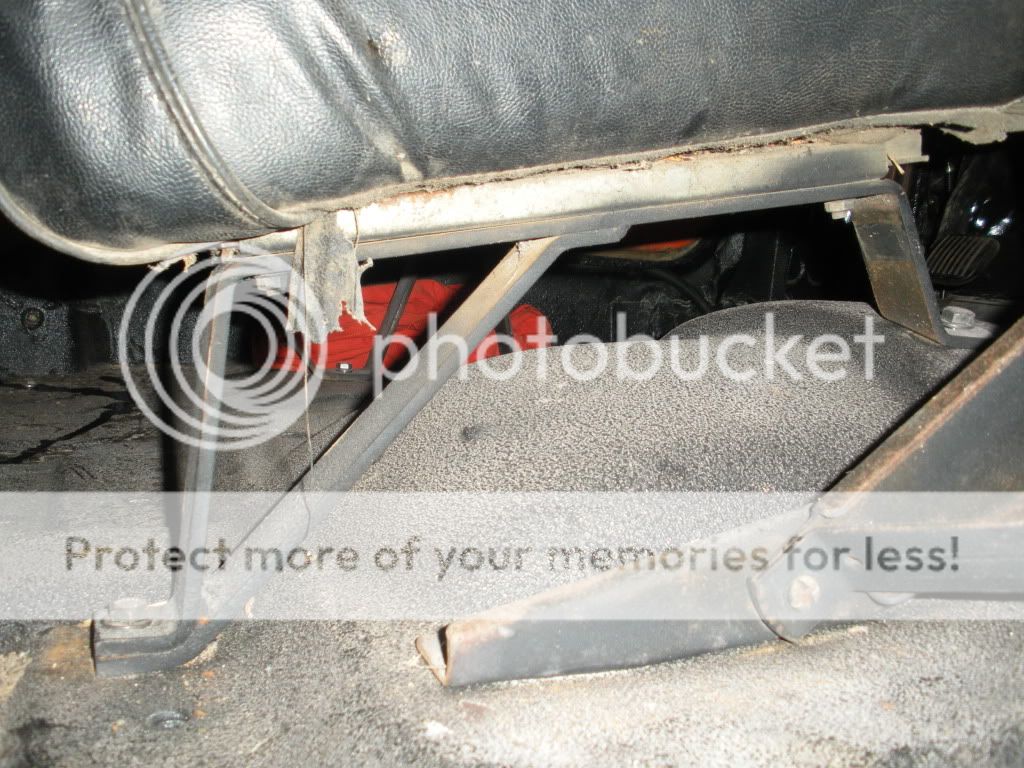 Heres a couple I had I took for someone else a while back.
Thanks for posting this guys, you just solved my seat bracket problem on my build
. Based on these pics I have the brackets for the 60/40 split seats. I couldn't figure out why the inner drivers side bracket didn't look right.
---
To view links or images in signatures your post count must be 10 or greater. You currently have 0 posts.
Registered User
Join Date: Sep 2012
Posts: 23
60/40 split
---
I am really looking for one of these if anyone has one for sale let me know please i like the look of that old style bench seat in the front
Registered User
Join Date: Sep 2012
Posts: 23
Still looking, Someone pm'd me saying they had one but i havent got a reply for a week or so
Registered User
Join Date: May 2013
Location: Central Valley
Posts: 2
Front Bench Seat 60/40 split
---
Bump. I'm also looking for an OEM front bench style seat. Thanks in advance for your reply.
Currently Active Users Viewing This Thread: 1

(0 members and 1 guests)
Posting Rules

You may post new threads

You may post replies

You may not post attachments

You may not edit your posts

---

HTML code is Off

---