Registered User
Join Date: May 2009
Location: ct - usa
Posts: 289
carbed 4.0liter stroker in cj7 anyone do it?
---
i will be doing this in the coming months and wanted to know a few specifics i have googled the topic a bunch of times but haven't found out a few things.
1- will the balancer and pulley fit if you want to run 4.2 assy brackets and belts?
2- will a 4.2 clifford intake work on high port for a short period of time?
it looks like the ports match the 4.2 gasket just higher but as far as left to right it is spot on i think you just have to sit the intake on top of the pins, and fab pieces to hold the intake and exhaust at the spots were they share bolts
3- will the 4.2 distributer work in the 4.0l block cause 4.0l have a fixed timing
Registered User
Join Date: Apr 2007
Location: Maryland
Posts: 327
1 - I think there are different snout lengths on the front, but there may be a later 4.2 that is the same as the 4.0
2 - it will work for as long as you need it to. You just need to use large enough washers and position the intake correctly. If the clifford does not have the indents needed to locate the intake you can use the 4.0 manifold gasket to see where you might need to grind some indents on the intake.
3 - yes. Here is a picture of the two side by side.
Registered User
Join Date: Jun 2008
Location: Chicago area
Posts: 3,549
1.The answer is yes if you were to run a 4.0 balancer you would need a spacer.
2. Yes it will work and the way I did it was to place the gasket on the manifold and find the best location for it then I drew a pencil mark on the outside and lined it up that way. It does work but it dosent have much in the way of mating surfaces.
3. No problem on the dissy and you can run whatever color cap you want as a bonus.
Web Wheeler
Join Date: Nov 2006
Location: 'Round Here
Posts: 7,792
I believe there were some early 4.0s that shared crank snout dimensions with the late 4.2. Could be mistaked though...
---
To view links or images in signatures your post count must be 10 or greater. You currently have 0 posts.
-
To view links or images in signatures your post count must be 10 or greater. You currently have 0 posts.
equipped... And loving it!
I drive on the
right
side, what's wrong with you?
Quote:
It's difficult to take you seriously. It's like you're an easily perturbed autistic teenager who's drunk typing the whole time.
Registered User
Join Date: Dec 2005
Location: Yorktown, Virginia
Posts: 2,576
"Trucks" just did a show on this last weekend. They used a late model 4.2 crank (same snout length) and connecting rods.
---
'86 CJ7
'04 AEV RUBICON
2015 Grand Cherokee Limited
Registered User
Join Date: May 2009
Location: ct - usa
Posts: 289
thanks guys


i was worried about the distributor cause i realize 4.0 was fixed when i was helping my brother with a xj

the motor donors are 78 4.2 and a 90-95 block and 1 of 2 heads same time frame

i have the a904 tranny i hope like hell the crank pat is the same for these 2 different years from 78 - 83 - i bought a new flywheel to install and use when engine get balanced i just didn't get a chance ti check it out compair to whats in the 4.2

also i have the 83 4.2 but it is in my rig and would like to try for a weekend drop after built as it is my daily


did you guys notice a worth while difference with the strocker over stock?


another question that comes to mind is the fuel pump does the 4.0l have a block of plate or no i forgot to look when i was outside and it monsooning out now
Registered User
Join Date: Feb 2006
Location: Indianapolis
Posts: 3,441
Quote:
another question that comes to mind is the fuel pump does the 4.0l have a block of plate or no
It doesn't have an opening for a mechanical pump. You'll have to use an electric pump.
---
Vibration? Bump steer? Wandering? Read the article (sticky) on Steering, suspension, and driveline.
Registered User
Join Date: Oct 2005
Location: Dayton, Ohio
Posts: 1,826
This isn't a stroker, but Clifford does make an intake for the 4.0 head.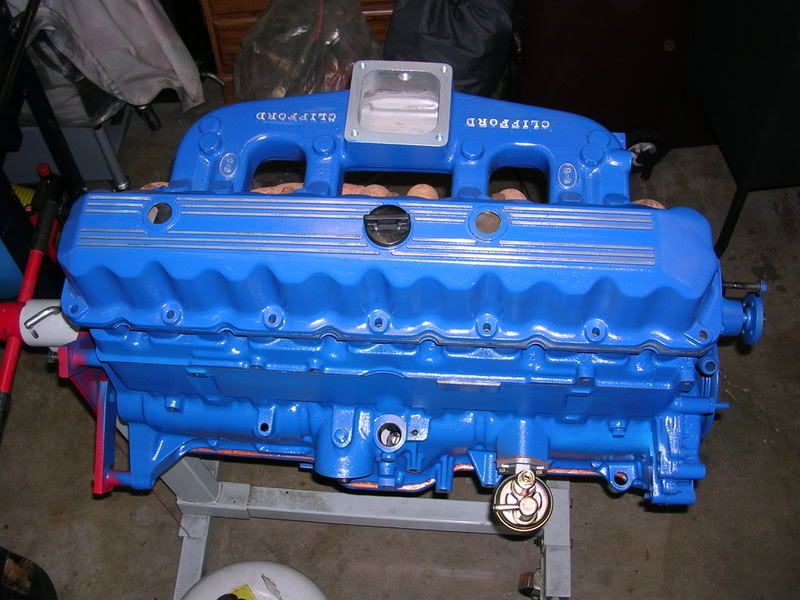 Registered User
Join Date: Jun 2008
Location: Chicago area
Posts: 3,549
Yes I have done a 4.7 stroker it started out with a 4.0 block and head. (4.5 is stock bore 4.6 is 30 over and 4.7 is 60 over)I then used the 4.2 crank and rods which work and there are two flavors of the 4.2 crank a 6 and a 12 counter weight version. Some say the 12 weight is stronger but that's just opinion. The 12 weight is heavier thus making a slightly smoother engine.

I then put in Chevy valves in the head and a mild porting job to clean up the intake and exhaust runners.

Forged pistons were used and the deck was zeroed out. Which will give you very good quench and helps lower detonation problems.

I used a Clifford Cam with a true double roller timing chain and Yellow Tera rockers along with a Clifford intake
and exhaust mainifold.

You can use a carb with this setup though you will need an electric fuel pump. If you chose to go the TBI route your cam choices become very limited. A carburetor cam will not work well with a TBI setup. TBI and MPI like a lot of vacuum. If you do go the carb cam route with TBI you will run like crap till about 1500 RPM and then it runs ok.

I know I went down that route and tried for well over a year to tune the Howell TBI and it just didnt work well.
After switching to the Clifford MPI cam the Howell TBI ran better but I still had issues. The TBI kit works well in stock configuration but when you start to push the limits in a stroker it comes up short. And some of things are fuel distribution in the intake the center cylinders will see most of the fuel the ends will run a bit lean. Also controlling the timing would be nice, while you can set the 122747 ECM up to do that it still falls short.

So I figure you can safely go with a carb or MegaSquirt setup or the Weber Redline TBI I went with the later and I am very happy will it. It is well thought out and the timing is adaptive I have no detonation or pinging and I am running 10-1 compression.

In the end my engine will idle at 700RPM and run 4000 RPM all day long at any altitude with out so much as a hick up and the mileage is ok say 15 MPG average. I just crossed the Vail Pass in Colorado 10200 above sea level towing a large trailer beginning of July.

So I am very happy with the engine its a street legal tractor that will pull tree stumps but can cruise 70 MPH on the freeways. And the seat of the pants Dyno is very impressed.
Currently Active Users Viewing This Thread: 1

(0 members and 1 guests)
Posting Rules

You may post new threads

You may post replies

You may not post attachments

You may not edit your posts

---

HTML code is Off

---