Registered User
Join Date: Jan 2009
Location: Cape Cod
Posts: 811
Build thread: Neverdone
---
Well, My build thread is neverdone... I don't have tons of space, time, or money, so every year "something" gets done on the jeep. I would like to do it all at once, but I like to drive it in the summers, so every winter I pick something to do.
Here is what it looked like when I bought it, minus the hartop and doors.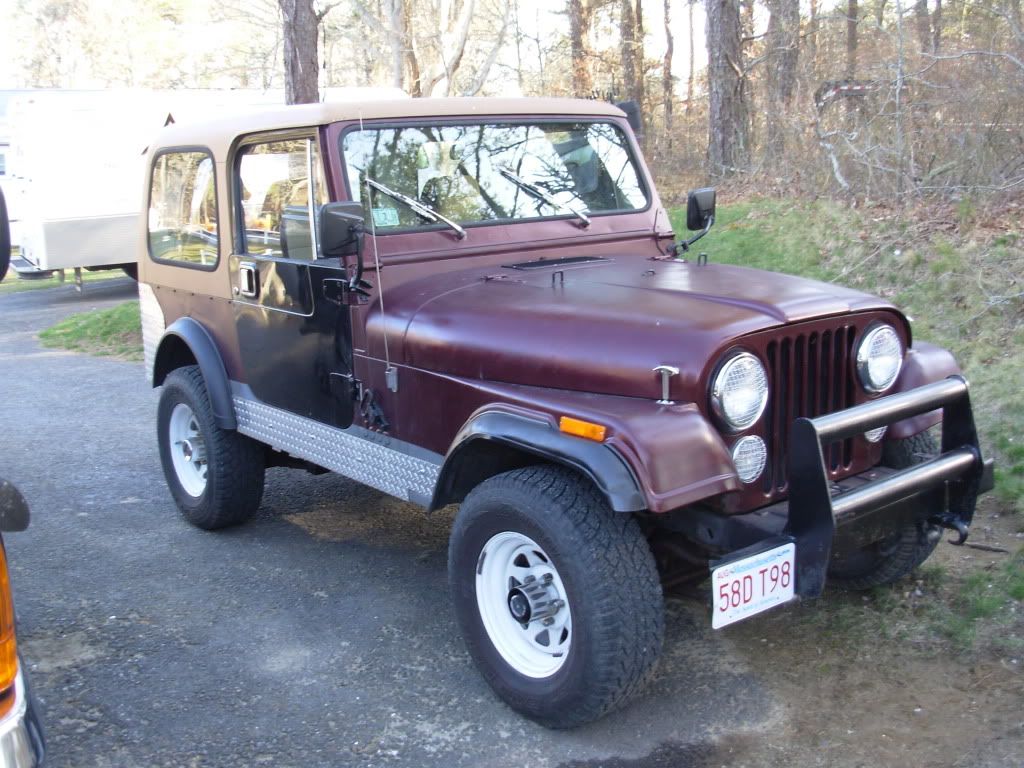 Also, I have to confess two cjs died so that this one may live. (more on that later)
This one I paid $1500 for. It had 115000 on it, soft top and doors, lots of extras, like tuffy console, neoprene seat covers, bikini top, diamond plate side and corners, head light and tail light stone guards, billet knobs, speaker boxes- lots of stuff I would never buy. (but like)
Yes, it was cheap, but it was only a soft top, rattle can paint job, and the engine had a knock with low oil pressure. More to follow...
Here is a pic of the interior, from last year.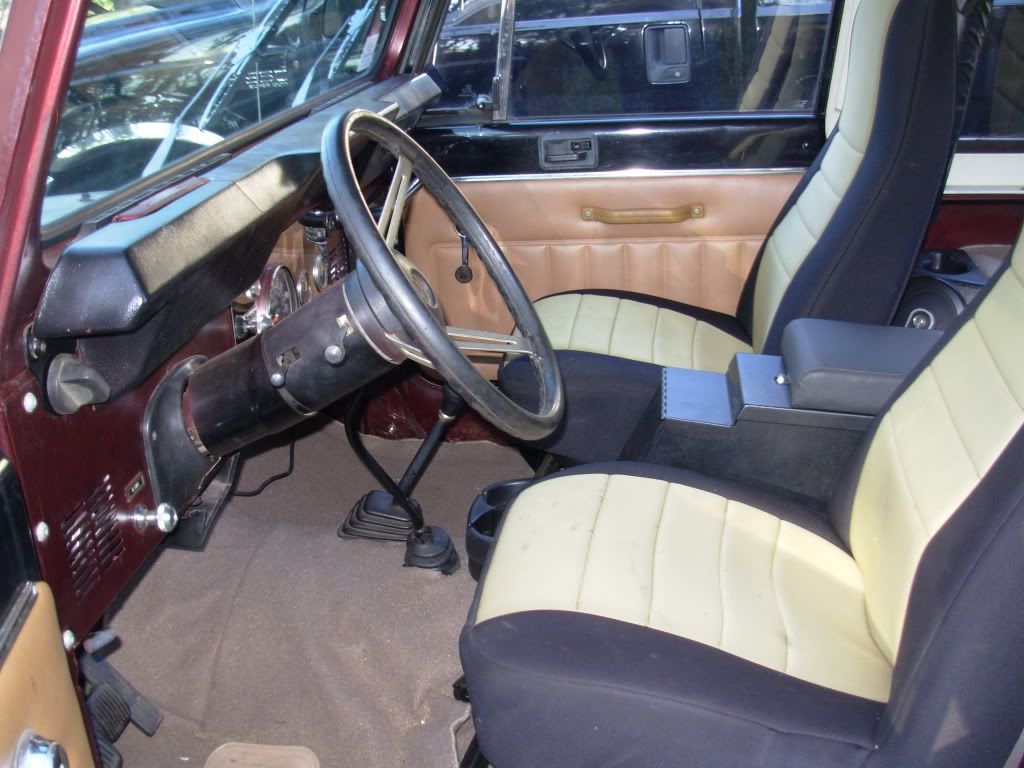 I have owned this jeep for three years, and little by little I'm getting it where I want it.
Some history...
I had been looking for a cj for awhile. A couple of buildings down from my shop there had been one sitting there for two years, it looked real nice, black with the renegade lettering and hard top and doors. I knew the owner of the shop and he finally came to me and said, I want it out of here and the owner said take it. So, I scored it for free.
Little did I know the body was totally gone, it looked great on the outside
So, now that one is sitting at my shop. The good thing about it is, alot of parts on it were in very good condition.
Moving forward I picked up the above pictured cj. I also forgot to say, all the emmisions were taken off of the pictured cj. MA at the time they had to pass.
So, I had a complete parts jeep, and one that needed parts!
Moving forward.
I stripped the "free" cj of everthing. All little parts, nuts bolts, everthing... And the hard top and doors!
Got it all put together, emmisions on, now it runs like crap
At this point I know nothing of carbs and bring it to my mechanic. It sits there for a long time, I get it back, and he says, "thats the best I can do". In his defense, I think he lost his shirt trying to fix it.
Well, this is when I discover the JF! I had it running perfectly in one day and it passed inspection, no problem.
Now, at this point my build thread is just words, sorry I know its lame, but I didn't know a "build thread" existed.
I now have a legal cj with three tops, everything that works, and a boat load of extra parts. Drive it all summer.
Winter arrives, besides getting the cj on the road, this is the first major project to be done. I want to get rid of the rattle can paint job.
I stripped everthing off, interior and exterior. Sanded it down. I used the dupli-color paint system. Now it looks like my "free" cj, black with tan interior. I thought the paint job came out great until it emerged from the shop...
Jack of all trades master of none
That was two winters ago and a monts worth of work, but at least it was better than before.
Forward to spring. I was on the look out for a new engine or planning to rebuild the one I currently had. Looking on craigslist I found a cj5 that had a rebuilt in it for $200 bucks. Got it running, checked compression all good. I was still unsure if it had been rebuilt, so I pulled the head, saw nice crosshatching and no lip on the walls. Plus thanks to JF I found out this was a rebuilders tag. Thanks jeephammer!
Well the cj5 sacrificed its life... I'm not too broken up about this one. There was pretty much nothing left of it. A total rust bucket, no interior, top, gas tank, rotted frame, rusted everything. At least her heart will live on.
Well now I have an engine on a stand, so if mine goes I have the back up.
Now we move to this winter. My plan is to swap out the engine, and fix up some rust.
I go through the JF and I see everybody recommends taking off the front clip to pull the engine. One post I saw the guy said, "it took 15 minutes" I think it took fifteen minutes for me to get one bolt off... See below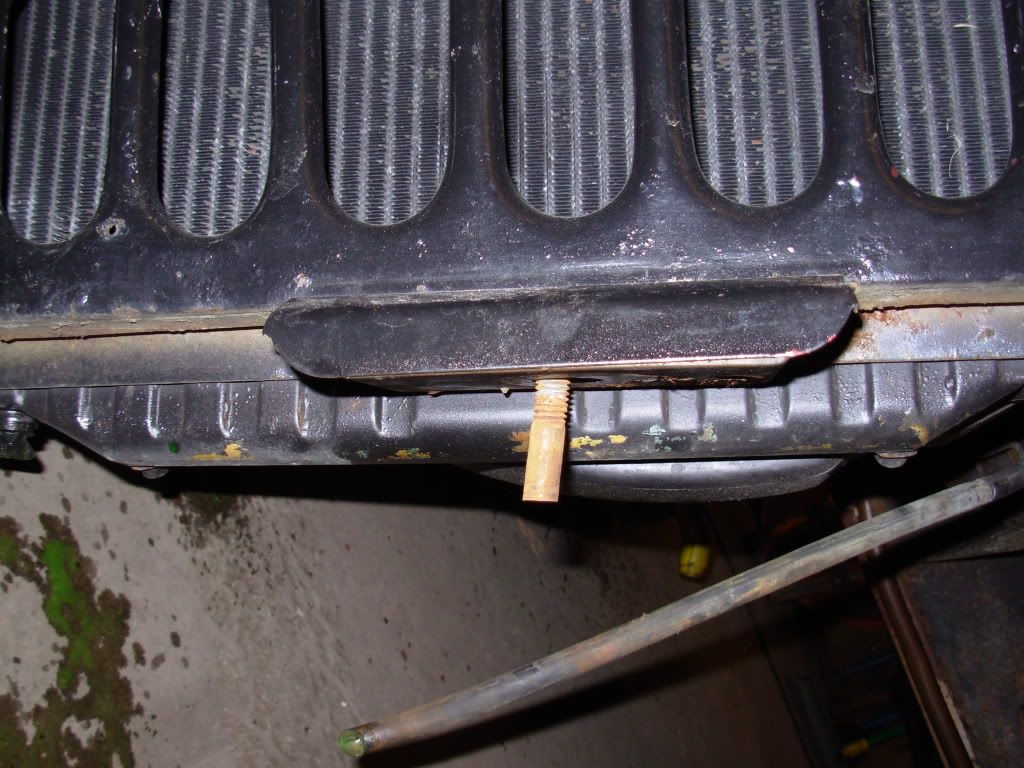 Moving on it is much better taking the front clip off, but what I discovered was "while its off" I"ll clean, prime, paint, and do the blazer heater upgrade. I don't regret any of it, but it added a months worth of work.
Front clip off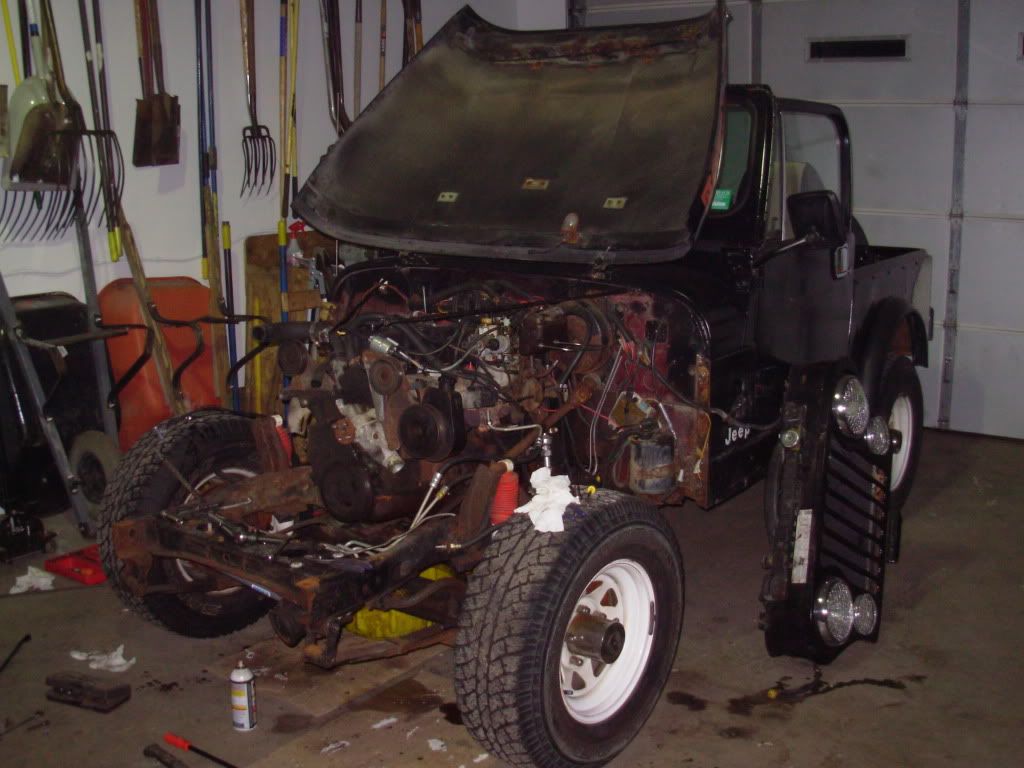 Some more pics...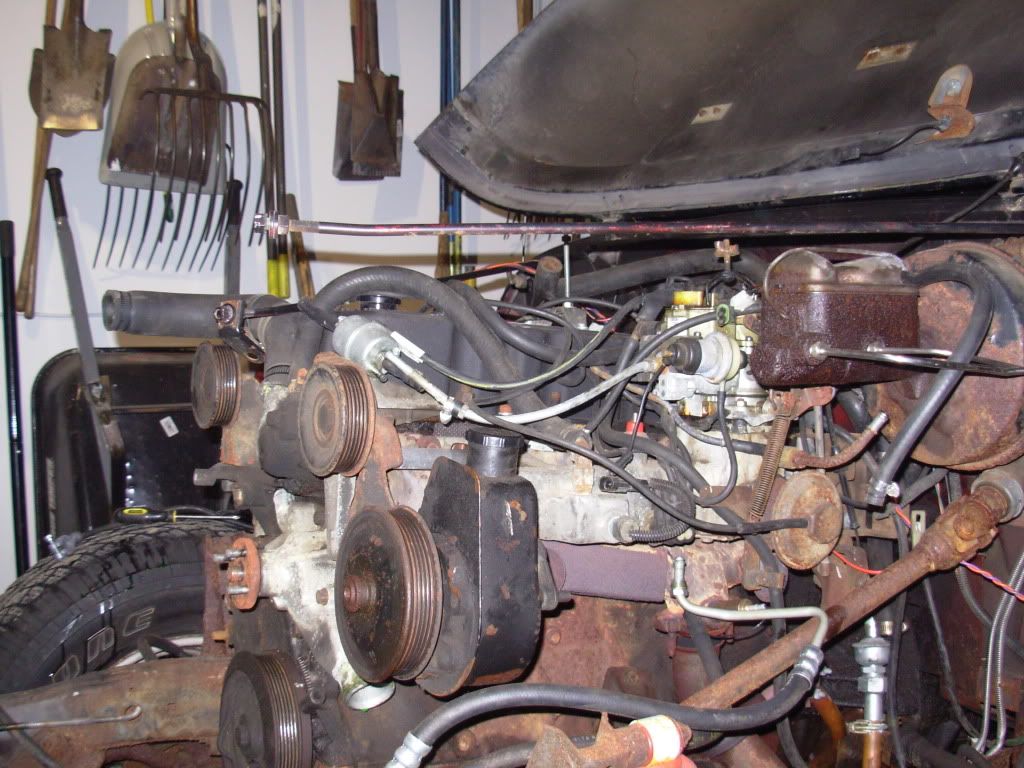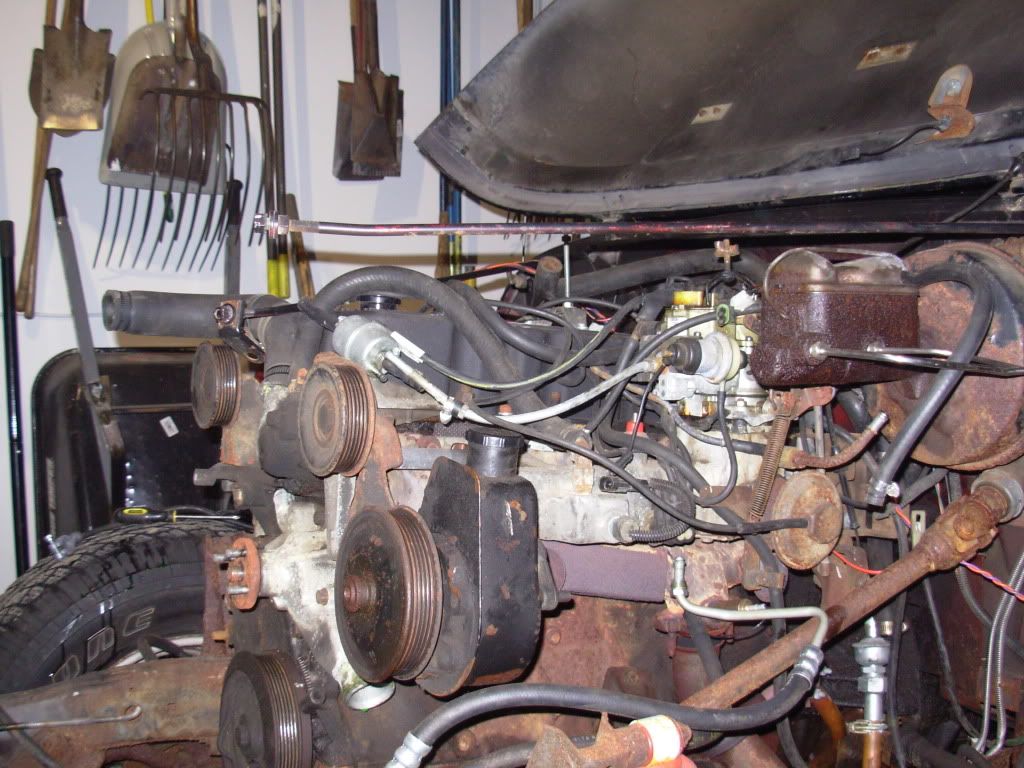 Ok engines is out, and its scrape, sand, de-rust, prime, and paint time. Oh and don't make fun of my copper "pulse air tubes", I had to pass emissions somehow.
Started the blazer motor upgrade. As you can see in the pic below, I used a hole saw, and there was no room for error. Once again thanks to JF for hole size and motor part numbers. I got this one at napa. 20 bucks and I plugged it in and the end is a little loose but it works. If you are doing the upgrade be carefull on the last step- plugging it in.
Oh, and instead of using a piece of sheet metal for starting the hole saw, just use a piece of wood. Sometimes we forget about the simpler things...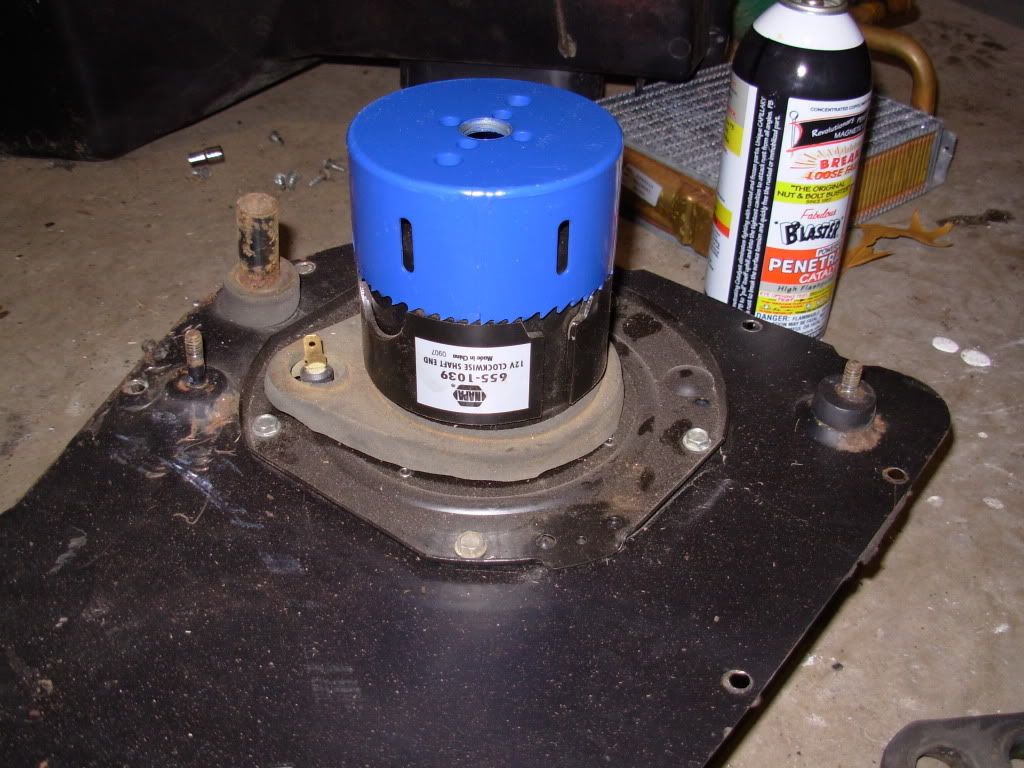 Registered User
Join Date: Apr 2008
Location: cape cod
Posts: 560
Looking good man! Where on the Cape? I'm in Cotuit. Got a project of my own goin. Tons of fun! hope to see you around on the road this summer.
I'm in chatham. Not too many cjs here. Spotted a couple of real nice original Laredos, and I know of one 76' cj with 33k and another 85' with 14k. The guy with the 85' has had 25 oil changes done to it. one every spring!
This is the point when I had about four different things going at once. Big time pig pen (no offence to my avatar)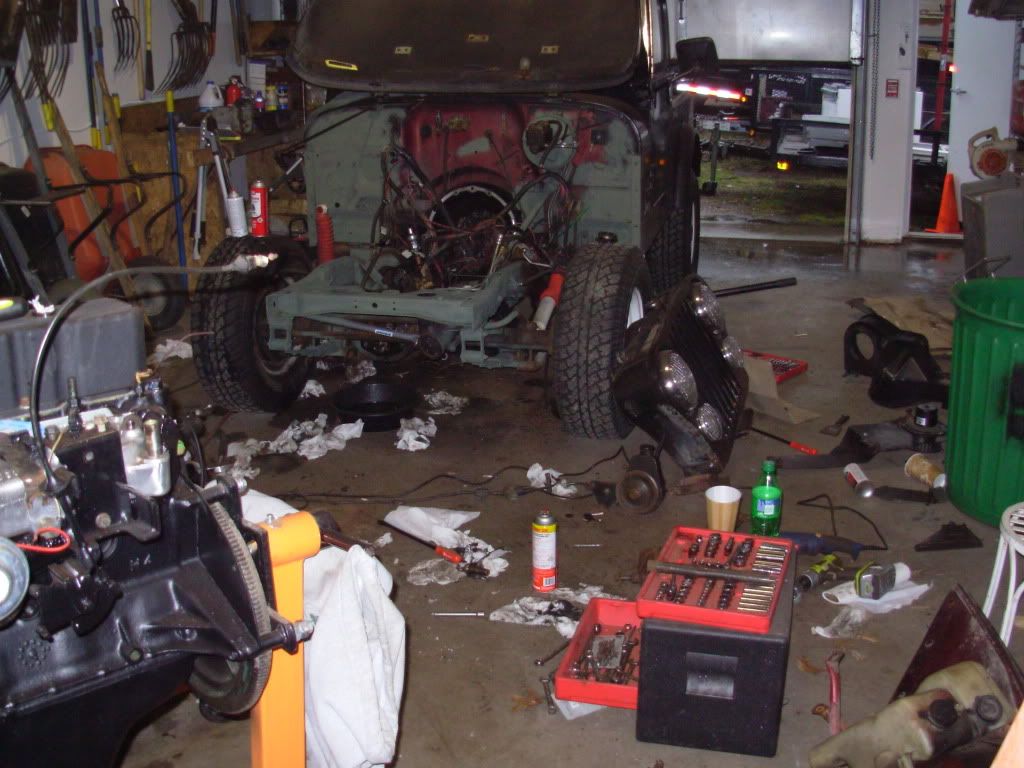 Now, Im sort of stressed out, waiting for parts returning wrong ones and so on. Start another area...
Remove the roll bar and fix everything under it, and fix the sides. I thought I took more pictures, but I didn't
I ordered the rear floor pans from qudratec. They are from a new supplier. Excellent quality. They are really made as full replacements, not "patch" panels.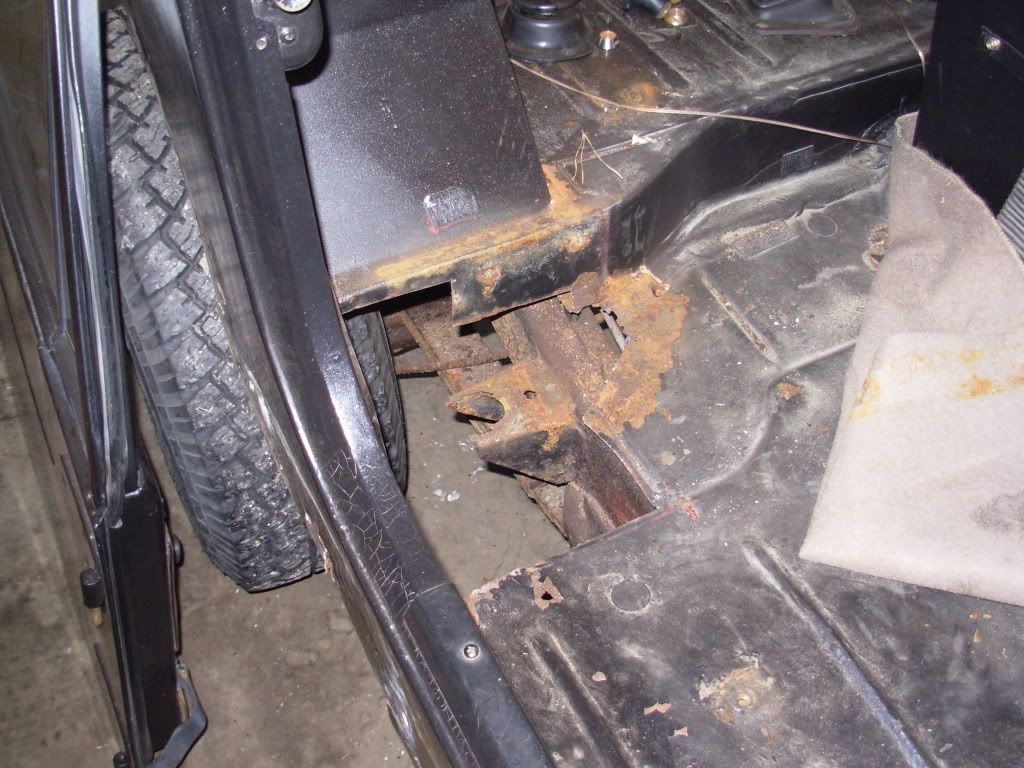 Both sides looked like this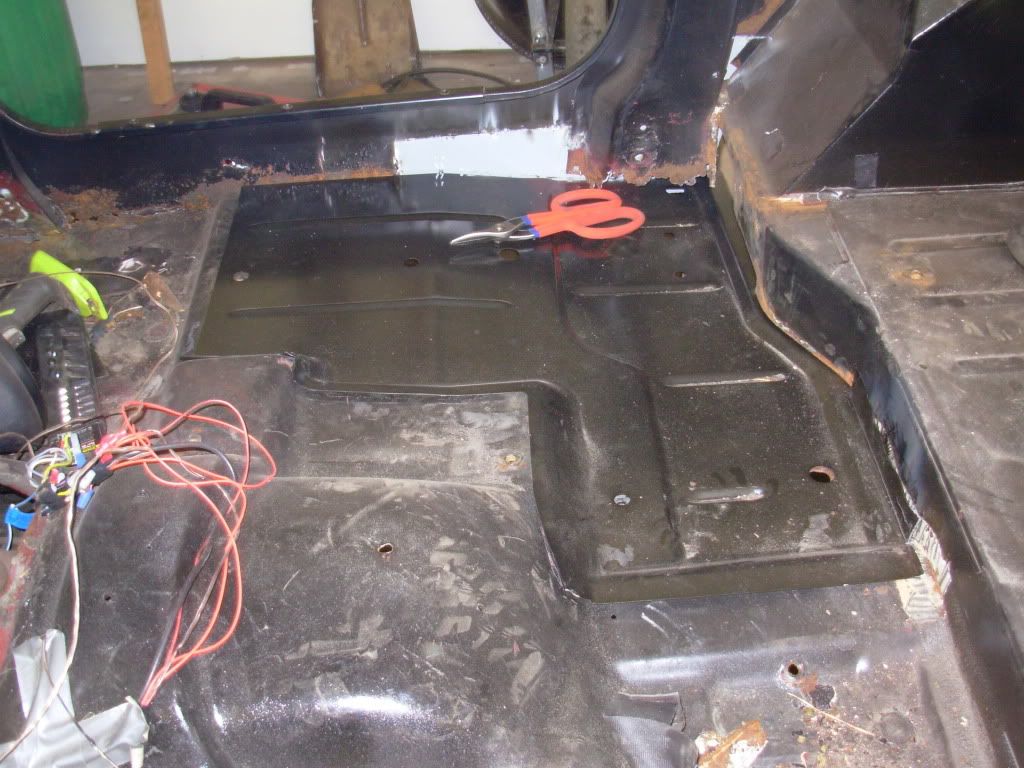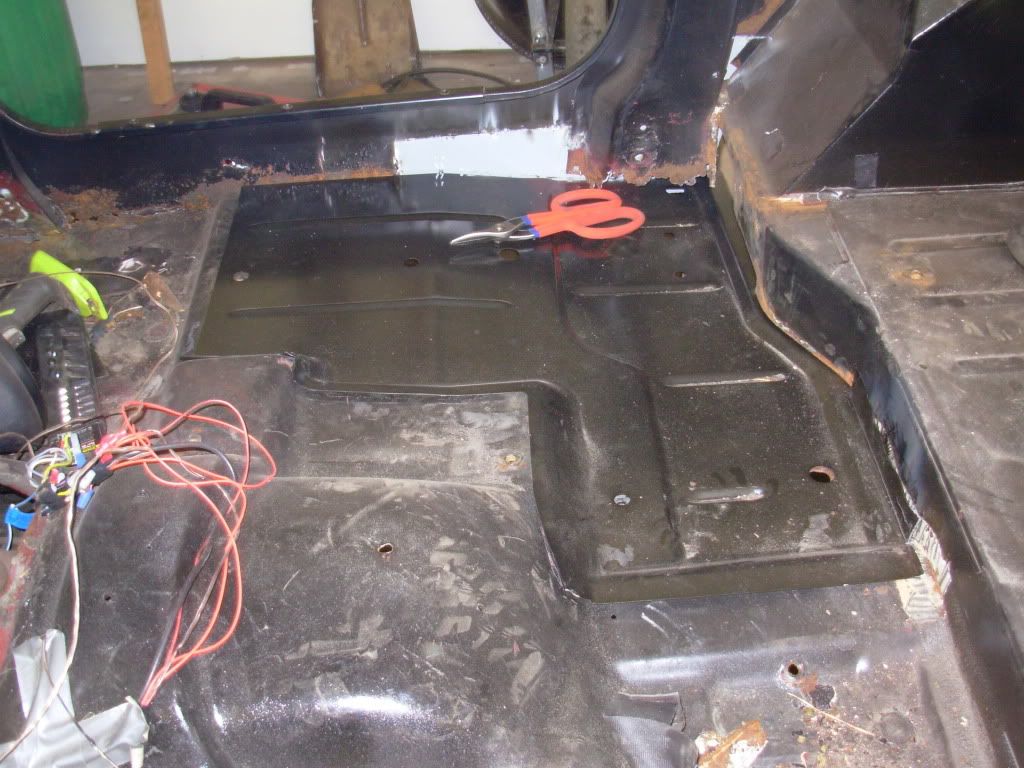 Now I was stuck again. Waiting for the outboard rails from classicent... and waiting. Can't do the floor without having the unbracing first
Well, moved on to patching up the sides, where the diamond plate rust covers were.
Not bad for a first timer... wish I took some pics
I'm at the point of literally "watching paint dry" -and herculiner
Registered User
Join Date: Jan 2009
Location: Colorado
Posts: 501
Very nice CJ7. After a few things are done and it's on the road you won't regret any of the work done.
---
79 CJ5
88 Grand Wagoneer
Registered User
Join Date: May 2006
Location: New Paltz,NY
Posts: 2,121
Looks good. Keep it up.
---
Seems like everyday is a Monday.

77' CJ-7 83' Chevy K10
Currently Active Users Viewing This Thread: 1

(0 members and 1 guests)
Posting Rules

You may post new threads

You may post replies

You may not post attachments

You may not edit your posts

---

HTML code is Off

---