This is a Tutorial Thread, Some Tips, Tricks and Ideas for those stubborn brakes.
By far the biggest problem I see with brakes is twisted off or rounded off brake caliper/cylinder BLEEDING SCREWS at the wheels.
No one ever asks first before bleeding their brakes that might have been in place for the life of the vehicle (around 3 decades!)...
So they twist off or round off the rusted/corroded bleeder screws in the calipers/wheel cylinders.
If you do this very much, you will learn some things about getting those pesky bleeders out without damage...
1. Get a drill bit that fits into the bleeder TIGHTLY
.
Clean out the hole out with the drill bit and your fingers.
Blow out the crud you knocked loose with WD-40, PB Blaster, ect.
This not only cleans the hard crud out so the bleeder can vent fluid,
But it cleans/sizes the hole, removing rust/hard crud so the drill bit can be flipped over, more on that in a minute.
2. Use some solvent and wire brush to clean off the OUTSIDE of the bleeder.
You don't need crud keeping your wrench from making it's best contact with the bleeder.
3. Flip the drill over, stick the BACK END of that tightly fitting drill into the bleeder.
This fills the hole up and keeps what is basically TUBING from shifting and twisting off as you try to remove the bleeder.
Tubing will shift and collapse/twist off MUCH easier than something mostly solid inside, and this is the idea of flipping the drill over to brace the inside of the bleeder.
4. If it's REALLY STUCK, and you have come close to twisting it off, and it still won't release,
Take a SOFT PUNCH, like a brass drift, and a hammer, and give that bleeder some side 'Tapping' and some Tapping from the open hole end.
This will help break loose the crud in the threads...
DO NOT wack it hard enough to sheer the bleeder off from side load,
Or hit it hard enough, or with a steel face hammer to distort the top of the bleeder.
---------------
Now, some people will tell you to use HEAT from a propane torch to help break up the corrosion connection.
Every single stuck brake bleeder (From lack of maintenance) is on a backing plate with a bunch of oil crud on it.
Oil crud is a fire hazard. So is brake fluid.
Also, heating that caliper/cylinder is a VERY good way to destroy the rubber seals, O Rings, ect. inside of it,
So if you didn't plan to replace the unit, I wouldn't apply heat,
If you did plan to replace the unit, there is no point heating it.
----------------
5. USE A PROPER 6 POINT DEEP WELL SOCKET, OR BRAKE BLEEDER WRENCH!
They are cheap, available everywhere and if you try to use a common wrench on this application you are more than likey going to fail miserably.
Give yourself the best chance at success and get the proper wrench/socket for the application.
6. The DAMAGED BLEEDER...
We all have POs. POs had a tendency to destroy things, then sell the Jeep off... No one is immune...
If the bleeder is rounded off,
Vice Grips are about your only choice here, and by the time you get vice grips tight enough to take a bleeder out, you have crushed it since it's basically tubing.
The end of the drill in the bleeder hole will REALLY save your life here!
Since the drill keeps the bleeder from crushing, you can get a REAL DAMN GOOD GRIP on that screw, and usually with a little 'Wacking' and twisting (and some cussing) it will back out...
IF the top of the bleeder is slightly deformed,
Use a SMALLER drill to open up a pilot hole, then use progressively larger drills until you get the tube/hole full size again.
DO NOT
make the hole larger, just clean it out and flip the drill to remove the bleeder.
Making the hole LARGER removes even more of the material you are relying on to get the bleeder out successfully, so don't do it!
-----
WHEN ALL ELSE FAILS...
You CAN bleed both calipers and cylinders, (although this works best on cylinders) by breaking the fluid line loose and blowing out any air.
It's not a PERFECT solution, but it will get you up and running until you can get the bleeder fixed properly.
Worst case issues, breaking off the bleeder...
Replacement Cylinders are CHEAP.
It's not worth drilling out the broken bleeder screw in a cylinder most times, so just replace it.
To drill you will have to take it off anyway, so while it's off, replace it.
Calipers are a different story,
You CAN drill the bleeder out with the caliper still on the vehicle...
*IF* you are VERY steady with a drill motor,
And *IF* you have some LEFT TWIST DRILLS...
Most people don't...
When you drill a bleeder screw, you ARE NOT Trying to drill all the way through.
If you do drill through the bottom of the screw, you will ruin the seat cut into the caliper!
The idea is to drill the SIDES of the HOLLOW bleeder screw so thin they release from the threads...
One slightly larger hole at a time until the broken off screw heats up from the drilling and releases...
And the LEFT twist drill backs it out...
I specify LEFT TWIST DRILLS since a common RIGHT twist drill will simply tighten the broken off part of the bleeder against the seat in the caliper.
Since the bleeder has a 'Pilot Hole' in the middle, you can use a hand drill motor here,
But make no mistake, if you don't hit the EXACT CENTER of the axis of the bleeder you WILL drill out threads, then the caliper is junk...
Unless you are going to drill/tap for the next larger size of bleeder,
And you think LEFT TWIST DRILLS are rare! Try and lay hands on that tap on a Saturday afternoon in a small town!...
If you drill through the bleeder and get into the seat machined into the caliper, or you drill the threads out,
This is the 'TOTAL' point,
It's just cheaper/easier to take that caliper in for exchange and get a reman or new one.
-----------------------
7. DAMAGED LINES, LINE FITTINGS.
Line work is a real pain in the a$$.
Think 'DOUBLE FLAIR' which is fairly hard to do even with the correct MANUAL tool since it requires a lot of hand strength, and it requires room for the line clamp tool, the flaring tool, ect.
On top of that, lines are NOT created equil, neither are flairing tools...
Expect to make a LOT of mistakes,
So I don't recommend you try to remove/replace/rebuild lines if you don't get the proper tools, and some practic line and do some practice flairs.
Once you have mastered the 'Double Flair' on practice line without cracking it, Then you are ready to get your butt whipped on the real thing...
-----
Lines are TRICKY!
If you don't have the line cut off almost PERFECTLY square, the flair at the end isn't going to form correctly.
Get yourself a good, SHARP tubing cutter.
The 'Harbor Freight' versions are NOT going to work here, you are going to need to kick in for a good tubing cutter and deburring tool here to cut/prep the line before you try and flair.
Remember, this IS A SAFETY ISSUE, so don't cheap out here...
Cut the line, De-burr the line (inside of a cut line will have burrs, smeared metal and that MUST be removed before you will get a good flair),
And when you have a good line, try for a good double flair.
*IF* you are working on existing lines, keep in mind that 30+ years of rust, corrosion, dents, bends, ect. will be working against you.
Rust hardens the lines, so they often split,
Rust UNDER-SIZES the lines, so they often won't stay in the clamp properly.
If the line is damaged to the point it won't stay in the clamp, or you split the line trying to flair it,
Take BOTH ENDS loose and make a new line instead of just trying to repair the end...
Flair your ends BEFORE you bend the line. Make sure your fittings are at the ends when you bend! Nothing like doing flairs, lots of complicated bends, then finding out you can't get the fitting past the bends!
Not all 'Off The Shelf' line is created equal!!!
The 'Made In China' stuff RARELY stays in the clamps where you put it, and often splits/smears when you try to flair it.
You will also find the 'China' stuff likes to KINK when you try to bend it...
Like I said before, get some tubing and practice flaring, this will tell you where to get your line along with giving you proficiency in flaring.
For those of you with big ideas about stainless steel line...
Stainless steel is EXPENSIVE, it's easily damaged, bends like crap without a mandrel bender and will drive you nuts trying to flair it...
Stainless is HARDER than regular line, so it takes more pressure to flair,
And it cracks EASIER than regular steel line.
You usually need more/better tools for stainless steel line, so keep that in mind...
And just try to find stainless steel fittings locally... You will have to mail order everything.
---------------------
FITTINGS.
Damaged line fittings seem to be MANDATORY on a CJ!
POs like to use common wrenches on line fittings, when they should have used a LINE WRENCH (Yes, another specialty tool you need if you are going to do very much fuel line or brake work)...
Again, you get what you pay for. Big, thick, clunky line wrenches will give you fits trying to get them into tight spaces, like between line and wheel cylinder,
While thinner walled wrenches will often flex and let the wrench round off the fitting.
The solution here is to buy TOP QUALITY.
You won't hear me send people to places like 'Snap On' tools very often, but this is one of those times.
SK tools makes a pretty good line wrench set for about 1/3 what Snap On does, and the Sears/Craftsman version is very thick, so keep that in mind when you are looking at line wrench sets.
Line fittings seem to hate people... They round off, rust down, stick like crazy in calipers, line 'T's, and god help you if someone PO has installed a STEEL fitting into brass, like the Combination Valve, because they ALWAYS screw them in WAY TOO TIGHT, and they seize into place in the brass...
Again, remember the 'Hollow' in the line when you find a seized line.
Cut the line, use a drill and FINGERS to clean things out,
Flip the drill over and stick the blank end into the line,
And then try to turn the fitting out.
Sometimes in brass you are just going to take the threads out no matter what you do.
This is NOT your fault, it's the idiot that cranked down until the brass seized on the steel.
If you get that fitting out of the brass,
Have a look in the brass fitting to see if the flair was crushed or deformed by the idiot with the wrench...
Brass seats don't take a lot of pressure since the brass will fairly easily form to the line flair... So tons of pressure isn't usually required...
So if the moron PO didn't deform the tapered seat, you can usually reuse the brass fitting or combo valve...
When you screw DIS-SIMILAR METALS TOGETHER, Steel into cast iron, steel into brass, ect.
Remember, a little NEVER-SEIZE goes a long way here!
Most people throw a fit about using something like 'Never Seize' on brake fittings,
But the truth is, anything that gets into the lines will be flushed out when brake fluid hits it.
Brake fluid is a POWERFUL solvent, and trust me, it WILL remove anything that gets into the lines!
Just remember to use it SPARINGLY, you don't want great gobs of it, just coat the threads and leave it at that...
Now, we have covered removing a rounded off fittings (Cut the line, change fitting, re-flair the line with new fitting),
Checking brass seats for reuse,
And some basics on making/flaring lines,
Getting bleeder screws out or fixing broken ones...
-------------------------------------------------
BLEEDING BRAKES...
YOU WILL HAVE LEAKS! If you open the system, you will have leaks.
Opening the system to bleed is OPENING THE SYSTEM.
If you replace lines, calipers, cylinders, replaced the master cylinder, you will have opened the system.
BLEEDING IS REQUIRED.
BENCH BLEEDING A MASTER CYLINDER.
For some reason, people think this is 'Easy'...
I've been doing this for over 40 years, and I can tell you it's just not that simple...
Bench Bleeding is the best way to bleed a master cylinder.
Clamp it in a vice as level as you can get it,
Make up some lines from the outlet ports back into the master cylinder reservoirs, make sure your lines are UNDER the fluid level,
And stroke that MC FULLY.
ALL THE WAY IN UNTIL THE PISTON BOTTOMS OUT.
(trying to bleed on the vehicle doesn't work since the brake rod in the vehicle DOES NOT bottom out and air will be left in the MC.)
Make sure you DO NOT let the piston 'Snap' back, control the return.
If you let it snap back without a lid on the MC, you can suck air pretty easily.
Stroke it several times, then let it sit a while.
Bubbles trapped in the cast iron will surface, then bleed it again.
Those small bubbles will look like something discolored or foam in the reservoirs when you stroke it the second time...
Do this three or four times at the very least, allowing somewhere between 10 and 20 minutes in between bleedings.
When you stop getting bubbles or 'Foam' then the cast iron has given up all it's trapped air and you are ready to install in the vehicle.
Keep the bleed lines in place,
Keep the MC UPRIGHT,
Install CAREFULLY.
DO NOT remove the bleeder lines until you are ready to hook up the vehicle lines!
Most, but NOT ALL master cylinders have 'Check Valves' or 'Back Pressure' valves built into them, but some of the lower quality re-manufactured master cylinders don't have them,
So allowing the bottom connection to drain will introduce air back into the system.
On very old vehicles, the check/back pressure valve is in the line, not the MC, so again, you will get air into the system if you let the bottom end drain.
Once the line is on the MC, the air bubble is TRAPPED, without flow from below up into the MC, the air bubble will stay right at the outlet port...
So if you bleed the brakes in a timely manner, the air will be FORCED DOWN instead of migrating back up into the MC.
It's a quirk of hydraulics that saves you aggravation here...
And pouring the line you are hooking up full of fluid will help trap that little air bubble also.
Lots of air from below will allow it to move up faster,
But a full line will keep it trapped for several minutes.
------
Start bleeding...
LONG, SLOW STROKES DOWN,
Make sure the system is CLOSED (Bleeders closed) before the pedal is let up,
And LET THE PEDAL UP IN A CONTROLLED FASHION! NO SNAPPING BACK UP!
Snapping the pedal back up creates VACUUM in the lines, and that will suck in air from any leaks that might be present.
Check your fittings, any fitting you replaced, for leaks.
If you find a leak, tighten it up a little more (Don't crank the crap out of it!)
Now, most of you will think this is stupid, but a little toilet paper on the fittings will tell you right away if there is a leak.
There is some spray on leak detector that changes color when fluid is present,
Or you can keep watching for drips,
But toilet paper will change color right away, is cheap and you don't have to mail order for it...
Once you have the leaks cinched up, then start with serious bleeding...
-----------------
COMBINATION SAFETY VALVE, AKA: "Proportioning Valve"...
This valve is by far the least understood and biggest pain in the butt for DIY guys!
This valve is a rod that has three grooves cut into it.
The first groove is a passage for brake fluid,
The second is a groove to turn on your 'BRAKE' failure light,
The third groove is a brake fluid passage.
When you have an 'Open' in the system, front or rear, the valve rod moves to block off the 'Leak' and turn on the 'Brake' warning light.
SO...
This means if you have an 'Open' line,
Or a line with air in it, the air will compress, and the valve will trip.
Centering the valve is MANDATORY.
Without a centered valve, you WILL NOT get brake fluid to one end or the other... (usually the back locks down)
There are a couple of ways to keep this valve centered...
The 'Factory' way is to use a clip on the valve to keep it centered.
The clips are available, or there is a way to make your own...
LINK:
http://www.jeep-cj.com/forums/f49/1-...47/#post194837
This is a VERY cheap way to make the tool you need.
The second way is to bleed both ends at once.
There are 'One Man' bleeders that make very little back pressure so the valve doesn't trip,
But allow the brake fluid/air out without letting air back into the system.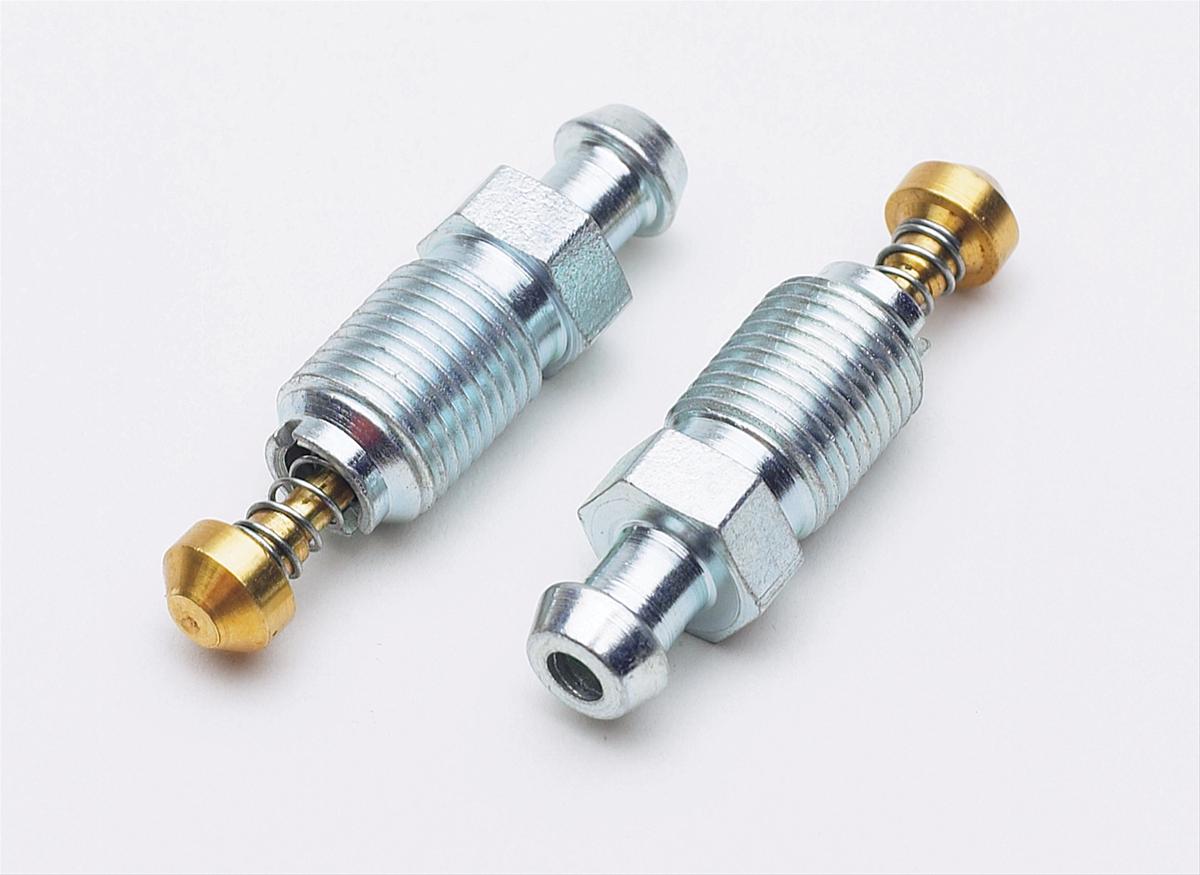 LINK:
http://www.summitracing.com/parts/ea...-LXRoCJs7w_wcB
This IS NOT what you may need, it's for example only of one man bleeders.
ONE IN THE FRONT, ONE IN THE REAR,
Then switch sides when you get the air out...
REMEMBER!
Slow, even FULL strokes down, then control the 'Up' or return of the pedal.
DO NOT POUND THE PEDAL!
That will trip the valve, and that is what you are trying to avoid.
------
A third way is to use THREE MEN,
One on the pedal, one front, one rear.
Again, make sure your bleeders are OPEN before the pedal goes down,
Close bleeders,
Control pedal return,
Repeat as necessary.
---------------------------------
Just some tips and tricks of the trade,
They are worth exactly what you paid for them, So if you have complaints, keep it to yourself.
IF you have something to add, then by all means do!
No mechanic knows everything, and you would be surprised what people come up with when they are in tight quarters or pressed to get a daily driver up and running...