First off I would like to say thanks for all the support from members of JF. I probably would not have the courage to perform this build if it weren't for the great info posted on JF. I thought I would add to the base of info just in case they help someone else out.
Anyway I bought a 1979 CJ7 with the 304 V-8, TH400 tranny, and quadratrac about a year ago. The Jeep already had a fiberglass 4wd Tub, fiberglass windsheild frame, and front fenders. The bad news was the body was thrown on top of the existing frame that had been used as a plow vehicle with repairs made. After the body was on the jeep was then parked in a back yard to marinate for the next 5 years. I new the frame was not that great so I wasnt surprised when it really started to crumble this spring. Over the last year I have been finishing the interior, cleaning up the new wiring harness that was thrown into it and fixing many things that have been overlooked for years. That being said I am posting my pics from the day I got it up to the latest frame swap I am performing.
Here she is the day I got her. It did run but really rough. The wife (who has never owned anything outside of warranty) thought I was completely crazy when I pulled into the driveway.
As you can see the interior was non existent with the entire dash being held in with 1 bolt. The first project was rattle canning the hood white as well as finding a new grille as the original was completely gone around the mount.
The next project was replacing the dash with a damaged stainless dash from morris. I think I paid 50 bucks for it and with a little work she was all straightened out.
I went with all new knobs, switches, indicators, and gauges. After I finished it up I noticed my oil pressure was extremely low (10 psi) so I put a flat face pressure tap from parker in and found out I am pulling 40 psi at idle hot. Even after matching the sending unit, gauge, and checking resistance of the wire it still reads inaccurate to this day (I believe its a crown part).
I wanted to keep my factory Levi seats but decided to put them in the attic and found a pair of used bestop seats with a yj fold and tumble rear seat for 50 bucks. I am slowly getting around to getting the seat covers to match.
The factory 304 V-8 was spewing oil through the valve covers rust holes so I actually had a excuse to add chrome valve covers. Compression was good but the engine had a mean miss to it all over the range of cylinders. I could not pin point which cylinder. The plug wire needed to be changed so I went with new belden extreme wires, a ford TFI adapter and cap, new MSD coil and still had the miss. The PO had a home made extension harness from the ignition module (mounted to my firewall) running to my pickup on the distributer. I was reading a Jeephammer post one night where he had mentioned to keep the pickup wires away from plug wires so I investigated. That was it! Well that and the speaker wire being used for wiring come to find out.
Later since compression is good I decided to add a edelbrock performer intake a and a 6AL MSD box I found on craigs list for 50 bucks. I ended up using a 600cfm edelbrock carb that was given to me because I will be eventually going to a 360 or a Cummins 4BT. My 304 runs good enough now that I am not in a rush to change it out for my current project. I also decided to change the water pump, heater core, hoses, radiator, and install a used electric fan I had laying around.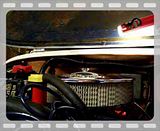 Now that I had that done I moved on to the trans. It shifted SUPER harsh into gear (even with brand new U joints and a good chain in my Quadratrac). So I pulled the modulator (the factory bent style) and noticed that the little lever was missing between the modulator and trans. I was lucky enough to find one in the Bucket O' parts that came with the jeep. Now it shifts much smoother in to gear as well as it downshifts now. The factory kick down switch and bracket were missing so I picked them up on ebay for 15 bucks.
Because my CJ is a older 4wd glass tub I don't have a tailgate. I just never liked the look of the non tailgate back end so I bought a clearance procomp rear bumper with a receiver in it to replace the factory style hitch. Again I paid 50 bucks for it and fabricated my own spare tire mount out of square tubing. It would have been easier to buy a complete swing out bumper but since I don't have a tailgate I wasn't going to spend the money.
I stumbled across a family style cage in great shape for 25 bucks on craigs list and snatched it up. Here you can see it installed but I have not installed the stringers up to the windshield yet. The cage dropped in perfect with no issues at all. I also started fabricating plates and tubes to tie it into the frame when I noticed that a ball peen hammer would sink anywhere in to my frame! On to that later.
For the suspension I noticed the usual worn tie rods, ball joints and so on. I decided to refresh my springs with new rough country 2.5 inch springs (they fit perfect with no issues and good shackle angle) as well as new pro comp es 1000 shocks as well as all new ball joints, wheel bearings, quick disconnect sway bar links, bushings, and tie rods. While I was doing that I stumbled acorss a set of factory aluminum slots on craigslist for 75 bucks and had my 32 inch MTR's mounted up on them. While this was going on I also noticed that the bad rattle in my front end that I had been chasing was my motor mounts were shot and the engine and trans slid back a inch or so.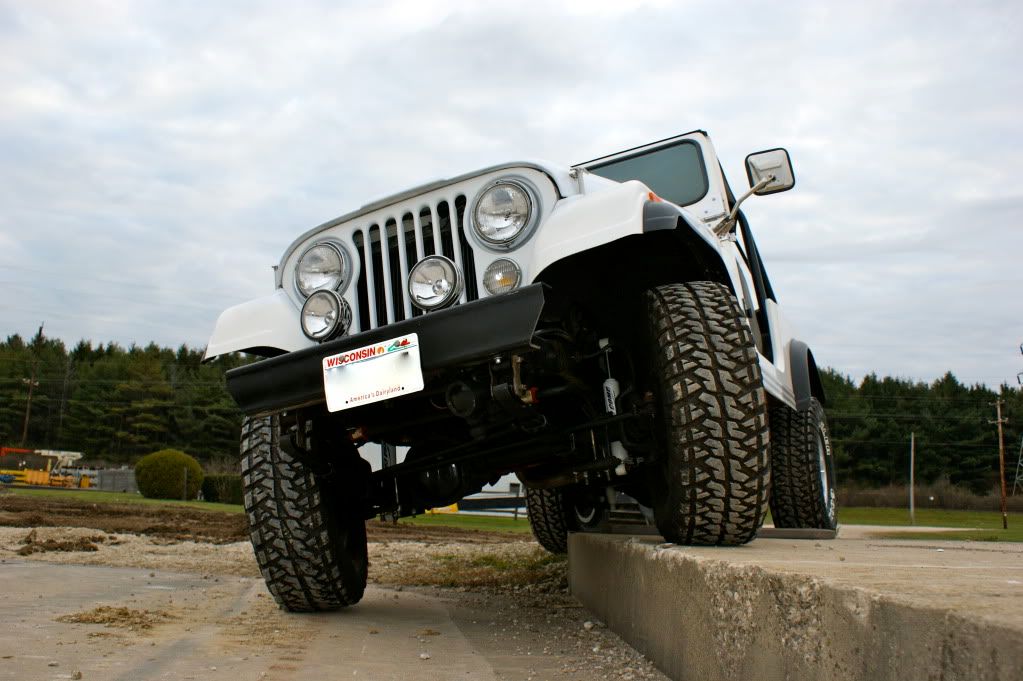 More to come just need to give my fingers a rest!!