Registered User
Join Date: Jul 2009
Location: Bali
Posts: 5,792
Bali Jeep - my CJ-7 in Indonesia
---
This is the build on my CJ7 in Bali.
Jeep was a popular car at one time in Indonesia for both military and civilian applications but the maximum engine size on new cars is now 3.0 litre so very few are now imported. As Jeep stopped assembling the CKD kits in Thailand some years ago there are few leaking into ASEAN countries.
In Indonesia there are some Willys, CJ5, CJ7 and a smaller number of Wranglers and Cherokees. Occasionally I see new Jeep Wrangler Unlimiteds but they must be pricey with 200% import duty.
I paid around US$4,000 for the C-7 in Java which is a fair price in Indonesia. These cars are sought after by political parties (yes, for rallies but the political kind) and I have had a number of people stop me to try and buy it. Great for the ego but no way will I part with it.
When purchased the spec was:
1981 CJ-7 Built in Jakarta from a CKD kit
Right Hand Drive
I-6 4.2 litre with Carter 2bl.
Manual Transmission 4x4 etc. standard (fully working)
Chrome bumpers and grille
31" M/T tyres on new alloys (old wheels must have been VERY bad)
Aftermarket aircon, non functioning
Aftermarket fender flares
Aftermarket light guards at rear
Lockable front hubs
Heavy duty shocks and steering shock (sorry I forget the correct term)
Hardtop and steel doors
Stereo (non-functioning POS)
Master brake cylinder from a Toyota Kijang
Seats in interesting two tone yellow and black pattern
The colour was red with silver top but with traces of military green paint underneath. There were holes in the wings for flashing lights and holes near the radiator for a siren and police insignia on the dash. Basically it was army surplus, just not clear on when the PO liberated it. The PO was a good guy who sorted out a number of problems with officialdom but was not clued up mechanically.
It came with title documents which are vital to have in Indonesia.
Overall the condition was poor as it was an abused old Jeep which had seen little use or recent maintenance sitting in the corner of a garage. When it had been maintained recently it was by a local mechanic on a shoestring. Here is a photo after the top had been removed and various bits held on with tape. (Sorry no original photo before I started)
http://i785.photobucket.com/albums/y...p/oldpaint.jpg
The next photos are after a quick rebuild, repaint and civilianisation programme. It is not perfect but it drives OK and looks the part of a vacation rig.
http://i785.photobucket.com/albums/y...ontquarter.jpg
I took the decision on day 2 to have an open Jeep. It then rained for 2 weeks whilst it was my daily driver. Only later did the bikini top arrive. I bonded in the rain with the Jeep sheltering under a tarpaulin by the side of the road.
The Jeep as purchased needed a fair bit of work and has wild handling / braking thanks to worn suspension and the over aggressive Toyota brake master cylinder.
I found a Jeep mechanic in Bali. What he lacks in tools he makes up in enthusiasm and labour. He put 6 guys onto it and took a fair bit of it apart before announcing it was basically sound mechanically and needed a lot of TLC. He begged my Quadratech catalogue from me to show his Jeepie customers what is possible. They are inventive people and I am sure he could copy the bikini top and stuff for the local market.
Since then it has been in and out with various ailments but at least it doesn't break down. There is no MOT or annual roadworthiness test so it is not unusual to see a wreck running about but I would rather have a functioning vehicle.
The body paint has seen most return, entirely by default as my instructions on painting etc. were ignored by the body shop. I only wanted the green bits painted but they completely repainted it on top and below and inside for US$300. It was a fair job as well.
The parts situation is a bit of a joke despite this once being a common car to see in Indonesia and there are still a fair few about. The parts have mostly come from Quadratech in the US via my suitcase to avoid import taxes and also because Quadratech have been burnt before and will not ship to Indonesia. Labour is not expensive with a typical labour bill being around US$30 for a days mechanicing in the workshop.
The work I had done included:
Body
New windscreen surround (old one was rotten along the bottom edge and hinge points)
New windscreen rubbers, cowl rubbers etc.
Tub welded and filled around windscreen mounts. This was the only place of serious rust and was easily fixed. Previously the areas where the roll bar meets the floor had been plated but this was the only other place. The floor pan had surface rust from having a leaky hardtop fitted for years but a US$6 can of black paint has cured that.
Body repainted in metallic red.
Interior stripped of its rubber sheeting and repainted in black.
Underside painted in black
Frame checked, only surface rust, then painted black
New stainless steel furniture (hood stuff, screen hinges, mirrors)
Rechromed bumpers, grille and tow hook
Fabric low cut doors (black denim)
Bikini (strapless) soft top (black denim)
Interior
Seats retrimmed in red plastic (by local motorcycle saddle repair guy, at least they are waterproof even if they would not win prizes)
Hi lift jack and mounts (old jack would not lift the frame up)
Seat belts (the expensive US$20 versions)
Electrics
Well this is a sorry tale of mangled wires. Very few gauges worked and the wiring was shot.
New ammeter, fuel gauge, water temperature gauge
New temperature sender
New battery
Scrapped all warning lights (none were wired up)
This is not to say the dash instruments work. The wiring is Phase 2!
Still struggling with the foot mounted high beam switch. Is it just my Jeep or is this device located just a little bit too high on the bulkhead under the wiring? At present it is too difficult to drive at night long distances as I do it barefoot with left leg raised. I am planning to have a dash mounted switch with a long lever, like in a Volvo circa 1967, or move the switch on to the floor.
Fixed the indicators
At present the brake lights, headlights etc. all work but that is about it electrically.
Suspension
At present very little has been done as it basically drives but standards are very low in Indonesia. There is a fair bit of play and bump steer, enough to make it stressful driving to make sure the car stays on the road. Phase 2!
Mechanics
Tappets renewed
Carburettor (2 bbl carter) rebuilt (i.e. new paper cutout gaskets fitted) and tuned, no leaks and does not stall at the lights anymore
Power steering hoses
Brakes sanded (i.e. took rear drums off and broke glaze)
New wheel cylinders
New clutch slave seals fitted
New ignition switch (the old one did not need a key)
New clutch spring (someone lost it)
Prop shaft U joint
Full service
I am sure there was more mechanically but I have learned to close my eyes when the bill is presented, not because it is expensive but because of the long list of items in Indonesian.
I think I have caught it all. The parts from US were the most expensive, coming in at US$1200 including shipping. It was a bit surprising when I found the windscreen rubber had a price on it in Indonesian Rupiah, looked like it had been around the world and inflated by 400% in cost.
Overall the cost was around US$6,500 to get it to where it is today. It is tremendous fun and gets us up volcanoes, down tracks and to the beach. My next plans are to:
• Fix the electrics, steering and look at some engine vibrations. The drivers seat back and forth adjustment is too short.
• Further accessories will be a deck cover, glove box, working stereo etc.
• The technical project will be rigging up a 4WD indicator light from a switch on the transfer box as I am often unsure it has engaged. Abd move that darn high beam switch.
After that it will be road trip time followed by some sand plugging in the Sea of Sand in Java (in a volcanic crater).
---
Last edited by BagusJeep; 07-28-2009 at

04:05 PM

. Reason: Inaccurate
Registered User
Join Date: Mar 2008
Location: Northern, IL
Posts: 4,228
Very cool. Pictures click free.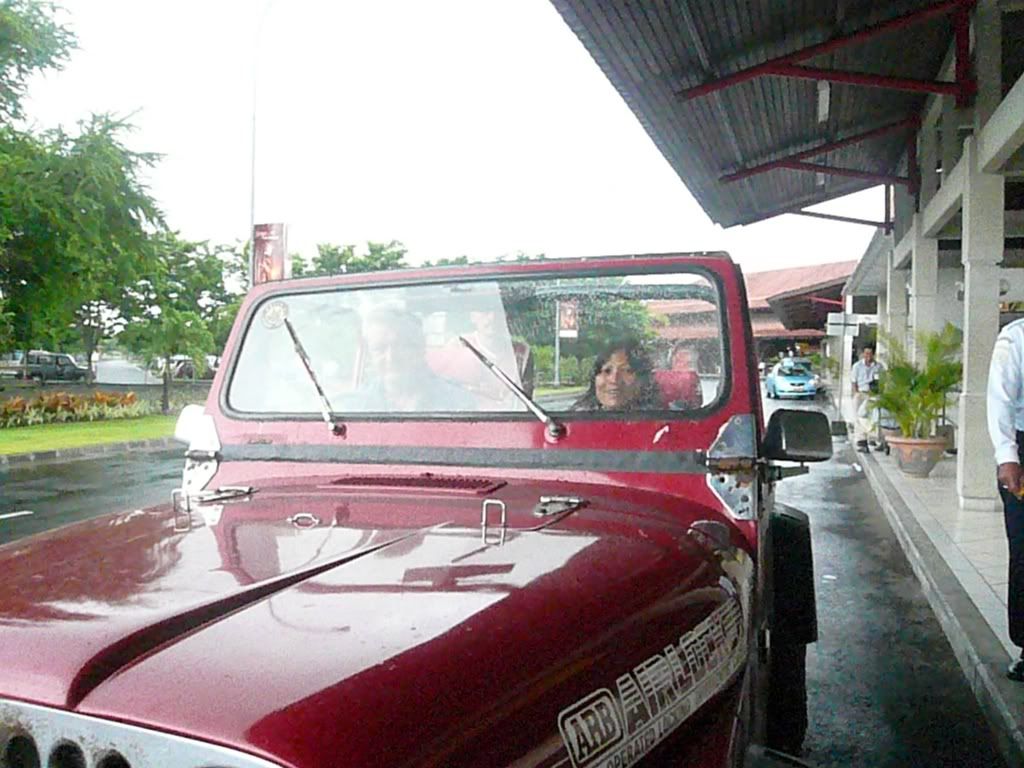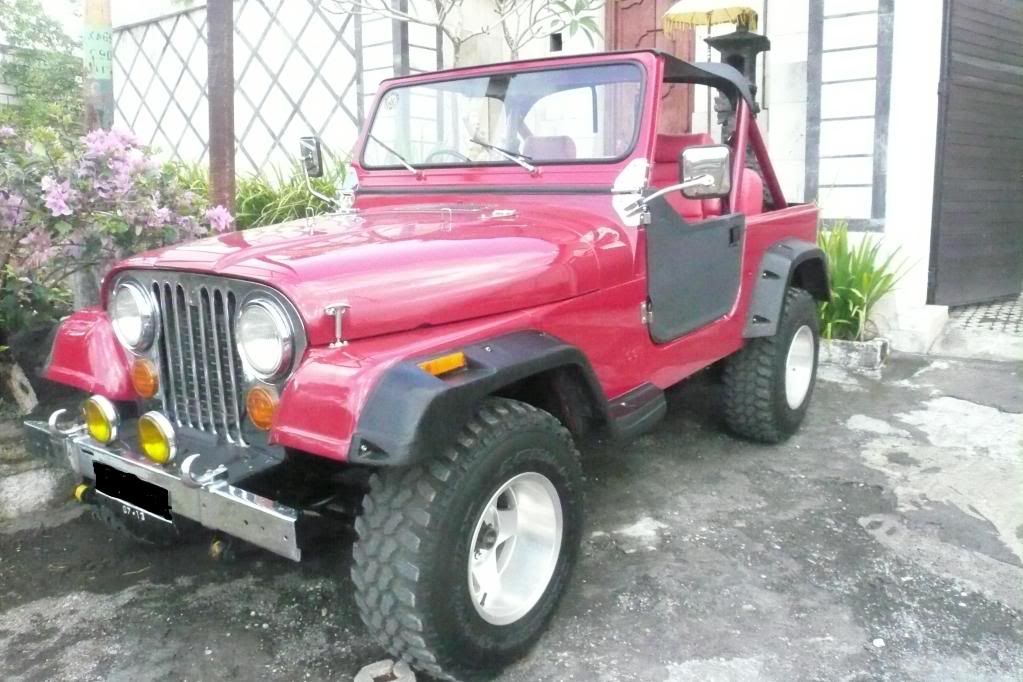 ---
Mike

To view links or images in signatures your post count must be 10 or greater. You currently have 0 posts.

1979 CJ7, FI 5.0L Ford, NP435, D300, Full floated D44 Detroit, D30 Detroit EZ Locker.
Thanks Coiz, it is a labour of love. A new Daihatsu is not much more.
dear,bagusjeep
also from indonesia huh?i'm indonesian too,is it hard to get jeep spare part in bali?I lived in jakarta so,isn't to hard to get jeep part in here.....
in indonesia,people often change their jeep part mix with the ordonary car part in indonesia such as toyota kijang and so on,because in some area,the jeep part is hard to find.
have you been offroading in bali?it must be nice huh?driving w/bikini top.
btw you can see my photo,just see in my profile
Hi White CJ,
It was hard to tell your Jeep was white under all that dust.
It looks good!!
A lot of Jeep parts are hard to find in Bali, they may be available in Jakarta but if they get to Bali they have become expensive.
Routine service parts and seals etc. can be found as they are mostly generic but for anything out of the ordinary, like hinges, they are cheaper and easier to find in the US than Bali. I do get bits and pieces from Jakarta but there are not extensiv epart stocks in Bali.
However using a Kijang master cylinder in a CJ-7 is not advisable, it is larger and causes lock up. As it is a safety item I would feel safer using original parts. Having said that anything that can be fixed with generic parts such as seats, bodywork, wiring etc. are much cheaper in Indonesia.
As the CJ is now fully working it will be going off-road a lot more!
hahaha....you keep using kijang master n booster brakes for your cj?,OMG.....you have to change it, mate!because is very dangerous,here in jakarta the price for master and booster brakes for cj7 is around 3 million or 300 usd,is not new but it's REMANUFACTURED in US,some of my friends changes weirds (not OEM)brakes(ussualy from different car) to this REMANUF.OEM ,and viola the problem solved!and I suggest that if you change your booster and master,you have to check your bottom master brakes(rear) and also check your piston seal on your front brake caliper,the price of your bottom master brakes is around 250-30 each/assy,you need 2 pieces for L & R.
and also dont forget to clean all brakes lines w/ your pressed air compressor.
btw what do you do in bali?
Absolutely, they lock up alarmingly easily!!!!!
Thanks for the prices, I like cheap but there are some things that it is worth spending money on!!
I will get some parts from the US next time. it is about US$70 for the master cylinder and US$170 for the servo. So US$300 in Indonesia is a good deal.
The rest of the system could benefit from new seals in calipers and new wheel cylinders which are easy enough to fit.
At the moment I am away so it can wait until my return.
Bali Jeep
is back on the road sporting new dash gauges and dash WIRING!!!!
The paint is also looking good from a recut and polish, courtesy of the paint shop that painted it last year. Helluva good team.
I have had the 5th and highest unsolicited offer in the last year,
not counting the passers by who express a wish to buy but do not name the figure. Apparently 4WD prices are increasing with the return of cheaper petrol.
My wife is hankering after being able to drive long distances, however she cannot reach the pedals, there is minimal protection from the elements and the air conditioning is Mark I natural flow.
Almost all can be accomplished as I have a hardtop, metal doors (in correct colour) and air con that can be fitted and commissioned. The brake servo is on my list to change to avoid lockup but she is very short.
Has anyone managed to alter or adapt the pedals and controls for someone who is 4' 11" tall? The seat runners do not go far enough forward and if they did the steering wheel would be to close to the chest.
Also is it possible to fit ABS? I have access to cheap second hand Jeep Cherokee parts. I would feel a lot happier if I knew she was not going to lock the brakes.
And lastly the engine runs out of steam at 4000 rpm. Is this right for a straight 6?
Currently Active Users Viewing This Thread: 1

(0 members and 1 guests)
Posting Rules

You may post new threads

You may post replies

You may not post attachments

You may not edit your posts

---

HTML code is Off

---