So, I've owned this Jeep since 2007 and although I've scoured this forum for advice countless times, I've never really posted anything about my CJ7 until now. It belonged to my great uncle (and at least one other PO before him) up until he was too old to hunt, which is when he sold it to me, but not before jerry rigging and beating the hell out of it!
Here's a picture of what it looked like the day I got it from him circa 2007. Old school CB antenna and all!
Since then, I've slowly replaced parts here and there and have tried my best at rust control and just keeping it running. Admittedly, I'm a novice when it comes to such a huge project, but I suspect my desire to preserve my Jeep may be outweighing my common sense!
Here's a picture of it's aesthetic apex during my ownership. This is from when I was stationed in Abilene (2009), where I was allowed to trail ride/hunt on a 2000+ acre ranch. Needless to say, I had a blast crawling all over that wasteland! This is after replacing those airplane tires, installing some half back seats, removing that useless hardtop, covering up all the primer, and patching rust holes with... yes... bondo.
Now I'll post some photos as it is today to give you an idea of what level of work will be required to get it restored. This is the garage that I'll be limited to working in. Astrodome seats and all!
I'm going to have to learn how to weld for many reasons, but this diamond plate bumper has got to go. I'm not necessarily wanting to go back to a stock bumper, but I'd like something a little less ridiculous.
Another reason I'm going to have to learn how to weld is because the owner before my uncle felt the need to cut into the front cross-member. I'm guessing this must have allowed them to install a ridiculous-a$$ winch on that ridiculous-a$$ bumper they welded to the front. Aside from this hack job, I feel that the frame is a good candidate for restoration. However, I realize that my lack of knowledge on welding and genuine optimism could be blinding me. Would it be easier/more sensible to track down a new frame and go from there? The frame has some surface rust, but it doesn't appear to be anything that I won't be able to grind away.
More body work that will need to be done. Come to think of it, I don't ever remember my uncle explaining this incident.
More uncle-related damage. I can't believe we let him drive around the deer lease with a gun as long as we did...
The investigation of weak tailgate supports lead me to the discovery of what could potentially be the most costly and challenging task of the project. The rear valence panel is cancer-ridden and it appears it has spread to what I believe is a floor support. I applied bondo in an attempt to ensure that the rear-end wouldn't completely disintegrate on me last hunting season.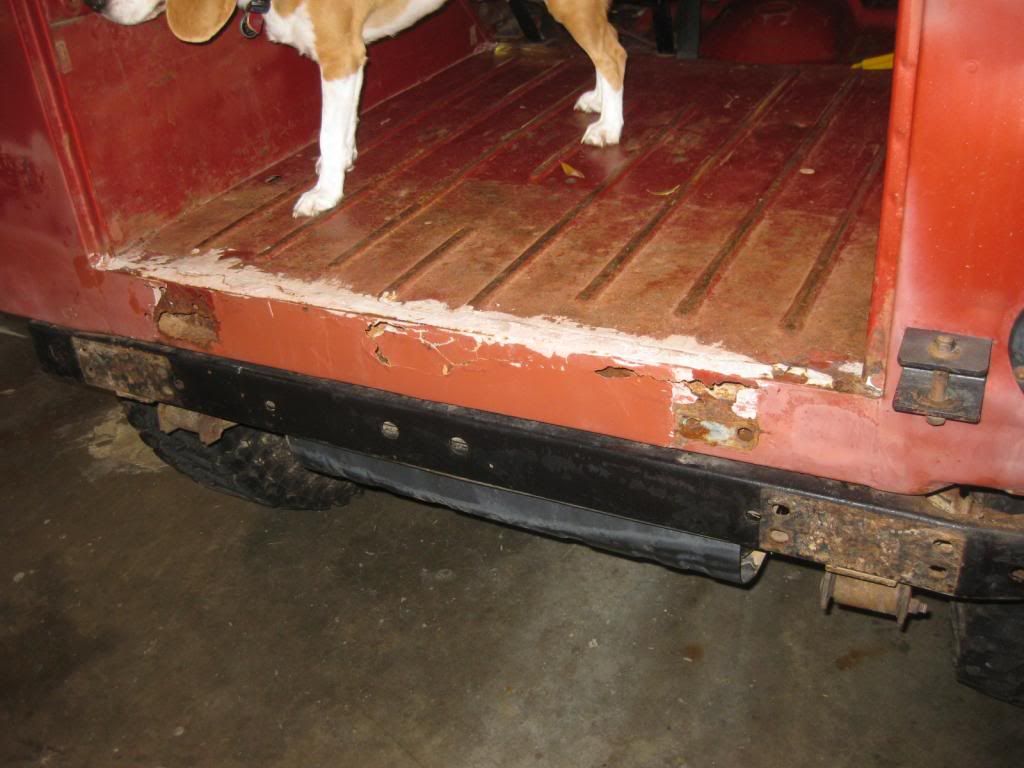 View from the rear passenger side tire where the body mount used to exist.
Dash view. I replaced all of the burnt out switch indicators and knobs. Also refurbished the heater plenum thanks to guidance from a jeepforum thread. Somebody did some rivet patch work on the floor board. I wouldn't be surprised to find out that my uncle shot a hole in the floor.
Under the hood view. This is probably where I've spent the majority of my money. I've installed a new water pump, radiator, fan shroud, battery, replaced all hoses, did some re-wiring, removed the electric fuel pump/installed a mechanical fuel pump (best thing I have ever done) and I'm sure I'm forgetting something.
And that's about all I have for now. By looking at the pictures you can tell that I'm not an experienced mechanic, but I can't stand looking at my baby rot away any longer. I'm at a point in my life where I have the time and money to spend on her, and I have a strong desire to learn how to do whatever it takes to get her back in shape. I'm looking forward to this project and I'll take any criticism and advice y'all have to give.
-Matt