AstroByrd's 1977 CJ7 Restoration
---
So, I've owned this Jeep since 2007 and although I've scoured this forum for advice countless times, I've never really posted anything about my CJ7 until now. It belonged to my great uncle (and at least one other PO before him) up until he was too old to hunt, which is when he sold it to me, but not before jerry rigging and beating the hell out of it!
Here's a picture of what it looked like the day I got it from him circa 2007. Old school CB antenna and all!
Since then, I've slowly replaced parts here and there and have tried my best at rust control and just keeping it running. Admittedly, I'm a novice when it comes to such a huge project, but I suspect my desire to preserve my Jeep may be outweighing my common sense!
Here's a picture of it's aesthetic apex during my ownership. This is from when I was stationed in Abilene (2009), where I was allowed to trail ride/hunt on a 2000+ acre ranch. Needless to say, I had a blast crawling all over that wasteland! This is after replacing those airplane tires, installing some half back seats, removing that useless hardtop, covering up all the primer, and patching rust holes with... yes... bondo.
Now I'll post some photos as it is today to give you an idea of what level of work will be required to get it restored. This is the garage that I'll be limited to working in. Astrodome seats and all!
I'm going to have to learn how to weld for many reasons, but this diamond plate bumper has got to go. I'm not necessarily wanting to go back to a stock bumper, but I'd like something a little less ridiculous.
Another reason I'm going to have to learn how to weld is because the owner before my uncle felt the need to cut into the front cross-member. I'm guessing this must have allowed them to install a ridiculous-a$$ winch on that ridiculous-a$$ bumper they welded to the front. Aside from this hack job, I feel that the frame is a good candidate for restoration. However, I realize that my lack of knowledge on welding and genuine optimism could be blinding me. Would it be easier/more sensible to track down a new frame and go from there? The frame has some surface rust, but it doesn't appear to be anything that I won't be able to grind away.
More body work that will need to be done. Come to think of it, I don't ever remember my uncle explaining this incident.
More uncle-related damage. I can't believe we let him drive around the deer lease with a gun as long as we did...
The investigation of weak tailgate supports lead me to the discovery of what could potentially be the most costly and challenging task of the project. The rear valence panel is cancer-ridden and it appears it has spread to what I believe is a floor support. I applied bondo in an attempt to ensure that the rear-end wouldn't completely disintegrate on me last hunting season.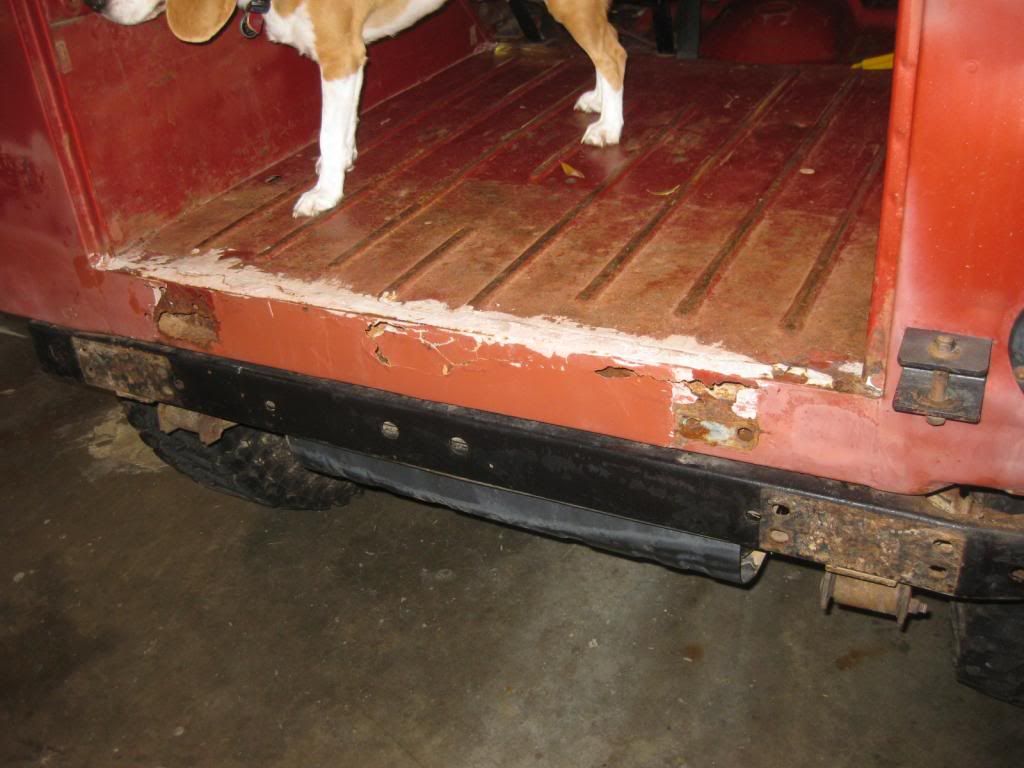 View from the rear passenger side tire where the body mount used to exist.
Dash view. I replaced all of the burnt out switch indicators and knobs. Also refurbished the heater plenum thanks to guidance from a jeepforum thread. Somebody did some rivet patch work on the floor board. I wouldn't be surprised to find out that my uncle shot a hole in the floor.
Under the hood view. This is probably where I've spent the majority of my money. I've installed a new water pump, radiator, fan shroud, battery, replaced all hoses, did some re-wiring, removed the electric fuel pump/installed a mechanical fuel pump (best thing I have ever done) and I'm sure I'm forgetting something.
And that's about all I have for now. By looking at the pictures you can tell that I'm not an experienced mechanic, but I can't stand looking at my baby rot away any longer. I'm at a point in my life where I have the time and money to spend on her, and I have a strong desire to learn how to do whatever it takes to get her back in shape. I'm looking forward to this project and I'll take any criticism and advice y'all have to give.
-Matt
Registered User
Join Date: Aug 2012
Location: Baghdad, Iraq
Posts: 223
Heck yeah..... you have our attention....
---
I've done lost my mind...... mind.... mind.... mind..... mind..... what a silly word.
Registered User
Join Date: Apr 2011
Location: Wolfcreek
Posts: 147
Go for it!!! I had never "restored" a vehicle before either. Determination , Time and money. read, repeat. My 77 was in similar shape and I couldn't stand it anymore . Seats falling out , Fred flintstone floorboards, etc. , etc. This forum is a gold mine for "how to" information. This is the only project where bloody knuckles , greasy everything , empty wallet , and utter exasperation is FUN!!! Heres a before and after.
---
All it takes is time and money
Registered User
Join Date: Mar 2011
Posts: 4,042
first, welcome to the adventures of the 1977 CJ7! I'm restoring mine as well. Here's a link to mine:
http://www.jeepforum.com/forum/f8/ph...ation-1807257/
I post it because you're soon going to learn a little known and frustrating fact, and that it that there really is no such thing as a "true" 1977 CJ7. They're really either 1976 or 1978s. A good indicator is the build date of your engine (if it's the original) or the fuel filler line. 1976 and early 1977s have a big, fat fuel filler hose and later 1977 and 1978s had skinnier ones. Other differences include the heater defroster assembly where a lot of the parts are NOT interchangeable. These guys can help a lot:
http://www.mtscompany.com/airbox.htm
They have fuel hose fillers and emissions parts, fresh air hoses for early heaters, cable controls, etc.
The rear valance is a hard to find part. I've found a small company in Wisconsin that makes them and they are EXCELLENT quality. In fact I was so impressed they're my first choice for sheet metal. A big plus in my book is that the stuff is made here in the USA. Not everything is available from them though.
http://www.classicent.com/
All the sheet metal is out there though. Most of it is made overseas.
Good luck in your project! Ziplock bags and Sharpie markers are your friends, take lots of pictures and caption them as you go along. Pics are great, but if you don't label them you might not remember what they are.
You're miles ahead of me!
Just take your time and don't be afraid!
---
I'd rather be lost on the trails than found at home!

Phoenix Rising- A Flame Off Restoration?
To view links or images in signatures your post count must be 10 or greater. You currently have 0 posts.

Registered User
Join Date: Aug 2010
Location: Rockton
Posts: 1,005
I'm subscribed!
Sounds like your starting off a lot like I did. Luckily for you, you found this forum before you started. I wasn't so lucky. Got half way though restoring my first one when I began reading all the other builds on here. It actually inspired me to start all over again from scratch! And now I've just finished my second restoration on my third Jeep. Good luck with the build!
---
1984 CJ7 I6 258 Bone stock
"Screw the brakes, just make the horn louder!"
My build thread

To view links or images in signatures your post count must be 10 or greater. You currently have 0 posts.

Registered User
Join Date: Feb 2011
Location: Muskegon
Posts: 2,047
Me too! I didn't know about this forum until mine was 90% finished.
J- just
E- empty
E- every
P- pocket
enjoy
Dave in Muskegon using JeepForum
Registered User
Join Date: Apr 2011
Location: Lewistown
Posts: 5,062
Looks like you got your work "cut out for you", no pun intended.
I would look for a new frame till you get a chance to really examine yours. That lack of front crossmember might have allowed the frame to get tweaked some. Look for cracks or separated welds real good around it. It looks like it's got some repairs already done to it. Once the frame is empty you can set it on a flat surface and see how it lays, lies?.
The fun is yet to begin!!
"
I suspect my desire to preserve my Jeep may be outweighing my common sense!
" Sometimes that isn't a bad thing. If we don't keep these things alive the memory of the Jeep will continue to fade even faster. Welcome aboard.
---
The end of a defining era.... JEEP R.I.P. 1941-1986
My frame off Re-Build: (the 4 year saga....)

To view links or images in signatures your post count must be 10 or greater. You currently have 0 posts.

Junior Member
Thanks for the support, guys. WindKnot, your "true '77" input expains a lot! It appears that mine leans more towards the '76 timeframe.

Sorry I haven't replied sooner, but it's been a hectic month. In between dealing with life and the universe at large, I've managed to make significant progress on deconstruction. I have some friends coming up from SE Texas this weekend and they don't know it yet, but they're going to help me lift the body off of the frame upon their arrival!

Also, it looks like I'll be driving up to Bridgeport, TX this weekend to pick up an '80 CJ7 frame because my frame is a lost cause. I'll get some pictures loaded soon.
Junior Member
Junior Member
So, it's obviously been quite some time since I've posted anything on here but that doesn't mean that I haven't been busy working on my CJ. In between working towards FINALLY obtaining my bachelor's degree and welcoming our second child into this world, I've managed to complete repairs on the new frame and coat the inside of the frame with eastwood internal frame coating. I also prepped the entire frame (inside and out) with the POR-15 degeaser and metal prep before applying a few coats of semi-gloss black POR-15 to the outside. I then decided to scuff up the POR-15 and painted over it with Rustoleum Hammered "Black." I'm still uncertain as to how Rustoleum gets away with calling this product Hammered Black instead of Hammered Silver as f**k, but whatever. After trying it out on the skid plate, I decided that I really liked the way that it looked and that it should contrast well with the steel blue paint job that I plan to apply to the body.
This is how I transported the new old frame to it's new home. Probably not the safest manner, but there were no casualties that I know of.
Then I had an old friend stop by and assist me in the removal of the old paint and surface rust via a combination of grinder and aircraft stripper.
Dude... You had one job...
Junior Member
I decided to cut off the old rear cross member that was in rough shape and ironically enough, appears to have had one of those old school CB ball antenna mounts that my old uncle was so fond of installed on it at some point. In cutting off that cross member, I took a bit more of the frame than I meant to and I had to improvise. I really thought that taking my time with a small dremel grinding wheel would produce unrivaled results, but those confined spaces where the weld points exist proved a bit tricky for my experience level. As a result, I decided that I would cut up the old cross member into shims and weld them together in order to extend the frame and ensure the ability to install the new shackle hangers that I acquired. Slicing up the old cross member also allowed for a decent amount of steel that I was able to practice welding upon.
The old rear cross member:
With the shims welded on. They're not the prettiest welds, but I feel like they'll hold up.
After welding, POR'ing, and Hammered Silver as f**king it.
I flipped the frame over today so that I can finish applying the Hammered Black to the top of the frame. But this picture really shows the contrast between the
BLACK
POR-15 and the Hammered Black.
Junior Member
As soon as the paint dries, I plan on installing the New Warrior rear shackle hangers, and M.O.R.E. front shackle hangers, as well as some of these Rugged Ridge greasable shackles below. I know people bag on Rugged Ridge quite a bit and as you can see in the following picture; I didn't receive all of the bushings necessary to complete installation initially. However, their customer service was on point. I received my missing bushings within 3 days of filing a complaint through their website.
The frame restoration has been a blast. I can't wait until I begin reassembly! I'm planning on ordering the 3" Black Diamond lift kit through Quadratec fairly soon. Does anyone have any input on it this -->
http://www.quadratec.com/products/16110_004.htm
Currently Active Users Viewing This Thread: 1

(0 members and 1 guests)
Posting Rules

You may post new threads

You may post replies

You may not post attachments

You may not edit your posts

---

HTML code is Off

---