Arctic CJ build thread
---
ive decided i need my own build thread.
it all started with me picking up this from a friend. Basically he wanted to buy a truck so he sold it to me for what he owed on it 1300 bucks
Specs:
Full width 1 tons
outboarded front springs SOA with shackle reversal (poison spider kit)
BRAND new 35s
360 with a 4 speed and d300
not a bad deal for 1300 bucks right?
I wheeled it once and blew a front u joint which took out the t-case. So i bought and installed a new tcase and before i even put it back together it looked like this.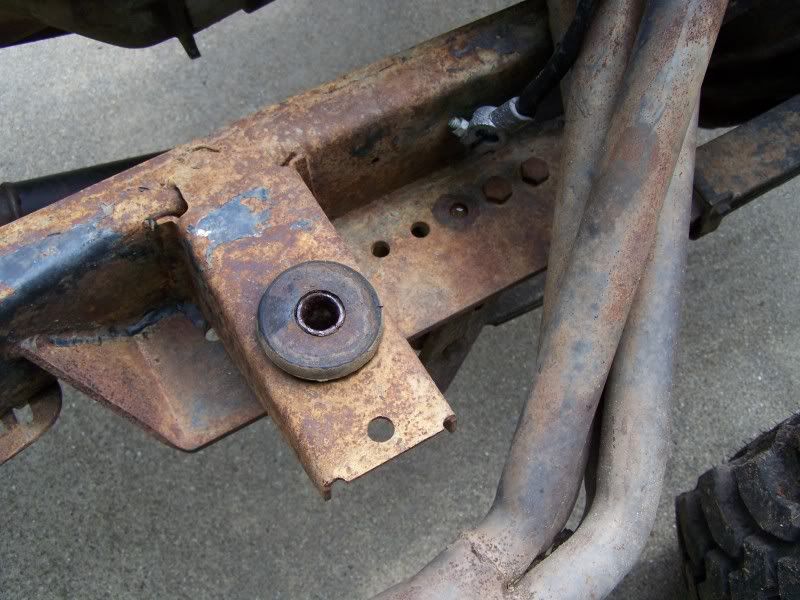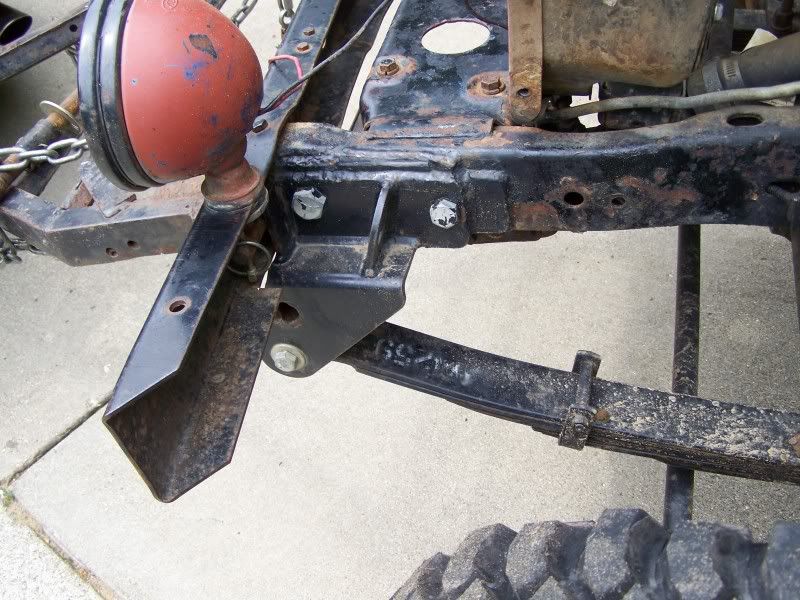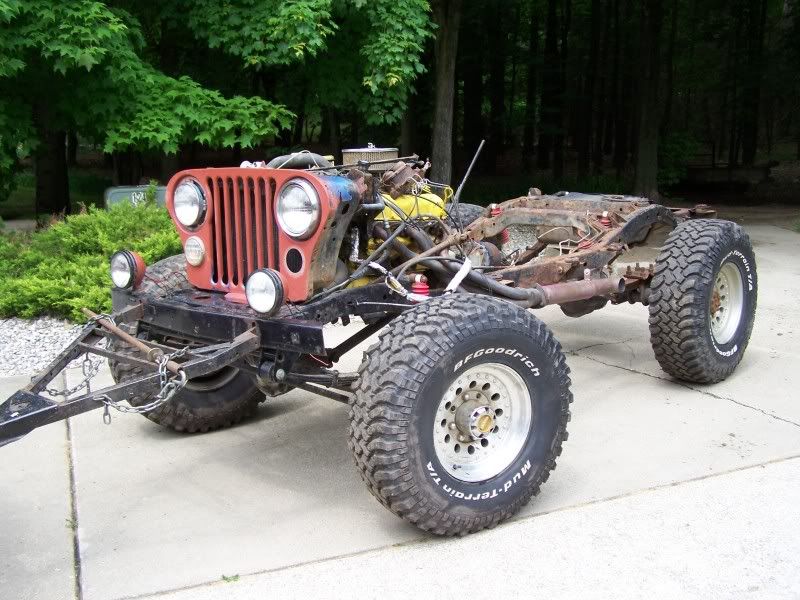 So then i needed a new body. I was surfing craigslist one night and found a glass body and ALOT of other parts for 1300 bucks.
Pics can be seen here
http://www.jeepforum.com/forum/f8/lets-play-game-name-these-parts-787621/
dakuda is a god
Join Date: Jun 2006
Location: Battle Creek MI / Lima OH
Posts: 4,592
So now the fun begins. I go to school in ohio so i cant be there to work on it all the time. So my dad was working on it tonight and just sent me some pics of it. I guess he got the body all mounted up now.
As of right now i guess there is about 6 inches of clearance when flipping the front clip up between the fenders and tires. So add some flares and a little less backspacing and its going to be close. But im hoping we dont have to cut it.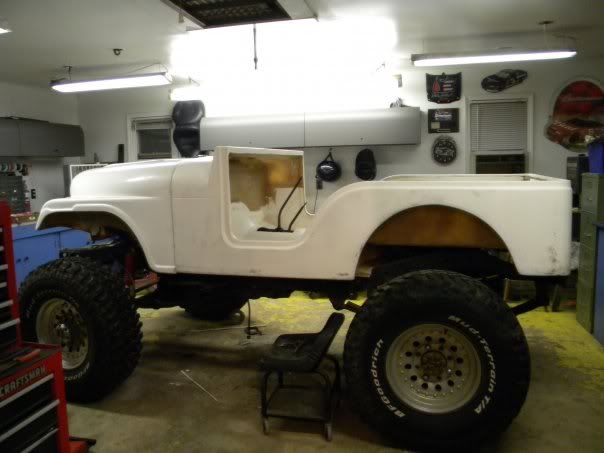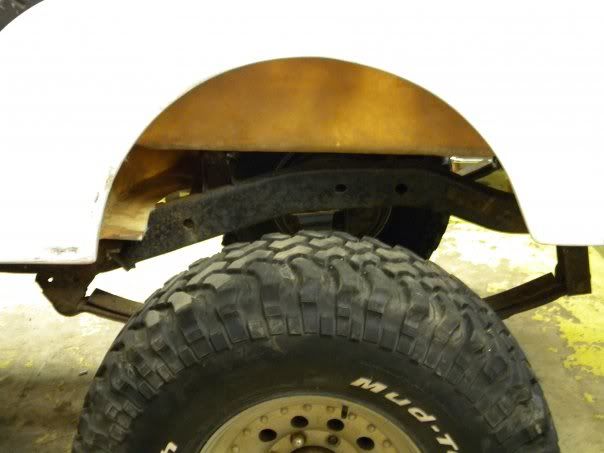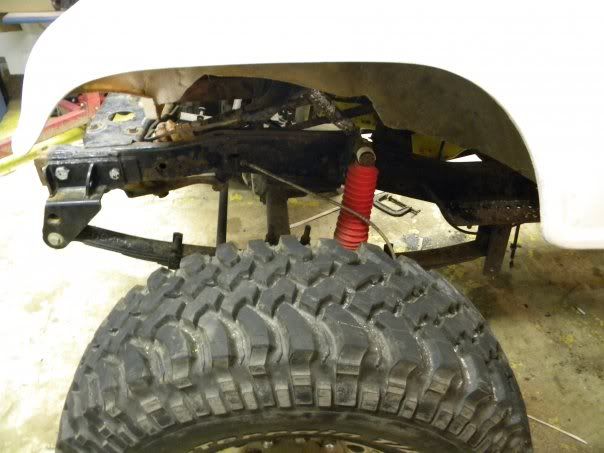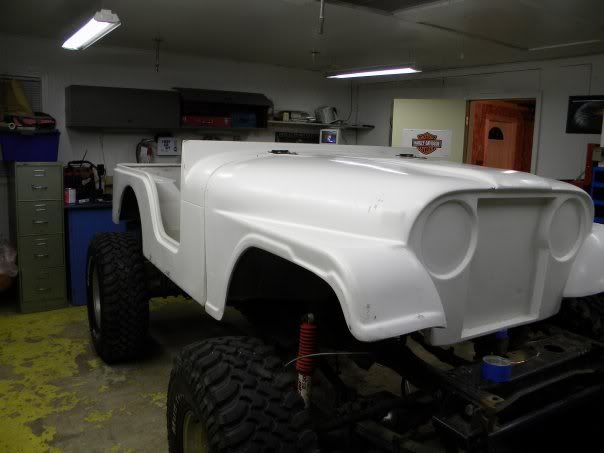 Plan so far are to get the body all mounted, cage built and everything then take it all back apart and paint everything. Clean up and brace the frame. convert the back axle to discs and add lockers
Nates 4x4 bumpers
superwinch with synthetic line
stainless dash with autometer gauges
Corbue or besttop seats with 5 point harnesses.
Engine is basically staying the way it is. it runs good, it already has a truck avenger carb and a bigger cam. I think im going to add a full MSD ignition, probably a alm intake, chrome valve covers, a k&n filter and just alot of clean up and painting. Im going to keep the sidepipes but as if right now Im planing to have them ceramic coated in a chromelike color and i want supertrapp mufflers.
New gas tank and lines with a in line pump
all new brake lines
I have a freshly rebuilt 4 speed that ill probably throw in it and im sure ill put a new clutch in it while its apart unless it looks like new or something.
as far as the suspension, its pretty much staying the same. it works well, Only think i want to change is i want to build a hoop for the front shocks.
For wheels and tires im thinking h2 rims and some mild 37 inch MTs.
Oh and its going to be some form of electric blue or maybe intense blue pearl like the tjs. im considering doing a 2 tone blue and black. But i dont know for sure yet.
Anyways, please feel free to post any comment, questions or concerns. Ill update this thread as i (any/or my dad) make progress on it.
Registered User
Join Date: Mar 2008
Location: New Castle, DE
Posts: 837
Nice looking 5 you got there.
---
In a world full of copy cats, be an original...
Paved Roads
A Fine Example of Needless Government Spending
Quote:

Sometimes it a good idea to pull a vacuum hose before the wife rides in it--you can tell her you need a new ____ and once you get your new ____ you can reconnect the hose. :)
84 Cj 7 w/ 4-Banger, 4.5" BDS lift, 1/2 Trans Drop, Twin Stick, 32" Tire, Front Aussie Locker, No Sound System Yet, No Armor, Warn 8274 Not Installed, Webber Carb Upgrade, Luckycheese Ing. Upgrade...
Registered User
Join Date: Oct 2005
Location: Lambertville
Posts: 2,986
Subscribed. Some day i'll start my CJ project. Maybe this Spring...
---
-Kyle

1996 Grand Cherokee
2005 Wrangler Rocky Mountain Edition
RIP Troy (bigbluezj94)

To view links or images in signatures your post count must be 10 or greater. You currently have 0 posts.

Rapist Wit
Join Date: Oct 2007
Location: Basalt, Colorado
Posts: 9,443
Nice 5. What front axle do you have? 60? Rear is a 14bolt? Do you know what your buddy got them out of?
Seems like we have similar jeep set ups rig wise.
And look at reviews of nates4x4, I think you may change your mind about his stuff.
For front shock mounts, look up the ford f250 mod. Cheap way to move the the mount up.
---
Brian
WJ, WK, CJ5

To view links or images in signatures your post count must be 10 or greater. You currently have 0 posts.

Colorado Jeep Club Member #188
---
Last edited by GraKee99; 11-27-2009 at

10:15 PM

.
dakuda is a god
Join Date: Jun 2006
Location: Battle Creek MI / Lima OH
Posts: 4,592
yeah, very similar!

Front axle is a D44 and the rear is a 14 bolt. So technically i guess it wold be 3/4 ton axles but 1 tons sounds cooler lol. I believe they are out of a late 70s-mid 80s chevy truck but im not sure....My friend didnt build it either, he bough it how it sits for 3500 a couple years ago and drove it like 3 times.

I have done a little research on the f250 mounts and they dont look to bad...But i just bought a JD2 bender so i want to try to make some hoops for it. If they turn out like crap then ill probably go with the f250 mounts.


As for nates....First of all, im not 100% sure what im going todo yet. Im thinking i might try to make my own bumpers. I already built a Xj with pretty much out of the box parts, and the custom parts i had a shop do. So this time around im buying tools and doing it myself! Plus i think i know about a billion times more about how everything works then when i built my xj. But it moving kinda slow....Im hoping after christmas ill get going on it again. If i could sell all my Xj parts id be good to go but no one has any money around here. But anyways, back to nates, the difference that i have is i can go pick them up in person and pay cash. So i dont have to worry about online ordering. I dont care what anyone has said, his bumpers are top notch. My dad has a set on his jeep and loves them. I went with him to pick them up and meant nate in person. He really isnt that bad of guy, i think half of his issues are that he isnt a computer person. I ever asked him about his bad rep when i was there and he said "what can i say, im a welder not a computer programmer" Plus his shop is out in the middle of no where and i know he said he doesnt have a internet connection there. But i have read alot of stuff and seen how he has treated some people too...Which is why i said its half his problem lol.
Registered User
Join Date: Jan 2009
Location: wisconsin
Posts: 42
thought i saw this jeep on ebay...
dakuda is a god
Join Date: Jun 2006
Location: Battle Creek MI / Lima OH
Posts: 4,592
Not since ive owned it you havent.....Which is coming up on a year now....But maybe before that....I know id love to see the for sale add for when it was originally sold, or even talk to the original owner....that way i could know exactly what was done to it and when....It would be nice....Like i know the trans has "morris rose" writen across it in marker, which is a junk yard in the next town over so that must have been replaced recently...
Anyways, i sold my cherokee axles yesterday
but i made a little money to start spending on this!!!!! Plus i heard a rumor going around that im getting seats and a dash for christmas....So keep a eye on this thread...I have a feeling its going to kick off here in the next couple weeks!
Registered User
Join Date: Oct 2009
Location: Kalamazoo
Posts: 73
subscribed.........hey, I'm just over the hill In Paw Paw. Planning on my restore next spring. Good luck!
dakuda is a god
Join Date: Jun 2006
Location: Battle Creek MI / Lima OH
Posts: 4,592
FINALLY worked on it.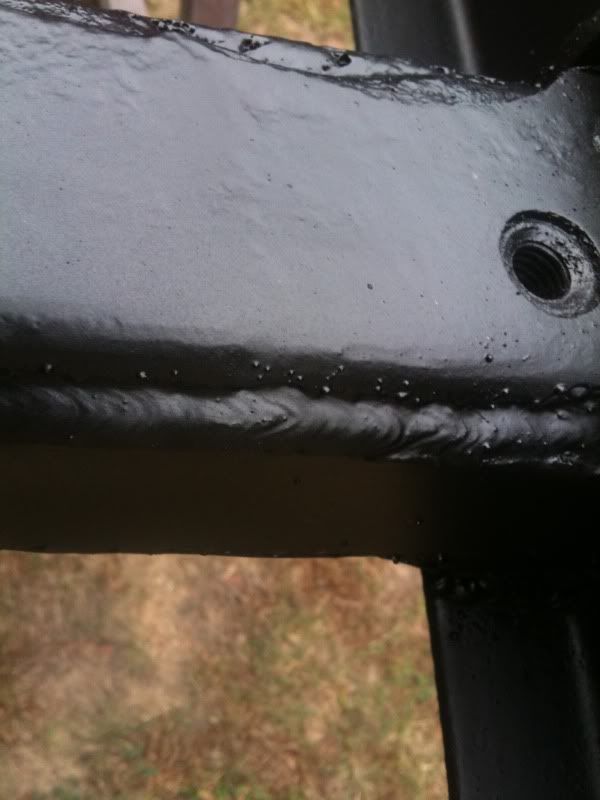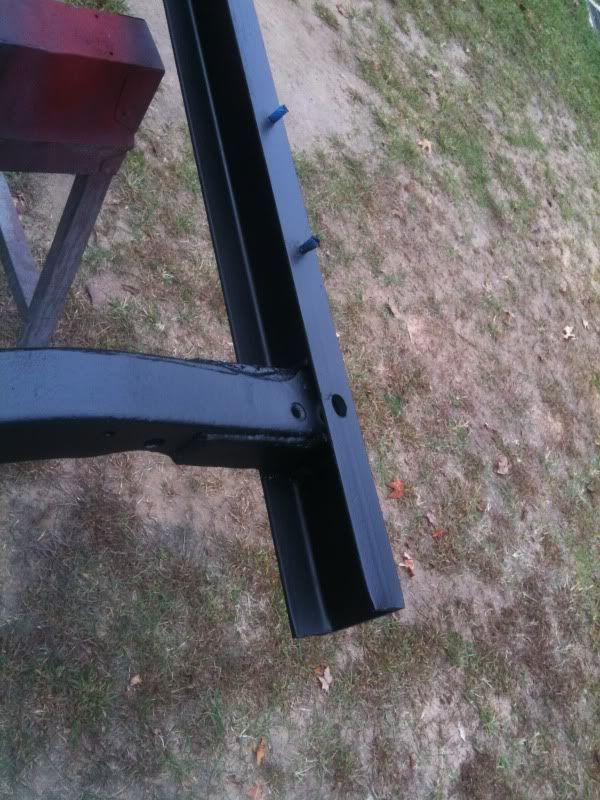 Welded on a new rear crossmember so that when i get a tire carrier bumper it doesnt flex as much. I know my welds suck, but i think it should hold ok. Keep in mind this is a learning experiance for me.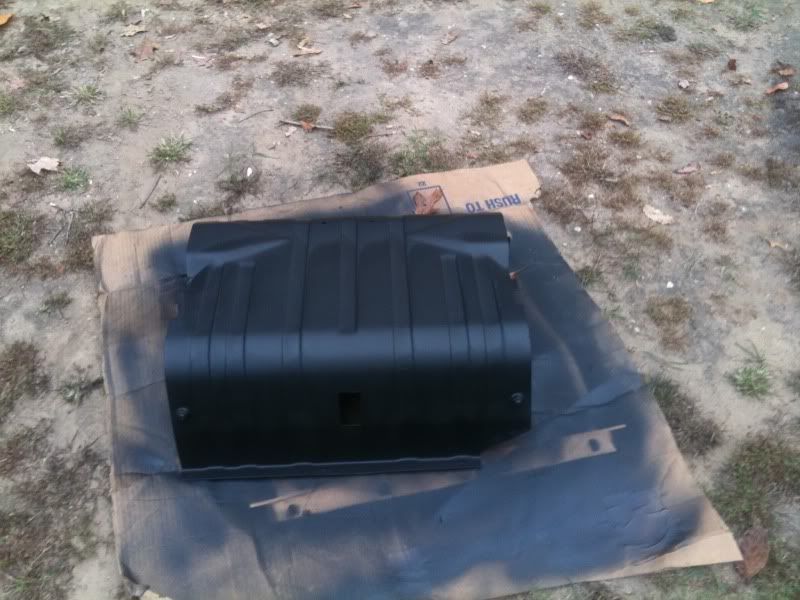 I also painted all the shackles, uboilt plates and whatever elese small stuff i could find.
i did 2 coats of chassis saver which is made from magnet paints. If you dont know they are a vendor on here. I sent them a PM and they did not respond which i was not happy about. But my local paint shop had it in stock and said that was the best stuff to use so i used it even know i feel they have crappy customer service. But after that was dry i did two coats of tractor paint. I used a $11 harbor frieght paint gun and it worked awesome i was very happy with it. Hard to beat for the price.
So next thing todo is buy new ubolts and bushings (if i can find out what to buy) And hopefully ill have them buy this weekend. Then i can clean up the axles and bolt them back under. Im also going to use SS bolts in everything. hopefully that will make my life easier if i have to take them apart again.
Registered User
Join Date: Jul 2009
Location: Wisconsin
Posts: 2,364
What a monster, ill be watching this one.
Registered User
Join Date: Aug 2010
Location: aurora
Posts: 29
Im gonna go out on a limb and guess you go to UNOH,
If so i cant wait to see this beast on campus.
dakuda is a god
Join Date: Jun 2006
Location: Battle Creek MI / Lima OH
Posts: 4,592
Yep i do....But i HIGHLY doubt you will see it. I only have like 4 more classes and im done
Currently Active Users Viewing This Thread: 1

(0 members and 1 guests)
Posting Rules

You may post new threads

You may post replies

You may not post attachments

You may not edit your posts

---

HTML code is Off

---