So now the fun begins. I go to school in ohio so i cant be there to work on it all the time. So my dad was working on it tonight and just sent me some pics of it. I guess he got the body all mounted up now.
As of right now i guess there is about 6 inches of clearance when flipping the front clip up between the fenders and tires. So add some flares and a little less backspacing and its going to be close. But im hoping we dont have to cut it.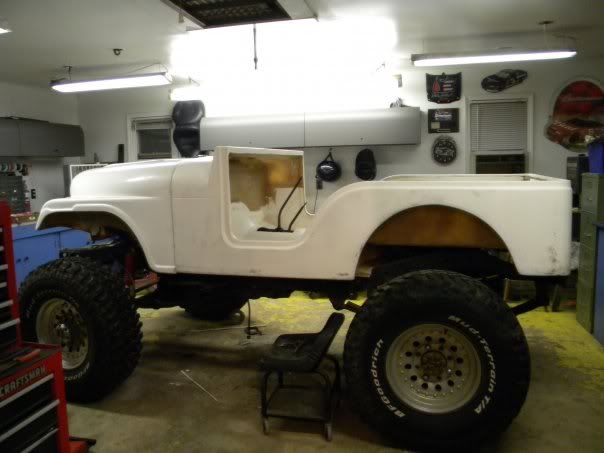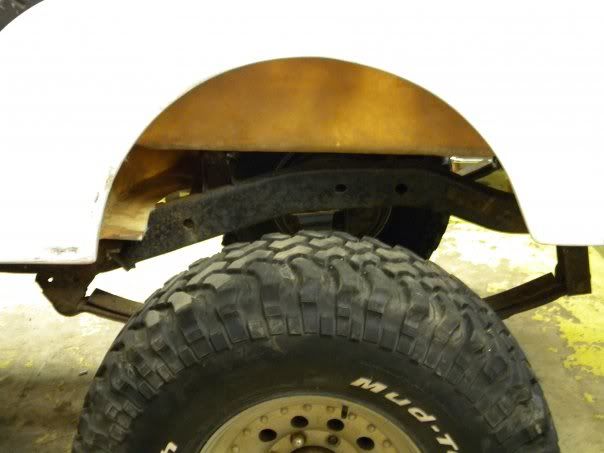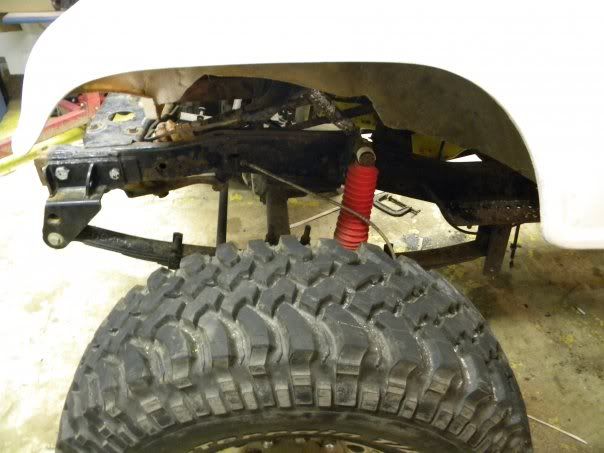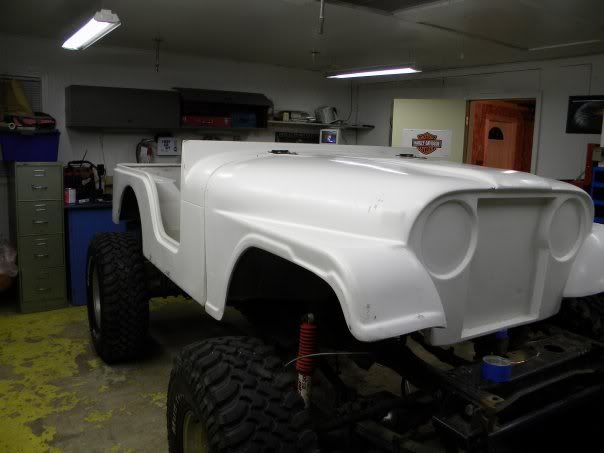 Plan so far are to get the body all mounted, cage built and everything then take it all back apart and paint everything. Clean up and brace the frame. convert the back axle to discs and add lockers
Nates 4x4 bumpers
superwinch with synthetic line
stainless dash with autometer gauges
Corbue or besttop seats with 5 point harnesses.
Engine is basically staying the way it is. it runs good, it already has a truck avenger carb and a bigger cam. I think im going to add a full MSD ignition, probably a alm intake, chrome valve covers, a k&n filter and just alot of clean up and painting. Im going to keep the sidepipes but as if right now Im planing to have them ceramic coated in a chromelike color and i want supertrapp mufflers.
New gas tank and lines with a in line pump
all new brake lines
I have a freshly rebuilt 4 speed that ill probably throw in it and im sure ill put a new clutch in it while its apart unless it looks like new or something.
as far as the suspension, its pretty much staying the same. it works well, Only think i want to change is i want to build a hoop for the front shocks.
For wheels and tires im thinking h2 rims and some mild 37 inch MTs.
Oh and its going to be some form of electric blue or maybe intense blue pearl like the tjs. im considering doing a 2 tone blue and black. But i dont know for sure yet.
Anyways, please feel free to post any comment, questions or concerns. Ill update this thread as i (any/or my dad) make progress on it.