Registered User
Join Date: Oct 2009
Location: Northeast Oklahoma
Posts: 351
Anyone had any luck tracking down old vehicle you had previously owned?
---
Figured I would go ahead and document this here, also see if the jeep is on here by chance? Been awhile since I have posted on here, used to post almost daily while building my 79. Anyways things have changed quite a bit in the past few years and I have become know as the jeep guy around my parts. I currently have 19 jeeps (6 scramblers, 6 CJ7's, 4 YJ's, 2 cj10a's, and 1 CJ5) Most of the jeeps are ones I have bought that will be fixed and resold, others are parts jeeps that are too far gone and will feed current projects.
Anyways I was thinking one day that I wanted to track down my dads old jeep. He owned the jeep from 1984-1989 while living in Stillwater Oklahoma. I was born in 86. Ever since I was a kid I have loved jeeps since he owned one. Well it has become more of an addiction here recently LOL! From what I can tell it was and 82 or 83 silver CJ7 Laredo. Had the 6 cylinder with a T5 five speed. Hard top and doors. Top had a moonroof in it and it was painted nutmeg on inside of top over the original white interior. Had snaps on outside of the tub as it was a soft top jeep when he originally bought it. The tag number was PAK-33. He sold it to a gentleman in Carney Oklahoma that was going to use the jeep to commute to Charles Machine Works / Ditchwitch.
I have considered going down to that part of the country and knocking on a few doors when I have more time, dad somewhat remembered where he lived at. But first I have a form I can submit to the state requesting information on a vehicle for a fee. That seems to be the most promising venue at the moment, just discovered this as a possibility at the end of last week. The ladies at the tag office have been a great help, keeping my fingers crossed!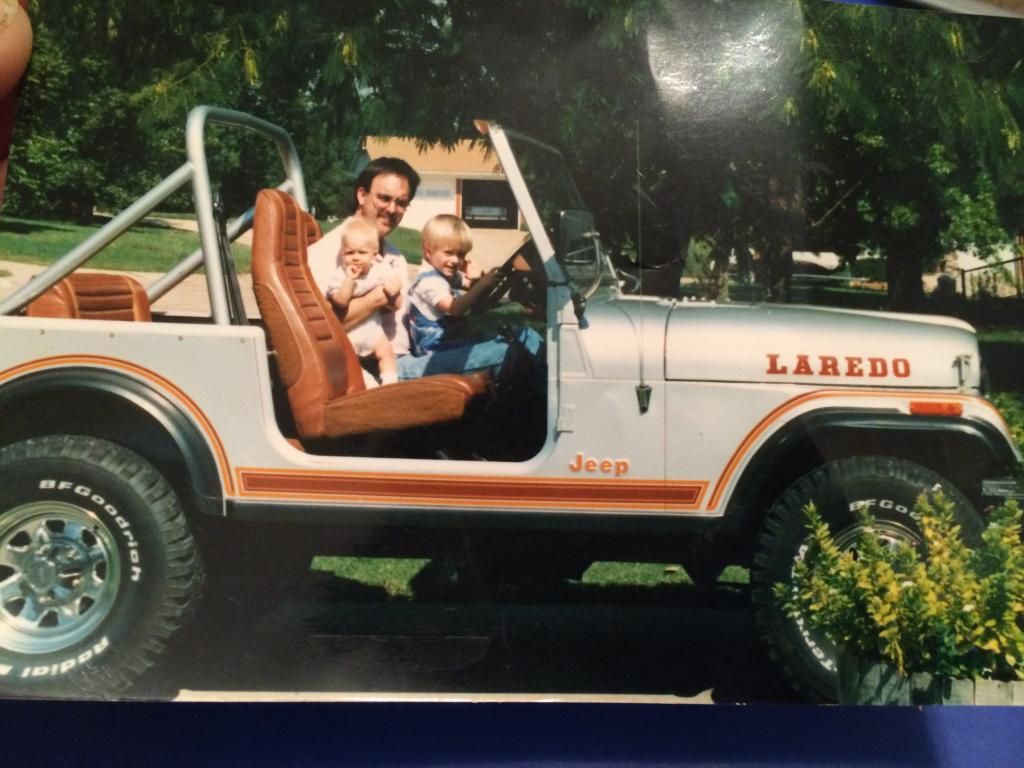 ---
1979 CJ7 5.3L, 4L60E, Dana 300, 35" tires, 4.10's
Jeep. There's Only One
Join Date: Jan 2007
Location: Doylestown, PA
Posts: 7,101
Someone on here might have that very Jeep. Posting the VIN would yield the best results here or anywhere.

You may try contacting the DOT last known where jeep was registered with a VIN number if you still have some sort of old paperwork for the Jeep when your dad purchased it. Without knowledge or knowing what the VIN is, your chances are pretty thin finding it.
---
.
1984 CJ-7 Renegade
__________________
I agree. He didn't have any old paperwork, and insurance company didn't have any records. Only hope of finding vin it the search I can submit with the state by the old tag number. Planning on doing that tomorrow.
---
1979 CJ7 5.3L, 4L60E, Dana 300, 35" tires, 4.10's
Registered User
Join Date: Aug 2014
Location: Savannah
Posts: 201
Hope you find it! That'll be awesome, buying it may be another story
---
1985 Cj7
Web Wheeler
Join Date: Dec 2003
Location: Schenectady
Posts: 1,462
Subscribed!
I've often thought about trying to track down my first car.
So I'll be interested to see how you make out!
Recovering Bronco Rider
Join Date: Feb 2007
Location: Clarks Summit
Posts: 3,259
---
I've also learned that sometimes... when people don't agree with you .... its best to hold them down and kidney punch them till they agree with you
I doubt it. Firewall appears to be brownish......anything is possible though.
---
1979 CJ7 5.3L, 4L60E, Dana 300, 35" tires, 4.10's
Registered User
Join Date: Jun 2003
Posts: 4,178
Tagged for updates.
A friend of mine here is in the same boat. Her Dad sold his 86 Renegade about 10-12 years ago and she wants it back. Haven't had any luck finding it though.
It was a charcoal grey hardtop Renegade (orange and yellow stickers). Had T5, chrome wagons, and black interior. About 30K miles and an 8274 on the front. He sold it for $5K
Anyhow, good luck. At least in OK it probably hasn't rusted away!
---
85 CJ7 258, borla header, Team Rush, MC2100 ,optima batt, Warn 8274, agr super box 2 & pump, T5 w/ B&M shifter, centerforce 2, superior 1 piece axles, warn hubs 2.5 in lift, 31" BFG MT

85 CJ7 258, A/C, T176, MC2100, Team Rush, Warn XD8000i, superwinch hubs, 3in lift 31" BFG AT/KO
No new updates, just wanting to bump it to the top so maybe the current owner sees this? Wishful thinking!
---
1979 CJ7 5.3L, 4L60E, Dana 300, 35" tires, 4.10's
Registered User
Join Date: May 2009
Location: Texas Hill Country
Posts: 6,703
I lost a '72, 3/4 ton, 4x4 Chevy truck when my buddy got his home foreclosed on and didn't have the humility to tell me to come get it. I tried through the DMV and local wrecking yards and got nothing.

God, I wish I had that truck back!


Shawn
---
Live in a way that those who know you but don't know God will come to know God because they know you.
Currently Active Users Viewing This Thread: 1

(0 members and 1 guests)
Posting Rules

You may post new threads

You may post replies

You may not post attachments

You may not edit your posts

---

HTML code is Off

---