I have enjoyed my CJ for a few years running basically a stock setup with a Carter BBD type carb, minus the stepper motor, computer i.e. Nuttered. I've also added an aftermarket air conditioner for my mall crawling comfort.
I have never been satisfied with my mpg. In fact it has been abysmal! I am lucky to get 8 or 9 mpg. Last summer I drove to the upper keys from the Tampa Bay area and had to stop for gas five times. For those familiar, I fueled up at the last exit in Naples and nearly did not make it across Alligator Alley. Also, driving on the interstate is uncomfortable and I nearly have to floor it to merge into traffic.
I decided to take the plunge into the world of fuel injection. I did a lot of thinking and research and decided that I wanted to go with MPI. I also decided I was not going to shell out $2,500+ for a kit. That left only the junkyard option. Feeling adventurous, I began one of many trips to the junkyard.
First I started with an MPI intake from a Jeep Cherokee. Those Jeeps are a dime a dozen in most yards.
Cleaned it up and made all the alterations to the intake to make it fit, and then I polished it up with a wire wheel. BTW, a wire wheel leaves cast aluminum looking like chrome.
Then I went about looking for a wiring harness and computer. One night while looking on eBay I found a used MPI/Hesco kit minus the damper and intake, which I already had for $150!!!! What luck, it included the special PCM, distributor, CPS sensor and bracket, air cleaner setup with K&N filter, all sensors and the Hesco wiring harness with just the required wiring.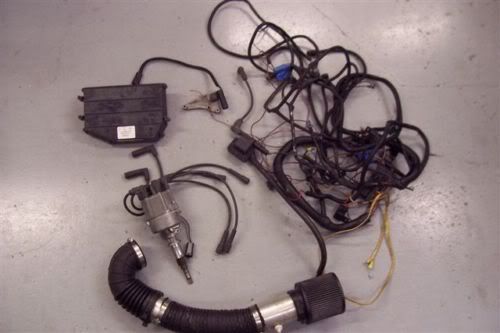 I had to buy an electric fuel pump which I found new on eBay for less than fifty bucks a new damper. I already had the right spark plugs and wires from my team rush upgrade.
Took me about a week to finish the job with the help of my uncle. The hardest parts of the conversion for me was dropping the fuel tank to replace the fuel hoses and removing the damper. Other than that, it was a bit of a chore keeping the engine compartment organized the way I like it.
When I started the engine for the first time, I forgot to even finger tighten the nuts holding the fan and fan clutch to the pulley. That plus a big leak in the intake gasket making the engine rev to over 5,000 rpms drove the fan nearly through the radiator. Yeah, it was toast, along with the clutch, and fan. Oof!
So, I decided to get an aluminum radiator and rather than replacing the stock fan and clutch I would do the Ford Contour electric fan upgrade. Then I learned that the fans draw a ridiculous amount of current that the 60 amp alternator could not handle.
So, I decided to upgrade the alternator to a CS144 140 amp alternator from a Cadillac Deville. Bolts right up, just had to get a special plug from Napa that includes a special resistor in the exciter wire.
Added a thermostat fan control and finally finished the conversion.
Now the Jeep runs great and I get a lot better gas mileage just in time for the crazy gas prices. Here are pics of the finished product: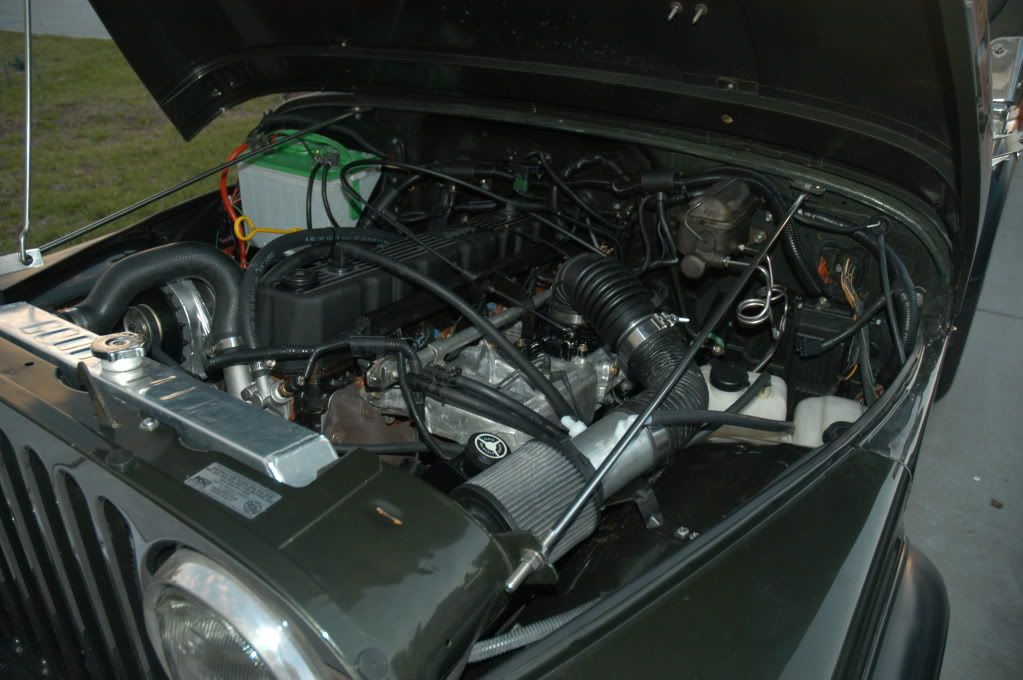 For a little over what I paid for that new carb a few years back, I have a much more efficient setup. While itís no longer stock, I can live with the benefits just fine. My only regret is that I did not do it earlier. I think the upgrade is a no brainer. Why bother with the carbs? The endless debates on which Weber is better or the proper way to tune a Redline carb, messing with idle tubs and jets.
Just do it!